There's a new all-weather jacket out there, and it's pretty unusual. The dryrobe, a changing robe and jacket all in one, dropped earlier this year. The versatile garment was designed with surfers and bad weather in mind, but it's great for a variety of adventures, especially in the midst of winter rain and snow.
It may not be your cup of tea if you don't engage in aquatic activities, but it's a flexible enough piece of clothing that there should be broader appeal. Skiers, snowboarders, foul weather hikers, wakeboarders, and more can join surfers in a shared interest of the dryrobe when they need a, well, dry robe. Even those who jog in the cold rain or play soccer on muddy fields should take note of this utilitarian garment.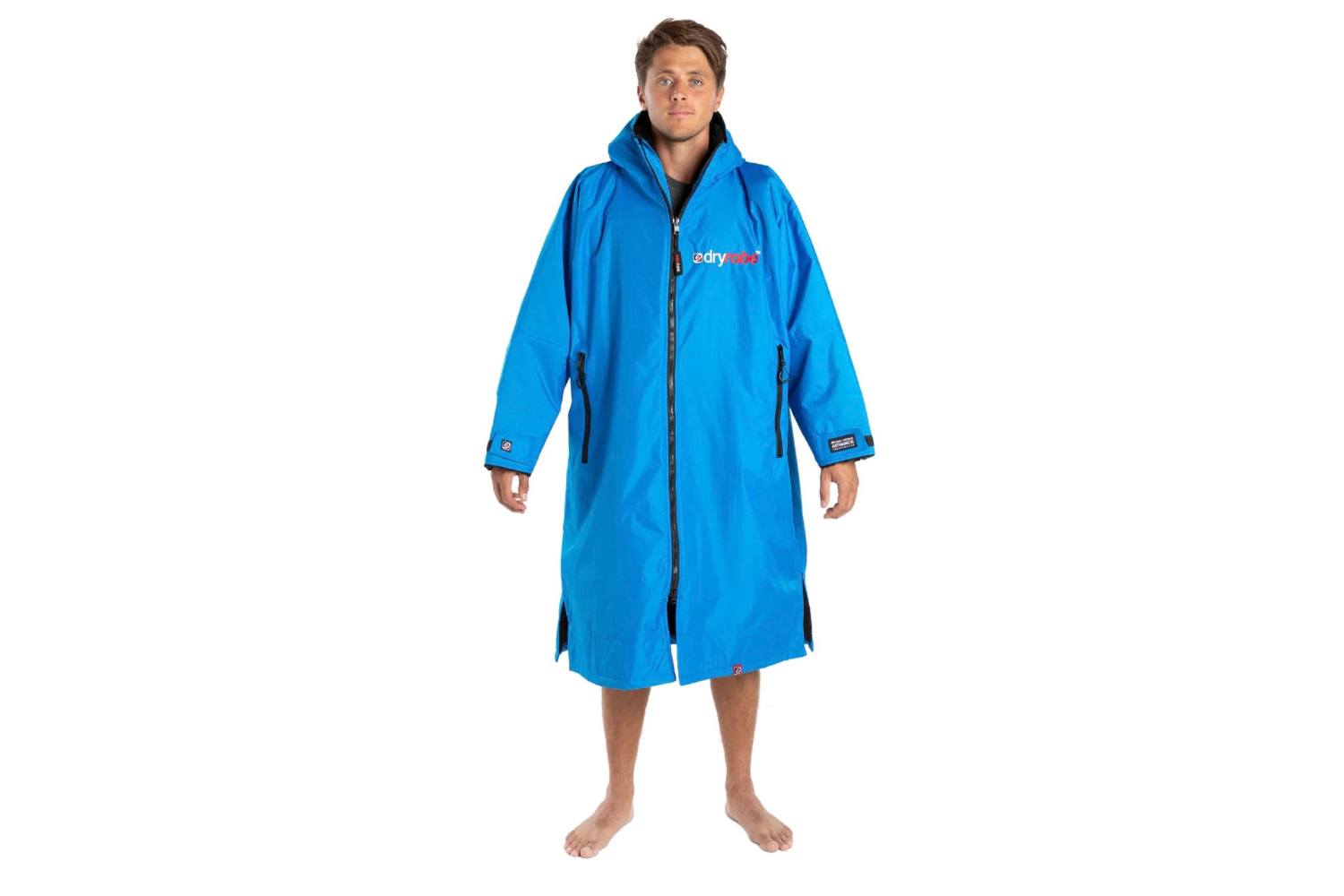 The dryrobe has a lot going for it. Yeah, it's a weird look, but those who've needed to slip out of a wetsuit and into some dry clothes understand the power of this particular style. It's incredibly warm, spacious — aka great for changing, waterproof, and full of thawing accents like oversized lined pockets and a plush hood. There's even a full-length two-way zipper and an internal waterproof pocket for your phone.
With all of these features and a decidedly large build, the dryrobe seems like something that might weigh you down. Quite the opposite, in fact, as it's fairly lightweight and easy to move about in. No, this isn't something you'd jog in, but for an instant shot of warmth after a swim, a soggy day at the beach, or even a snowy trek down some mountain slopes, it's a great piece of attire. It offers the soothing element of a weighted blanket, the utility of a changing room you can wear, and fits enough like regular clothing that you'll be inclined to wear it well beyond just the car ride home from your outdoor activity.
Bonus points to the brand for using recycled nylon for the exterior and recycled polyester for the faux lambswool interior. Where could it improve? It's hard to say, as its purpose is pretty specific and you really need the heft of the interior to maximize warmth. If there was a way for it to break down a bit better — say, stuffing into an internal pocket — that would add some convenience. To be fair, you can opt to purchase a corresponding bag that it compresses into.
Overall, the dryrobe is very much worth the dough and is a great article to have on hand for staying active, especially if you like to embrace cold weather and water. Even when you're not active, like when you're sitting in a chilly stadium during a football game, it's a nice thing to be able to throw on for comfort.
It comes in a host of color schemes (we recommend the camo print) as well as short and long sleeves. In terms of standing up to the elements, it does so with flying colors. We tested it often on a wet and dreary late fall weekend on the Oregon coast and it simply gobbled up all of the precipitation while keeping the wearer quite toasty.
Editors' Recommendations