Thirty years ago, winos would be forgiven for not knowing about the Willamette Valley. Today, it's arguably the most exciting wine region in America, home to an outstanding combination of intrepid producers, bar-setting quality, and scenery for days. Ask a sommelier or wine buyer or chef what they're into right now and they're more than likely to drop the name of Oregon's most iconic valley.
The Willamette Valley stretches about 100 miles from Portland to Eugene. It's bookended by mountain ranges, the Cascades to the east and the Coastal Range to the west. Within its fertile and evergreen-strewn folds, there are nine American Viticultural Areas (AVAs), unique subsections capable of producing distinctive wines. So while the area has long been lauded for its Pinot Noir, it is also where countless other varietals are made, making it all the more appealing to wine fans. Better still, much of the activity is just a short drive from Portland, the valley's cultural headquarters.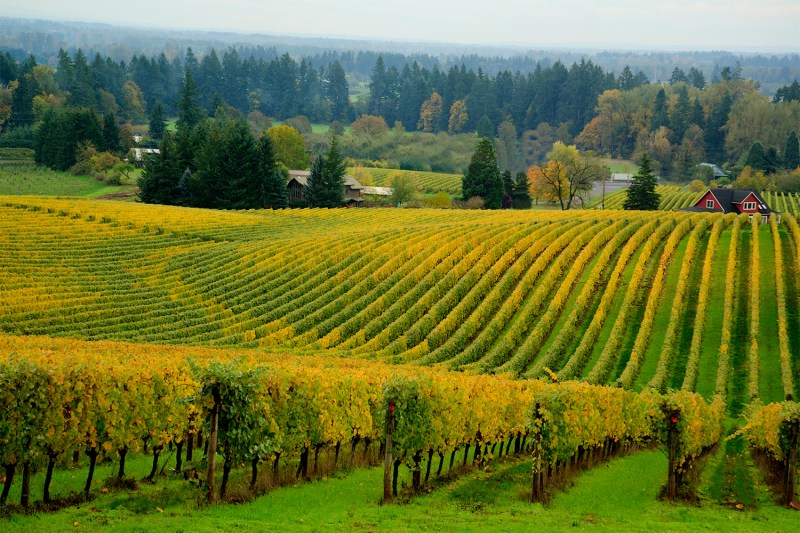 While the scene dates back to the mid-1960s, things didn't really get going until the 80s and 90s. At that point, local wines had fared well at a number of international competitions and major foreign wine houses were beginning to invest in the scene. Today, some 700 producers dot the landscape, along with hazelnut growers, hop farmers, berry patches, oak groves, and charming small towns full of great restaurants.
If you even have the slightest interest in wine, the Willamette Valley — like Sonoma or Walla Walla — must be on your radar. Here's where to taste, eat, and rest up. And as you taste your way through the region, be sure to ask about sparkling wine. The valley is quickly becoming America's new hotbed for fizzy wines and many producers are now trying their hand at the style.
Portland Area Wineries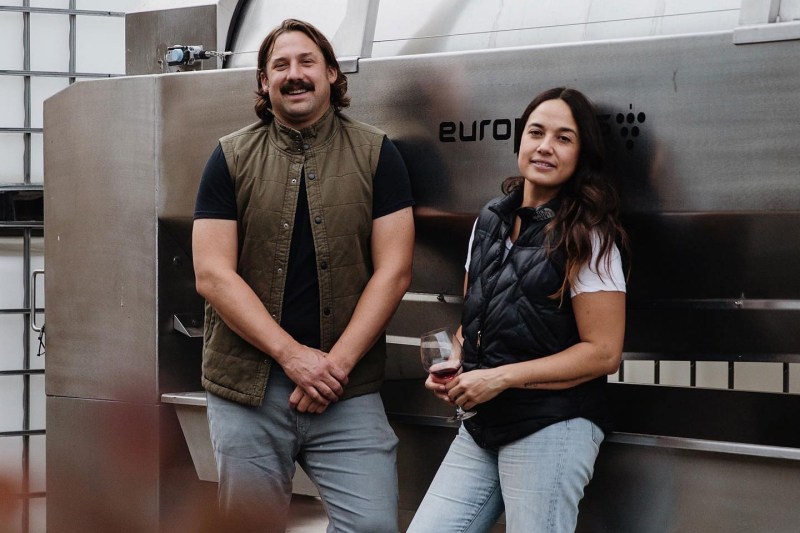 There's a bustling urban wine scene in the Rose City worth exploring. You won't be treated to vineyard views and lazy country roads, but there's some fantastic wine to be had. Because the city is so close to world-renowned growing areas, many winemakers opt to set up shop in town, sharing equipment and facilities and trucking in their fruit. Check out PDX Urban Wineries for more info.
Division Winemaking Company
Kate Norris and Tom Monroe started Division Winemaking Co. back in 2010. Since, it's become a hub for inventive winemaking, helping launch the local renaissance of lesser-known grapes like Chenin Blanc and Gamay Noir. Broader palates will love the selection here, as the duo pulls from beyond the Willamette Valley, sourcing grapes like Nebbiolo, Syrah, and more. The winery is currently changing locations but should be open for the busy summer season.
Helioterra
Helioterra is the winemaking project of Anne Hubatch. Her inner-Southeast Portland spot occupies a former distillery and is where she makes some out-of-this-world Pinot Noir, Pinot Blanc, and Melon. Pop in for a tasting in the wine bar and you'll likely catch the winemaker tending to her barrels in the backroom.
Portland Wine Company
Portland Wine Company is home to Love & Squalor, the fantastic label from winemaker Matt Berson. Sure, he's got a few good Pinots, but he specializes in dry Riesling with real character. This is also a tremendous spot to find well-made and inexpensive blends, along with occasional rarities like a Rosé of Gewurztraminer. His recently remodeled space includes a tasting room and is also home to fellow Willamette Valley label Jackalope Cellars.
North Valley Wineries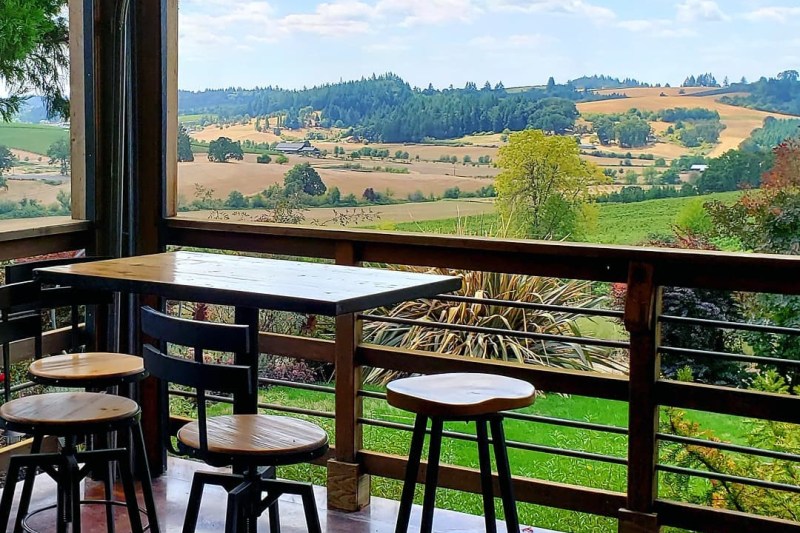 This is the most concentrated part of the valley, a flourishing winemaking zone home to well-known AVAs like the Dundee Hills and Chehalem Mountains. You could spend several full months here and never visit the same place twice, and you should, if you can afford to. Many of the spots are less than an hour's drive from Portland, from pioneering labels like Eyrie Vineyards to intriguing new projects like Niew Vineyards.
Lenné Estate
Occupying a stone structure that seems plucked straight from Europe, Lenné has one of the most picturesque tasting rooms in the region. The wines match the view, made with care and always showing Pinot Noir's wildly expressive nature. Look out for some elegant Chardonnay as well and inquire about a charcuterie board if you're hungry to accompany your tasting.
Archery Summit
This Dundee Hills outfit has one of very few cave systems this side of the Atlantic. That means visitors can be treated to an amazing subterranean tour through barrel-lined corridors dug straight into the resident volcanic soil. If you'd like to see how different a Pinot Noir can be from site to site, this is the place to do so. The label's vineyard designate wines are all tasty and cover the entire spectrum of the versatile grape.
Beckham Estate Vineyard
People moan and groan about how the valley has grown so much that it's hard to recreate the mom-and-pop feel of old. There's some truth to that, but you can still find it and Beckham is proof. The winery and vineyard are set right next to the winemaker's house, along with a studio where Andrew Beckham makes his sought-after amphora vessels for fermenting and aging wines. Visitors are treated to lean and aromatic wines, made in the very vessels the winemaker creates in-house.
Mid-Valley Wineries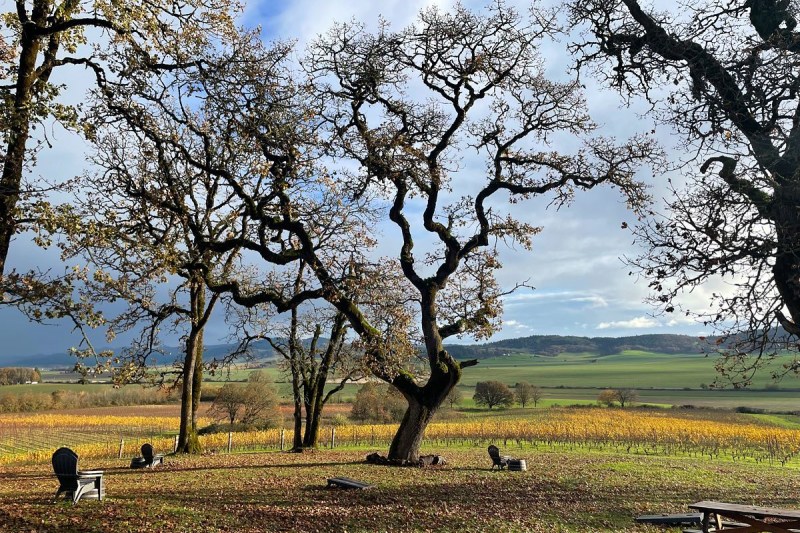 The central part of the valley is home to towns like Salem, Rickreall, and Corvallis and scores of great wineries. Some take advantage of one-of-a-kind conditions like the Van Duzer Corridor, a break in the Coast Range that allows cool Pacific breezes into the vineyards. Others show what different soil types can do to their resulting wines. It's the heart of the valley and home to arguably the most up-and-coming AVA in the Eola-Amity Hills.
Johan Vineyards
Johan is another very picturesque stop, set in a bucolic pocket of vines, old oaks, and rolling vineyard rows in Rickreall. Winemakers all over the northwest covet the estate's many grape offerings, from Blaufränkisch to Zweigelt. The biodynamic winery makes some great stuff of its own, including some bubbles, pink wines, and many other small-lot options. Not only will you fully unwind on these lovely grounds, but you'll also learn a thing or two about wine as well.
Evening Land Vineyards
Seven Springs is a name many winemakers and fanatics will drop if you're visiting the area. This historic vineyard produces some of the best grapes in the state and is Evening Land's main estate. The winery is doing excellent work and can be credited for helping the area's Chardonnay reputation bounce back (to very high levels, mind you) as well as continue to take Pinot Noir to new levels. Look out for some quality Pet-Nat as well, and while there is a variety of tasting options, we recommend getting up in the vineyard for that intimate tour.
Illahe
Going to Illahe is a little bit like going back in time. The Dallas operation does things the old fashioned way, from transporting some of its new wine to Portland by way of canoe (paddling up the Willamette River for a few days) to manually pumping its wines in the cellar (with an awesome stationery bike pump) and farming its rows by way of horse. The wines are always worthwhile, from creative Rosés to Viognier to Pinot Noir that truly shows a sense of place.
South Valley Wineries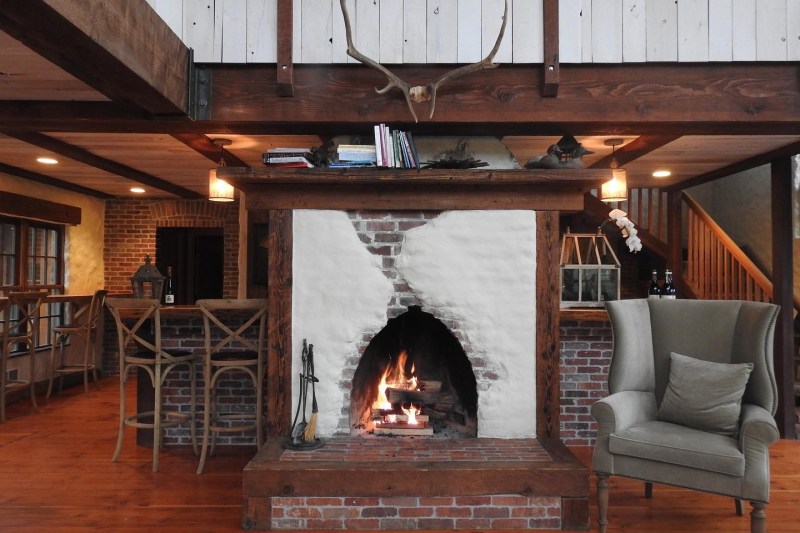 Mark my words: The southern Willamette Valley is about to have its moment. The newest AVA was just awarded here (Lower Long Tom) and growers are increasingly drawn to the slightly warmer climate and stunning terrain in and around the towns of Eugene and Junction City.
Antiquum Farm
One of the most fascinating labels in the Pacific Northwest, Antiquum Farm is turning heads with its grazing-based agriculture. In other words, if you make the visit, you'll notice farm animals tending the vineyard rows, keeping the soil happy and the grapes even happier. The resulting wines are always full of personality and even better in the company of winemaker Stephen Hagen and his extremely inviting tasting room.
King Estate
It's one of the biggest wineries in the land but still a great visit. The sprawling grounds of King Estate just outside of Eugene are home to vines, a large winery structure, and even a full-scale restaurant. You won't be the only person there, but you'll enjoy the views, the deftly-made wine, and the label's commitment to sustainability and innovative processes that are helping keep the industry forward-facing
Iris Vineyards
This relatively quiet operation feels far away, buried in a relatively unspoiled stretch of the valley. The Pinot Noir is quite nice but the whites really stand out, like Pinot Gris and Chardonnay. You're treated to panoramic takes of the nearby Coastal Range and happy, unhurried service.
Beyond Wine
There's much to do beyond wine in the Willamette Valley. If you're more into beer, check out Wolves and People, a top-notch outfit specializing in farmhouse ales, often utilizing local ingredients. It's set in the heart of wine country in the northern valley and occupies an age-old family farm. Cider drinkers are encouraged to check out the work of Bauman's, easily one of the best producers in the state. Many of the offerings tout the complexity of a good wine. Being Oregon, there are tons of great breweries too. One of the most interesting is the south valley's Alesong.
You come here without getting your eat on. Cities like McMinnville, Newberg, Carlton, and Eugene are home to a number of great restaurants. One you cannot afford to miss is The Painted Lady, arguably better than even anything mighty Portland can muster. The tasting menu here is an absolute experience—an immersive dive into the many flavors the valley has to work with. If you want something a little more laidback, check Nick's. The James Beard Award-winning Italian eatery has a more formal restaurant up front and a bustling back bar room where winemakers like to hang out, shoot pool, and have a cocktail.
Need somewhere to stay? The Atticus is one of the better options, luxurious, locally-minded, and set right off of all the action of Third Street in historic downtown McMinnville. The Setting Inn is another great option, and look out for wineries that have their own guesthouses and accommodations, often right in the middle of their vineyards. If you feel like staying in a farm silo, check out the super cool setup over at Abbey Road Farm.
All in all, you can't go wrong in the Willamette Valley. Ask around as you taste as industry types love to reveal their favorite places to go. In the end, you'll end up staying longer than expected but that's par for the course.
Editors' Recommendations