If there's one thing better than new snowboarding tech to get you stoked for winter, it's new snowboarding tech that makes the best gear on the market available to a broader audience. This winter, Burton Snowboards is adding to its range of industry-leading step-on boots and bindings, with these newest Burton step-on bindings paving the way for split boarders and groms to step in and shred — no more strapping in or sitting down.
The good news for young shredders and backcountry powder chasers is that you don't have long to wait. The Burton Step-On Grom arrives on October 3rd, along with the new colorways of the established Burton Step-on binding lines. Burton Step-on Split bindings will follow shortly after, on November 20th. If you're not a part of the Burton Step-On revolution yet, here's why these newest additions should sway you.
Burton Grom Step-On
So often, our young chargers are limited in what equipment they can ride in. A historical look at the gear groms have been riding sometimes makes you wonder how many young rippers have stuck at the sport. Burton is here to shake that up. Not only is the range of kids' Burton Snowboards aligned with their adult range — including the truly awesome Custom and the Family Tree Hometown Hero but now the bindings are too.
Small hands in big mittens no longer have to contend with buckles and ratchets. Instead, riding with your grom now includes more of what you both love — shredding. The Burton Grom Step-On fits boot sizes 11C – 2K, ideal for the growing young rider. If you want to inspire the next generation of rippers and have a riding buddy for winters to come, there's no better way than to start them off with the gear you're already on.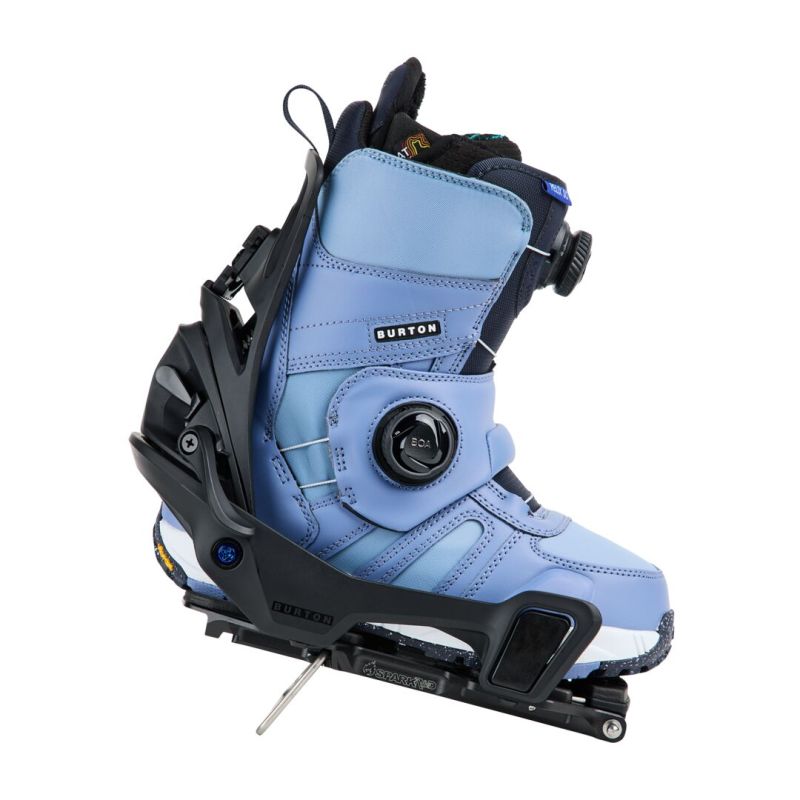 Burton Split Step-On
With Burton step-on bindings hitting the mark on their ridiculously good all-mountain snowboards and the Burton Loback Step-On cornering the market for all you steezy park rats, Burton's attention turned beyond the groomer. With splitboarding binding manufacturers all fighting to shed a few ounces here and there on their bindings, Burton has crushed all competition by completely removing the heel and toe strap, leaving you with just the framework to attach to your super-light splitboard.
But the Burton Split Step-On isn't just about adding lightweight efficiency to your backcountry setup — though I'm not knocking this, saving weight is the key to getting more powder runs on fresher legs. Like all-mountain and park models, these bindings give you industry-leading response and control. The best thing about these bindings, though, is the speed. The freshest lines go to the fastest setup, and what's more immediate than stepping in and shredding that deep, deep powder? No friends on a powder day doesn't quite scan in the backcountry — you and your buddies have to have each others' backs — but this winter, stop watching other riders snake your lines. Step on, shred, and know you're having more fun than anyone else on the mountain.
Editors' Recommendations