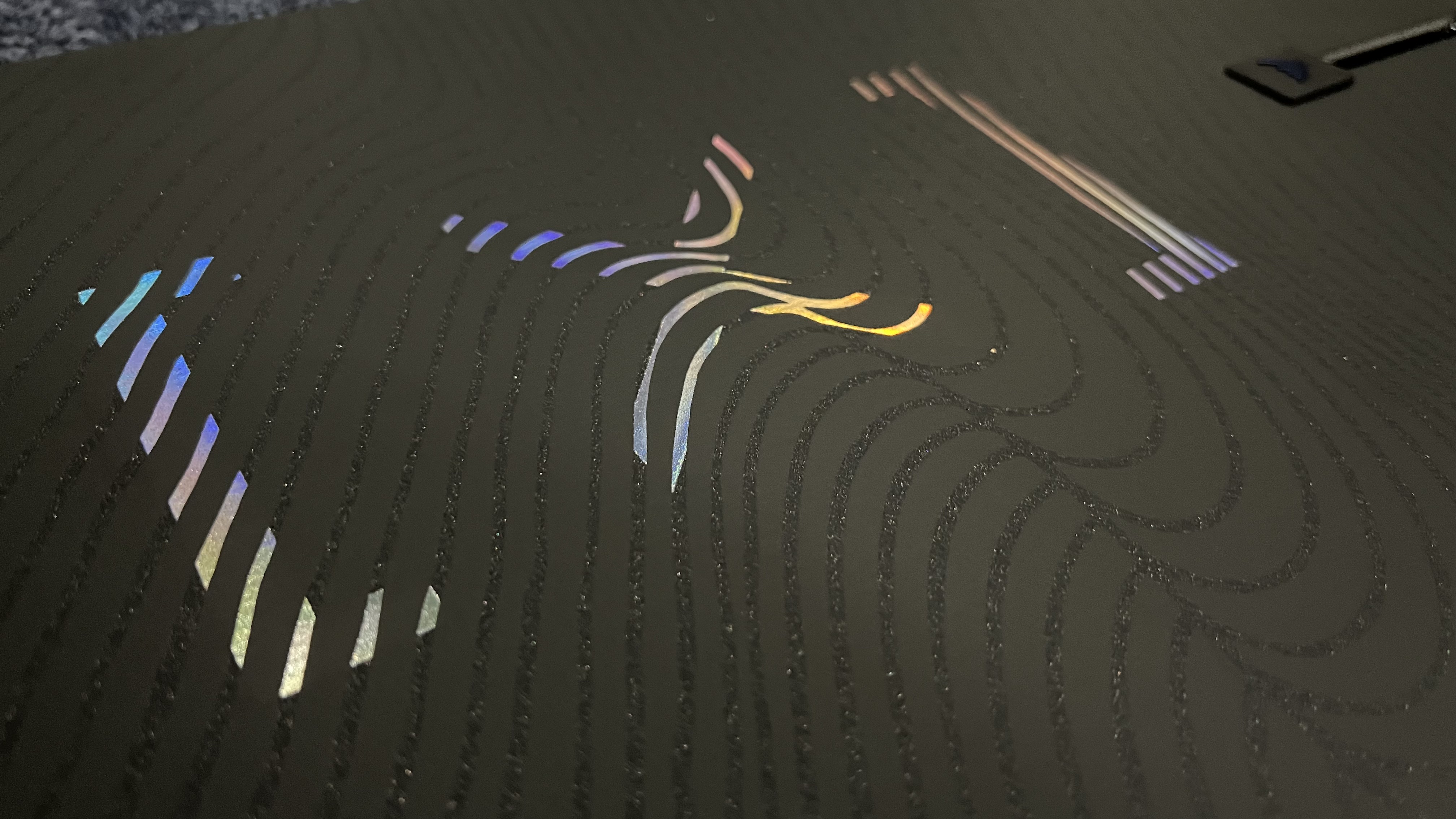 Here's an abstract question to start a Burton snowboard review with: have you ever driven a Ferrari?
A Ferrari is a masterfully engineered sports car without compromise. It costs more than the average sports car, but anyone who owns one will tell you it's worth whatever they spent. Ferraris have the ability to convert fans into fanatics; many are looking for their second or third Ferrari. There's just something special about driving a Ferrari; it's unforgettable, and you'll chase the feeling constantly after driving one.
And that's exactly how you'll feel after riding a Burton Custom X. It's a zero-compromise, pro-caliber snowboard with more power, pop, and performance options than maybe should be allowed. It's more expensive than some other boards, but like a Ferrari, it's worth every penny – and I wouldn't mind having a second (or third… or twelfth someday) just for kicks.
The type of snowboarder I am
I am a highly technical snowboarder from the Pacific Northwest, though I will often travel elsewhere to ride. I'm not what you'd call a reckless snowboarder — I don't crave speed; I plan my lines, and I execute them. I'm not always a park rider (but I'm also not afraid of features). I prefer side hits to a terraformed park.
The conditions for my Burton Custom X review
This board was tested on Mount Hood in Oregon and at Vail Resort in Colorado.
Mount Hood was mostly groomed with some fresh snowfall. Snow there was mostly packed.
Vail was groomed and fluffy on the first day of testing. It was about as perfect a blue-bird day as I've ever had on a mountain. Day two brought a lot of fresh snow, both from the previous overnight and as I was riding during the day.
Burton Custom X specs and profile
There's a lot to unpack with the Custom X, so I created a handy checklist:
Terrain: Burton says the Custom X is a 6/10 for parks, 9/10 for all-mountain riding, and 7/10 for powder.
Personality: According to Burton, the board rides between a "happy medium" and "stiff and aggressive."
Sizing: The Burton Custom X is available in sizes from 150cm to 162cm in regular widths. There are also wide options at 158cm, 162cm, and 166cm.
Stance: The Burton Custom X stance location is 12.5mm back.
Bend: Camber.
Shape: The Custom X has a longer nose and shorter tail but is equally proportioned. The longer nose is due to the board's stance being set back.
Flex: The Custom X has a symmetrical flex.
Core: The Burton Custom X has the brand's lightest core, the Dragonfly 600G, and a multi-zone EGD on the contact points at the toes and heels.
Construction: The Burton Custom X has a five-layer construction: top sheet, top glass with 45-degree stitched fiberglass, wood core, bottom glass with fiberglass stitched at 45 degrees in the opposite direction of the top glass for stability, and the base.
Base: WFO base.
Mount: All Burton snowboards use the brand's channel mount system.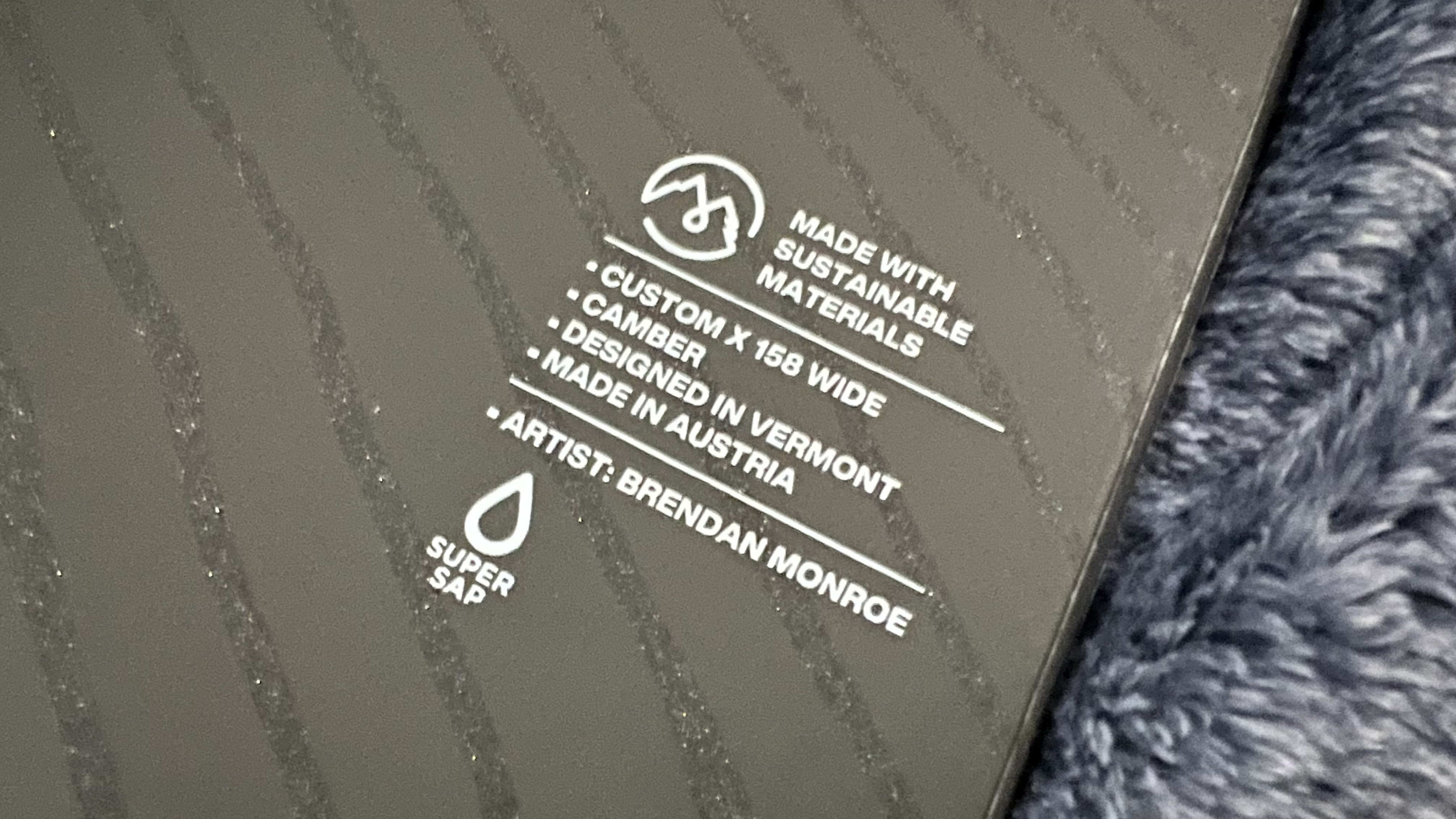 What Burton says about the Burton Custom X
Pro-caliber is a strong statement for any board, but the men's Burton Custom X Snowboard has repeatedly delivered for snowboarding's most demanding riders due to precise design and powerful drive. The confidence is in the tech, which includes the carbon-fueled snap of Squeezebox High core profiling, a competition-grade base, and 45° Carbon Highlights High-Voltage for the ultimate in lightweight responsiveness. The hardest charging board we make, the Custom X is available in two versions: Choose the power of camber or the float and catch-free feel of Flying V.
Bindings, boots, and board size used for this review
I rode the Burton Custom X Snowboard with Burton Re:Flex Step-On bindings and the Burton Photon Step-On boot. I opted for the 158W version for this review.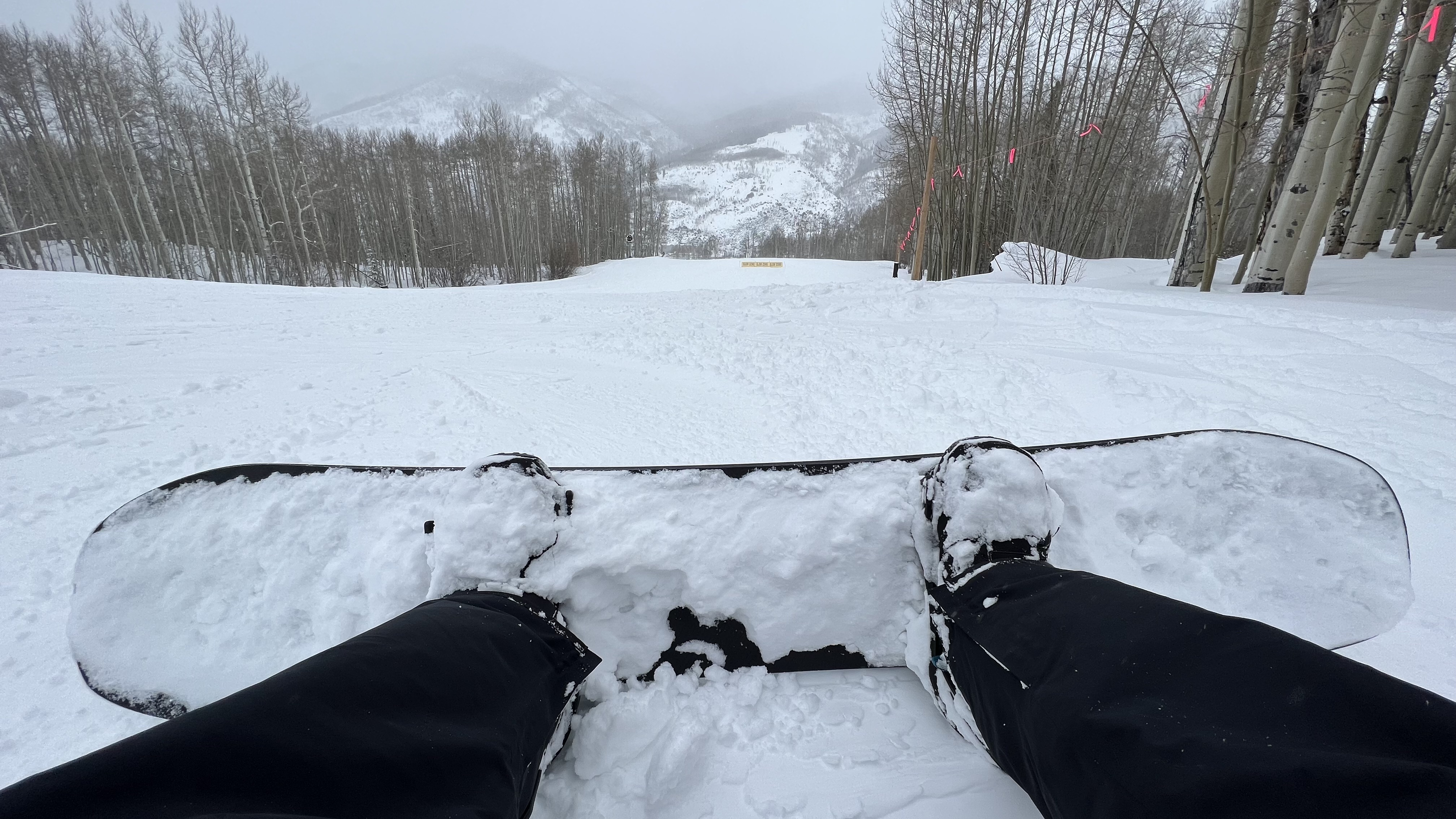 The Burton Custom X: How it rides
I hope you like going fast and exquisite carving because that's what the Custom X delivers.
I was able to test the Custom X at Vail Resort in Colorado and Timberline Lodge on Mount Hood. This presented a variety of conditions, from perfectly groomed runs with powdery sides to snow that was a touch wet and heavy. The Custom X ate it all up with aplomb.
The board is remarkably fast, which is a testament to its light core and stiff profile. This speed preference is matched by edges that grip snow better than any other board I've tested and a stiff structure that matches the energy you put into the board. When you want to carve, it carves. When you want to stop, the Custom X stops.
Plainly put, the Burton Custom X does what you want, when you want, and begs for more. I won't mince words: Burton Custom X is the perfect snowboard.
Custom X does take a bit of getting used to, and it's not a snowboard for beginners. It's stiff, and camber boards are more prone to edge catches than flat or rocker boards, which are better profiles for beginners. When you're ready to graduate your riding, though, the Custom X is a board you can grow with. I'd feel comfortable recommending this board to serious intermediate riders who want more performance.
On piste, the Custom X is like a forged VG10 Japanese knife touching an A5 wagyu steak: you barely have to ask it to carve. Point the Custom X in a direction, keep an edge, lean into your positions, and let it go. Before you know it, it's time to unweight yourself and carve in the opposite direction.
I made long, shallow turns and quick cuts without issue. When you find a good side hit, let the Custom X rip.
The nose and tail rise sharply, which helps with on-piste performance, but the Custom X is also adept at just off-the-run powder, too. I wouldn't advise taking this board deep into the trees ­— the Family Tree Hometown Hero is better for that — but you can easily plow through powder with the Custom X. Just remember the snub-nose profile is going to slow you down if you ride in powder for longer periods.
You can ride switch on this board; its stance is set back 12.5mm, which is a typical setback for a directional snowboard. If you ride switch often, setting the stance even on this board won't hinder performance, but you may notice the camber a bit more. I'd keep it set back as designed and remain mindful of being on edge when transitioning.
The Custom X is a go-anywhere, do-anything board. You can launch off jumps (it's incredibly light) and land safely and confidently (stiff with great edge control). It can plow through powder as needed (tall nose profile) and carve confidently when you're back on the run. Side hits bow to the Custom X (light and responsive to your inputs), and it stops on a dime as needed.
If you like to butter, the Custom X is a bit stiff for this. It's possible, but ground tricks are not what the Custom X was designed for. This is an all-mountain, every-feature, all-day-long board.
Burton Custom X: Who should buy it?
It's easier for me to tell you who should not buy the Burton Custom X: beginners.
That's about it, honestly. If you're just starting out, the Custom X is probably "too much board" for you. Burton's Custom (not the X) is a much better choice for serious beginner to intermediate riders, and true beginners would be better served with flat-top boards like the Burton Instigator or Ripcord.
The Custom X is more expensive than most snowboards at $840, but like a Ferrari, it's worth every penny. And once you ride it, you'll understand why.
A lot of the language I find myself using in this review is presumptuous. I say things like "when you ride it" because you should. The board is just that good. If the price is giving you pause, I would suggest renting the board from Burton first. Give it a few days on the mountain, and you'll experience exactly what I'm talking about.
If you're considering buying the Custom X, don't hold back. Burton didn't when designing, engineering, and building the board. The Burton Custom X is the best snowboard I've ever ridden, and I think you'll feel the same.
Editors' Recommendations