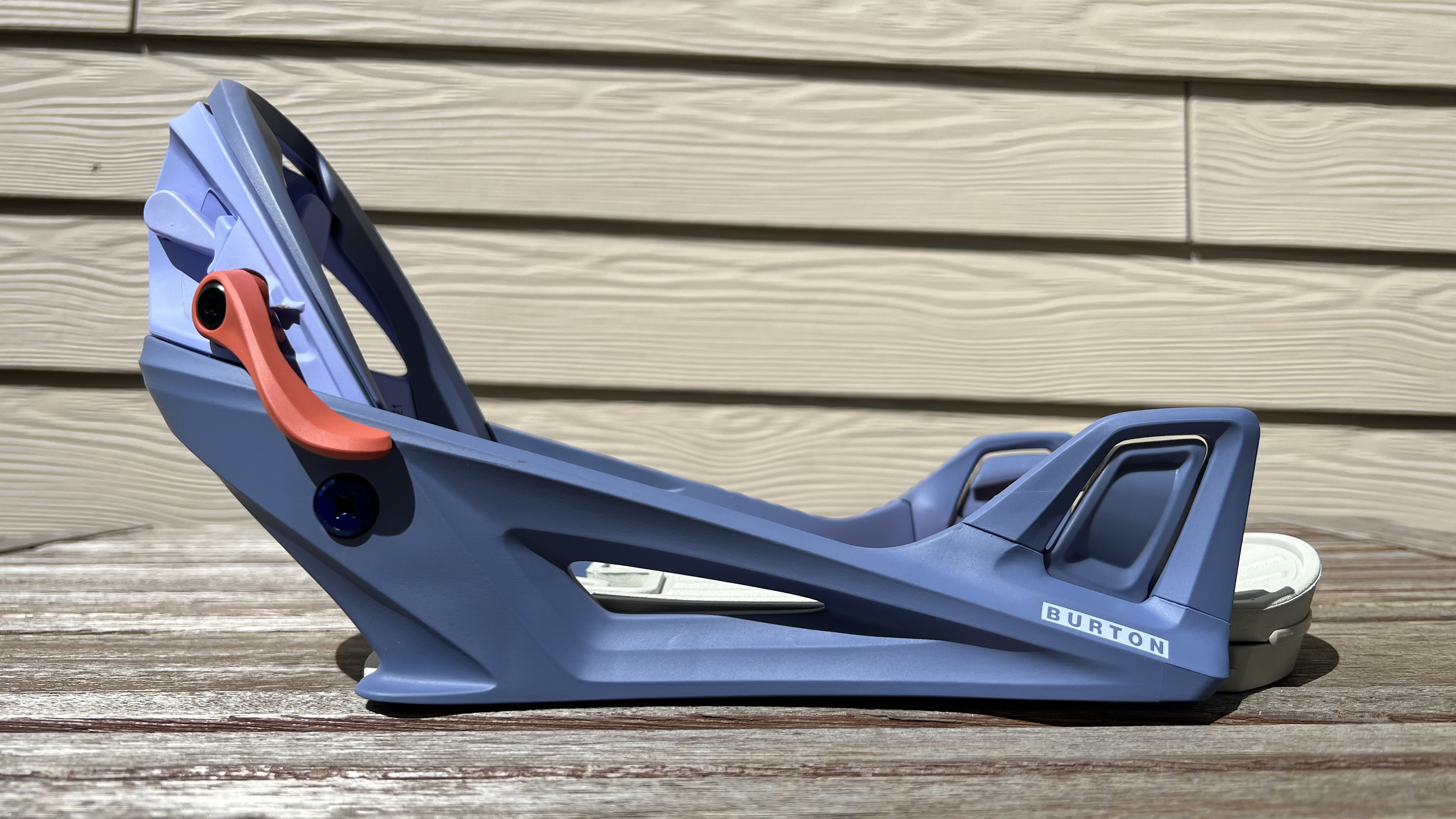 When people talk about snowboarding, they tend to focus on the board itself. How flexible it is, its shape, and length. The purpose of the snowboard. How many snowboards are in their quiver, and the specific scenarios and conditions for each board. They tend to focus a lot of energy on whether the board is letting them down when they don't have a great day on the mountain.
It's a fair line of thinking. Sometimes, you're on the wrong board. Most of the time, this isn't the case. Most snowboarders have a traditional camber board, likely purchased because they like the graphics — and camber boards are great for most riding scenarios.
But maybe the answer to being a better snowboarder and having more fun has nothing to do with the board itself. Maybe your answer is a few centimeters north: your boots and bindings.
Recently, I was able to test the Burton Loback Step-On bindings and Photon Soft Boot. Burton's concept is that late-season riding should be a bit more "surfy" and fluid because conditions are less than ideal. My experience opened up Pandora's box, which might change how I approach snowboarding forever.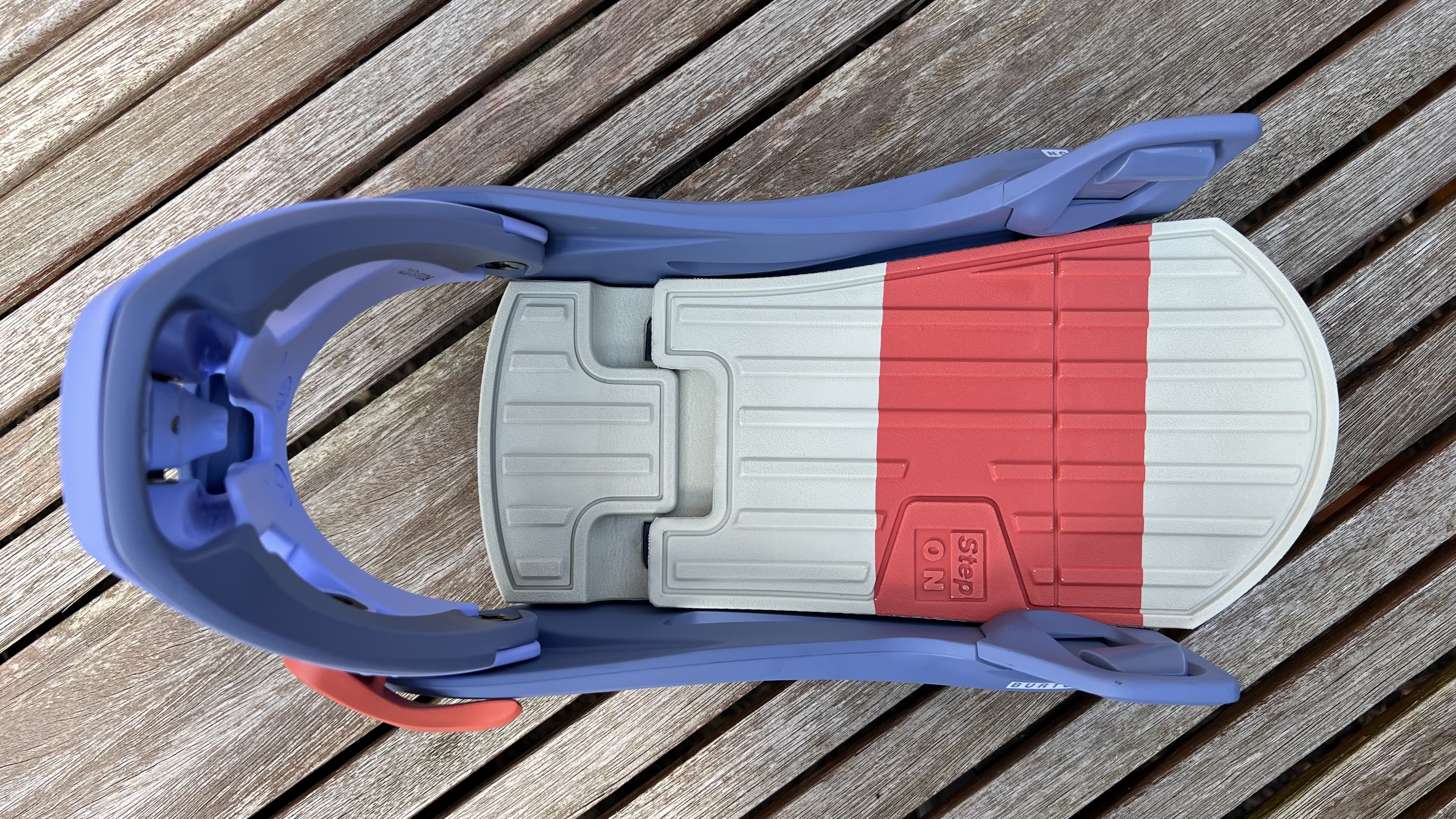 What is the Burton Loback Step-On snowboard binding, anyway?
Yeah, so, Lobacks are weird. But it's a good kind of weird, I promise.
The Burton Loback Step-On binding is basically a Step-On binding without the high-back. That means forward lean is not adjustable, and you've got nothing to lean into on heel-side turns. There's a small "dummy plate" across the rear bridge where the high-back typically is, but nothing extends upward.
And you might wonder why Burton would do this. Why take the high-back off a binding? More to the point, why not just sell that little "dummy plate" and encourage users to take the high-back off their existing Step-On bindings? There's a good reason — or reasons.
First, Burton doesn't want people tinkering with their Step-On bindings. A Burton representative tells me that while they're happy to let customers replace the rear clip on a Step-On boot, they prefer to let their own technicians repair bindings.
Second, Burton designed Loback Step-On bindings to be used with "soft" boots. Soft boots have a greater range of motion. The overall idea is that bindings without backs and a softer boot will yield a "surfier" riding experience. "Surfy" is, after all, quintessential Burton, where snowboard graphics are often reminiscent of the heyday of surf culture. Let's not forget Burton's founder, Jake Burton Carpenter, originally called snowboarding "snurfing."
For more on Burton Step-On bindings, read our full review. There's a lot in there that is relevant here, and it's a far more in-depth article with regard to the ins and outs of Step-On bindings.
What Burton says about its Loback Step-On binding
From Burton:
Go low to get playful.

The men's Burton STEP ON® Loback Snowboard Bindings offer the same intuitive boot-to-binding connection of our STEP ON system with a low-rise back for less restrictive, looser ride for park and freestyle riding. Three connection points, two at the toe and one at the heel, deliver unmatched simplicity, security, and board control. Toe hooks 2.0 offer responsive entry and a quick-release lever on the loback makes for a clean exit. It's universally compatible with all major snowboard mounting systems, including 4×4, 3D®, and The Channel®.

Burton Step-On soft boots review: necessary flexibility or just plain overkill?
You do not "need" soft boots for Loback Step-On bindings. You need Step-On compatible boots. I rode the Lobacks with both kinds of boot flexes/support Burton offers: soft and normal. We're going to focus on the boots for this section; don't worry, we'll tie it all together soon.
First, a caveat. There is no tried and true scale for rating soft boot flexibility. Burton just calls its soft boots "soft." Some other manufacturers rate the "softness" of the boot. Ultimately, it's subjective. As always, you should try on a boot before you buy it, or purchase a firm and soft boot, if possible, to compare the two flexes before returning one (or keep both, why not).
Soft boots allow for a greater range of motion. The typical human ankle has 10-20 degrees of dorsiflexion, which is basically pulling your toes toward your shin, and 40-50 degrees of plantar flexion, or pointing your toes away from you. Soft boots help you realize a fuller range of natural motion when snowboarding. In our not-all-that-scientific-but-still-pretty-nerdy testing, we found traditional snowboarding boots offered between five and 10 degrees of dorsiflexion, soft boots 10-15 degrees of dorsiflexion without being fully broken in.
You might be locked onto the snowboard via the bindings, but a soft boot allows for a greater range of motion from front to back and side to side. (We should remind you that if you have weak ankles, please exercise caution with soft boots. I don't have weak ankles, but I recognize that landing a jump with your ankle at an angle could hurt. this is particularly worrisome for laterally flexed ankles.)
If you want the full Loback experience, soft boots are the way to go. The aim is greater flexibility and a unique riding profile. Firmer boots made the Loback setup feel a bit more traditional. Soft boots gave a much greater range of motion. Even though five to 10 degrees of motion range doesn't seem like much, it definitely feels like it is.
Burton Loback Step-On binding review: it's time we talk about – well, everything
I love the Burton Custom X. A lot. Loback Step-On bindings aren't right for that board, though. For a Loback, you want something a bit more fluid and free. Burton sells a spring-specific board, the "Slush Puppy," but it only comes in two sizes, and neither is right for me.
Luckily, I have a Custom Flying V — perfect for Loback Step-On bindings. (Yes, I ride non-Custom boards — like the Family Tree Hometown Hero!)
Flying V, Loback bindings, soft boots. How surfy can it get? A lot surfy.
The Flying V is a camber-rocker setup. It has a deep rocker in the middle, camber underfoot, and two rocker zones at the edge contact points. Burton says the "Flying V bend features rocker zones between and outside your feet for enhanced playfulness, and float and camber zones underneath your feet that focus edge control for crisp snap, added pop, and powerful turns."
I think of the Flying V bend profile as an all-wheel-drive system for your snowboard. The middle rocker keeps you on an edge constantly, which oddly helps you not catch an edge when riding. It gets a bit wobbly at times (particularly when riding flat) and slows down a bit on catwalks, but it's a playful board. The Flying V is a great board for getting that surfy feel with Loback Step-On boots, and offered enough flexibility that I could do tricks. (I tried Lobacks on a camber board as well; they worked just fine; I just prefer the Flying V profile for this setup. You do you.)
As you might imagine, carving on Loback boots is a different experience. As there's no actual "back" to lean into – and soft boots without as much stability – I was digging my heels in more than I was "carving" heel-side. If you've ever surfed, you understand the sensation: if you want to turn, you dig in and force the water (or snow, in this case) to spit you toward the direction you want to go.
Toe-side turns aren't an issue. This is the same sensation you'll have with high-back bindings, mostly because the contact points for the boots and bindings are the same across Burton's Step-On lineup. There's a bit more flexion to be mindful of, but I can't say it felt much different than with traditional boots. Lateral movement is exaggerated due to the soft boots, though. I found myself sort of stomping down on my front foot instead of leaning in the direction I want to go. The weight distribution was still forward-foot heavy, but the sensation was a bit different.
Carving and riding with soft boots and Loback bindings is a slightly different experience. In a lot of ways, it feels like skateboarding.
Burton Loback Step-On bindings: who are they for?
I wouldn't suggest you bomb down double-blacks or aggressive blues on Lobacks. When stability matters most, you'll want traditional Step-On bindings and boots.
Burton chose to release its Lobacks in spring when conditions are a bit more playful, likely to appeal to those not quite ready to hang up their board for the spring and summer.
I suggest more riders get familiar with more of the mountain, though. Burton Loback Step-On bindings are the best park, ground tricks, and mountain-feature bindings I've ever tested. If you've ever tried and failed at something like a nose grab in the park or a trick when jumping off a side-hit, Loback bindings and soft boots may make all of that easier. Keeping balance on a jib is much simpler with Lobacks and soft boots, in my experience. And in exploring more of the mountain and tinkering with your skillset, you'll want to break Lobacks out in even the most prime conditions. (Soft boots are a park-rider go-to anyway; Loback Step-On bindings amped my experience up a bit.)
Look, there's nothing wrong with not wanting to bomb down the mountain and carve all day. I've had plenty of days where I want to be on the mountain but don't quite feel up to challenging myself to ride hard. So I work on technique (or just fuss with boards or other gear I'm testing). Sometimes I just screw around on greens and enjoy the landscape or use my time to try new tricks. There's no reason you can't do the same. Burton Loback Step-On bindings are a wonderful conduit for having more fun on the mountain and exploring more of the hills and limits you might not have tested. To me, this isn't a "late season" toy setup; it's another avenue for exploration in my riding. It's another option. It's freeing.
Please just keep in mind that the lack of stability does mean you have more range of motion, so you will need to take care when landing jumps — even little ones on flat ground. It's a bit easier to land off-center and with your ankle at a slight angle with these bindings. Get your fundamentals down first; I'm definitely not suggesting you get some Lobacks and knuckle-huck off of your nearest hill on day one. (Unless you're Zeb Powell and you ride an ironing board; in that case, do your thing.)
Burton Loback Step-On bindings and soft boots are great for ground tricks, too. Ever wrestled with buttering and blamed your board? Lobacks make buttering a lot easier. Toe and nose spins, too. Where traditional bindings focus on stability and carving, Lobacks open a new world of tricks and maneuvers for you to explore.
You know what else you should explore? The bunny hill. No, I'm not joking. You're probably ignoring it because you don't need it anymore, but it's one of the best places on any mountain to tinker and play, particularly with ground tricks. Get your Loback Step-On bindings, some soft boots, and start tinkering with that backside nose-roll 360 your favorite YouTuber makes look so easy.
The Burton Loback Step-On bindings are for anyone who wants to explore their range of movement, do some cool new tricks, and change things up a bit with their riding. Soft boots — Burton has several models; I just happen to have the Photon — increase the fun I have on the mountain with Loback bindings. And that's what snowboarding should be: fun.
I'm encouraging you to spend $300 on bindings and another ~$400 on boots. I'm asking you to challenge why you think you need a new board to be a better rider. I'm suggesting you consider that most snowboards are created (almost) equally, and the board itself may not be what you need to change in order to have more fun and/or improve your riding. Think differently.
You'll only see the results you want when the change you make is meaningful. I took my Custom Flying V off my wall rack, slapped some Loback Step-On bindings on, strapped some soft boots to my feet, and had a blast at my home resort doing things I didn't feel I was capable of before trying this setup. I bet your experience will be similar.
So go watch some old Rodney Mullen tapes for inspiration, ease into some Loback Step-On bindings and soft boots, and get weird with it on the mountain. You'll be glad you did.
Editors' Recommendations