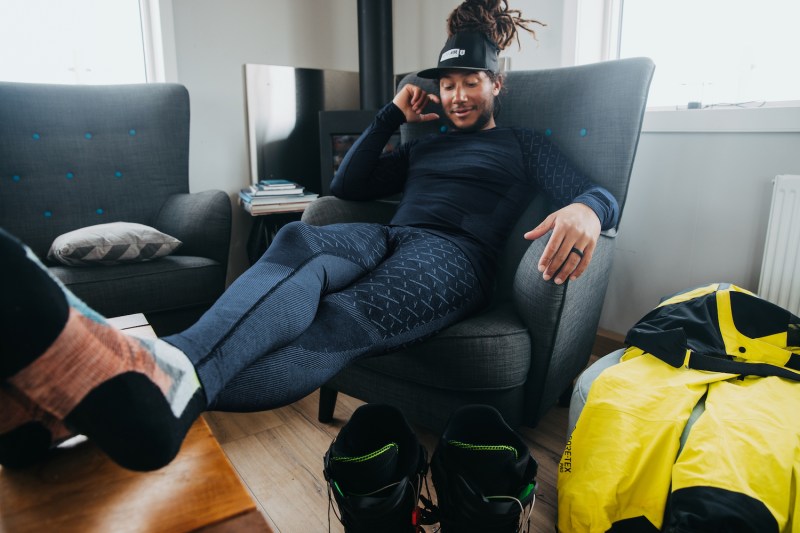 Is there a brand more synonymous with snowboarding than Burton? While Burton Snowboards is perhaps best known for its snowboards and tech, the range has expanded in recent years and now includes some of the highest-quality outerwear on the market. The Burton [ak] range has rightly taken its place at the top of the pile, recognized for its high performance and snowboarding comfort.
If there was one place that Burton could have been accused of slacking off, it's the base layer department. Sure, Burton Snowboards sells some decent base layers already, but until now, they've all been made from polyester. Burton diehards — and these riders exist in their thousands — have been clamoring for a range of woolen base layers from the company they swear by, and that company has delivered in style. The new ODLO x Burton Slokar Merino wool base layers are here, and they're precisely what you should be wearing to complete your [ak] setup this winter.
ODLO x Burton Snowboards Slokar base layers
When two titans of industry meet, you know you're in for gear that looks great, performs to the highest level, and lasts season after season. ODLO combines a Norwegian heritage with Swiss engineering — seriously, can you get two European countries better than these? — to produce some of the best active sportswear on the market.
While other base layer brands focus solely on warmth, ODLO has prioritized movement and user comfort. Their gear has a longstanding Alpine history in winter sports and running and hiking in the summer. In short, they know a thing or two about putting together a base layer.
You're unlikely to fail when you take this Swiss knowledge and add Burton Snowboard's rider-friendly design. The ODLO x Burton Slokar — continuing an [ak] tradition of tying in helicopter names; look up Slovenian philosopher and economist Ivan Slokar when you have five minutes — base layers are all about all-day comfort and riding, whether you're ripping the groomers, neck deep in powder, or you're taking your splitboard into the backcountry. Here's a rundown of the features:
It is made from ODLO's Performance Wool fabric, featuring 50% Merino wool, 37% polyester, 11% polyamide, and 2% elastane. This blend is designed with the best of both worlds, promoting freedom of movement, temperature regulation, and moisture control.
Seamless body-mapping construction
Naturally anti-microbial for odor control
Silky softness for an against-skin fit
Long-lasting durability — synthetic fibers promote longevity
While we know that you Burton fans will be chomping at the bit to get your hands on what will surely be your new base layers for this coming season, you're not going to find the ODLO x Burton Snowboards Slokar in your local store. These base layers are only available directly from Burton or ODLO or in one of their branded retail stores worldwide.
Editors' Recommendations