Wise men have said the only certainty in life is uncertainty, which is perhaps most true in the wayward attitudes of the weather. In order to stay warm — and safe — it's worth researching and investing in the best rain gear for your outdoor arsenal. The real challenge is finding the right pieces that will keep you dry, not only from the outside precipitation, but from your own perspiration. As they say, there is no such thing as bad weather — just bad gear.
While adventuring in the great, spasmodic outdoors over the years, some hard lessons have been learned about the direct relationship between choice of gear and quality of experience. From soakings endured in Papua New Guinea to sleet-filled glacial hikes in Alaska to the regular rains of the Pacific Northwest, this author has learned that there is no such thing as an all-in-one piece of rain gear. Instead, incorporating a couple of quality layers and specific pieces of wet weather equipment allows for maximum adaptability to continually changing environments.
So let's break it down, starting with the head. We at The Manual picked some of our favorite pieces of gear that will let you get wet and stay dry, all at the same time.
Head Piece: Patagonia Brodeo Beanie, $35
Remember when your parents told you to wear a cap because your head incurred more heat loss than the rest of your body? Well we've got news for you — that myth has been debunked. Don't believe us? Check out this article from The Guardian. That said … your head still loses heat like the rest of your body, so cover it up! To minimize the stuff you have to carry around, try pairing a good beanie with a hooded jacket. We like the Patagonia Brodeo Beanie because it incorporates wool, looks good, and is made out of recycled materials. On top of its inherent warmth, wool is a great option because it breathes well, which means it dissipates moisture quickly and keeps odor-causing bacteria from developing.
Outer Layer: Arc'teryx Beta LT Jacket,
$360-$525
A solid outer layer is by far the most important piece of rain gear that you'll own. If you're working with a budget, make sure this is not the piece you negotiate on. A quality jacket will last for years and, more importantly, will be worth every cent on a freezing cold day. If you find the right jacket, it can be a versatile outer layer for every occasion — snow, rain, wind, or even a night on the town. The Arc'teryx Beta LT jacket is a favorite because it's a light, durable shell that is meant to be just an outer layer. That means you can wear as many or as few layers as you'd like underneath the jacket to manage your warmth. Arc'teryx uses Gore-Tex, which is one of the highest-rated textiles in the industry and consistently proves its ability to keep water out and let water out (yup, we're talking about sweat). On top of that, the jacket looks good. And it has a hood!
Warmth Layer: SmartWool Base Layer Pattern Hoody, $130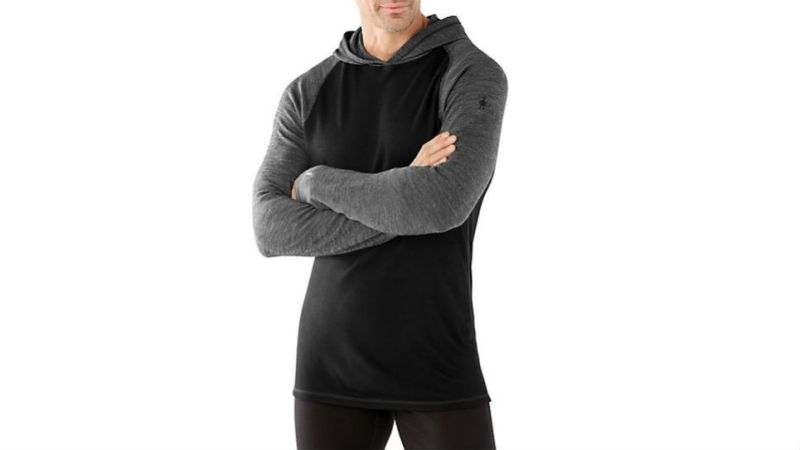 Alright, we've covered the head and the jacket. Now, let's move on to what you want underneath the jacket. Choose a layer that is specifically meant to add warmth to your torso. This layer can go over a shirt, come off if it gets warmer, or can be a stylish option if the rain quits and your outer layer is ditched. This author uses this exact SmartWool layer in conjunction with a good rain jacket or wind blocker to add warmth without losing breathability. Again, we are talking wool here, which is an awesome material that brings so many positive attributes to the table. It's almost as if wool developed through evolution as a highly functional warmth layer to keep animals alive. Weird.
Pants: Kuhl Destroyr Pants, $139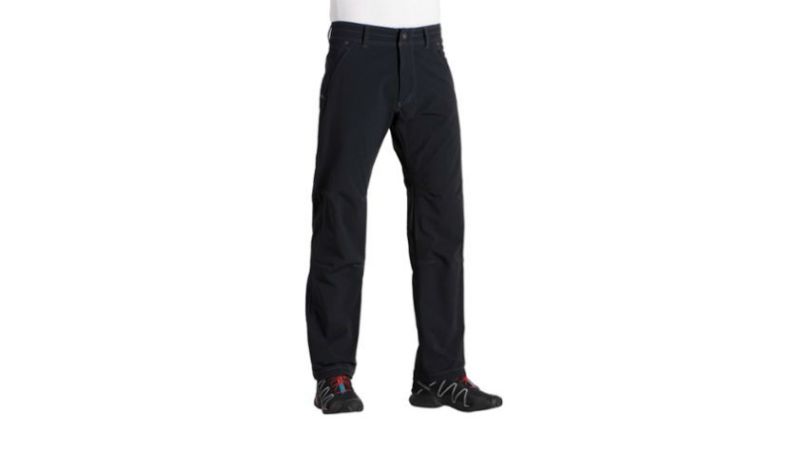 Don't buy those rubber/plastic rain pants. Please. Just don't. You will literally — think Chris Traeger — be soaked in your own sweat if you do anything other than walk around the block wearing those. Instead, look for a durable pair of pants that is weather resistant. Again, breathability is key, especially for those heat-generating legs. Check out Kuhl's Destroyr pants that repel rain, are designed for movement and comfort, have plenty of pockets, and really do look good. With the right pants, you're legs will at least stay moderately dry when hiking, biking, or, literally, walking with Gramps at the park. Also, that Carbon color is on-point.
The above pieces of gear can prove useful while hiking in a downpour or hitting the Windy City. There is a lot of great gear out there to choose from so find what works best for you. That said, if you take away nothing else from this: Use layers and choose breathable ones! Have fun, get wet, and stay dry.
Article originally published by Mike Richard on March 23,2017. Last updated by Hendrik Broekelschen on October 6, 2017.
Editors' Recommendations