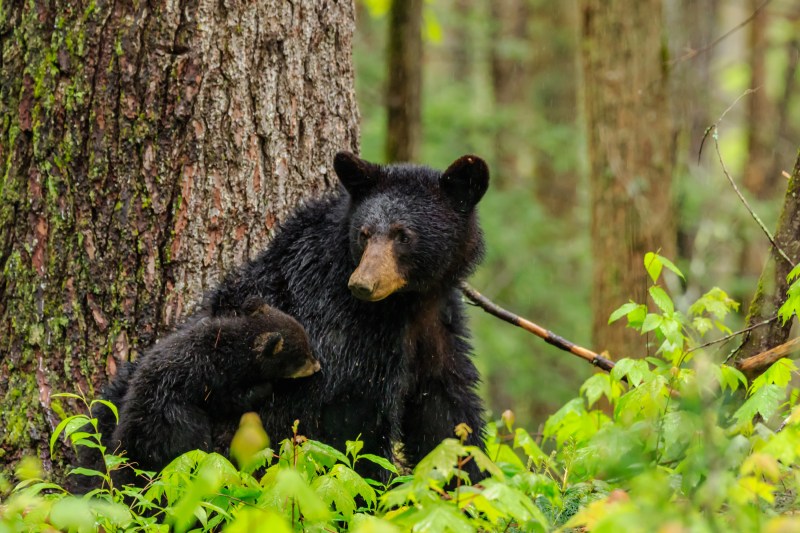 The Great Smoky Mountains National Park is a haven for both nature enthusiasts and wildlife. However, coexisting with the park's wildlife has its responsibilities, especially when it comes to respecting and protecting its resident black bear population. A recent incident involving a bear encounter has prompted park officials to take a proactive step toward ensuring the safety of both visitors and these magnificent creatures.
Why Great Smoky Mountains National Park closed a road
On a seemingly ordinary day in the Cades Cove area, a visitor had an unexpected and heart-pounding encounter with one of the park's iconic residents — a black bear. While the visitor remained unharmed, the incident shed light on a concerning issue that has been gradually developing: bears becoming habituated to human presence and vehicles.
In response to this incident, Great Smoky Mountains National Park officials made the prudent decision to temporarily close Rich Mountain Road, starting from Saturday, August 5th, until further notice. This proactive measure aims to safeguard both humans and bears by preventing any potentially hazardous encounters. The park's Superintendent, Cassius Cash, emphasized the importance of this move, stating, "By closing Rich Mountain Road, we are protecting people and bears. When people intentionally attract bears with human food or pet food, it can lead to a dangerous situation for visitors, local communities, and the bears."
According to the National Park Service, August holds particular significance for bears because it's a critical period when their primary food sources, such as berries and acorns, are not in season. As a result, bears may be compelled to approach vehicles in search of food. The unfortunate consequence of this behavior is that bears can become conditioned to human food, which poses a significant risk to both their well-being and that of park visitors. Once a bear associates humans with food, they may become emboldened and even aggressive in their pursuit of it.
The implications extend beyond individual bears. This behavior can be passed down to their cubs, perpetuating a dangerous cycle of habituation. Therefore, the closure of Rich Mountain Road serves a dual purpose. It allows bears in the area to forage and eat without the disturbance of vehicles while simultaneously reducing the risk of bears becoming accustomed to human presence. It also keeps humans safe from a bear attack because one thing is certain — you can't outrun a bear.
Visitors to the national park, as well as residents of local communities, have a pivotal role to play in ensuring the safety of both bears and humans. Responsible behavior is key. Never intentionally approach, feed, or leave food or trash out for bears. Additionally, it's crucial to maintain a safe distance of at least 50 yards (150 feet) from bears, even if they appear docile. This applies particularly to photographers, who should rely on telephoto lenses to capture images without putting themselves or the bears in harm's way.
The closure of Rich Mountain Road is a necessary step in preserving the delicate balance between the park's wildlife and its visitors. It serves as a reminder that the actions of individuals can have far-reaching consequences, not only for the animals themselves but also for the overall ecosystem of the Great Smoky Mountains. By respecting the park's guidelines and demonstrating responsible behavior, we can collectively contribute to the well-being of the bears, the safety of visitors, and the continued splendor of this remarkable national treasure.
Editors' Recommendations