The threat of avalanches stops a lot of people from snowboarding or backcountry skiing. However, avalanche airbags and backpacks — the ones that blow up like a balloon after you pull a handle — are helping to reduce that danger.
An avalanche airbag is essentially a large balloon folded into a backpack. If you are involved in an avalanche, simply pull the trigger, which inflates the balloon and helps you float on top of the sliding pile of snow. The goal is to stay on top of all the debris, but if you do get buried, the balloon around your head will help create a large air pocket, increasing the time you have for rescuers to find you.
Types of Airbags
Currently there are four main types of avalanche airbags on the market. The first three include some sort of compressed gas, like nitrogen, argon, or just plain old air. When the compressed gas is released it inflates the balloon.
However, airline regulations don't usually allow compressed gas onboard creating a problem for traveling skiers and snowboarders. Thankfully, new technology from Arc'teryx and Black Diamond is changing that.
The final type of airbag uses a battery-powered fan. A large lithium-ion battery spins the fan and inflates a 150-liter balloon in just seconds. Travel is easy with these — just disconnect the battery and your backpack is ready to fly.
Get the Gear
There aren't many battery-powered avalanche airbags on the market yet, but two stand out so far:
Black Diamond Halo 28 JetForce – $1,100
With 28 litres of usable space, the Black Diamond Halo 28 JetForce gives you room to carry the essentials for day spent touring or cat skiing. Never worry about using your only compressed gas canister if you're caught in an avalanche; the rechargeable lithium-ion polymer battery can deploy the airbag four times on a full charge.
$1,100
Arc'teryx Voltair 30 Backpack – $1,300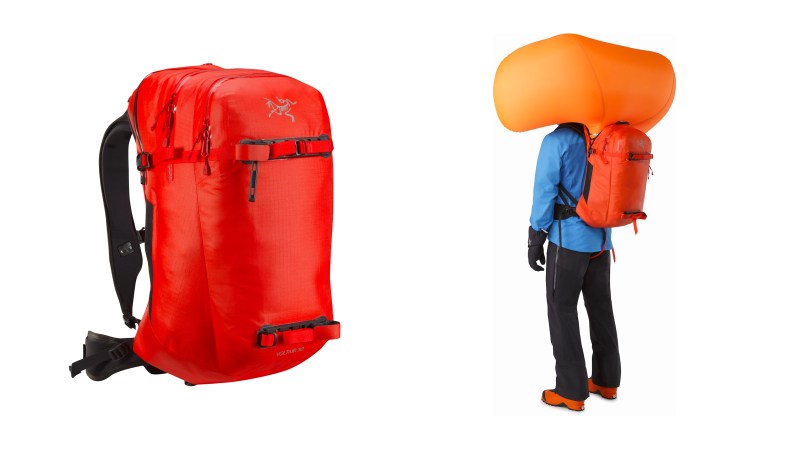 One step up from the Halo 28 is the Arc'teryx Voltair 30. With a larger battery, the Voltair can pump out 20 airbag deployments with one charge depending on the temperature, so you never have to worry if you should pull the trigger. The tough material, taped seams, and watertight zips mean all your gear stays nice and dry no matter the weather. As with the JetForce pack, batteries eliminate the hassle of security when flying.
One final note about avalanche safety: No matter how good airbags get, they are no replacement for an avalanche beacon. Always wear your beacon.
Editors' Recommendations