Sam Calagione was in a good mood when he strolled into Savannah, Georgia's Crystal Beer Parlor. He and his wife Mariah were a few days into an East Coast road trip, meeting with fans, retailers, and distributors — in a very real sense, rallying the troops. The craft beer landscape is much different in 2018 than when his company, Dogfish Head Craft Brewery, started in the summer of 1995. There are more craft breweries now, more beer styles, and even more neighborhood brewhouses vying for the attention and cash of the beer-loving public. That's why Sam feels it's essential to have these "Fireside Chats," or face-to-face meetings with those on the front lines of beer retailing.
Fresh from lunch at a local seafood restaurant and flush with the joy that comes from driving a bright yellow convertible rental on a beautiful spring day in the South, Sam settled in to talk about working with The Flaming Lips, his life in beer, his leadership style, and what's on the horizon. As we started our conversation, a Dogfish Head-branded Crosley turntable spun records and we naturally turned to the subject of music.
The Manual: Dogfish Head is the official beer sponsor of Record Store Day. What's the connection there?
Sam Calagione: We've been the only official beer of Record Store Day since there was a Record Store Day. The realities of the 400 to 500 indie record stores across America, their struggles and what excites them, are so similar to the struggles and what excites the 6,000 indie craft brewers across the country. It's a very similar David and Goliath-type struggle against the Spotifys and Amazons of the world, and we're up against two foreign conglomerates that control about 90 percent of our beer market. So we knew that these record store owners were our brethren and we wanted to get involved with this cause. It felt very authentic for us.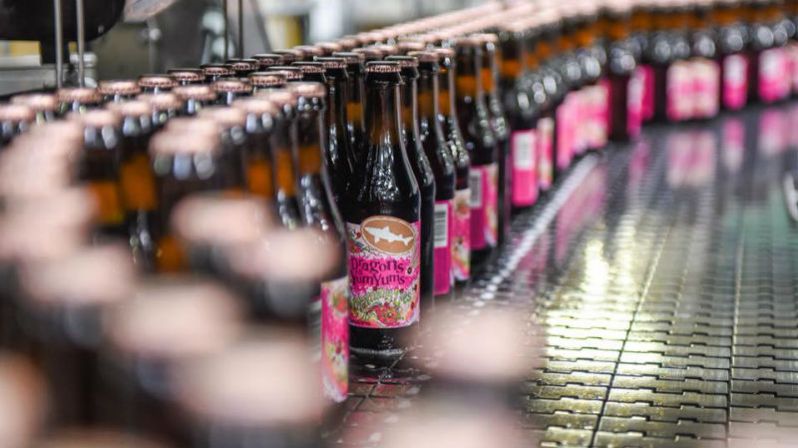 TM: This year you collaborated on a beer with the Flaming Lips called Dragons & YumYums. Was (Flaming Lips singer) Wayne Coyne involved with the process?
SC: Yeah, we've done collaborations, not just with bands,but with clothing companies, fine artists. But this has been an especially rewarding collaboration because there's definitely some karma if both collaborating entities are equally involved and equally passionate — it's exponentially awesome. One of my greatest treasures I'll always have from my brewing career is my text thread with Wayne Coyne of not just the ideas for the beer and the recipe, but then him taking that and using the ingredients as lyrics in songs and then releasing an album that he hand-painted the cover of. It's really a multi-layered collaboration. He's been wonderful to work with. I'm flying out to Oklahoma City for Record Store Day, his home city. We're going to ride bikes and drink beers — not at the same time — and check out their local record stores in Oklahoma City. He's the real deal. A renaissance man and artist. It's been an inspiring project.
"When Dogfish opened in '95, there were only 600 breweries in America and now there are 6,000. When we opened, there was one new brewery opening every week — now there are two new breweries opening every day."
TM: I'm a big fan of your books, in particular Off-Centered Leadership: The Dogfish Head Guide to Motivation, Collaboration and Smart Growth. If you had the chance to add a chapter to that book based on what you've learned in the last two years since it was released, what would you cover?
SC: The beer industry has always been competitive, but the competitiveness within just the craft niche of beer has really accelerated since I wrote that book. And I think that the potential to let competitive realities affect your happiness at work or your positivity about how you come to market … I've seen that adversely affect some of my brothers and sisters that run small breweries. You can get up every day and get pissed off or you can take that challenging moment as it is and try to figure out a positive way to use that energy to drive your company in a good direction. You can't let it affect you when it's negative, especially when it's in an environment with co-workers. As a leader, they're going to feed off of what you bring to work.
TM: Does this newer batch of breweries that's opening now seem different than when you started? Your wave seemed to come from the hobby side, starting as home brewers; do you see a change there?
SC: I think you're right and I'm going to sound like an old man, which I guess I am. We've been doing this for 23 years, but this generation of new brewers, I think a higher fraction of them are coming at it for "passion for business" first. A passion to make a successful, lucrative business first, and a lower ratio than we we started are coming from the passion of a home brewer wanting to express themselves creatively and become part of this creative community that existed. That's not necessarily evil or negative, it's just different, and I'm sure the first programmers and coders in Silicon Valley looked at the newer entrepreneurs there with a jaded eye, but that's the reality of a successful niche industry moving into the mainstream. So I don't fault a brewer if their interest is primarily to do something that they hope will be lucrative.
When Dogfish opened in '95, there were only 600 breweries in America and now there are 6,000. When we opened, there was one new brewery opening every week — now there are two new breweries opening every day. You could get away in that earlier era with focusing on just one or two of what I call the three pillars of a successful craft brewery regardless of its scale: Quality, consistency, and being well differentiated. Today, the consumer is so well educated and has access to information online. Any brewer opening up, regardless of whether it wants to be a little tasting room or aspires to be coast to coast like we've been fortunate enough to become, they need to be equally focused on quality, consistency, and being well differentiated. And I'd say that there are too many that are not focused on all three and that gives me some anxiety.
I know the consumer is going to decide who makes it through the shakeout and they're the ones that will champion the good beer. Local doesn't mean good. There's awesome local breweries, but there are also local breweries that I think are coasting on the notion of, "I'm local, you should drink my beer," as opposed to "I'm world-class in quality, consistency, and being well differentiated."
"I'm so glad there are so many brewers making beers with exotic ingredients now."
TM: It's got to be interesting for you to look back on an industry that you helped define.
SC: Don't get me wrong. It warms my heart as Mariah, my wife, and I are driving up the coast right now in a sweet, bright yellow, rented Camaro convertible having the spring break we always wanted in college but couldn't afford. It's been fun to come into the different towns and trying the local beers. Some of them are awesome. Some are less than awesome. Definitely seeing a trend of a lot more brewers making beers that are outside the Reinheitsgebot using fruits and herbs and spices and coffee and licorice. Yeah, 20 years ago I would get laughed at or yelled at for making beers with that stuff in it, but I'm not jealous or angry or bitter that other folks are doing that. It only validates what we've been doing. So I'm glad. I'm so glad there are so many brewers making beers with exotic ingredients now.
TM: When you first started out, did you ever imagine that Sessionable Sour would be a beer category and that you'd be right in the thick of it?
SC: No. If you look at Dogfish, we've always had some low ABV (alcohol by volume) beers. But even eight years ago, our average ABV beer was probably closer to 9 percent. Now, it's probably 6.5 percent. As you know, sessionable sours are growing really fast and our SeaQuench Ale is the best-selling session sour in America. It's on the pace to become our second best selling beer behind 60 Minute IPA this year. So, it's on fire for us.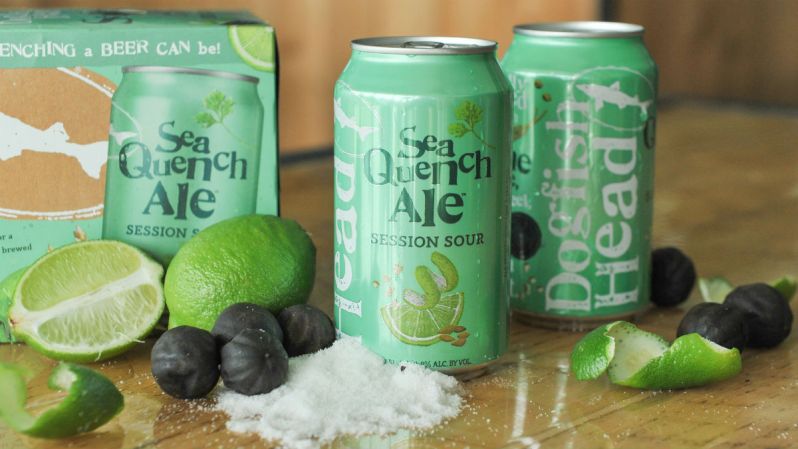 TM: KOOZIE®palooza is the official name of this meet-and-greet tour. It's taking you from Florida to Maine. Where did that name come from?
SC: The consumer events, hanging out with beer lovers is KOOZIE®palooza. I asked all my sales and marketing people that if we do these events, the one thing I ask is we just put in a full, hearty quantity of Koozies. No matter how many cans somebody buys, it's not like "did you get your one free Koozie" — no, I want every time you buy a beer, we want to inundate you with Koozies. If you want me to sign it and devalue it for you, I'm happy to do that.
TM: You work with your wife, Mariah (Dogfish Head vice president) and I know that not all couples have that type of relationship. You've known each other since high school. Does that play into your success as a team?
SC: We literally became adults together so I think our brains were still mushy when we met. We literally kind of informed how each other grew up. So I think there's a lot that's instinctual that we kind of share with our approach to things. Rarely do we get to do trips on the road with this many events together. Mariah's the digital media voice of our company. She's really great at that. But rarely is she out doing events in public with me. We're empty nesters now and we said, "Let's do this together," and she was down and so we're having a blast. Meeting with our distributors and retailers and then doing events with beer lovers as well.
TM: You've said that you still see Dogfish Head as a mom-and-pop, family company. I think to a lot of outsiders, they see the diversification that you express, pursuing your passions, from the Dogfish Head Distillery to the Dogfish Inn, as experiences that only a larger company could muster. What inspires that additional work?
SC: Well, you've got to see the inn. A 17-room hotel, right on the harbor front in Lewes (Delaware). We invite people who love beer and spirits and just being outdoors to come and visit our hotel.
TM: I went down a rabbit hole reading reviews of the Dogfish Inn on Tripadvisor. I've never seen a hotel with the enthusiasm of the reviews that your hotel receives.
SC: What warms my heart when I read those reviews is the frequency that our co-workers are referenced by name. Our brand starts not with our products, but with our people. That off-centered culture that we're trying to build which I hope is unique in a world with 6,000 breweries. That's what our hotel is all about — to give folks who have an interest in Dogfish a chance to go 24 hours deep with our people, properties, and products. It's been super effective, I think.
TM: In addition to the brewery and the Inn, there's also the Dogfish Head Distillery, which has a new product: Sonic Archaeology. What's the story there?
SC: We're trying to do the same off-centered approach to our spirits portfolio as we do with beer. Similarly they're informed by our loves of history and art and incorporating different influences from different genres. Sonic Archaeology is a great example of that. There was a series on PBS last year that talked about the moment in history, mostly in the Southeast, when rock 'n roll was born from these divergent American art forms, from jazz to gospel to blues, all intersected together. It also coincided with Prohibition. To celebrate that moment, we came up with a spirit that similarly takes these different genres of spirit — whiskey, house-made from scratch; local grown apple brandy; our rums; pomegranate juice and lemon juice — and we combined it into a pre-mixed cocktail so that anyone can be a mixologist at home with a 750 ml bottle. All you have to do is add ice and a twist of citrus fruit and you've got a sweet, high-end cocktail. We're excited about that. The reception has been great. Our distillery is really small compared to the brewery.
TM: Where do you keep your James Beard award? (In 2017, Calagione won the prestigious culinary award in the Outstanding Wine, Spirits,or Beer Professional of the Year category.)
SC: We generically put it in a frame and put it on the wall in the restaurant. Without any words or anything around it, just put it on the wall in the restaurant.
TM: For fans of the show Brew Masters, when are they going to see you on TV again?
SC: Well, we've got a new show that we're shooting. There's an episode with Wayne Coyne on Record Store Day. We shot a show with Sean (Evans), the host of Hot Ones. It's on the Complex/Fuse network called That's Odd, Let's Drink It. We did episodes a year and a half ago and people were excited about them, so we said "Let's do another season of it." We're shooting them now and they should start airing in late summer.
Editors' Recommendations