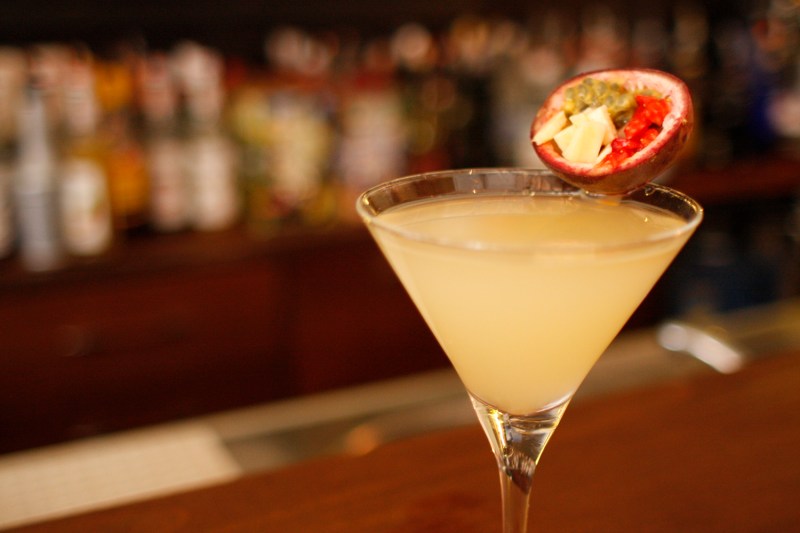 Of all things that embody the sun-kissed tropics, the passion fruit may be the most evocative. It's a wildly fragrant and flavorful fruit, one that can nudge you beneath some palm fronds upon first encounter.
It's a great fruit to mix with as well to create passion fruit cocktails. For the home bartender, passion fruit can be employed in many forms, from fresh-squeezed juice and purees to liqueurs (we suggest Chinola ). The glowing orange color of the stuff gives off a sensation of warmth and the juicy flavors and bright acidity make it ideal for cocktails. Perhaps most critically, a good passion fruit cocktail brings the sun and fun when we need it most. Here are seven great recipes to try.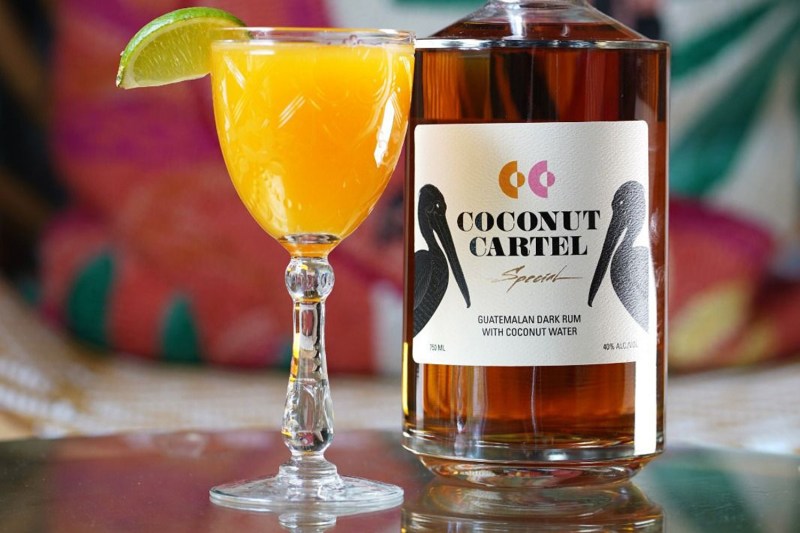 Little Island Daiquiri
(By Kyle Jones, Bon Vivants, Bahamas)
A highly tropical affair, this daiquiri cocktail mixes orgeat with a specific Guatemalan dark rum hit with coconut water.
Ingredients:
1 1/2 ounces Coconut Cartel Special Rum
1 ounce Passion Fruit Liqueur
1 ounce fresh lime juice
1/2 ounce Giffard Orgeat
Method:
In a shaker, combine all ingredients.
Shake vigorously for 20-30 seconds.
Strain over fresh ice and garnish with a lime wedge.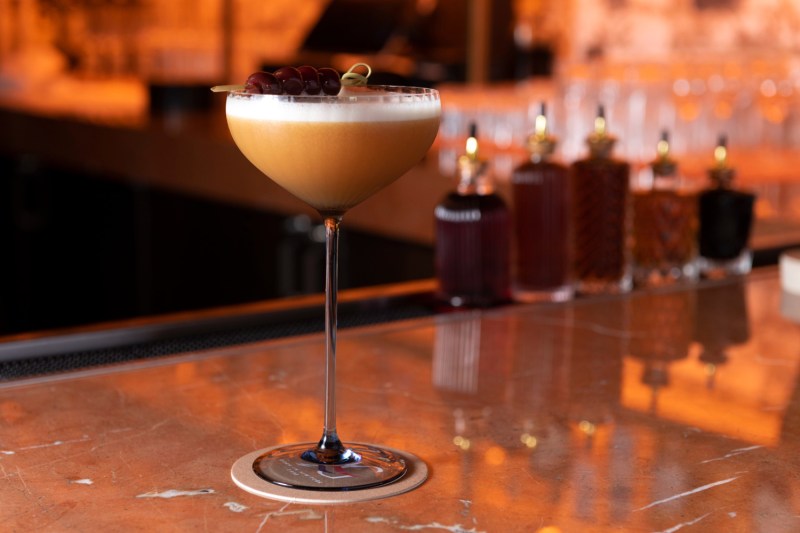 Atlantic Love
This crafty drink comes from NYC's Atlantic Grill. It's an elegant mix of citrus, stone fruit, whiskey, and passion fruit.
Ingredients:
2 ounces Michter's Sour Mash Whiskey
1/2 ounce St. Germain
1 ounce passion fruit puree
1/2 ounce lemon juice
1/2 ounce simple syrup
1/2 ounce sour cherry syrup
1 egg white
Liquor cherries and orange zest for garnish
Method:
Add whiskey, lemon juice, passion fruit puree, St. Germain, simple syrup, cherry syrup, and egg white to the shaker, and dry shake it for 15-20 seconds.
Add ice to the shaker and give it a quick shake.
Pour over into a coupe glass, and garnish with liquor cherries and orange zest.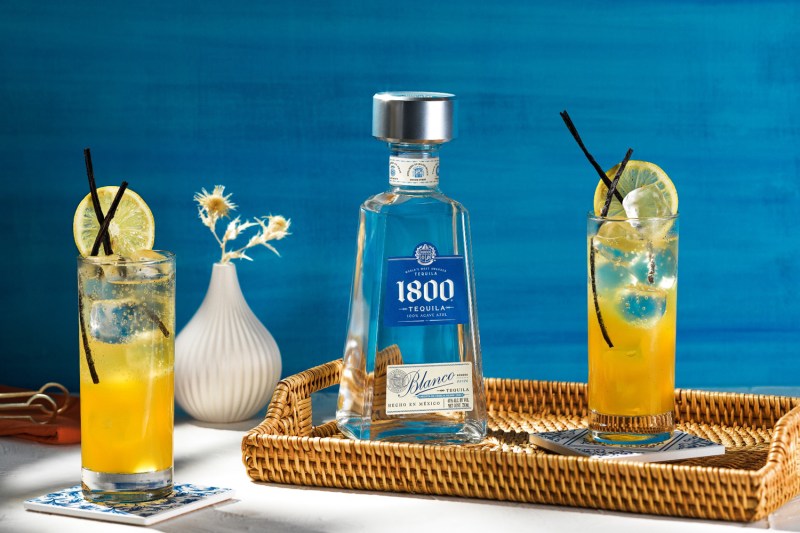 Fruta de Pasión
Tequila and passion fruit work excellently as a unit, especially when treated to some sweet vanilla and club soda for a little pop.
Ingredients:
2 ounces 1800 Silver Tequila
3 ounces club soda
1 ounce passion fruit nectar
1/2 ounce vanilla syrup
Method:
Combine tequila, passion fruit nectar, and vanilla syrup in a cocktail shaker with ice and shake vigorously.
Strain over fresh ice into a highball glass.
Top with club soda and garnish with a lemon wheel and vanilla bean.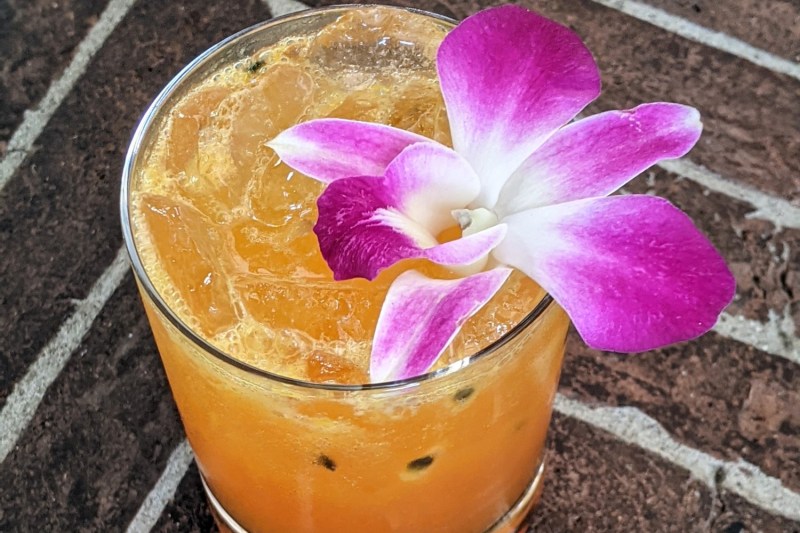 The Passion Project
(By Ignacio Murillo, A.O.C.)
This one is a little more complex, but worth the effort, hitting fragrant passion fruit with even more aromas with the addition of gin.
Ingredients:
2 ounces Damrak Gin-infused passion fruit rind*
1 ounce lemon juice
3/4 ounce turmeric and cardamom syrup*
1/2 ounce passion fruit juice
Orchid flower for garnish
Method:
Combine all ingredients in a tin and shake.
Pour into a double Old Fashioned glass and garnish with an orchid flower.
*Gin-Infused Rind: Wash six passion fruits well with cold water, then cut them in half. Scoop all the fruit seed juice into a container. In a different 4-quart container, place the passion fruit rinds, dump one bottle of gin, cover it and set it aside in the refrigerator for at least 24 hours. Strain it through a chinois and pour the gin back into the gin bottle for use.
*Turmeric and Cardamom Syrup: Combine 4 cups of simple syrup, 4 ounces of freshly peeled turmeric, and 15 pods of cardamom in a blender. Blend for 1 minute and strain through a chinois, pushing the solids with the back of a ladle to extract as much flavor as possible. Discard the solids and pour the syrup into a labeled squeeze bottle. Refrigerate.
Almost Lost Lake
This cocktail is inspired by one of Lost Lake's original cocktails, a formative drink that helped make the bar famous. The below recipe is swell but to stretch it out, you can also add a few ounces of soda water, preferably blood orange or grapefruit flavor.
Ingredients:
2 ounces aged rum
1 ounce passion fruit liqueur
1/4 ounce Campari
3/4 ounce fresh lime juice
1/2 ounce mango puree
Method:
Combine all ingredients in a tin and shake.
Strain into a chilled cocktail glass with a large cube of ice.
Tigre de Valle
A stunning mix of turmeric, pineapple, tequila, and passion fruit, this cocktail truly is a tiger among cats.
Ingredients:
1 ounce blanco tequila
1 ounce Chinola
1 ounce pineapple juice
3/4 ounces lime juice
1/2 ounce turmeric honey syrup*
2 sage leaves
Method:
Combine all ingredients in a mixing tin and shake well. Strain into a rocks glass over fresh ice.
Garnish with a pineapple wedge and a sage leaf.
*Turmeric Honey Syrup: Juice 1/4 cup of fresh turmeric juice (about 1 cup of fresh whole turmeric). Combine with 3 cups of orange blossom or similar light honey and 1 cup of hot water. Stir until well combined and store refrigerated.
Life's a Beach
A simple drink involving sweet passion fruit syrup and smooth, aged rum, this cocktail is laid back and wants you to be, too.
Ingredients:
1 1/2 ounces Bacardí Añejo Cuatro
3/4 ounce Reál Passion Fruit-Infused Syrup
1 1/2 ounces coconut water
3/4 ounce lime juice
Method:
Add all ingredients to a shaker with ice.
Shake vigorously.
Strain into a highball glass filled with cubed ice. Garnish with a lime wedge.
The perfect side for the perfect night
Whatever the occasion, if you are having passion fruit cocktails, a side such as one of these would make for an excellent pairing that is sure to add life to the event.
Tortilla chips with mango salsa, for a perfectly fruity complement to the passion fruit
Small portions of grilled and seasoned chicken
Ham and pineapple skewers offer a great set of flavors to match the tropical taste of the cocktail
Shrimp with cocktail sauce is a classic combo and rarely a poor choice
Roasted diced potatoes offer a wonderfully crisp yet soft flavor to the offering, especially when topped with the right seasonings
Crab and corn fritters will be sure to offer an excellent summer-like feeling
Editors' Recommendations