Fiery, herbaceous, tart, and savory, nam prik is a chili sauce that's absolutely beloved throughout Thailand. With more than a dozen varieties, this hot sauce and dip is enjoyed with everything from raw and steamed vegetables to grilled meats or fish. While the dip is traditionally prepared in a mortar and pestle (or a Thai krok), modern cooks often use a blender or food processor to make this vibrant chili dip.
To guide us through this Thai delicacy is Chiang Mai native Chef Setalat "George" Prasert of Spicy Shallot. Spicy Shallot, located in Elmhurst, Queens, on a three-block stretch of Woodside Avenue named Little Thailand Way, serves a unique blend of Thai cuisine and Japanese sushi. The restaurant is also a showcase of Prasert's favorite — nam prik kha.
"My mother taught me how to make nam prik kha from galangal, chilis, and garlic," said Prasert. "We'd eat it every week with steamed vegetables and sticky rice. At Spicy Shallot, I serve it with grilled ribeye or short ribs."
At Spicy Shallot, a great way to sample the spicy food staple that is nam prik is in the Hors d'Oeuvres Muang, a northern Thai-style appetizer plate with tomato and pork nam prik ong and roasted green chili nam prik num. All of it is accompanied by pork rinds, vegetables, and a Vietnamese-style pork loaf, a popular dipping ingredient for nam prik.
Nam prik num recipe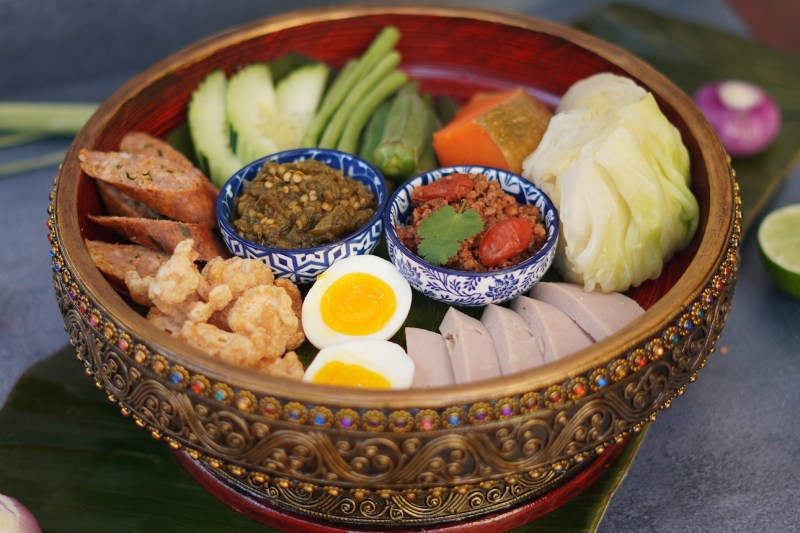 Ingredients:
4 large, long, hot green chilis
4 whole, very small shallots, unpeeled
5 medium cloves garlic, unpeeled
2 tablespoons Thai shrimp paste
1/3 cup roughly chopped cilantro, including the stems
Kosher salt
Method:
Place chilis, shallots, and garlic in a preheated cast iron pan.
Place under a broiler at high temp and cook for 10 minutes, turning occasionally until uniformly charred.
Transfer cooked vegetables in a covered bowl and let sit 10 minutes.
While the veggies are cooling, toast shrimp paste in broiler on heavy-duty foil until aromatic, about a minute or so.
Remove skin from vegetables and add to krok along with cilantro, shrimp paste, and a pinch of salt. Pound into a rough paste.
Stir in lime juice.
Nam prik num will stay fresh for up to a week if refrigerated in an air-tight container. Serve with steamed and fresh vegetables for dipping, pork rinds, etc.
Nam prik kha recipe
Ingredients:
1 dried chili, preferably bird's eye
10 garlic cloves
3 very small shallots, unpeeled
Thumb-sized piece of fresh galangal, finely sliced. Frozen sliced galangal is available in many Chinese supermarkets and may be substituted.
1/2 tablespoon salt
1 tablespoon of fish sauce
Method:
Roast chili, garlic, and galangal in a pan over medium-high heat until fragrant.
In a krok, pound the chilis and salt until thoroughly mixed, then transfer to a bowl.
Add galangal to krok and pound into a paste, then place into a bowl.
Add garlic to krok and pound into a paste.
Add fish sauce, chili, and galangal to garlic and pound all ingredients until thoroughly mixed.
Remove from krok and serve with grilled meats and steamed vegetables for dipping.
Editors' Recommendations