Every now and then, an idea comes along that has us wondering how in the world it took so long for something so obvious to come to light. Those forehead slapping why-didn't-I-think-of-that moments. Well, brace yourself, because you're about to experience one such moment, courtesy of Miller Lite. If you've ever had the frustrating experience of room-temperature beer and lacked the patience to wait for the refrigerator to do its job, this clever little hack is for you. Miller Lite isn't just releasing retro gear and Christmas tree keg stands — the company has just released beer cube trays.
While Miller Lite has come up with some interesting ideas in the past, we are completely on board with this one. The idea is simple — ice cubes made from frozen beer instead of water. The pros? Instantly chilled beer without the worry of watery ice cubes diluting the flavor.
The cons? None. There are no cons. This idea is brilliant. What's more is that the molds of Miller Lite's beer cube trays are shaped into adorable tiny little beer cans, making them perfect for slipping into your can of brew. Plus, they're freaking adorable. The only problem is that since their release, they've become so popular that Miller Lite can hardly keep them in stock, so get them if you can. (At the time of writing, three different drops had sold out, but the company site says more will be in stock Monday.)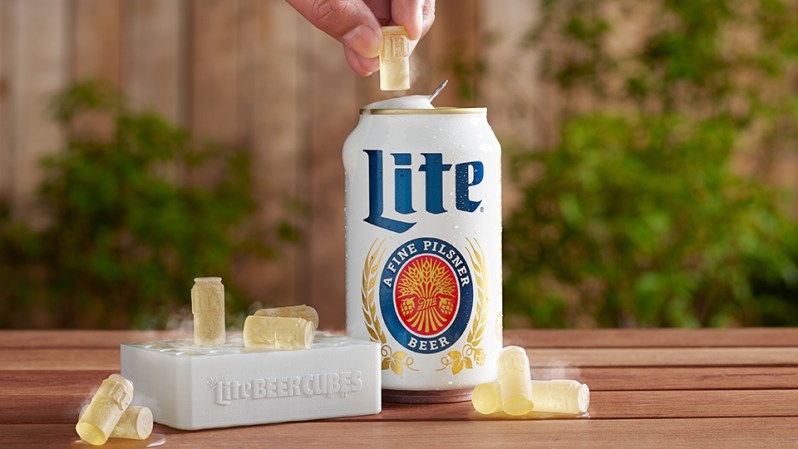 Of course, frozen beer cubes can be made from any of your favorite beers, in any perfectly charmless old ice cube tray from the grocery store. Simply pour your favorite beer into an ice cube tray, freeze, and voila! Beer cubes. Sure, they may not be as cute as Miller Lite's, but the benefits are the same — ice-cold beer in mere moments. And no watered-down taste? Who cares what the damned tray looks like?
People have been using ice cube trays in non-water applications for ages. Coffee ice cubes have been a thing for a while now. Simply pour a little of that leftover coffee into trays and freeze for a great way to enjoy your cold brew all day long without fear of losing any of that preciously caffeinated flavor. Or cool down a punch bowl with cubes of your frozen concoction for an icy treat that will stay flavorful for the whole party. You can even use your ice cube trays to portion out and freeze fresh herbs in oil for summertime flavor in wintertime meals. The possibilities really are immense.
If we're honest, though, this has got to be the cleverest idea so far. And yet, perhaps the most frustrating one at the same time. So thanks, Miller Lite, for pointing out what should have been so glaringly obvious for decades now: That the answer to warm, tepid beer has been in our freezers this whole time. So excuse us,while we go and buy all the ice cube trays.