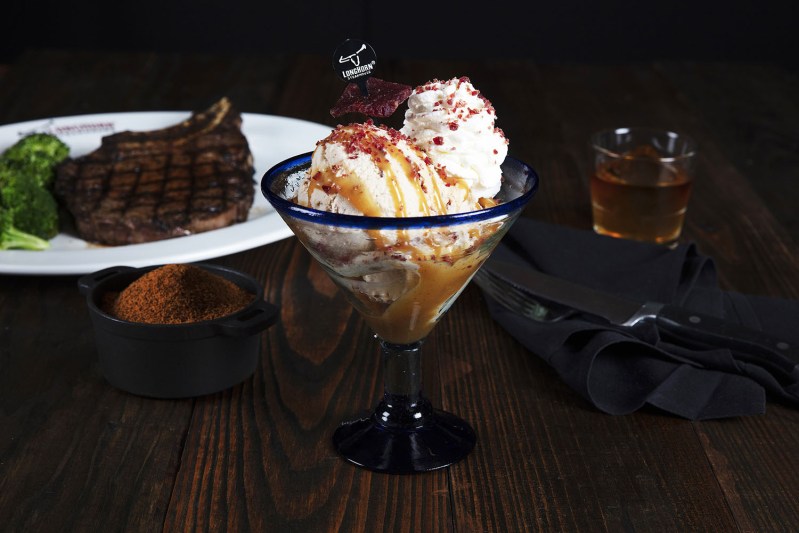 By now, you're surely familiar with bacon in ice cream. If you're not, head to your neighborhood ice cream parlor and chances are you're going to find at least one flavor that features our favorite piece of the pig. Now, LongHorn Steakhouse has taken that idea and steered their company in a new direction, creating an ice cream featuring one of our other favorite meats: steak.
Starting July 1, select LongHorn Steakhouse locations in in New York City, Chicago, Atlanta, Nashville, Houston, Cleveland, Miami-Fort Lauderdale and Tampa will have a new menu item to choose from once you've made it through an 18-ounce Outlaw Ribeye and the requisite baked potato — steak and bourbon ice cream.
Made with frozen bits of steak — the first time, the brand stresses, you'll ever find a frozen steak in their restaurants — as well as Jim Beam bourbon caramel sauce and LongHorn's exclusive char seasoning, the dessert is aimed at those who think that one steak during the course of a meal just isn't enough (though why they don't have a steak-related appetizer, thereby completing an entire three course meal with steak is beyond us … LongHorn, if you're reading, hit us up, we've got some ideas).
Sweet and savory, this ice cream will resemble bourbon bacon ice creams of yore, but, you know, with steak bits. The char seasoning helps to highlight the steak bits, giving the overall flavor a slightly smoky, slightly savory quality.
Steak purists might balk at the combination, but when you think about it, it isn't that weird at all. Not only is it normalized because of the bacon thing but, follow us on this, it's really just tapping into different items that all come from the same animal.
(Yes, we know meat cows and dairy cows are different, but stick with us.)
If you find yourself in a LongHorn this summer and decide that, yes, steak is indeed what you want for dessert, you can have a dish of Steak & Bourbon ice cream served up with whipped cream and "steak sprinkles" for around four bucks. We recommend getting a nice, healthy pour of bourbon to go with it to really round out the experience. Leather jacket to be bullish and add a little more cow to your experience completely optional.
Editors' Recommendations