As you get ready for the all-day party that is the Kentucky Derby this Saturday, you're probably trying to figure out what foods you're going to want to serve. You've got the drinks down — mint juleps, obviously — but what to go with those delicious and boozy drinks?
(By the way, if you need bourbon for your juleps, check out this list.)
Well, if you're not going to actually be at Churchill Downs, but want to pretend, then you should probably take a cue from the folks that prepare the food at the site.
First, you're going to want finger foods, and finger foods that aren't all that messy – you're wearing your best race-day gear, after all. These meatball, cucumber, and mint skewers are a great option, as are these mini biscuit sandwiches.
Great, you've got the savory down. Now, you just need something sweet. That's where hand pies come in.
Hand pies are an easy and delicious way to convey sweetness without a ton of mess. Heck, you don't even need a plate if you don't want one. Instead, hold that sucker like a Hot Pocket and go to town.
(Just keep it classy, this is the Derby, after all.)
This recipe for mixed berry hand pies comes to us from David Danielson, executive chef of Churchill Downs. Danielson is also the author of the 2018 book , so it's safe to say he knows what he's doing.
Mixed Berry Hand Pies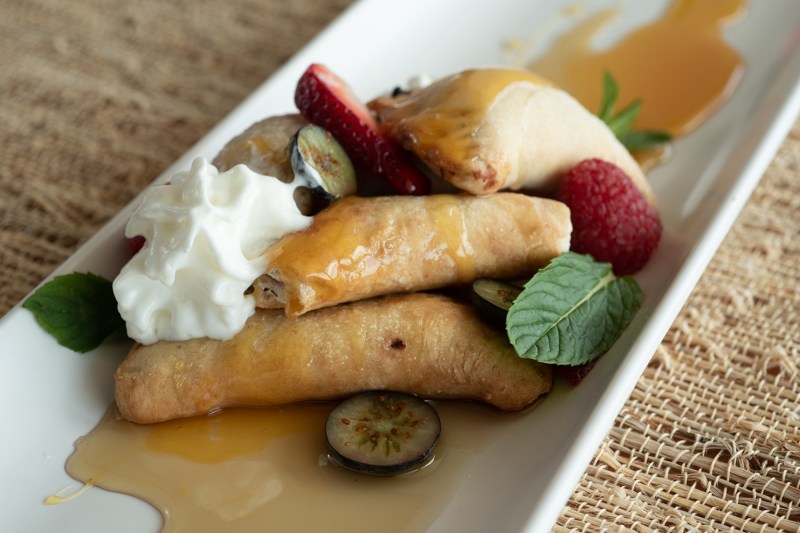 Ingredients for the berry mixture:
4 c mixed berries (fresh or frozen)
4 tbsp honey
.25 c sugar
2 tbsp cornstarch
2 tbsp water
Dash of lemon juice
Ingredients for the pie crust:
5 c flour
.5 tbsp sugar
.5 tsp sea salt
.5 lb cold unsalted butter, diced into .25-inch pieces
6 tbsp ice water
3 tbsp milk
1 egg
.5 cup sliced hearts of palm
1 avocado, .5-inch dice
.75 cup red wine vinaigrette
.5 cup gribiche sauce
Juice of 1 lemon
Method for the berry mixture:
Place berries, honey, and sugar into a medium saucepan and cook over high heat until the berries have begun to release their juices.
Mix together the water, dash of lemon juice, and cornstarch and add to mixture; stirring often, continue to cook the berries until the sauce has thickened, place in bowl and refrigerate until cold.
Method for the pie crust:
Place flour, sugar, and salt into the bowl of a food processor and pulse a few times to combine.
Add cold diced butter and pulse the mixture until coarse crumbs form with some pea-sized pieces, then stop mixing. Mixture should be dry and powdery.
Add ice water and pulse until moist clumps or small balls begin to form.
Transfer dough to a clean work surface and gather together into a ball (DO NOT KNEAD).
Divide dough in half and flatten, cover in plastic wrap, and refrigerate for 1 hour before using.
Assemble and cook:
Once berries and pie crust(s) have rested, remove the pie crust and using a large circle cutter, cut pie crust, using as much dough as possible.
Afterwards take your cold mixed berries and place 1-2 tbsp of mixture inside the dough circles and fold into a crescent moon shape.
Close together with a fork making fluted lines along the top of the turnover; brush with a small amount of milk and 1 egg, then bake at 375 degrees F until golden brown.
Finish with berries and caramel sauce.
Editors' Recommendations