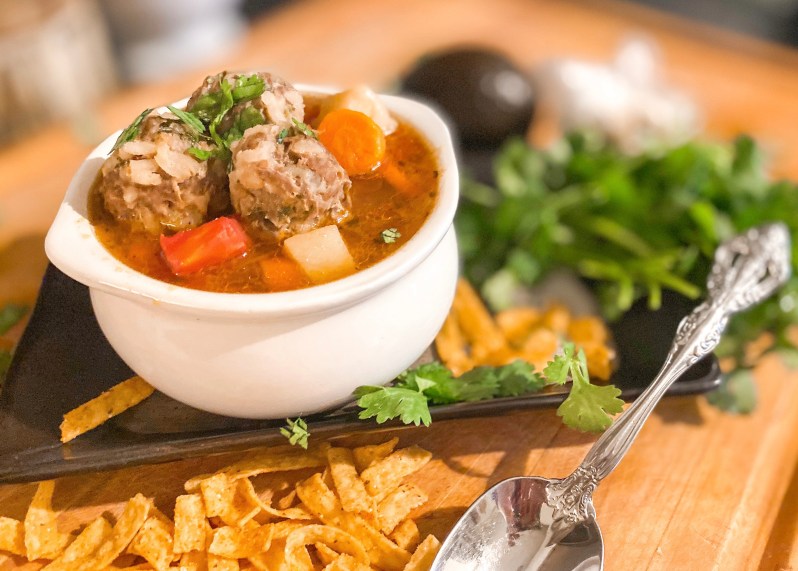 I grew up in Fresno, California, where there is a plethora of incredible, wonderfully authentic Mexican restaurants. Most of these restaurants share an amazingly delicious menu item, albondigas – an exquisitely savory Mexican meatball soup with vegetables in a spicy, beefy broth.
This delicious soup's hearty, spicy, meatbally goodness is what I grew up ordering every time I went out for Mexican food (which was often). It started every meal, no matter what came next. Sometimes a big bowl was the meal itself. And then I moved away from Fresno, and something dreadful happened. The soup I loved so much suddenly disappeared from Mexican restaurant menus. I couldn't find it anywhere. I'll never forget living in Portland, 30 weeks pregnant, and craving albondigas so intensely that I couldn't think of anything else. I called every Mexican restaurant within a 10-mile radius, and no one had my beloved soup. But then it occurred to me that as a strong-willed woman with a culinary degree, I could make it myself. So I beelined straight to the grocery store, bought the ingredients, and got to work. It was my first time making albondigas, and I was nervous that I wouldn't be able to do it justice. It turns out, though, it's incredibly simple to make, and even that first batch was a wild success. These days, albondigas soup is much easier to find, and I can order my beloved soup almost anywhere. But you know what? This homemade version is the best.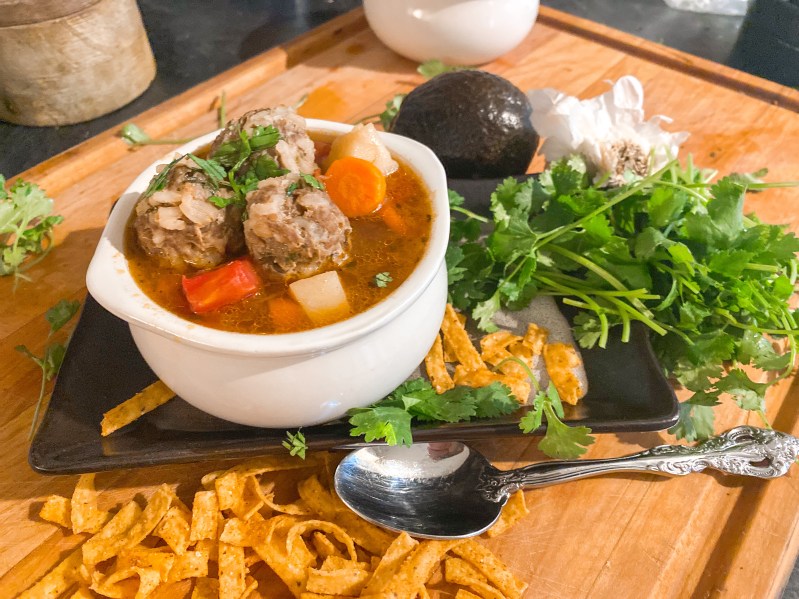 Albondigas recipe
Meatballs
Ingredients:
1 pound ground beef

1 small yellow onion, minced
1/4 cup white rice, uncooked
1/2 cup cilantro, chopped
1 egg, beaten
1/4 teaspoon red pepper flakes
Salt and pepper to taste
Method:
Assemble meatballs by combining all ingredients in a large bowl, mixing to combine, but being careful not to overmix. Shape into 1-inch balls. Set aside.
Soup
Ingredients:
4 tablespoons bacon fat (or vegetable oil)
6 cups beef stock
1 yellow onion, diced
3-4 garlic cloves, minced
1 jalapeño, ribs and seeds removed, minced
4-5 carrots, sliced
2-3 russet potatoes, diced small to medium
1 14.5 ounce can diced tomatoes
1 beef bouillon cube
1/2 teaspoon chili powder
1/2 teaspoon ground cumin
Salt and pepper to taste
Method:
Sauté onion, carrot, and jalapeño in bacon fat over medium/high heat. When vegetables are slightly caramelized, add garlic and cook until tender.
Add chili powder, cumin, salt, and pepper, and continue to cook until fragrant.
Add beef stock, bullion cube, and tomatoes to the pot, and bring to a boil.
Add potatoes and 12 meatballs to the soup, bring back to a boil, then reduce to a simmer.
Cover, and cook on low until vegetables are cooked through and meatballs are done, about 15-20 minutes.
Garnish with cilantro, avocado, and/or tortilla strips.
Albondigas soup trips and tricks:
This recipe makes 24 meatballs, while the soup only calls for 12. We like to freeze the extra dozen so that we can make another batch of soup in a pinch.
Because of the raw rice in these meatballs, poaching (cooking in hot liquid) is the only way to prepare them. Baking or sauteeing will not cook the rice properly. Take extra care in labeling before freezing to avoid any mishaps.
Editors' Recommendations