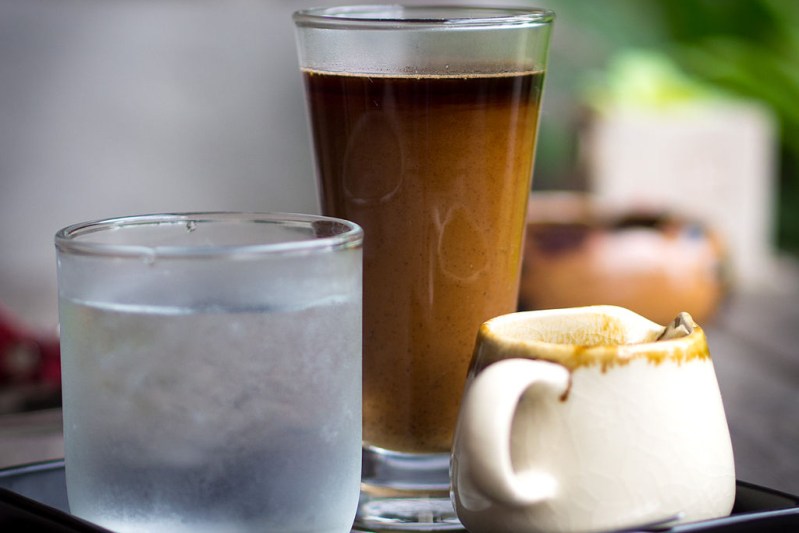 In Thailand, coffee culture is vibrant, ranging from traditional street vendors to modern cafes featuring espressos and lattes. The Land of Smiles also has its own style of coffee, which boosts a nutty and slightly bitter flavor, the result of a unique brewing process. Sweet, strong, and fragrant, it's delicious hot or cold.
Thai Iced Coffee
(Chef Arnold Myint, celebrity chef, TV Personality, culinary instructor)
Chef Arnold Myint is a chef, restaurateur, and culinary instructor from Nashville, TN. Arnold grew up in his family's Thai restaurant before becoming a chef and owner of Suzy Wong's House of Yum, PM Nashville, BLVD Bistro, and Show Pony Wine. In addition to his businesses, Chef Arnold competed on Top Chef, Food Network Star and has been a contributor with BuzzFeed Tasty. Chef Arnold will also be a part of the Tourism Authority of Thailand virtual Songkran (Thai New Year) celebration, Spring into Songkran Splendors, taking place on Thursday, April 8th from 8 – 9 p.m. ET, where he will teach a virtual cooking class featuring Thai cuisine.
Thai Coffee, as Myint describes it, is called Olieng in Thai, and often features notes of corn, cardamom, and sesame seeds for a nutty, slightly bitter, and cooling taste.
"The Thai coffee I have come to know is much like a candy treat," Myint tells The Manual. "Not only is it sweet, but there is a strong punch of caffeine; giving quite a rush. Though Olieng powder and instant forms are commonly accessible at Asian grocers, there is no need for a special outing to achieve this at home. I satisfy my cravings by using instant coffee and making a simple syrup with sesame seeds and cardamom. And a few cans of sweetened condensed milk are always in my pantry ready to go."
Ingredients:
For Sesame Cardamom Syrup
1 tsp of sesame seeds
6 cardamom pods
1 cup of sugar
1 cup of water
For Thai Coffee
2-3 tbsp instant ground coffee (Nescafe brand)
1/4 cup hot water
1/2 cup cold water
8 oz ice
1-2 oz Sesame Cardamom Syrup
1 oz sweetened condensed milk
Method:
To make the Sesame Cardamom Syrup, place 1 tsp of sesame seeds and 6 cardamom pods in a sauce pot with 1 cup of sugar and 1 cup of water.
Simmer the liquid on medium heat until the sugar is fully dissolved. Remove from the heat and allow the syrup to cool completely.
Once cool, strain the syrup and discard the seeds and pods. Store in a fridge for up to two weeks and use as desired.
To make Thai Iced Coffee, combine the instant coffee with hot water and dissolve.
Once fully dissolved, add the cold water to bring down the temperature. Store in the fridge or use immediately, pouring over ice.
Add the sesame cardamom syrup and stir until fully incorporated. Finish by drizzling sweetened condensed milk on the iced coffee.
History
Coffee was first introduced to Thailand as a commercial product in the early 1900s. But despite this, production of coffee in Thailand was scarce and the country did not become a major coffee exporter until 1976. This increase in coffee cultivation was the result of the Thai government's attempt to stop opium farming in the countryside. Historically, Robusta beans, not the more common Arabica beans, were produced, although this has changed in modern times.
Related Guides
Thai Coffee Culture
In Thailand, coffee is enjoyed during all times of the day at street vendors or coffee shops. Street carts can open very early, typically from 4 a.m. to 10 a.m., and are usually found in busy downtown areas or other crowded neighborhoods. Instant coffee such as Nescafe is a popular option at many street carts.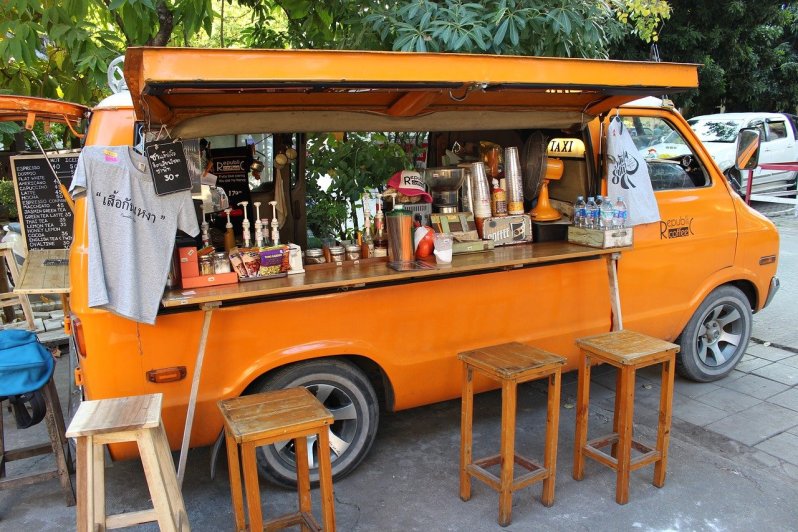 Traditional Thai coffee shops serve a very different style of coffee than Italian espresso or Turkish coffee. Unsurprisingly, due to its proximity to Vietnam, some hot Thai coffee will resemble Vietnamese cafe su dua with the addition of condensed milk to a beverage brewed from Robusta coffee beans.
Much of the coffee served in Thailand is an iced drink called Oliang ("o" which means "black" and "liang" means "cold") and will appear similar to an Americano. However, the taste will be very different. Traditionally, espresso bean are first roasted over a charcoal fire. Then, they are roasted a second time with the addition of corn or brown rice, tamarind seeds, and sometimes cardamom and soy before brown sugar is finally added to caramelize the mixture. The ground coffee mixture is than placed into a cotton bag filter and seeped in hot water. Finally, condensed or evaporated milk is often added to the finished drink. This brewing method was developed during World War II as a way to deal with the increasing price and scarcity of coffee beans.
Nowadays in Thailand, there's a growing trend among modern coffee shops to serve high-quality coffee beans from around the world. This is especially apparent in Bangkok, where trendy coffee shops akin to ones found in Tokyo or New York are growing in popularity.
Editors' Recommendations