We know, mulled wine isn't the sexiest name in the lexicon of drinks. But that shouldn't discount the festive power of the stuff. A good recipe can turn a gathering into a real party and a bottle of decent wine into the base of a soul-warming, memorable beverage you'll want to make over and over again.
Related Reading
Let's start by giving mulled wine a new and improved name. How about hot spiced wine? Or, as the Germans say, gluhwein? Vino de los feriados? Anything will do. More importantly, you should know how to make it, as the stuff has become a bit of an international phenomenon, especially around the chilly holiday season. It adds warming layers of spice and citrus and more to good red wine, dressing it up like a holiday punch—one you enjoy warm, out of your favorite mug or thermos.
Cocktail sage Alicia Perry has one of the best mulled wine recipes out there, one she credits to her bar manager Keivon Dashtizadeh. In case you don't know Perry, she's a huge part of the storied cocktail program and Polite Provisions. She says Dashtizadeh recently came up with a wonderful version of mulled wine for the San Diego bar's holiday menu.
"What's awesome about mulled wines, is that the recipe can be quite versatile, and include various wines, fortified wines, and an array of spices," Perry says. This, of course, is music to The Manual's ears as we love to play around with various recipe templates. As you're mixing at home, try plugging in things like port, brandy, and sherry or different wine varietals like Malbec or Amarone.
"The recipe included below is high in sugar content, as we wanted to utilize it in a wine-based cocktail," Perry continues (she calls it a mulled wine cordial, by the way, which is maybe the best name for the stuff yet). "However, this recipe would be wonderful to utilize with lessened sugar to prepare a traditional mulled wine."
So, start here when it comes to a good holiday spiced wine but tinker here and there according to taste, especially with regards to sugar additions. As Perry suggests, you can make the stuff beforehand and chill until you serve. If you plan to make the day-of, consider assembling the wine in a slow cooker on the lowest setting. You'll want to strain before serving, but you can keep all the solids in the base of the cooker and simply add more liquid if your party requires multiple batches. It's a great way to extend the lifespan of additions like cinnamon and orange peel (but do so according to taste, as those flavors will wear out eventually).
Mulled Wine Cordial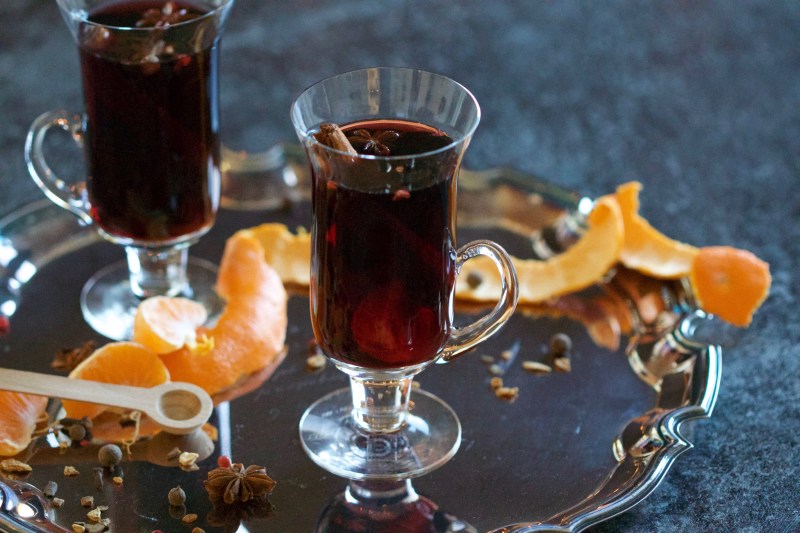 The recipe offered by Perry brings in the unique notes of a good Spanish sherry, insulated by the warming spices and the dark fruit and pepper often offered by a Cab Franc. If you feel like some garnishes, throw in a few more spices and some citrus cuts, or a tried-and-true cinnamon stick.
Ingredients:
1 liter Cabernet Franc
2 oz Pedro Ximenez Sherry
1 gram cloves
1 gram star anise
2 grams cardamom pods
5 grams cinnamon
peels of 2 oranges
400 grams cane sugar
Method:
Bring all ingredients to a low simmer in a pot over heat.
Let simmer for 25 minutes to allow sugar to dissolve.
Fine strain the final product and store in a cooler in a sealed container until ready to use.
Editors' Recommendations