"Virtuous" dinner options like salads, grilled vegetables, and lean proteins tend to give way to rich, hearty dishes that warm you from the inside out. Typical "comfort food" choices like beef stew, mac and cheese, and lasagna re-enter our meal-planning repertoires during the chilly months, and for good reason. A savory supper with nuanced flavors and a healthy dose of spice makes a worthy addition to any dinner rotation, and the Sichuan staple known as dan dan noodles meets every one of these criteria, and then some.
What are dan dan noodles?
Originating in the Sichuan Province of China, dan dan noodles (also known as dan dan mien) consist of egg noodles and a sauce made from minced or ground pork, chili oil, Sichuan peppercorns, scallions, and mustard stems or greens, sometimes with the addition of sesame paste or peanut butter.
This regional specialty is experiencing a new wave of popularity among American diners, thanks to its complex flavor profile, satisfying textures, and ample heat. We spoke with a group of chefs who regularly prepare this dish to find out why they're so partial to dan dan noodles and why dan dan novices should give these noodles a try, and here's what they had to tell us.
Dan dan noodles are a defining dish of Szechuan cuisine
Sichuan cuisine holds a special position in the Chinese culinary pantheon, and if you're new to this bold and spice-forward food genre, dan dan noodles makes a perfect entry point. "There is a reason that this little noodle dish has made its way to so many Americans and became one of the most signature dishes of the Sichuan cuisine. It's packed with flavors and textures, and each chef has his/her own interpretations of how to prepare the dish. We serve ours with minced pork and pickled greens. [Dan dan noodles are] definitely a very interesting dish and worth a try," explains co-founder Amelie Kang of MáLà Project in New York City.
But while dan dan noodles are an indelible part of the Sichuan canon, this dish bears similarities with plenty of international cohorts, giving it an appeal rooted in cultural unity. "Our servers often describe dan dan to newcomers as a 'Chinese Bolognese.' When some of our Latino cooks first tasted it, they said it tasted like shredded chorizo. And when chef Wylie Dufresne had his first bite, he declared that it was shepherd's pie in noodle form. That's all to say that a version of a pork ragout is cross-cultural — where every cuisine has something similar to dan dan — and there's a sense of familiarity in something foreign," chef/owner Simone Tong of Little Tong Noodle Shop in NYC tells us.
Dan dan noodles are the "ultimate comfort food"
When asked to explain why dan dan newbies should incorporate this dish into their winter dining traditions, owner Maiko Kyogoku and chef Emily Yuen of Bessou in NYC had a simple answer: "[Dan dan noodles] are the ultimate winter comfort food that's satisfying on so many levels."
Chef/owners Dan Jacobs and Dan Van Rite of the cleverly named DanDan in Milwaukee, WI agree, adding that "[dan dan noodles are] made with noodles and ground meat, so they're a very approachable dish for newcomers. There's something about the dish that makes it so good but you can't quite put your finger on it. Perhaps because it's similar to Bolognese, which is super approachable for most people."
Dan dan noodles are extremely customizable
Some home cooks hesitate to attempt dishes like dan dan noodles because they're concerned about acquiring the "right" ingredients. However, chef and recipe developer ChihYu Smith of I Heart Umami urges amateur chefs to use dan dan recipes as templates, swapping in and swapping out ingredients based on their personal tastes and which products they can access. "Please don't feel intimidated by the ingredients. It's easy to swap them with what you have handy. For example: swap ground pork for ground chicken or turkey. Use dill pickles to replace Chinese pickled sour mustard greens. Sichuan peppercorns have become more and more popular in the West. You can find them online or in local Chinese grocery stores. You can also substitute with ground black pepper and lemon zest to get a similar flavor," Smith insists.
The spices used for dan dan noodles have a warming effect that's perfectly suited to cold winter weather.
The number-one reason to consume as many dan dan noodles as possible during the cold-weather months? Sichuan peppercorns. This spice accounts for this dish's unique heat quotient, while also providing abundant flavor notes to keep things interesting. "Not only is [dan dan noodles] a hot dish, but the spice level helps to warm up your body. The spice for our chili oil comes from red Sichuan peppercorns and red pepper flakes. There's a slight numbing sensation from the peppercorns, but the overall heat from the chili oil helps combat the cold," chef/owner Eric Silverstein of The Peached Tortilla and Bar Peached in Austin, TX claims. (You can hear more from Silverstein here.)
Want to make excellent dan dan noodles at home? Follow these tips:
Watch the fat ratio of the pork you use
"Pay attention to the ratio of fatty and lean meat — if the pork is too lean, your dan dan will be dry and brittle. Pork belly or pork butt is the best cut of meat to use. And take your time! Like any stew or ragout, the longer you cook it, the more the flavors meld together, and the better it gets. Second-day Dan Dan is certainly better than it was on day one!" advises Simone Tong.
Find a chili oil that really suits your tastes
If you have the time to make chili oil at home, you'll be rewarded with the opportunity to customize the elixir to your liking, and you'll notice the benefits in your completed dan dan noodles. "I think a complex spice is the key to making a great dan dan noodle. At Bessou, we make our own [chili oil] with a blend that includes cinnamon and star anise, togarashi flakes, and sesame oil. If you're not making your own, I love the Lao Gan Ma brand of chili oil sauce, which you can find at your local Chinese supermarket or online!" Emily Yuen tells The Manual.
Prepping ahead will save you lots of day-of time and effort
Dan dan noodles can be a bit labor-intensive, but starting your prep work the night before you plan to serve the dish will speed up your process considerably. "I would probably make the chili oil the day before and perhaps prep some of the ingredients the day before as well. You can make the ground pork mixture in advance and refrigerate it – it will taste just fine. That way, you only need to spend 45 minutes to an hour making the final dish," Eric Silverstein recommends.
Now, it's time to read on for two creative dan dan noodle recipes to try in your own kitchen:
Paleo Dan Dan Noodles Recipe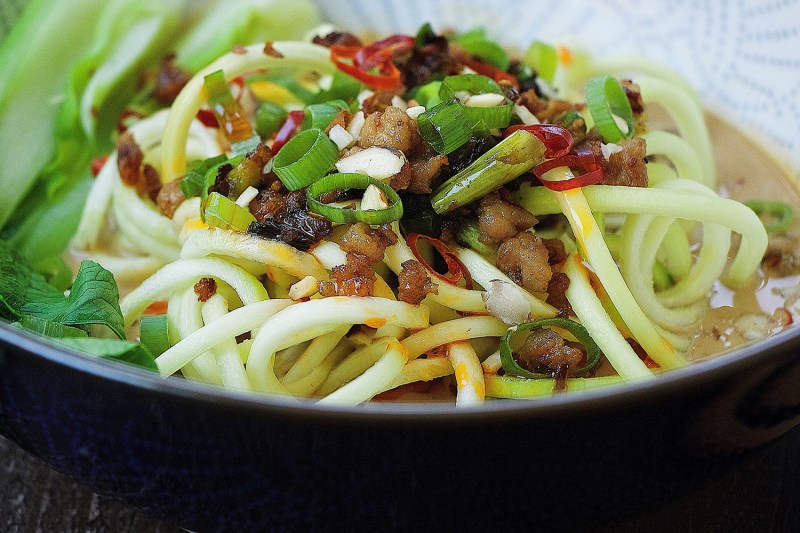 (Created by ChihYu Smith, chef/recipe developer, I Heart Umami)
"Dan dan noodles are not only easy to make but also creamy delicious. The dish is very versatile. You can use ground pork, chicken, or turkey. It's a quick way to add more protein to our meals. The dan dan sauce is naturally sweet because of sesame paste (tahini) and peanut butter. You can make the sauce spicy with hot sesame oil and hot chili oil, too. All the elements in dan dan can be made ahead of time – the crispy crumbled ground pork and the dan dan sauce. Simply combine the two with our favorite noodles – rice noodles, wheat noodles, or zucchini noodles – and a bowl of a delicious and healthy meal is ready in no time!" says Smith of her dan dan recipe, which she gives a paleo twist by subbing in zucchini "zoodles" for egg noodles.
Ingredients for the meat:
.5 to .75 lb ground pork, chicken, or turkey
1 tbsp coconut aminos (paleo-friendly soy sauce substitute) or 1/2 tbsp low sodium tamari
1.5 tsp toasted sesame oil
Ingredients for the sauce:
2 tbsp tahini
1.5 tbsp peanut or cashew butter
2 tbsp coconut aminos or 1 tbsp tamari
1 tbsp aged balsamic vinegar or Chinese black vinegar
1 fat garlic clove, grated
1 tbsp toasted or hot sesame oil
.25 tsp ground cumin powder
1/8 tsp Chinese five-spice powder
3 tbsp chicken stock or water (add more liquid for a thinner sauce)
Ingredients for the stir-fry:
2 tbsp avocado oil
2 garlic cloves, finely chopped
2 to 3 scallions, chopped
1.5 tsp finely chopped fresh ginger
1 tsp Sichuan peppercorns, ground or 1/4 tsp ground black pepper mixed with 2 tsp lemon zest (optional)
Salt
1 to 1.5 tbsp chopped pickles (such as Bubbies Kosher Dill; optional)
1 tbsp coconut aminos or 1/2 tbsp tamari
Ingredients for assembly:
1 large zucchini, spiralized
Almond slices, roughly chopped (optional)
Red chilies (fresno or serrano), thinly sliced (optional), for garnish
Method:
Place the ground pork in a bowl with coconut aminos and sesame oil to marinate. Mix well and set aside in the refrigerator for 10 to 15 minutes.
To make the sauce, combine all the dan dan sauce ingredients in a small bowl, mix well, and set aside.
For the stir-fry, heat a large skillet or wok over medium-high heat, then lower the heat to medium. Add the avocado oil and swirl the oil around the skillet. Add the garlic, white scallion parts, ginger, and ground Sichuan pepper. Season with a small pinch of salt and lightly sauté until fragrant, 8 to 10 seconds. Add the marinated ground pork. Keep sautéing until the pork breaks up further into finer pieces, 10 to 12 minutes.
Add the chopped pickles, if using, and coconut aminos. Sauté over medium heat until the moisture has evaporated and the ground pork becomes crisp but not burnt, similar to the texture of fried bacon bits, then turn off the heat. Mix in a handful of green scallion parts (reserve some for topping). Set aside.
To assemble, divide the dan dan sauce between two large bowls. Divide the zucchini noodles between the bowls, top each bowl with 2 to 3 tablespoons of crispy ground pork, chopped almonds, and green scallion parts. Drizzle with a bit more sesame oil, if you like. Mix everything together and serve immediately.
Dan Dan Noodle Nabe Recipe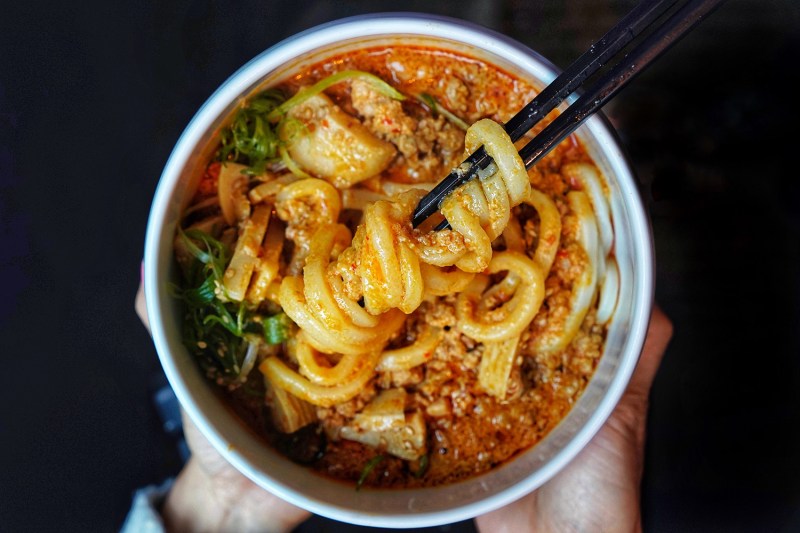 (Created by Emily Yuen, executive chef, Bessou)
Popular NYC restaurant Bessou specializes in Japanese fusion cuisine, and executive chef Emily Yuen smoothly integrates Japanese ingredients and methods into her dan dan recipe, resulting in an elegant and flavorful hybrid dish. "The [dan dan] version we make at Bessou is hearty from ground pork and udon noodles, spicy from our multi-layered housemade rayu chili oil, and creamy (without any dairy!) from tahini and miso," Yuen says of her smash-hit creation.
Ingredients:
2 lbs ground pork
1 onion, finely diced
3 garlic cloves, roughly chopped
1 cup tahini
2 tbsp tobanjan, aka doubanjiang
2 tbsp chili oil (Yuen prefers Lao Gan Ma chili oil)
1 c white miso
7 c dashi (or chicken or vegetable stock)
1 packet udon noodles (pre-cooked and frozen)
Sesame seeds, to taste
Chopped scallions, to taste
Chili oil for garnish, to taste
Method:
In a large pot, sweat onion and garlic for 6 minutes at medium-high heat, taking care not to burn them.
Add ground pork and sweat for 8 minutes or until fully cooked, stirring constantly with a spoon to break up the large pieces of pork.
Add tahini, tobanjan, miso, and chili oil. Mix for a minute or so until ingredients are fully combined.
Add dashi and bring to a boil.
Lower heat to medium-low and cook for 20 minutes until sauce is slightly reduced and well-incorporated.
Cook udon noodles in boiling water for 2 minutes.
Strain noodles and add to a serving bowl.
Ladle sauce over noodles and garnish with sesame seeds, scallions, and chili oil to taste.
Editors' Recommendations