Every now and then, you might find yourself watching a cooking video, or hell, a how-to video about anything, really, and suddenly — bam — there's a genius tip that will change your life forever. A tip so good that you're mad you're only just getting the information. This is one of those tips.
In a recent YouTube video, Chef Will Murray of London's Fallow restaurant demonstrates how to perfectly cook scallops. And while his scallop cooking lesson is wonderfully informative, it was his finishing touch that really caught our attention. In one of those blink-and-you'll-miss-it moments, Chef Murray finishes his perfect scallop with what he calls…Jesus Juice. No mention as to why exactly it's been named Jesus Juice, but we like it, and we're keeping it.
The quirkily named condiment, he goes on to say, is a mixture of pickled lemon juice and rapeseed oil that can finish just about any dish.
Intrigued, we decided to try Jesus Juice for ourselves, and it's not an exaggeration to say it was the best decision we've ever made.
By mixing one part pickled lemon juice with one part oil (Chef Murray calls for rapeseed oil, but any neutral oil will work just as well), you're creating a condiment that can be splashed on just about any dish for an immense boost of texture and flavor. The perfect balance of zingy acidity and fat combine beautifully on seafood, chicken, pork, steak, salads, or absolutely anything else that just needs a special touch.
At this point, you may be wondering where pickled lemon juice comes from, and we're here for you. Just like anything else in the produce section, lemons can be pickled. The result is a zippy, complex, pleasantly sour, intensely lemony ingredient that can be used in an array of both savory and sweet dishes. The pickled lemon juice is what remains in the jar with the lemons, and it makes for an incredibly delicious and versatile ingredient. This is our favorite preserved lemons recipe so that you can try Jesus Juice for yourself.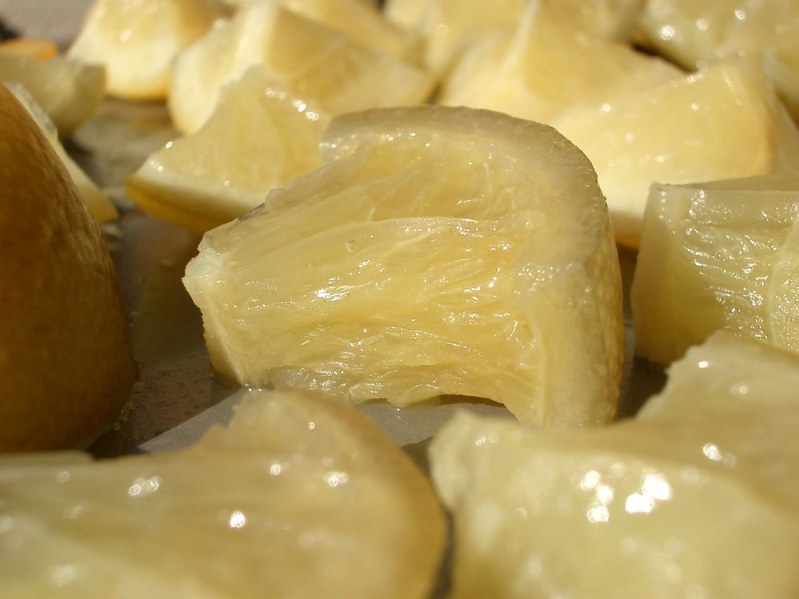 Pickled lemon recipe
Ingredients
12

large

lemons

3/4

cup

kosher salt
2 1/2

tablespoons

granulated sugar

2

cups

lemon juice

or as much as needed
Method
Wash lemons thoroughly, then dry them completely.

Cut lemons nearly into quarters by keeping just the bottom of each lemon intact. Each lemon should remain in one piece. Place into a large bowl.

Combine salt and sugar in a small bowl and spoon the mixture into the cut lemons.

Cover with plastic wrap and refrigerate overnight.

Transfer lemons and their juices into a clean jar, pressing to fit as many lemons in one jar as possible.

Pour lemon juice into the jar, filling all of the remaining space and making sure the lemons are submerged.

Refrigerate for at least 3 weeks until lemons have softened.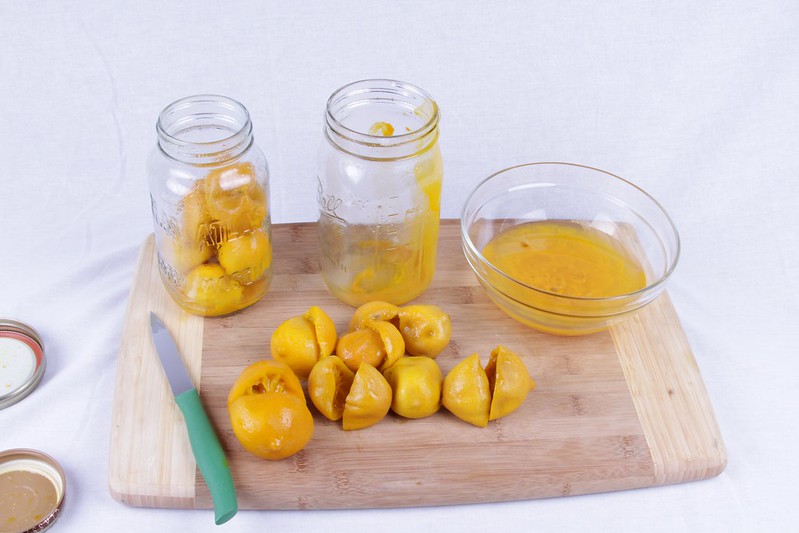 Preserved lemons tips and tricks:
It is very important to thoroughly clean the jars you'll be using for preserved foods. Any trace of bacteria remaining can spoil the food you put inside and make you very ill. A run through a dishwasher on high heat should do the trick.
Once the lemons have been preserved, every part of them becomes edible, including the peel. You can eat them straight from the jar, but they are best when put into stews, marinades, sauces, and even cocktails.
Preserved lemons should last up to about eight months if stored properly in the refrigerator.
This is a fantastic recipe for basic preserved lemons, but feel free to add any flavors you enjoy to the jar. Peppercorns and bay leaves are popular additions, but you can add any number of spices to make the flavor your own.
Editors' Recommendations