Value beer brand Busch will use its partnership with the National Forest Foundation (NFF) to give away free beer for a year to a one special savvy mountain explorer. Yes, you heard right — a year of free beer.
We guess it's time to finally learn how to read a topographic map!
Instead of selecting one lucky hiker by random, Busch will hold a Golden Ticket-esque scavenger hunt in forests across the United States, from New York to Alaska. Of the trillions of trees on the planet (and surely the billions in the United States), six trees will be marked with special medallions. The goal is simple: Be the first person to find a medallion tree, you win.
On September 25, Busch will reveal the location of all six trees via clues on the brand's official Twitter page (@BuschBeer) every hour from 12 p.m. EST on.
Track down a marked tree and take the medallion home with you. Contest rules say you must take a clear photo of you with the front and back of the medallion, plus a clear photo of your driver's license. You then have to email your photos to buschintheforest@anheuser-busch.com before November 14, 2018. The first person to do so wins the big prize.
The hunt was originally set to begin on September 18, but was pushed back … so that's bad news for the guys who took off work last week and bought a ton of outdoor gear. "Give us free beer already," the Colombia-wearing hikers cry!
Free beer is a good reason to start getting into the great outdoors and there's no better partner for Busch than the NFF, who works to protect healthy forests and watersheds across the country by ensuring their use for the public. Oddly enough, protecting the forest simultaneously protects our much-beloved beer: by conserving sources of fresh, clean water, "a crucial ingredient in creating the refreshing flavor of Busch Beer," says the beer brand in a release.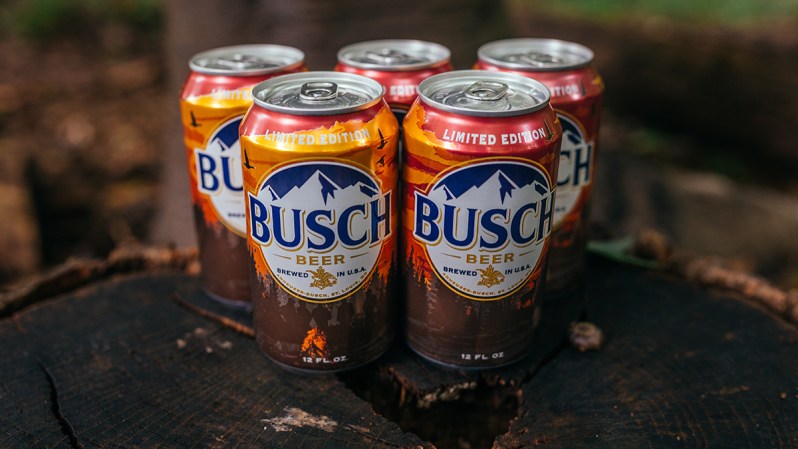 That being said, even if you don't win the free beer, you can still help the NFF plant new trees. Until November 30, a portion of sales from specially-marked 18-packs, 24-packs, and 30-packs of Busch and Busch Light (up to $175,000) will be donated to the NFF to support the restoration and enhancement of national forests and grasslands across the country. Busch aims to plant 150,000 new trees as part of its 2018 partnership with the NFF.
The unofficial poor college freshman's drink of choice, Busch seems to be sending a message to outdoorsmen that Anheuser-Busch can hang in the real wilderness. Most of the company's cans are designed with mountains and streams but how many true folks pick a Busch over a growler of local IPA?
If it's free, probably a lot. And if not, win the contest anyway and you'll have a year's supply of fire-putter-outer.
Editors' Recommendations