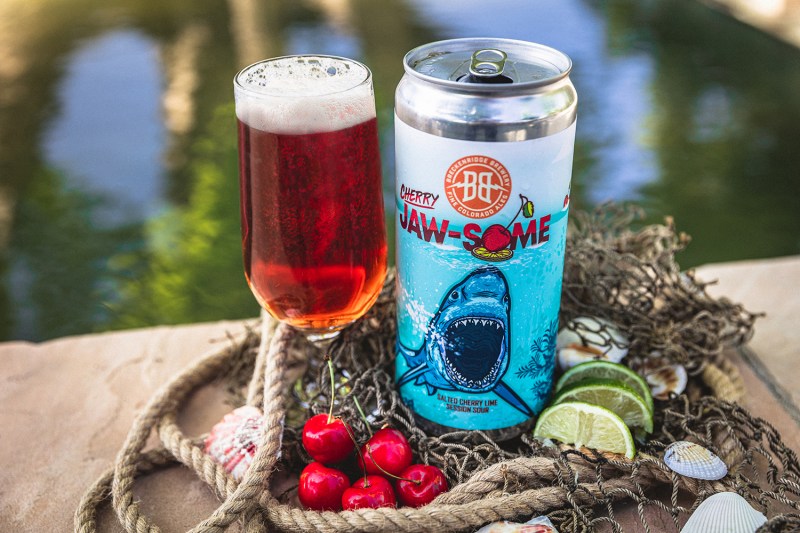 As the world gets ready to tune in to the Discovery Channel for yet another year of Shark Week, an unlikely brewery is releasing a special beer to celebrate the annual week of shark-focused viewing.
Breckenridge Brewery, in the land-locked state of Colorado, is releasing Cherry JAW-some on July 28, just in time for this year's Shark Week. Cherry JAW-some is a "salted cherry lime session sour."
With its cherry lime flavor, Cherry JAW-some has a red hue that brings to mind the gory shark attack scenes from the annual TV extravaganza, and a subtle salty finish "as a nod to the ocean."
Not only is the beer giving a nice nod to Shark Week with a perfect pairing for when you're on the couch enjoying the annual week-long marathon, it's also supporting those sharks.
A dollar from each pint or crowler of Cherry JAW-some that's sold will head to Project Aware, a marine conservation non-profit. Breckenridge certainly seems to be all about the Great Outdoors, as earlier this summer the brewery announced a campaign to support U.S. National Parks.
Breckenridge will be hosting Shark Week watch parties at its locations in Denver and Breckenridge. Breckenridge will also host a warp-up party on August 4 at its Farmhouse in Littleton. The party will include mechanical shark rides, a shark cage experience raffle, Cherry JAW-some and, of course, Shark Week on the TVs.
For those who have been living under a rock (but most certainly not a pineapple under the sea, as you would most likely be even more aware of sharks and shark-related items and culture) Shark Week is a pop-culture staple that helps spread ocean awareness and the pure awesomeness of the shark. For the past 31 years, Discovery Channel has aired myriad programs about one of Earth's most misunderstood characters.
With programming like "Air Jaws," "How Jaws Changed the World," "Nuclear Sharks," "Sharks vs. Dolphins: Face Off," and "Expedition Unknown: Megalodon," there's a little something for everyone, even if you don't care all that much for sharks. Shark Week also has plenty of celebrity buy-in, with shows featuring stars like Michael Phelps (remember when he sort of raced a shark?), Ronda Rousey, Jimmy Buffett, and Guy Fieri all participating in years past.
Editors' Recommendations