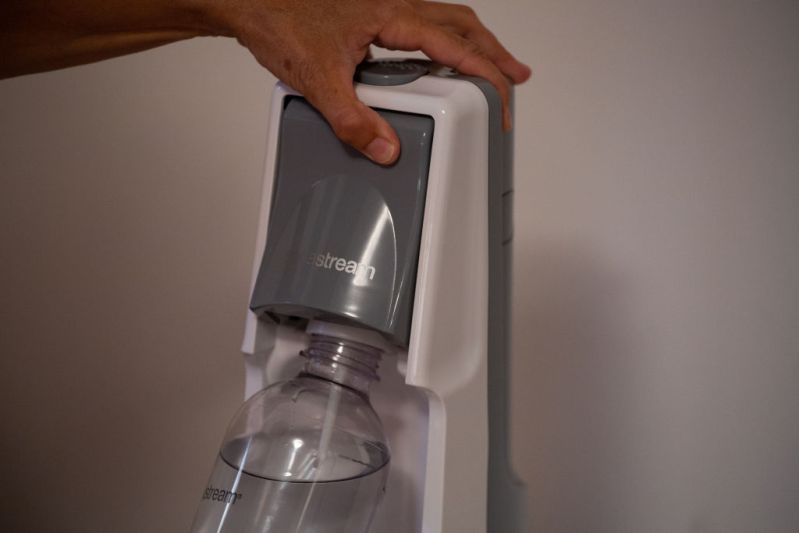 It's official, flavored soda water is not a fad. It's here to stay. With a heightened awareness of nutrition and health, cutting back on sugar and processed foods is now the rule rather than the exception. It's easier than ever to enjoy healthy snacks and drinks now, and the means to make your own are easy and affordable.
Take soda, for example. Those 2-liter bottles of sugar-packed fizz pack a caloric punch while offering nothing back in nutrition. But replacing soda can be tough for some people — it is a staple at the dinner table and offers something cold and refreshing on a hot day. Thankfully, there are several options to reproduce that refreshing fizz with fewer or no calories or sugar, or guilt: home seltzer makers.
Soda makers can be a pricey investment. But if you're a hardcore seltzer drinker, when you factor in the long-term costs of buying cans versus making your own, the investment is a no-brainer.
Most people have heard of SodaStream, the countertop gadget that makes fizzy drinks from tap water. These gadgets are growing in popularity because they offer full control over the flavor, sugar content, and nutritional value of non-alcoholic beverages. They retain the thirst-quenching feel of a seltzer without the calories and sugar. And from stow-away bottles to high-end countertop soda-makers, there's a model for everyone.
Here's our research to help you decide which one would best suit your needs.
Sparkling Water Makers
Most Versatile: Drinkmate Sparkling Water Maker
This popular sparkling water maker sparkles more than just water. It carbonates any beverage, including cocktails, flat beer, juices, and wine. It requires no electricity to use and runs off of a standard 60L CO2 cylinder. This easy-to-operate infuser is safe for kids to use and opens up a world of possibilities for creative beverages. The sleek design uses a minimum of counter space, and the company created this machine in black, white, and red to match any décor.
Easiest to Use: SodaStream Fizzi One Touch Sparkling Water Maker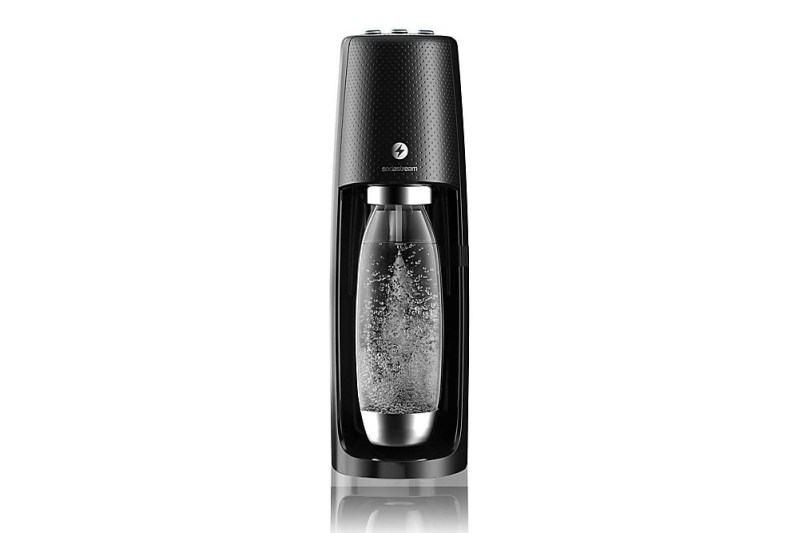 SodaStream machines are arguably the most recognized and longest-in-business sparkling water maker brand in the U.S. What sets this carbonator apart is a single-touch electric operation. Choose from three fizz levels, push a button, and the one-liter BPA-free bottle becomes a bottle of refreshing plain or flavored seltzer. This model uses a small amount of counter space, comes in black or white, and has a minimum 2-year limited warranty.
Best Bundle: SodaStream Fizzi Sparkling Water Maker Bundle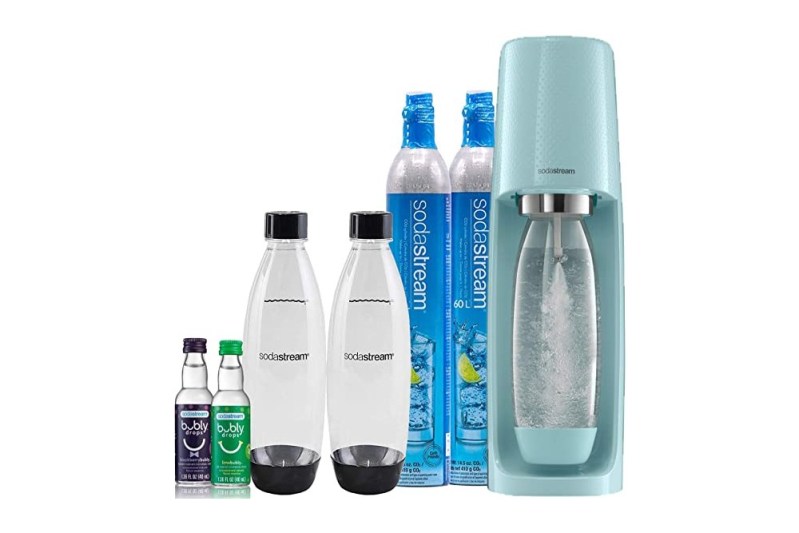 This bundle includes a SodaStream One Touch machine in your choice of Icy Blue, Black, Rose Gold, or White, three BPA-free reusable bottles, two standard 60L CO2 cylinders, and two different SodaStream Bubly unsweetened and calorie-free flavorings. It's a great way to jump-start your journey from soda to seltzer, and each cylinder carbonates up to 60 liters of water.
Best Premium: Aarke Carbonator III
This carbonator is not only stylish, but it is also made of stainless steel easy-to-clean parts for lasting durability. It looks elegant on your counter, uses standard 60L CO2 cylinders, and has a user-friendly design that offers controlled pressure release. Control the amount of fizz by operating the lever more than once, and grab a couple of extra PET bottles, so you don't run out of your favorite flavored seltzer. It doesn't ship with the CO2 cylinder, so order two of those while you're at it. Visit the Aarke store to see all five finishes and get a more in-depth look at these high-end carbonators.
Best Retro: iSi Stainless Steel Soda Siphon
If you're the type to have a bar at home, one of these hand-held soda siphons goes far to add to your style and cocktail versatility. These cylinders run on single chargers and will carbonate water and clear liquids in one shot. These siphons look sleekly modern while delivering an old-school seltzer experience. iSi offers a 2-year manufacturer's limited warranty, and the chargers are sold separately.
Best Innovation: Spärkel Beverage System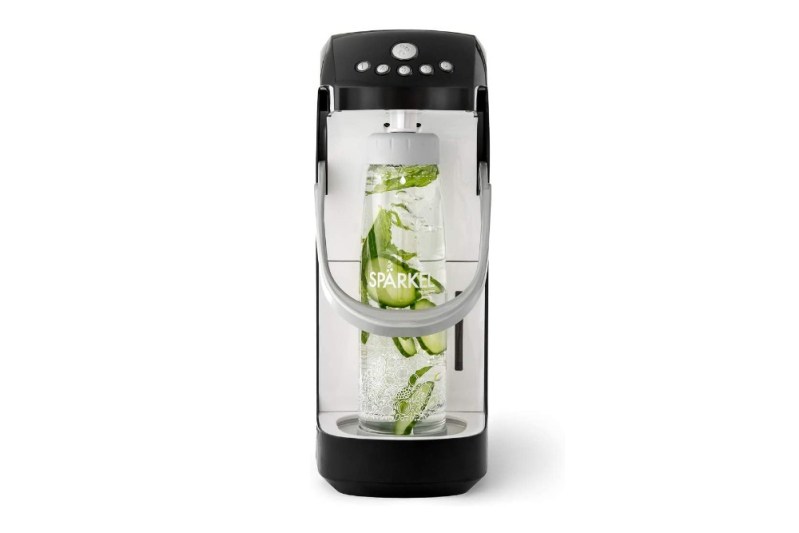 If you don't want to deal with CO2 tanks and refills, Spärkel has designed a system that uses a combination of citric acid and baking soda that produces CO2 naturally and tastelessly. Choose from five levels of fizz, and carbonate 25 ounces of your favorite beverage. This company offers a 1-year replacement warranty, and the machine comes in seven colors to match your décor.
Best with Glass Bottles: SodaStream Aqua Fizz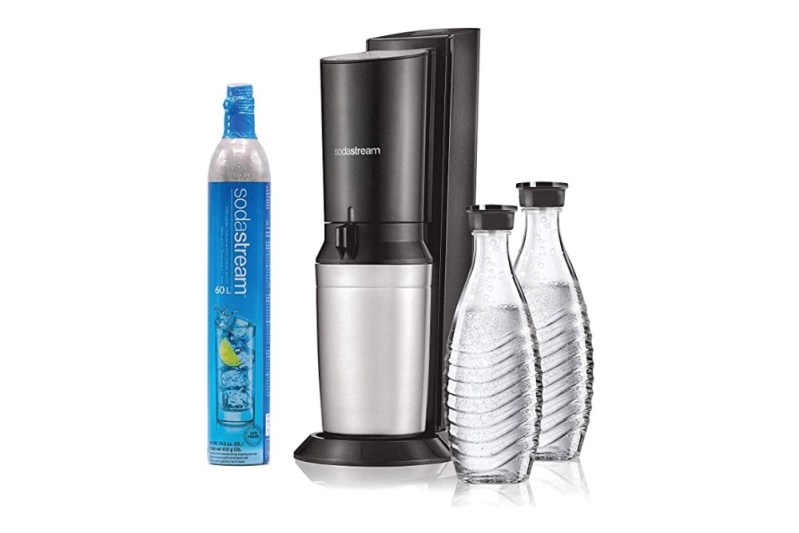 For someone who prefers a glass bottle, SodaStream designed this machine with a chamber for the bottle and a pump-action carbonation system to achieve the amount of fizz you like in an easily washable, more environmentally friendly glass carafe. This SodaStream model comes in black with a stainless-steel bottle chamber, carbonates with standard CO2 canisters, and uses no electricity.
Best Home Carbonation Flavorings
We would be derelict in our duty not to research some of the flavorings available for use with these carbonators. Of course, you can use your own herbs, juices, and extracts, but some are difficult to reproduce, such as a good cola flavor. Some companies put great effort into their flavorings, so here are a few of the best.
Best Cola Syrup: Pratt Standard Kola Syrup
This all-natural kola syrup recipe blends ginger, cinnamon, allspice, kola nuts, and anise to produce an old-school cola flavor that makes a great addition to both carbonated water and cocktails. It has caffeine like other mass-marketed colas and is made with cane sugar for a clean taste. It is shelf-stable for 12 months and needs refrigeration after opening. Pratt also makes ginger, cane, and grenadine syrups, all with high marks in flavor and quality.
Best Fruit Flavoring: Reàl Fruit Infused Flavoring Syrup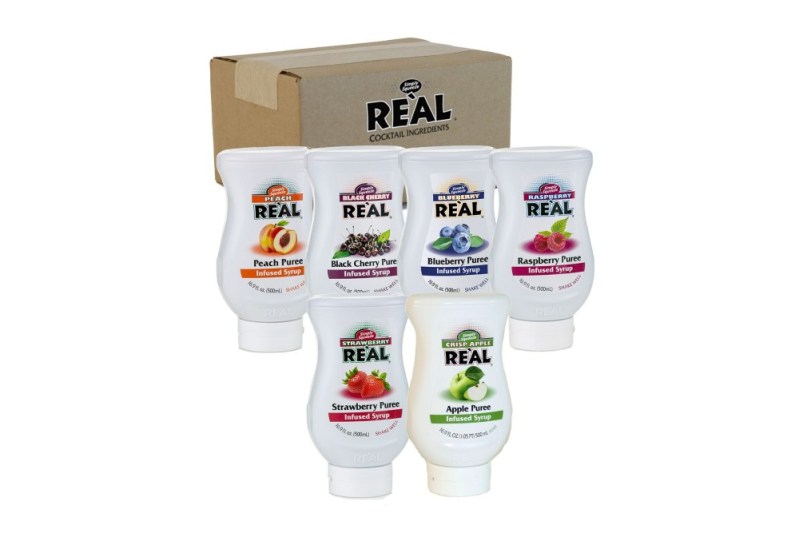 These purees deliver a fresh fruit flavor that respects the ingredient. The company stays true to the fruit's essence while adding enough sweetness to bring out the best in it. With any flavoring, it takes some experimentation to find what suits your palate best, and the convenient bottles allow you to spoon small amounts to perfect your drink. In addition to traditional fruit flavors, Reàl also makes a variety of tropical fruit syrups for great-tasting summer cocktails.
For some people, seltzers with only a small amount of sugar are an acquired taste. Before committing to a machine, try a syrup or two with some plain store-bought seltzer and see if you like that. Plain fruit juices mixed with seltzer are also a great way to begin training your palate to enjoy less sugar and more flavor. You will find that it is more refreshing, thirst-quenching, and healthier the more you drink it, and once you're ready to go all-in with one of these machines, you'll be sure to enjoy your purchase.
Editors' Recommendations