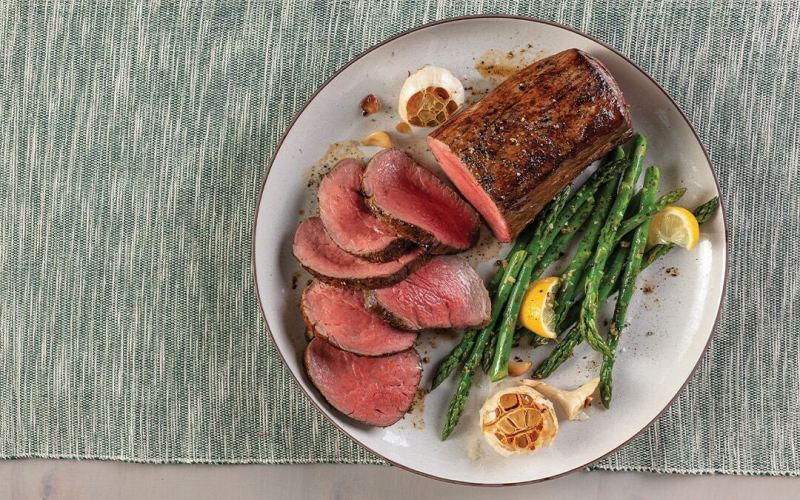 You may or may not be aware, but like grocery delivery services, it's entirely possible to have specific types of food delivered, from desserts such as ice cream to a sizable and juicy steak. There are full meal kit delivery services too. As a third option, there are meat delivery services, too, which also means there are some fantastic meat delivery deals out there — to get your food for less. You no longer have to visit the local butcher for yummy cutlets of beef, chicken, pork or beyond. You can order it all online, sit back, and wait for it to be delivered to your doorstep. Some even come pre-prepped and ready to throw on the grill or in the oven. How awesome is that?
Now, when it comes to finding the best meat delivery deals, or choosing a service, there are a lot of different options. To lighten your load, and improve your selection process a little, we've rounded up the best of the best below. Some of the more notable services include Good Chop, ButcherBox, Omaha Steaks, and Crowd Cow — especially if you like lamb.
Good Chop
Boneless ribeye steaks, top sirloin, Filet Mignon, Alaskan sockeye salmon, chicken breast, pork tenderloin, if any of these sound mouth-watering to you then Good Chop is the place to go. We haven't even begun to scratch the surface in regards to just how many different types of meats they offer. Organic, grass-fed, and delicious are three words that can be used to describe Good Chop's meats.
It is a subscription service, normally starting at $149 per month for up to 36 portions of meat. You sign up, pick your cuts, and then they'll be shipped right too. Here's the best part, though. New subscribers can give the service a try and take advantage of $110 off your first three deliveries. You'll receive a new box every 4 weeks and you can cancel anytime.
ButcherBox
Purported to offer the best of the best, from Australian beef to wild-caught seafood, ButcherBox is a meat delivery and subscription service like no other. Why? Well, for starters, Australian beef is some of the best meat in the world, and absolutely delicious, especially when it's fresh. Typically, a monthly box is about $146, and you get 8 to 11 pounds of meat depending on what you choose.
But for deals, ButcherBox is doing something a little differently for new subscribers. When you sign up, you'll be able to choose a free cut of meat to receive for a year, in every order. For example, you can select 3 pounds of free-range, organic chicken, 1 pound of grass-fed premium steak tips, or four 8 ounce pork chops. It's free meat, why not give it a shot?
Omaha Steaks
If you're not familiar, Omaha Steaks has been in the meat delivery business for a long, long time, but also they sell their products in bundles. For example, the "Fire It Up Pack" features a host of meat, like top sirloin, beef sirloin tips, boneless pork chops, steak burgers, jumbo franks, steak seasoning, and more. Each bundle includes a customized selection of meats, and sometimes extras, so that you can find precisely what you and your family are looking for.
Omaha Steaks almost always has an excellent round of deals and promotions going on, which means if you're showing up here late, you probably don't have to worry. You should be able to find something. Right now, they're offering 50% off sitewide, plus you'll get 4 free 4 ounce burgers with your order, as long as it's over $149.
Cooks Venture
One of the best and most unique sources of natural, regionally-sourced heritage meats is Cooks Venture. As a sustainable organization, it offers what's known as heritage chicken and meats raised to be healthy, strong, and free outside on the pasture. You have options like 100% grass-fed beef, Kurobuta pork, heirloom and pasture-raised chicken, and much more. It's all fresh, always delicious, and just as healthy for you — thanks to healthy-minded processes. Deliveries come in boxes, like most services, starting at $170 per month for up to 6 items.
However, right now, new subscribers can receive up to $25 off their first order, dropping that monthly price of the first box down to $145.
Crowd Cow
Okay, the name is a little eccentric we'll give you that, but if you have any interest in Japanese Wagyu, chicken, fresh beef, pork, and seafood, Crowd Cow is worth browsing. Ready to grill brisket anyone? Mmmmm. Overall, you are able to purchase from a carefully curated roster of meat providers, such as small farms and independent ranches, to get your hands on the best meats at lower prices.
Grass-fed beef, American-raised lamb, Japanese Wagyu, it's all here. You can also shop by farm if you find that you have a favorite source after a few orders. Crowd Cow works a little different than some of the other services as it's not subscription-based, you customize each order. But they always have an awesome selection of weekly deals, saving you upwards of 14% on various meats and bundles.
Snake River Farms
If premium meats are what you want, such as Wagyu beef, or even Wagyu hot dogs, then Snake River Farms is a top choice. Most of what they offer is high-end, and can be expensive, but with a few well-chosen options — and maybe a great deal or two — you can keep everything within your budget.
Right now, when you spend over $149, you can get up to $25 off your first order. Snake River offers a few shopping methods. You can purchase individual meats, bundles, and they offer boxes like some of the other services. It's refreshing to see not just a lot of variety in what's available but also variety in how and when you receive your deliveries.
Editors' Recommendations