Have you been keeping up with your wine subscription service to the point where you're beginning to need a place to store all those bottles? If this sounds like you, then you might need a beverage cooler at home. But don't call the beverage cooler a mini fridge because the latter is engineered to store both food and drinks.
A beverage cooler is designed to hold as many drinks with as little dead space as possible. This allows them to be more compact and be tucked away in tight spaces. Also, not every beverage you serve should be as cold as possible. Wine specifically, and some quality craft beers, should be cooled to a higher temperature (41 to 64 degrees Fahrenheit).
Whether you need one to cool off, or are looking for a business investment that can provide big returns, you can't go wrong with a premium beverage cooler. So fret not as we've already done the research. Here's our roundup of the best beverage coolers for storing your favorite drinks.
Related Guides
Best Overall: Euhomy 120-Can Beverage Refrigerator and Cooler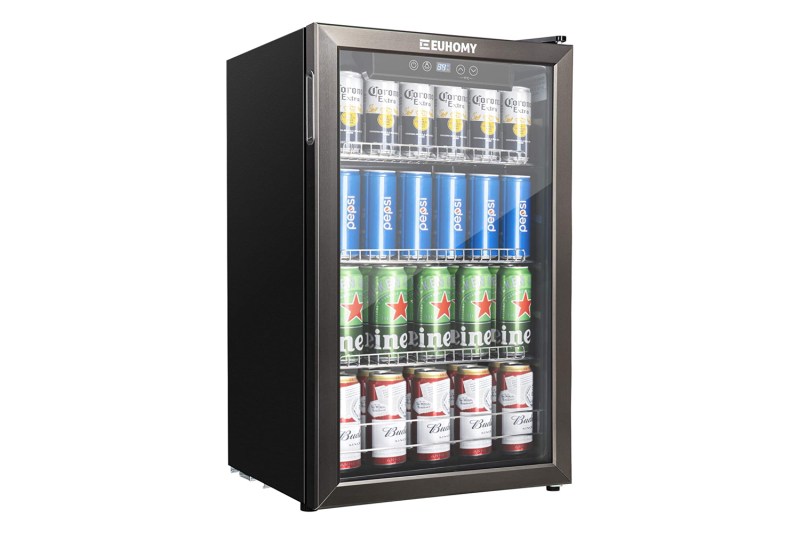 Suppose you're looking for a beverage cooler with a large capacity that is still affordable. In that case, this one from Euhomy is a top choice for many people. It's quiet, has an auto defrost function to prevent ice build-up around the motor, and the temperature control is easy to use. The glass door is triple-paned, sturdy, and part of Euhomy's heat insulation technology that keeps heat out. Its LED-lit interior has a capacity of 3.2 cubic feet, giving you enough space for 120 cans or 60 wine bottles. At just over 33 inches tall, it's the standard height for an under-the-counter unit. It also has a reversible door to accommodate your space.
This unit looks very similar to many other beverage coolers out there. Most of its other features are seen in some of the best coolers. We prefer some of the design elements of the Euhomy. The removable shelves in this unit are stainless-steel, while many others have plastic-coated shelves. We also liked the appearance of the brushed gun-metal steel doorframe. We also liked its price point, as many beverage coolers out there can be shockingly expensive.
Best Top-Rated: Homelabs 120-Can Beverage Refrigerator
This simple, yet effective beverage cooler from Homelabs holds not only the "top-rated" title on Amazon but it's also the bestseller in the beverage refrigerator category. This is likely because of its straightforward, no-frills design and its great price. Also, people recognize the Homelabs name from their extensive line of home appliances and gadgets. Most of the other brands on this list do one thing-refrigeration.
Best for Wine: Aobosi 28-Bottle Dual-Zone Wine Cooler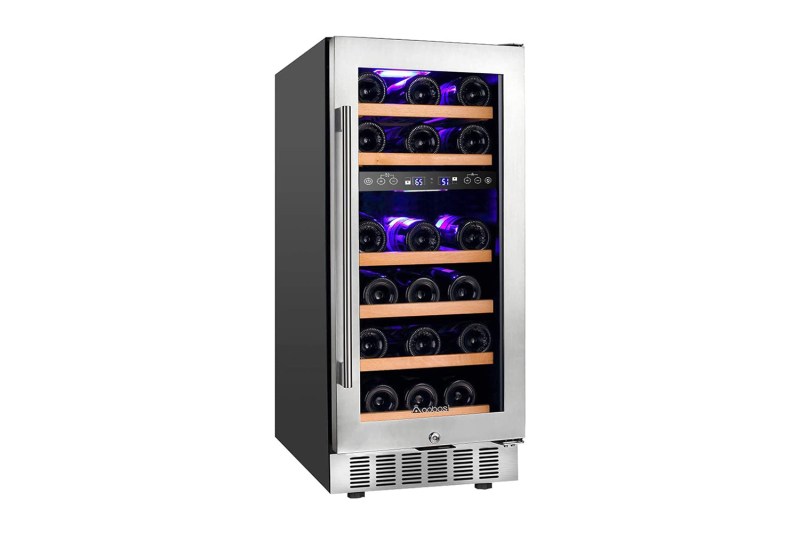 If you're going to spend money on a beverage cooler dedicated to your wine collection, you should have one that reflects your sense of elegance and taste. This Aobisi wine cooler will do just that. It's both beautiful and functional. The pull-out wooden shelves give it a stylish wine cellar vibe. The dual-zone storage system allows you to store your chilled whites, champagnes, and ports up top at a colder temp (41 to 54 degrees Fahrenheit). The lower chamber holds your reds, sweet wines, and brandy on the bottom, and is a bit warmer (54 to 68 degrees).
A nice feature of this wine chiller is the temperature memory function. In the instance of a power outage, you don't have to remember to reset the temperature settings; they return to the previous setting. If you're a true wine buff and worried that the cooler's motor vibrations will affect the wine's natural maturation rate, you can rest easy. The motor is tranquil, operating at around 42 decibels.
Best Compact Beverage Cooler: Costway 60-can Beverage Cooler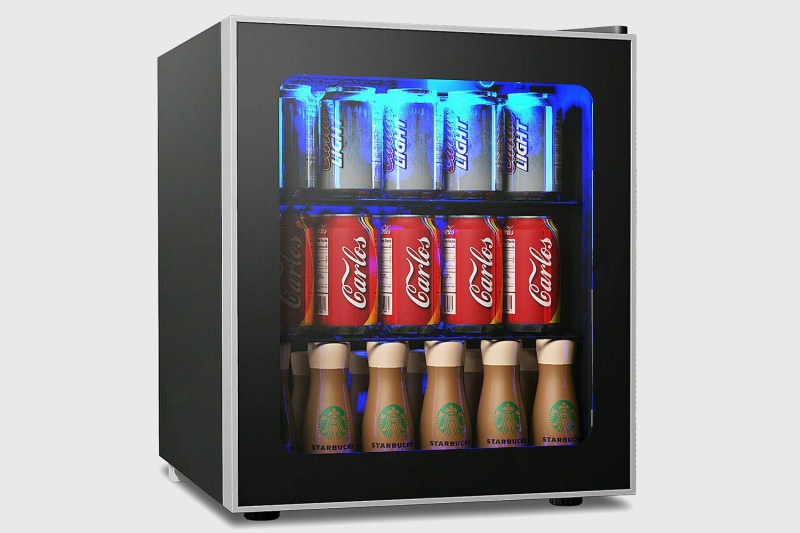 Perhaps you require a more compact beverage cooling option for a countertop, or maybe a glamping outing. This Costway model will cool 60 cans at the right price. It also has a pretty powerful motor, enabling it to offer a wider cooling range than most coolers its size (39 to 61 degrees Fahrenheit). There are no push-button controls or fancy digital displays, just a turn-dial thermostat. But, for a wallet-friendly cooler, it does the job and is an excellent choice for tight spaces.
Best Under-Counter: Kalamera 175-Can Beverage Cooler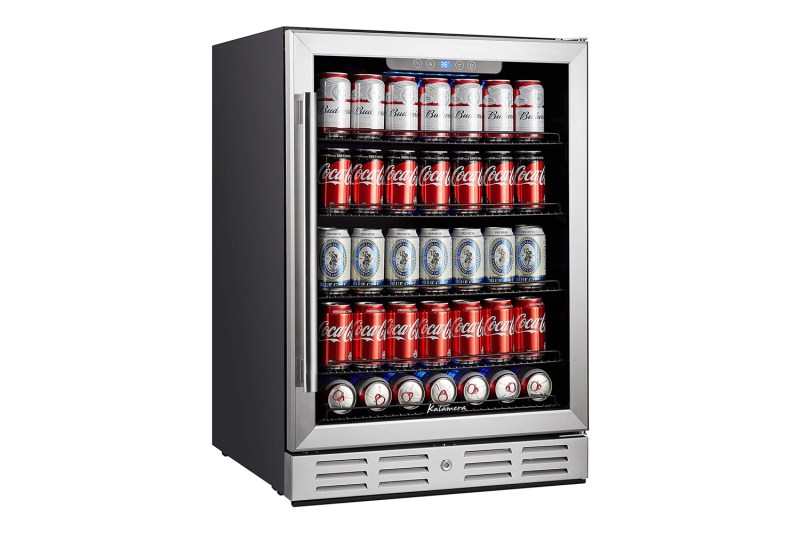 With free-standing beverage coolers, you can't build them into your cabinetry because they need space for the motor to breathe. Otherwise, it will burn out. This Kalamera unit, however, can be built-in thanks to its front-facing ventilation. Built-ins tend to be slightly larger, allowing them to hold a few more cans. However, they're also pretty pricey. This model is averagely priced among the models we researched.
The Kalamera beverage cooler comes with all the fancy bells and whistles of the other high-end brands. This is a great model for building a new kitchen or remodeling your old one to fit a beverage cooler. It has a cooling range of 38 to 50 degrees Fahrenheit, and with its blue LED lighting, looks great doing it.
Coldest Beverage Cooler: Danby 117-Can Beverage Center
Not only does this Danby 1117-Can Beverage Center get cold, but it also looks cool, too, thanks to its bright-blue LED lighting. Most beverage coolers dial down to 37 to 38 degrees Fahrenheit at the lowest. But this Danby can be programmed to 35.6, which is as close to freezing as you'll get in a beverage center. Also, if you need a cooler that matches the black-lit, underground-rave theme of your basement or dorm room this one is perfect.
Best Dual-Zone: Kalamera 24-Inch Dual-Zone Beverage and Wine Cooler
Is it "beer then wine — feeling fine," or "wine then beer — have no fear?" Either way, the Kalamera Dual-Zone Beverage and Wine cooler has you covered. Take all the same great features of the Kalamera wine cooler mentioned above, and combine it with an equally wonderful beverage cooler. One side keeps your wine between 41 to 64 degrees Fahrenheit, the other holds your beer (or soda) between 35 and 50 degrees. This cooler also is attractive, with the same great design elements.
This particular model provides some versatility, as it can be used as a built-in or free-standing unit. For a cooler, a grand can be quite an investment. But, if you want the finer things in life, you have to dish out a little more dough.
Other Beverage Coolers We Love
Antarctic Star Mini Beverage Cabinet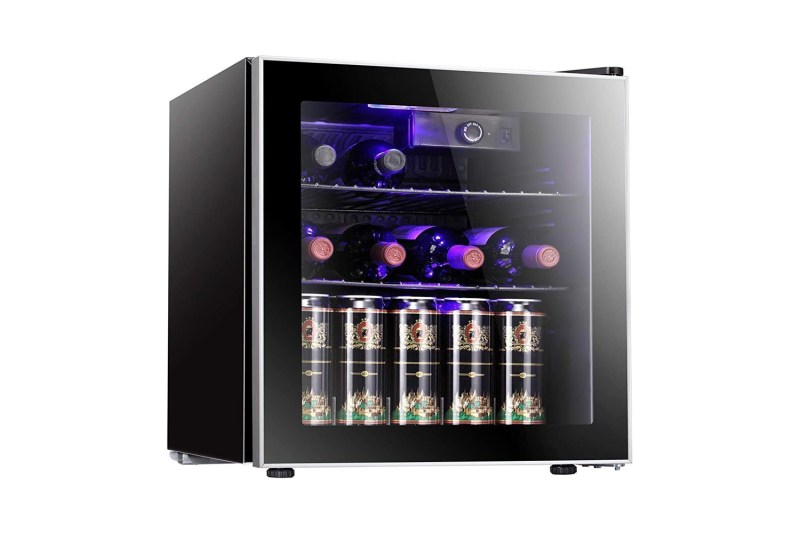 This mini beverage cooler from Artartic Sar gives you a sleek and stylish chilling center for your drinks at an excellent price. Although the capacity is not quite as much as the Costway model, its width of only 17.7 inches will let you tuck this unit away in a corner of your kitchen. But, it looks so nice you may want to make it a focal point.
Kuppet 19-Bottle Wine Cooler
This cooler from Kuppet is designed strictly for wine. Like the Antarctic cooler above, it's compact and super stylish. It's the perfect cooler for the beginner wine collector. It's also quiet, at under 35 decibels, so it won't interrupt you and your friends from discussing the complex flavor profile of your 2015 Pinot Noir.
What's the Best Temperature for a Beverage Cooler?
The best temperature for your beverage cooler pretty much boils down to what you're cooling and personal preference. As we mentioned in the intro, wine and some beers should be cooled at a higher temperature (41 to 64 degrees Fahrenheit). Dryer red wines like cab-savs, merlots, and malbecs perform best between 60 and 65 degrees. While fruiter, more rich reds like pinot noirs can be kept a bit cooler between 55 and 60 degrees. Most white wines are chilled even further between 45 and 50 degrees. While sparkling whites and champagne are usually held at around 45 degrees.
There are ideal temps for different styles of beer as well. Stouts and porters are suggested to be served between 50 and 55 degrees. Ales are a best a bit colder, between 45 and 50 degrees, and lagers the coldest at 40 and 45 degrees. And we all know, cheap beer is best served as close to freezing as possible. The same goes for a nice root beer or cream soda. However, these are all just suggestions. If you have a sensitivity to super-cold drinks, set your beverage center to whatever temperature you'd like. After all, it is your beverage cooler.
Editors' Recommendations