Now more than ever, we as a society are placing a heavier emphasis on mental health and finding a better work-life balance, self-care, sustainable choices, and restorative sleep. Can a mattress like the Avocado help you get better sleep and improve your overall health and happiness, though?
The Avocado Green Mattress stands out as a testament to the brand's commitment to quality, sustainability, and comfort. Crafted with meticulous attention to detail, this mattress uses natural and organic materials to create a sleep surface that promotes overall well-being. From the GOLS organic-certified latex to the GOTS organic-certified wool and cotton, the Avocado Green Mattress epitomizes the perfect marriage between eco-consciousness and luxurious comfort.
As we explore the various facets of this mattress, our goal is to provide you with an authentic and comprehensive review, offering insights into the Avocado Green Mattress's materials, performance, eco-friendly features, and overall value.
The mattress: Avocado Green Mattress (Original)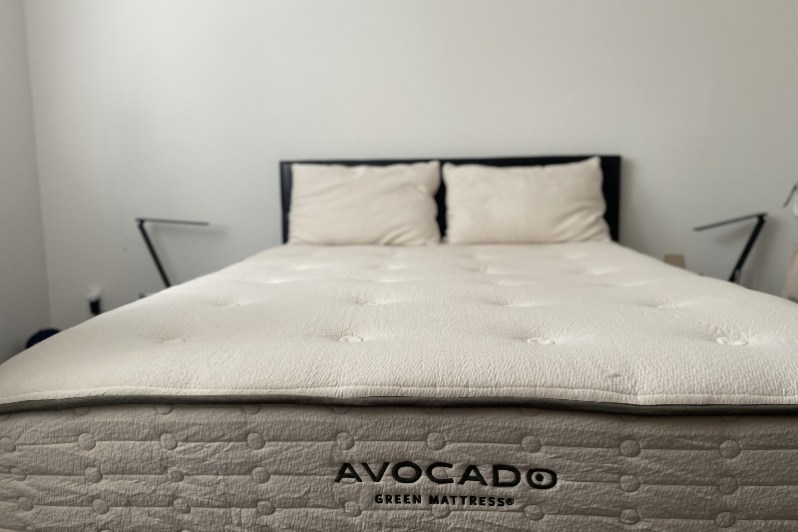 At the heart of this sustainable mattress lies a commitment to natural and organic materials and promoting a healthier sleep environment. Let's take a closer look at the Avocado Green Mattress and explore why it stands out as a top choice for those seeking a restful and eco-conscious sleep experience.
Product Details:
Type: Latex hybrid
The Avocado Green Mattress is a latex hybrid that is carefully engineered to provide the perfect balance of support and comfort. The combination of natural latex and individually pocketed coils ensures a responsive and contouring sleep surface.
Firmness: Medium
With the option to include a plush pillow top, the Avocado Green Mattress offers a medium-firm feel, scoring a 7 on the firmness scale. Without the pillow top, it provides a firmer experience, measuring a 9 on the scale. This versatility allows you to customize your sleeping preferences according to your needs.
Trial: 365 nights
Avocado Green Mattress believes in the power of experiencing their product firsthand. That's why they offer an impressive 365-night trial, allowing you to test the mattress in the comfort of your own home and decide if it's the perfect fit for you.
Warranty: 25-year limited
Rest assured with the Avocado Green Mattress's 25-year limited warranty. This extensive warranty demonstrates the brand's confidence in their product's durability and ensures your investment is protected for years to come.
Mattress construction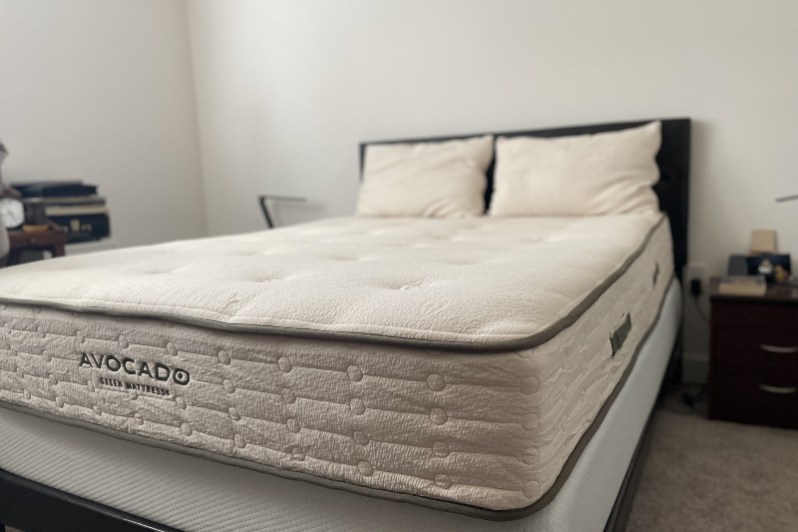 The Avocado Green Mattress stands out for its use of eco-friendly natural materials, including certified organic Dunlop latex, GOTS organic wool, and organic cotton. The innovative innerspring mattress unit with five strategic support zones eliminates the need for flipping; instead, the brand recommends rotating the mattress. Unboxing reveals the breathable, organic cotton cover with attractive wool rosettes, which are the result of the "needle-tufting" technique that holds the layers together without toxic glues or adhesives, giving it the aesthetics of quality vintage goods. The mattress features two layers of organic latex, pocketed coils, and cushiony organic wool for optimal comfort. Convenient upholstered handles are sewn on both sides, making the mattress easy to move. As this is an all-natural-material mattress, it's going to have some heft, so lightness is not one of its properties.
The Avocado Green Mattress is GREENGUARD Gold Certified, guaranteeing its eco-friendly construction. It incorporates GOLS-certified organic latex, GOTS-certified organic wool, and GOTS-certified organic cotton, ensuring the use of natural and sustainable materials. The mattress boasts an impressive 1,438 individually tuned, tempered steel coils arranged in five ergonomic zones. This high-quality innerspring unit provides exceptional support, reduces motion transfer, aligns the back, relieves pressure points, and contours to the body's natural curves. With a fully reinforced steel perimeter, the mattress offers consistent support even at the edges, promoting longevity and a restful sleep experience.
First impression and unboxing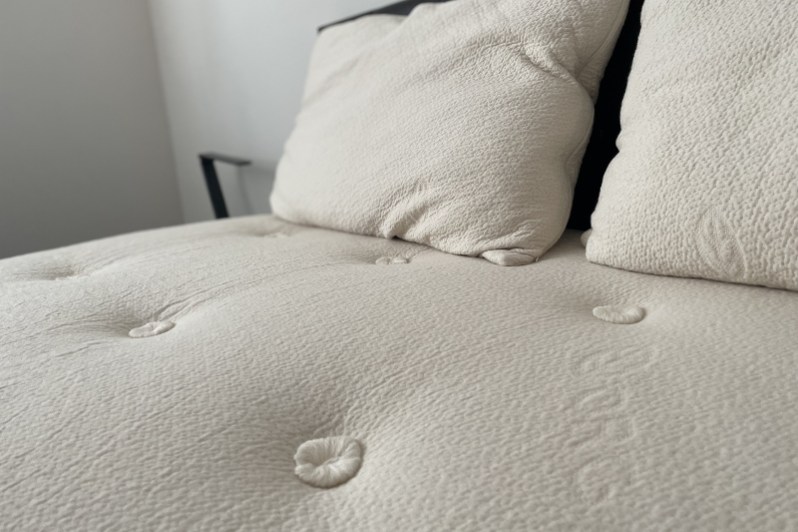 As I eagerly unboxed the Avocado Green Mattress, I was immediately struck by the brand's commitment to eco-conscious packaging. The mattress arrived in a thoughtfully designed box made from recycled materials, reflecting Avocado Green Mattress's dedication to sustainability from the very beginning.
Unrolling the mattress was a breeze, but it took a bit longer than expected; there was quite a bit of plastic to unravel to keep the mattress from expanding in the box. Per the website: "We are actively working on sourcing a plant-based wrapping material with sufficient tensile strength to replace the current plastic wrap." Pro tip: Ensure that the mattress is where you plan to use it because as soon as you begin to unwrap it, it will quite quickly expand. Moving it afterward can be a bit of a pain.
Within a matter of moments, the mattress is at full size, and you can begin to cut off the internal, clear shrink-wrap plastic, allowing it to fully expand and off-gas properly.
Upon first glance at the mattress as it sat there on my bed frame, I was impressed by the luxurious craftsmanship and attention to detail given to each Avocado Green Mattress. The natural cotton cover, adorned with hand-stitched tufts, exuded an air of elegance and durability. It was evident that this mattress was designed with both comfort and longevity in mind.
Overall, my first impressions of the Avocado Green Mattress were highly positive. From the eco-friendly packaging to the meticulous craftsmanship and customizable options, it was evident this mattress was designed to make a lasting impression. I eagerly anticipated experiencing the performance and comfort this mattress had to offer.
Mattress performance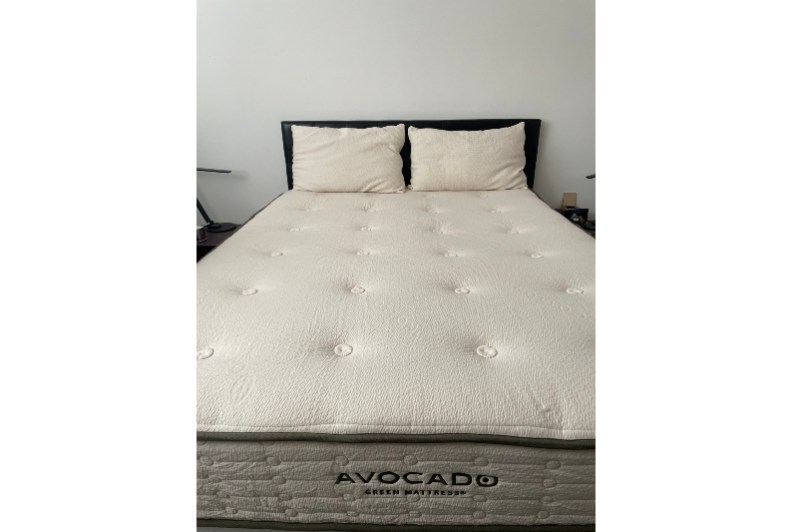 Sleep temperature
The Avocado Green Mattress offers an optimal cooling experience thanks to its organic wool cover and naturally cooling latex comfort layer. This combination ensures a pleasantly cool sleep surface, making it an excellent choice for hot sleepers who tend to overheat during the night. As I'm an extremely warm sleeper, I was thoroughly pleased with how this mattress did not run warm. Generally, I need to have fan running on most nights. The few nights I opted to leave the fan off for performance's sake, I slept through the night with no sweat and skipped the groggy morning after. That's a huge win for hot sleepers.
Edge support
With its pocketed coil layer and reinforced steel perimeter, the Avocado Green Mattress provides commendable edge support. This feature allows you to enjoy consistent support and comfort from side to side and corner to corner, making the mattress feel more spacious. Additionally, the robust construction enhances the bed's longevity by preventing sagging. However, it's worth noting that there may be slight sinkage when sitting on the edge of the bed, especially for those who are heavier. When sleeping close to the edge of the bed, I still found myself feeling as if I were smack dab in the middle and well-supported. Unless you plan on sitting directly on the edge of the bed for extended periods of time, the edge support holds up quite well, from my firsthand experience.
Motion transfer
While my experience with the topless mattress led to more noticeable motion transfer than most, Avocado Mattress customer reviews online suggest that adding the mattress topper can greatly improve motion isolation. Larger movements from a sleeping partner may still be felt, but the inclusion of a pillow top helps to minimize smaller movements and isolate them for a more undisturbed sleep experience.
Pros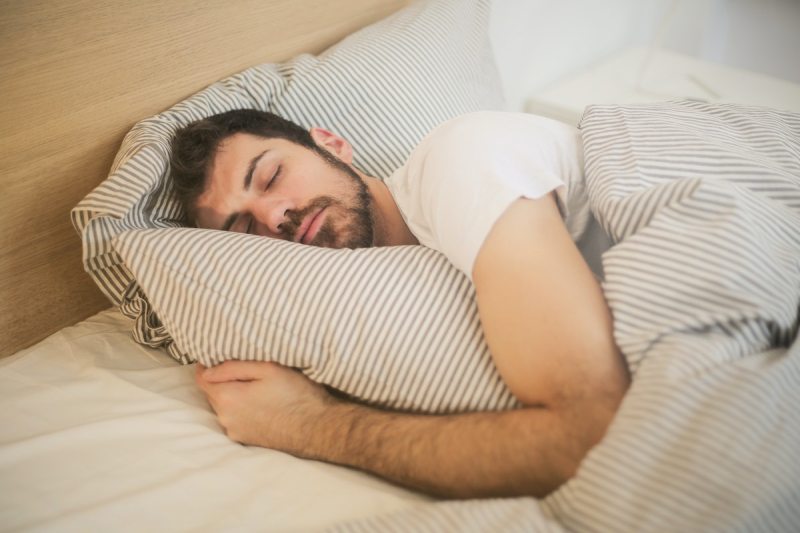 Use of organic and eco-friendly materials, including GOLS-certified organic latex, GOTS-certified organic wool, and organic cotton, promotes a healthier sleep environment
The mattress is designed to sleep cool thanks to the breathable organic wool cover and naturally cooling latex comfort layer.
The durable construction of the Avocado Green Mattress, with strong steel coils and latex foam, ensures long-lasting performance and reduced sagging according to long-term online customer reviews.
Minimal off-gassing due to the use of natural materials, contributing to improved indoor air quality. The website mentions a slight sweet vanilla scent. I found it slightly off, and it dissipated within a few hours.
GREENGUARD Gold Certified rating guarantees low chemical emissions and promotes healthier indoor air.
Sleepers can customize firmness by including or excluding the plush pillow top.
Avocado offers an impressive 365-night trial period, giving customers ample time to test and adjust to the mattress in the comfort of their own homes.
The 25-year limited warranty provides long-term peace of mind and protection for your investment.
The mattress is suitable for various sleep positions and accommodates different preferences to ensure proper spinal alignment.
Cons
Some customers have reported that the mattress may have noticeable motion transfer, especially in the twin size. Adding the mattress topper can help improve motion isolation.
The edge support, while generally good, may exhibit slight sinkage when sitting on the edge of the bed.
This mattress is a higher-priced option compared to some other mattresses on the market, reflecting the use of organic materials and sustainable manufacturing practices.
Due to the use of natural materials, the mattress may have a slightly firmer feel initially, requiring a short break-in period for optimal comfort.
The mattress is heavier compared to other synthetic-based mattresses, which could make moving or rotating it more challenging.
Is the Avocado Green Mattress worth your green?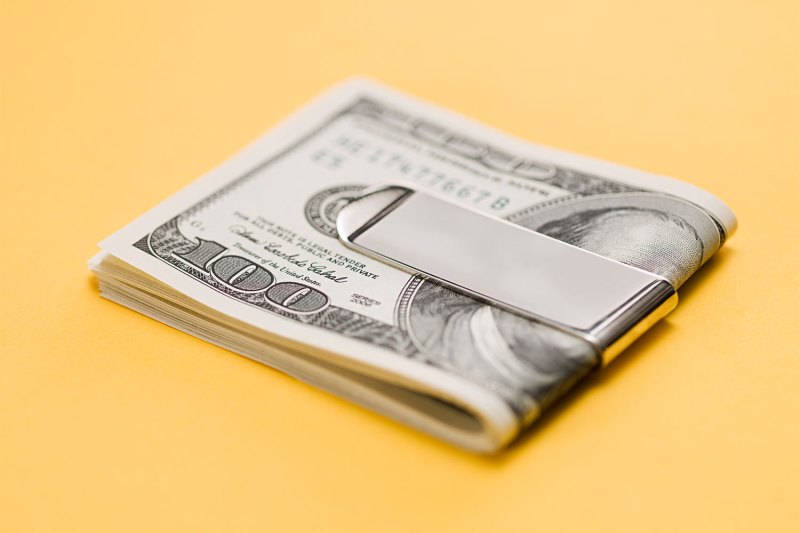 Overall, the Avocado Green Mattress offers a compelling package of benefits with its focus on organic materials, eco-friendliness, and exceptional comfort. The use of GOLS-certified organic latex, GOTS-certified organic wool, and organic cotton ensures a healthier sleep environment and promotes sustainability. The mattress's cooling properties, edge support, and durability contribute to a restful and high-quality sleep experience.
While some drawbacks, such as potential motion transfer and initial firmness, have been reported, they can be mitigated with the addition of a mattress topper and a short break-in period.
The Avocado Green Mattress remains a strong contender for those seeking a high-end, eco-friendly sleep solution. Ultimately, it will come down to personal preferences. Your priorities will help you determine if the Avocado Green Mattress is the right choice for you.
Editors' Recommendations