The fourth-generation leatherworkers at MNML Leather are known for first-rate, utilitarian leather goods that do more than just enhance your masculine presence. Each product in its collection of goods is designed to serve a specific purpose in daily life without sacrificing any style. The company's new MNML Leather Highlander Travel Bag is a creation that fills a need for the modern traveler who's frequently on the go and tired of lugging around unorganized, bulky baggage on short trips.
It's not easy to find an ample bag for short travels. A full-on rolling suitcase is usually too big for just a couple days' worth of gear and most backpacks tend to fall just short of the space you need. The MNML Leather Highlander Travel Bag is the perfect in-betweener for two to four days on the road or as a daily school companion, featuring a backpack-style design for easy carrying, additional room with organization slots, an easy-to-use laptop pocket, and a beautiful appearance.
Mitch Bank, founder of MNML Leather, said that the Highlander Travel Bag was inspired by his frequent frustrations on short-term trips. We've all experienced the nagging necessity of getting through airport security, unpacking a couple of items back at the hotel room, then just having to do it all over again the next day. This bag was made to simplify your traveling experience.
"I don't think of it as a bag … it's more of a travel system," said Bank. "I designed The Highlander as a highly organized, carry-on-approved travel bag. It's made to open flat, so you never have to unpack it; to be quick and easy to get through airport security, and compact enough to carry everything you need for trips up to four days. There's no more checked luggage and the frustration that comes with it."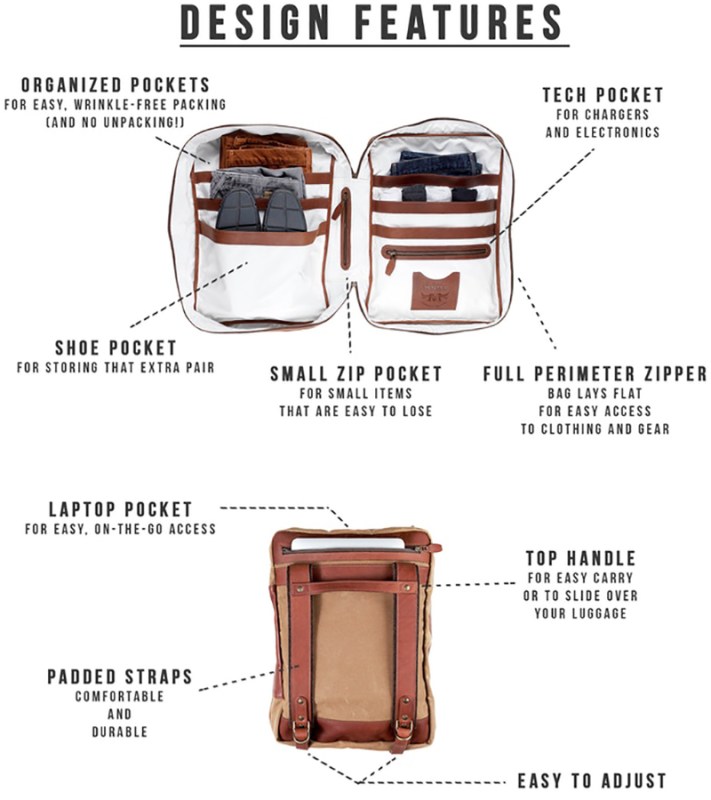 The bag has a ton of space for organizing your clothes and shoes along with a place for a kit of grooming products, accessories, or whatever else you like to travel with. It also includes an easy-access zippered pocket on the outside and two small storage pockets on the inside.
Aside from its clear travel advantages, the Toronto-based craftsmen make each product with weatherproof leather that will stand up to any climate — if you're a leather connoisseur, you know how huge that is. In fact, Bank's family-owned vegetable tannery, Wicket & Craig, is the only tannery in the world crafting this specific kind of eco-friendly weatherproof leather.
So, since MNML Leather is supplying you with a stunning, luxury leather bag that holds up in wet weather — it must carry a steep price tag, right? Well, this is what Bank likes to call "reasonable luxury." Even though the bag is made with tough materials, then put together through a meticulous production process, it's priced extremely well starting at $245.
The MNML Leather Highlander Bag eclipsed its crowdfunding goal shortly after the campaign started. The bag is scheduled for December delivery.
Editors' Recommendations