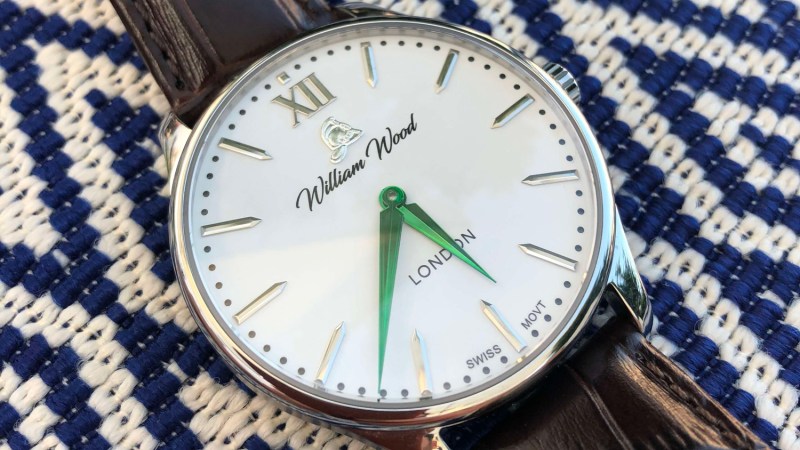 You know that exciting feeling you get when you're about to introduce two people you're certain will hit it off beautifully? Whether you're setting up a pair of friends on a blind date or bringing a friend into the gang, you're happy to know that someone else is about to made even happier by the acquaintance you'll be making.
That is the exact feeling I have right now as I introduce you to William Wood Watches. My Peacock Edition William Wood Watch from the brand's Chivalrous Collection became my favorite chronometer the first time I strapped it on, and I'd be surprised if many of you gentlemen out there didn't have the exact same love at first sight reaction. Big statement, right? Well I stand behind it, sir.
Let's talk about a few of the reasons William Wood chronometers are something special. As it happens, the first reason has nothing to do with the actual hardware.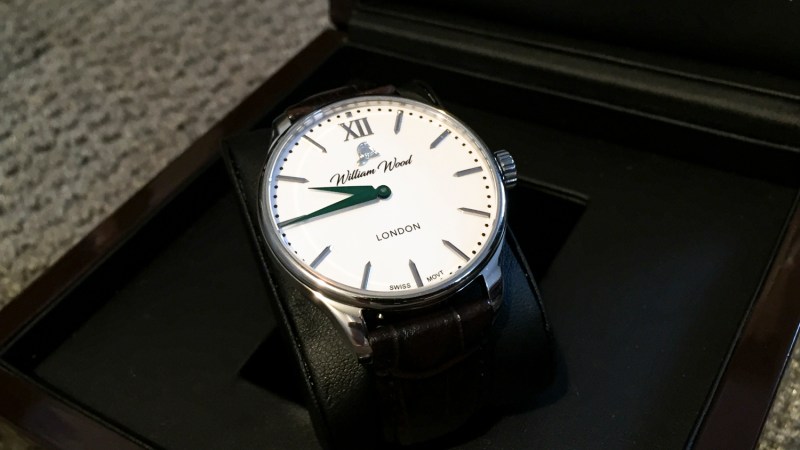 William Wood Watches Ltd. is named for the grandfather of the company's founder, Jonny Garrett. Mr. William Wood served as a firefighter for more than a quarter century, thus the brand's logo of the classic British fireman's helmet, which can be found on a handsome brass coin inset into the back of every William Wood watch case. But more of note here than the detailing of the case is the fact that the company donates a portion of every sale to a charitable foundation that supports firefighters and their families.
While we're talking about things other than the actual watches, let's talk about presentation, because it matters. And these guys nailed it. Your William Wood watch arrives in a black cloth sack. Inside that sack is a handsome green box with gold lettering and the William Wood logo. Inside that cardboard box is a stunning wooden box wrapped in fabric upon which sit your certificate of authenticity, a thank you card, and warranty info. Inside that shiny wooden box is your new favorite watch.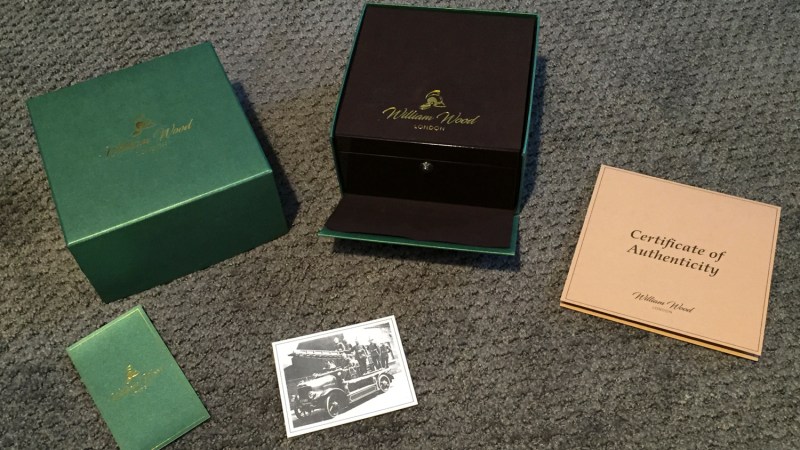 At present, William Wood offers five watches in one collection. All have the same shape of hands, the same layout and design on the faces, which is crisp and uncluttered, with Roman numerals for the 12 and bar markers around the rest of the dial. A single crown pops out to let you set the time. All of the watches have a case diameter of 41 mm and a depth of 10.7 mm. One (mine, in fact, the Peacock Edition watch) has a white face, two have black faces, and the collection is rounded out with blue and green faces. The cases are all made from stainless steel and come in steel-toned, gold, and rose gold coloring. The movement is Swiss, and the face is covered by a subtly curved crystal glass with anti-reflective coating.
The elegant simplicity of a William Wood watch catches the eye, and the detailing keeps it there. From the arrowhead shape of the hands to the fire helmet logo perched beneath the XII, these handsome watches assert their style with effortless grace. The Italian leather straps and finely-engineered clasp hardware doesn't hurt, either. I've worn my Peacock Edition William Wood timepiece with ripped jeans and a t-shirt while pushing a stroller around the neighborhood and with a pressed button-down when headed into New York City for a meeting, and it has yet to look out of place. You're going to feel the same way, I just know it. And at £299.99, which equals a little over USD $420 at the present exchange rate, these are luxury watches priced well in range for most consumers. And they are certainly worth it.
For other watches coming in under the $500 mark, read more here.
Editors' Recommendations