Lifestyle brand Nisolo has launched a new collection, which seeks to disrupt how direct-to-consumer companies offer ethical products to their customers.
Nisolo, which specializes in handcrafted leather shoes and accessories, unveiled the Essentials Collection this week, a special capsule featuring an array of different footwear designs for men and women. Though the styles are tantalizing in their own right, the big selling point of the collection is its mission, namely to bring customers high-quality, sustainable goods at a price that doesn't break the bank.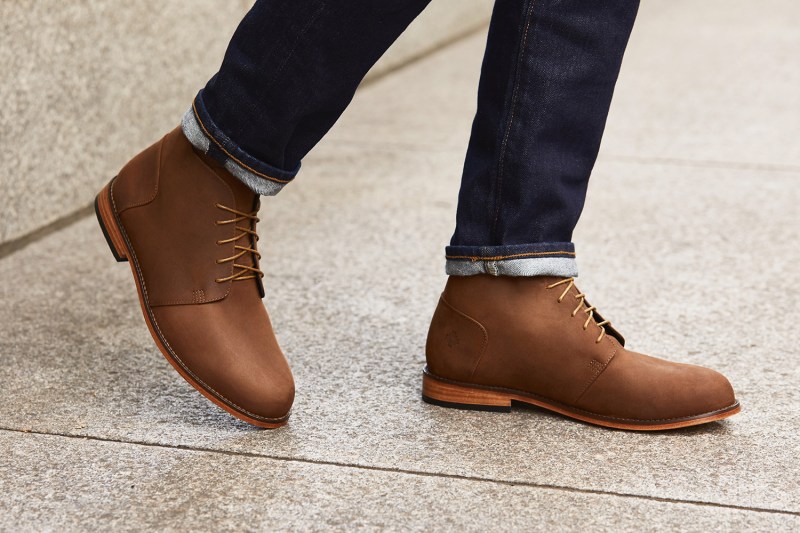 What exactly does this mean? Well, for Nisolo, it's all about reducing the cost of products they deem "essential" without cutting into the wages its producers earn. Something that sets Nisolo apart from other lifestyle brands in the space is that it owns and operates its own factory in Peru, which allows the company to create an equitable flow of goods (and money) between its employees and customers. The argument is that this benefits not only those who work for Nisolo but those who shop from it as well.
Take the Emilio Chukka, a standout design from the collection. The boot is built with adurable leather upper (regular and Nubuck, depending on the colorway), features a cushioned, microporous interior, and has been individually handcrafted. While this would normally translate to a fairly high price point, the Emilio retails for just $150. Though this amount may still be out of some folks' budgets, it's relatively affordable for such a stylish take on an essential boot silhouette.
Another timeless shoe that gets an ethical spin from Nisolo is the penny loafer, as embodied in the brand's Chamberlain model. Here, the classic style is updated with hand-cut, breathable leather, a stacked heel, and built-in arch support. This shoe also retails for $150, a competitive price tag for the quality of the design. In addition to the Chamberlain and Emilio, the collection also features the Chavito Chukka as well as the Calano Oxford.
There's no denying that ethical fashion is having a moment, but the trend can be inaccessible to layfolk unable to fork over hundreds of dollars for an item they could buy on discount elsewhere. The Essentials Collection is all about recognizing this disparity and making it easier for guys to get acquainted with ethical fashion and footwear. It's an interesting strategy, especially for fellas who are building out their wardrobes and want to do so as responsibly — and sustainably — as they can.
For more on Nisolo and its mission, check out our interview with founders Patrick Woodyard, Zoe Cleary, and Nick Meyer.
Editors' Recommendations