Gather 'round gentleman, because the horological world just got a whole lot more intriguing. Mr Jones Watches, the avant-garde watch brand renowned for its playful and unique timepieces, has saved the best for last. It has just released its final limited-edition watch of the year, and it's set to captivate the hearts of those who appreciate the finer things in life. Say hello to "Houseparty," a limited-edition creation inspired by the charm of cozy winter soirées, designed to adorn the wrists of discerning men.
Before we dive into the captivating details of the Houseparty watches for men, it's only fair to pay homage to the brilliant designer, Catarina Morais. Morais, a Portuguese, London-based illustrator, has crafted a timepiece that is not only an instrument of timekeeping but a work of art. Her creative journey, which includes prior contributions to Mr Jones Watches, is a testament to her talent and the inspiration that blossomed during challenging times.
As for how she came up with the visuals for these watches, Morais said, "This concept of an illustrated house party originated during the pandemic — it came mainly from a place of longing, and from being isolated from human connection with many of those I care about." She added, "Houseparty captures a moment — it's a relatable scene that brings us all back to our own memories and experiences. The musical notes fly from speaker to speaker as the hours sparkle in the reflections of the disco ball."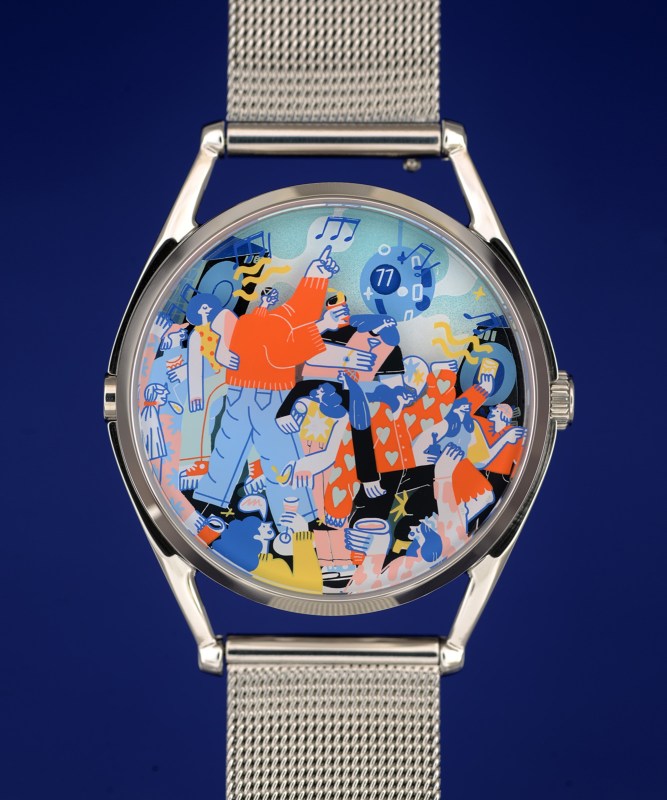 Capturing the essence of connection: The Houseparty concept
The Houseparty watch is more than just a timepiece; it's a visual narrative that transports us to the heart of a lively soirée. Morais beautifully encapsulates the essence of connections and intertwining, a theme that resonates deeply with the circumstances we've all faced. The picture on the dial takes one into a different world full of color and life, as if the pandemic never happened.
You might be wondering how one tells the time on a watch adorned with a bustling party scene. Houseparty features a jump hour function, a clever way to indicate the current hour. The number inside the disco ball changes with each passing hour, and for the minutes, the watch's central character points to musical notes and Champagne glasses, ingeniously representing the minutes. It's a playful and eye-catching method of timekeeping that aligns perfectly with Mr Jones Watches' philosophy.
Defying the smartphone era: The purpose of Mr Jones Watches
In an age where the majority of people turn to their smartphones for the time, Mr Jones Watches boldly stands out. Its timepieces are not just functional; they're conversation starters and pieces of art. The Houseparty watch epitomizes this philosophy, serving as an artistic statement and a narrative, all while keeping time. It's a declaration that you value individuality and the merging of art and function.
Now, for the details that matter. Houseparty is exclusively available from Mr Jones Watches and is strictly limited to 200 pieces, ensuring exclusivity for those who appreciate craftsmanship. With a price tag of $295, it's an affordable luxury within reach. Now, let's dive into the technical specifications of the Houseparty watch because it's not just about aesthetics; it's about precision and performance.
The timepiece features sapphire glass, known for its exceptional durability and resistance to scratches, ensuring your watch face remains pristine even after years of use. Housed in a sturdy stainless steel case, the watch exudes reliability and longevity, perfect for the modern man on the move. With a width of 37 mm from 3 o'clock to 9 o'clock and a height of 46 mm from lug to lug, it strikes the perfect balance between presence and wearability. The 18 mm stainless steel strap combines style and strength, completing the look with a touch of sophistication. It's not afraid of a little water either, with a 5 ATM water resistance rating, so light rain won't pose a threat.
All in all, it's an affordable watch that is certainly a conversation starter and adds an extra bit of cool to those hipster outfits we all love so much, or simply a suit if that's more your jam.
Editors' Recommendations