The winter months are in the rearview mirror. While the rain and the odd day of breezy coolness still hang around, spring is in the air. Of course, that means that there's a whole new crop of men's spring fashion trends to keep an eye on. As usual, we have you covered, as these are the trends for you to try out for yourself and stay elevated in the coming months.
If you zero-in on one of these fashion trends you want to try out, bear in mind that each one has its own considerations to focus on to wear it well. While picking out something to try, don't forget to consider the tips we provide on how to wear the item too. It's more than what you wear; it's how you wear it that keeps you stylish.

Tonal layering your favorite color
Monochromatic looks have been the simple way to look sharp for as long as men have worn colors. We all love the all-black look; who doesn't want to look like Johnny Cash? But this spring, bring some depth into your looks and work with different shades of your favorite color. If you're going with shades of blue, start with light blues on the bottom and work your way up to navy on the outside. If you want to go more with earth tones, brown and tan are a great way to layer within the same tone.
For a nice spring flair, put some pastels into your palette. If you're a fan of a green or olive suit, pair it with a pastel or mint green shirt. Put some pink in with your reds or burgundy outfits. Monochromatic outfits may be the same color, but that doesn't mean you can't add some 2023 flair by playing with the tones.
Loosen up a little bit
The cyclical nature of menswear is coming into play in the tailored world of men's spring fashion. While the last 20 years have seen the cut of suits, jeans, chinos, and shirts get tighter and tighter. That's changing in 2023, as it's time to loosen it up a little bit. Suits are getting more relaxed, baggier fits are coming back, and all men with a little extra around the middle can exhale a nice sigh of relief. We can also stop sucking it in every time we get dressed.
You'll begin seeing many looks start to incorporate the looser fit that was all the rage at the turn of the century. Lean into it and ditch the skinny jeans and the painted-on suits. Get comfortable, and for God's sake, loosen up a little bit this spring.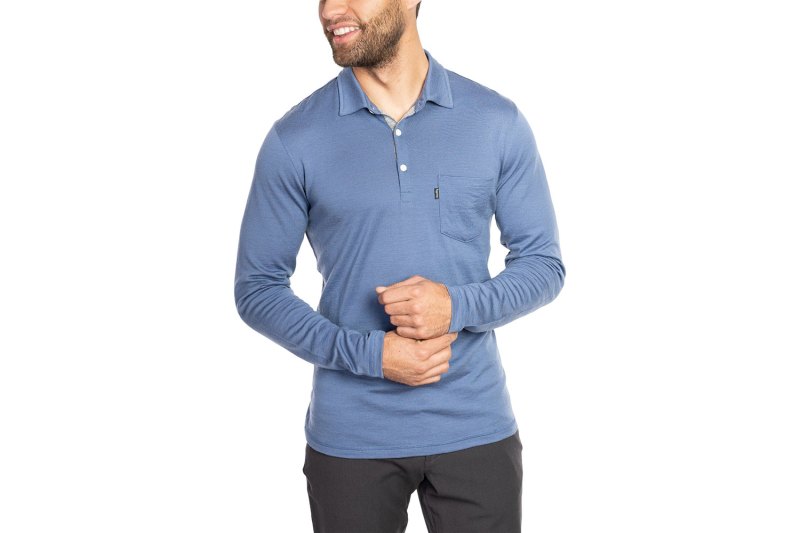 Rugby shirts are back
Long-sleeve polos are back after a bit of a hiatus. While these were all the rage through the 1990s and early 2000s, the rugby shirt/polo died out when the sweater regained its stranglehold on the lightweight long-sleeve market. The staple is back with a vengeance thanks to brands like Ralph Lauren and Express.
You can always opt for a solid color to keep things simple, or you can rep your alma mater with two-color broad stripes to make a statement. Whichever route you go, the rugby polo is definitely going to be your favorite transition shirt in 2023.
Don't just wear a polo; elevate it with the button-through
Are you a fan of button-down, short-sleeve shirts? How about the thicker fabric of polos? Why not combine the two with the short-sleeve, button-through polo? This relatively new recycling of men's fashion calls back to the revolutionary creation of the 1960s and '70s, when short-sleeve button-ups retained the same heavy fabric of the polo and the cuffed sleeves that make your biceps look massive.
Since these are a great throwback to days past, you should double down on the vintage look with browns and tans in vertical stripes to keep the aura of those '60s and '70s outfits. If you think you've got the gusto, add a fedora on top of the casual look to kick it back to the days of the stylish man.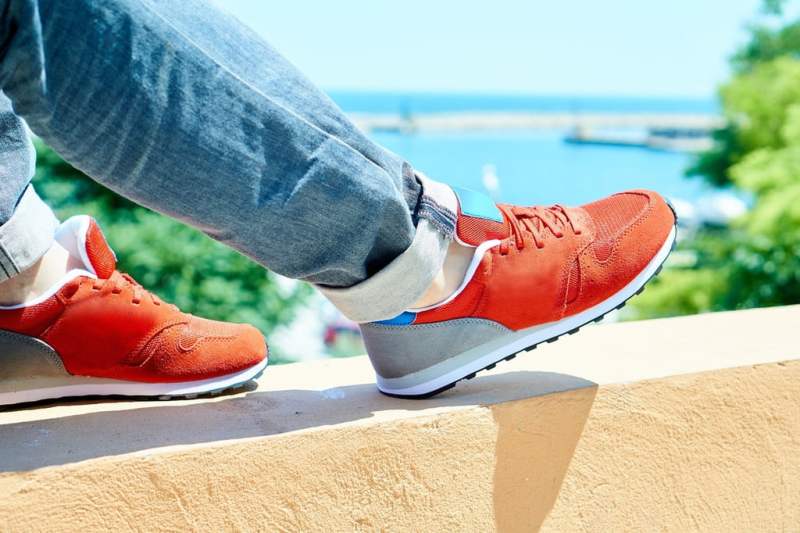 Colorful, low-profile sneakers are in vogue
Whether you call it football or soccer, you notice the shoes. Known for their bright colors, football-inspired sneakers are low profile and give a sleek look to denim, chinos, or a pair of shorts. If you're wearing them in bright colors the way they're intended to be worn, then they'll be the standout of your outfit.
If you're going to go with one of these pairs of soccer shoes, then let them speak for themselves. The good thing about wearing bright colors in men's fashion is that they get noticed. The bad thing is that if you wear too many, you can look like you're trying too hard. Opt for muted tones in the rest of the outfit to really let these shine in 2023.
Editors' Recommendations