As February and March throw the last bits of winter's worst our way, it's easy to let our minds wander into thinking about spring style with its brighter colors, lighter layers, and crisp new designs. We've raked through the runways to identify clothes we think you'll love and that are on trend, without being trendy for 2019.
Key messages for the season? While color seems to be somewhat faded and washed out (like the light, light denim in the jeans that your Dad has had forever and refuses to give up), there are also some opportunities for nice bright pops of color, especially the season's pinks greens. Texture is always important to fashion, but nubbly textures seem almost out of place, but oddly comforting for Spring 2019, and glossy, lustrous, even plastic-y surfaces provide a marked contrast, perfect for outerwear and active sport clothes. Finally, watch for bold graphics and the old "athleisure" trend to slowly dissolve into everyday, classic pieces for warmer days ahead. 
2019 Men's Spring Style Preview
Wrangler Retro Premium Slim Fit Straight Leg Jean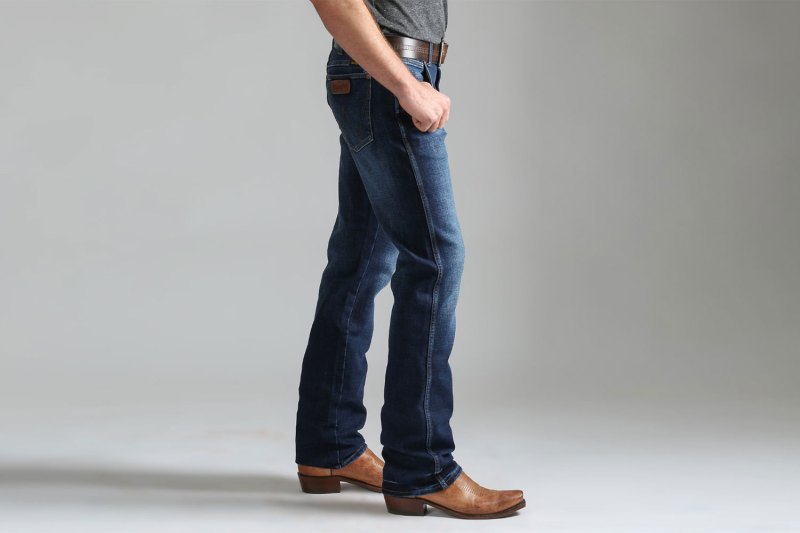 "Dad Jeans" are trending, with their higher waists, faded blue washes, and looser fits. Wear 'em and walk that fine line between looking like a trendy runway model and, well…your Dad. We prefer a more straightforward approach, like this classic straight-leg from Wrangler. The waistline hits a bit higher and they offer a relatively full cut in a medium wash with some whiskering and a little bit of stretch for comfort. Who's your Daddy, now? 
ASOS Design Multicolor Striped Textured Sweater
Bright color always wakes up our wardrobes from the winter doldrums, but this season, vivid colors and even neons, are popping up all over the place and serve as a counterpoint to otherwise washed-out, mellow palettes across all categories. Grab a neon green T-shirt, a safety orange tank top, or this multi-colored sweater that gets added points for its retro 1990s textured knit. Just don't bring up Doctor Huxtable. 
Brooks Brothers Regent Fit Herringbone Double-Breasted Blazer
Slim is still in, but a more voluminous silhouette is starting to make its way back into the mainstream (much to our Editor's disappointment). When that happens, double-breasted suits and jackets become more popular in tailored clothing. This marine blue number from Brooks Brothers offers a bit of texture, with a sophisticated, all-American look. Perfect to pair with stone khakis or white jeans. You can wear it all season long and it'll still be your best friend when the June wedding rush rolls around. 
Helly Hansen Moss Waterproof Raincoat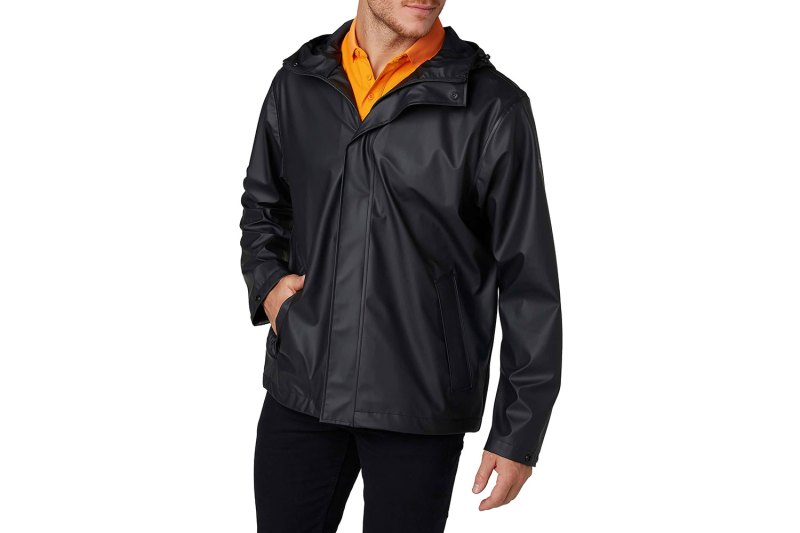 A bit of shine is the perfect contrast to the season's texture story (see ASOS sweater, above), but sometimes a full-on satin look can be a bit too "Bee-Gees" for our taste. We do like the subtle sheen of this Helly Hansen raincoat, where the texture lends itself to shedding water and the minimalistic styling means you'll look like a rock star wherever you wear it. 
Todd Snyder Reverse Weave Japanese 'Champion' Sweatshirt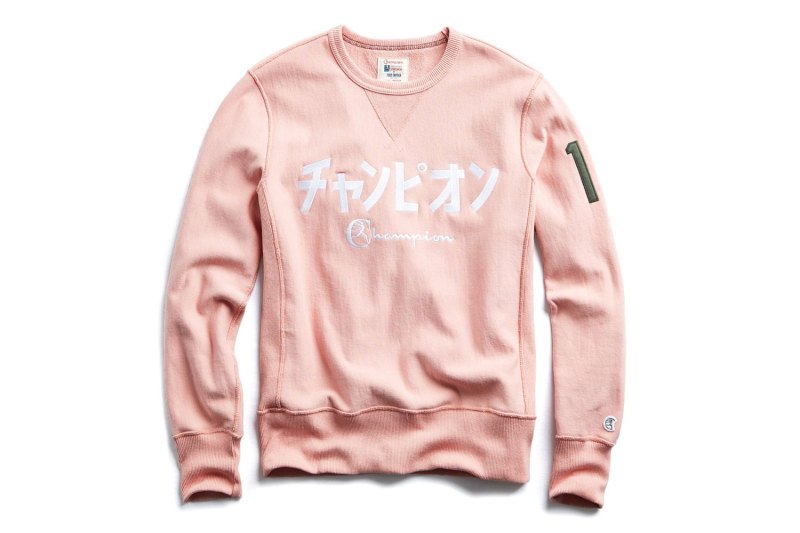 You may have already heard that the Pantone color of the year is Living Coral (Pantone 16-1546). To us it just reads "pink," but a nice wearable version that seems more approachable than some of the more Pepto-Bismol shades we've seen around. Although we're sure this Todd Snyder for Champion sweatshirt is a bit more of a faded hue than specified, we think that makes it a little more wearable for the average guy.
Life After Denim Berkeley Shirt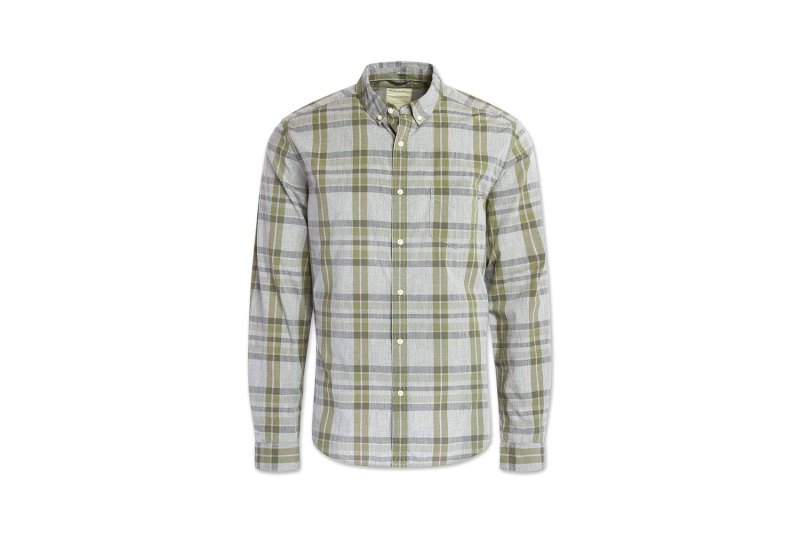 We're also seeing green trending this season, as it should in a time when everything is growing and coming to life. It's also an excellent complement to all that pink. This olive and gray plaid (in a comfy 100 percent cotton poplin fabric) is a subtle classic that looks great on its own but also plays nicely with a linen blazer or a neutral cardigan sweater. 
Nike Men's T-Shirt PSG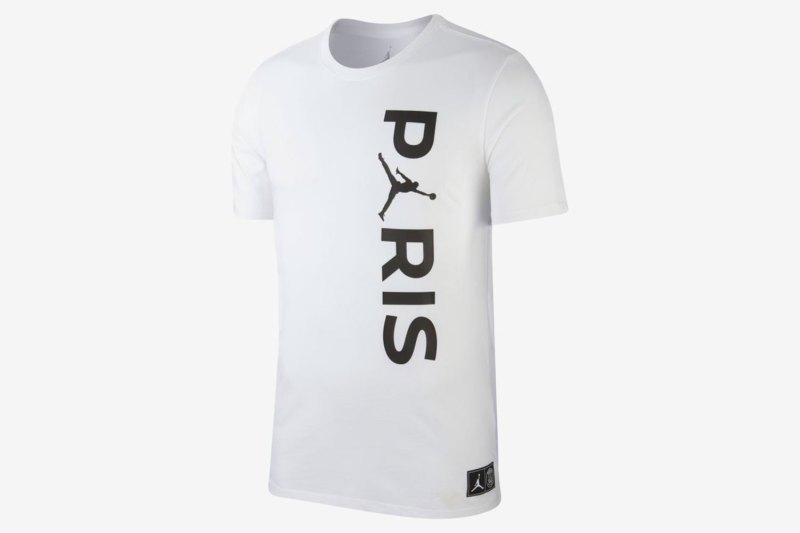 Bold graphics are also key this season, especially with font and type treatments. See Supreme, Virgil Abloh, or just about anything in the activewear market. Here the juxtaposition of the ultimate Air Jordan classic logo with the city that is fashion's spiritual home on an otherwise austere white T-shirt is a look that is forward and sophisticated, yet would look right at home at your local basketball court or gym.
Vince Slater Shorts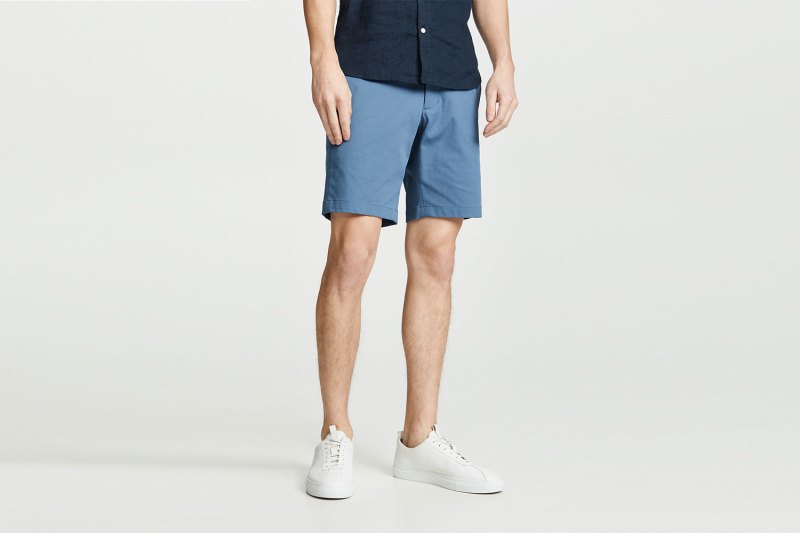 The kind of good news is that this season sees shorts everywhere, with everything. Maybe it's global warming. Maybe it's all those burpees. But don't think you'll be throwing on your gym shorts with a polo and calling it a day. You'll need something clean and formal. Well, as formal as shorts get, like these plain-front, just above the knee (9-inch inseam) shorts from Vince. They're cotton with a little stretch. Wear 'em like they're your dress pants, except probably only to the most casual of workplaces and special occasions. 
Puma Popcat Slide Sandals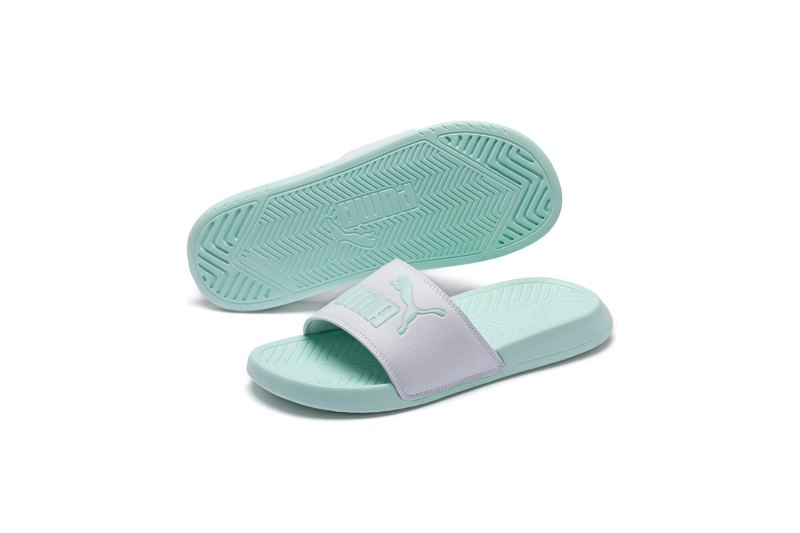 You're probably already wearing these around the house or gym. It's time to break them out for everywhere else. Flip-flops are dead. Long live the slide. If you have to wear them with socks, make sure the socks coordinate with both your slides and your outfit. Maybe something like these subtly patterned merino wool socks from Darn Tough. 
Need a pair of sneaks to go with those slides? Look no further than Madewell's Sidewalk Sneaker collection, which features all the trends to look to in 2019 like light-washed colorways in both pink and green.
Editors' Recommendations