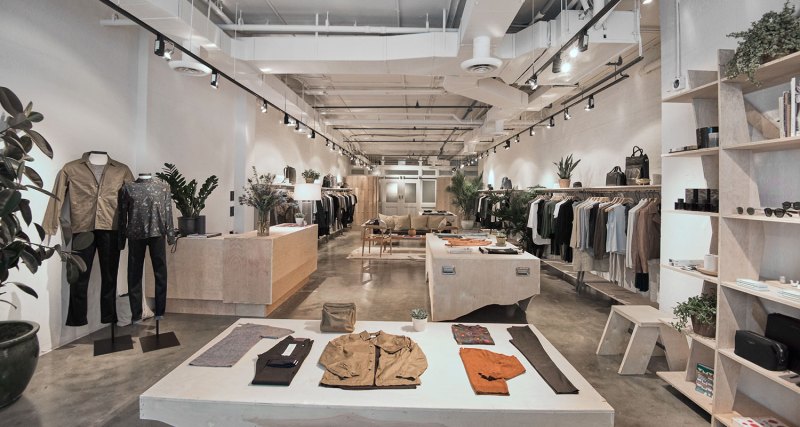 Since he launched his eponymous clothing line Baldwin eight years ago, designer Matt Baldwin has garnered industry accolades (he was a CFDA Vogue Fashion Fund finalist in 2015 and one of GQ's Best New Menswear Designers in 2013) and growing commercial success. His distinctly American brand — much of which is made in the U.S. — has evolved from a small offering of raw selvedge jeans to other clothing categories, although jeans remain an always important element.
This year, Baldwin is expanding its retail footprint from its two extant shops in Missouri and Kansas and opening standalone doors in three major U.S. cities: New York, Dallas, and Los Angeles. In a nod to the brand's Midwestern roots, the new New York shop features a wheat field in the front window and a very cool fitting room that resembles a silo.
The affable designer/retailer caught me up on these exciting goings-on at the official launch party for the New York store last week: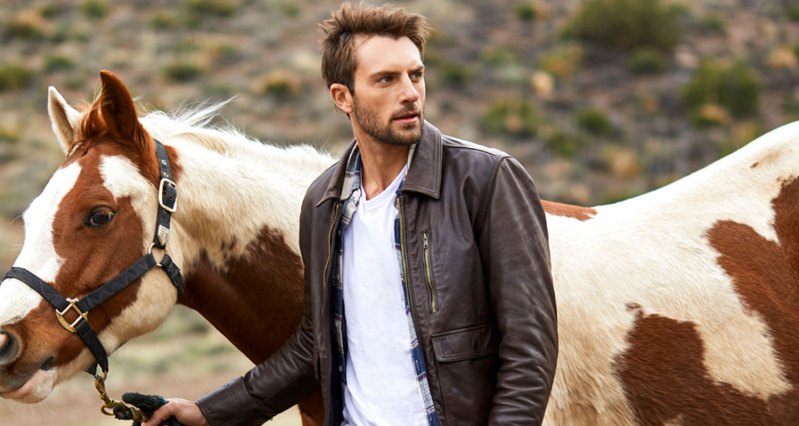 When did you launch Baldwin?
The line started in 2009. I put out my first pair of jeans in August 2009. I put three cuts of denim on the table in Kansas City in our shop and we literally sold 22 pairs on the first day, right in the heart of the recession. It has really naturally compounded and grown.
What's your aesthetic? What is Baldwin the brand all about?
I believe that everyone needs to own their space, and I believe we all have something to say and contribute just being that "one of one," if you will. Our "one of one" space is a distinctly American style coming from Kansas City, [Missouri], from the heartland of America. Growing up, I went to school on the East Coast, I spent years in Colorado, and I went to fashion school in Los Angeles, and I say that because I really got to know a lot of regions and cultures of cities in this country in my career over the last 20 years in apparel. With that, I have put a lot of that American style and the history of our country [into my brand], and that's why I manufactured denim as my first category. I had a love for the category and it was the one thing I knew that every American needed: a quality pair of denim.
Why denim?
We all grew up on it, and it forms and functions in our life to a very big value proposition. I really learned this because, prior to opening the retail stores, I bought and sold 35 brands globally, starting in 2003 up until I launched the brand.
When I took my own point of view, I went back to the roots. When you look at the history of denim, you look at the three coasts. (I call Kansas City "mid coast" jokingly many times.) You had Levi Strauss in San Francisco, Lee Denim in Kansas City, and then you had Wrangler in North Carolina. I think denim represents our country regionally in a way that is really special. I have kind of grew up on blue jeans since I can remember, and my kids have done the same now. It was a category where I really wanted to make an impact and have a point of view that contributed to the category in the U.S. So, that sort of started the whole thing.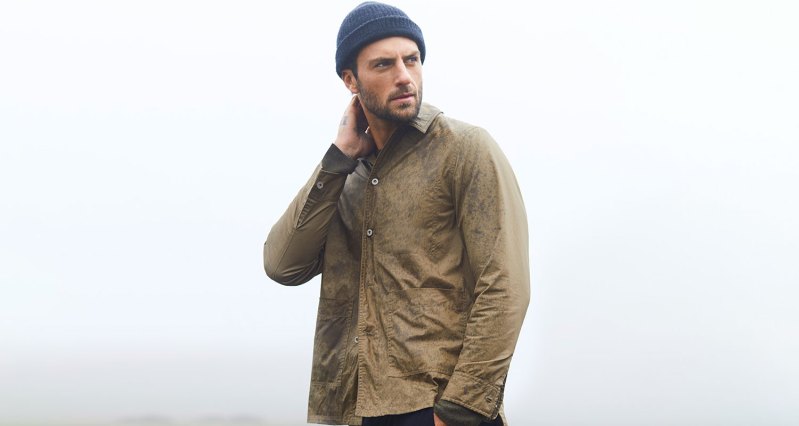 You obviously started with jeans, but the collection has grown. What are some of your favorite non-denim pieces currently?
I think my road has been slow and steady, kind of persistence with consistence – consistency of quality, consistency of fit, bringing the category's strength out of denim into the ready-to-wear. I've never really wanted to be pigeonholed as a denim brand; that has never been the vision. The vision has always been to bring a lifestyle around the best pair of jeans in your closet. The denim categorically anchored us as a brand to say, "Where do we grow out of, or where's the root of the tree?"
Well, around the tree now are great leathers, beautiful suedes, and amazing boiled wool in a couple of different gauges, from a boiled wool blazer that feels like an amazing soft cardigan to boiled wool crew pullovers that are long sleeved and kind of a new, modern T-shirt, if you will.
And there are some really great tech and packable jackets this season that are kind of a technical trucker that packs down. I put it in my brief, and it's amazing. It's weather-resistant and, at the same time, has that nice layer like a T-shirt or some sort of cashmere sweater.
I feel like a cashmere sweater with a great pair of denim is kind of the Baldwin uniform, because my aesthetic has been all about sophisticated casual.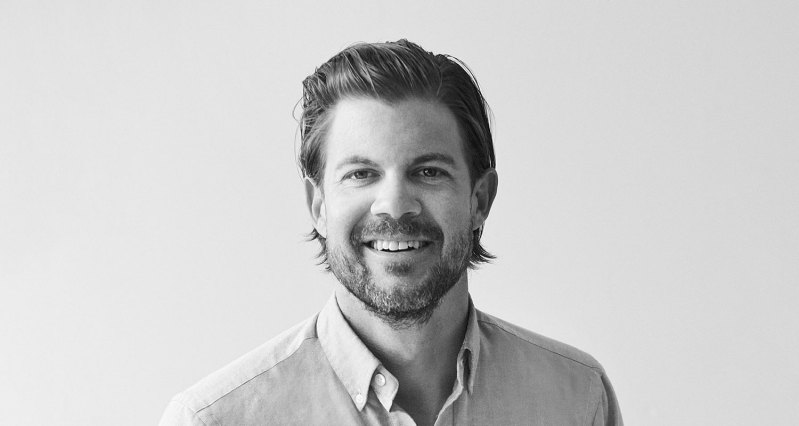 And your current favorite denim offerings?
Right now we have had a lot of stretch innovation. I mill with [denim manufacturer] Kurabo in Japan, and I've milled with Cone Denim in Greensboro, [North Carolina]. I do not skimp on my fabric quality. It's the best of the best in the world, and I am transparent about the fact that I only work with the best because I believe a quality garment starts with a quality fabric.
That being said, we have been milling some really special things in the last few years, especially in the denim category. Customers said that they love the selvedge, but were ready for more comfort and really desired stretch [denim]. So instead of being the purist of sorts that I am, I said, "Okay, let's mill the most beautiful stretch selvedge that anybody has done."
And, in dry denim, I have been reclaiming our customers' raw denim since 2009, and those are all of our wash templates for every wash that we do.
Tell me about your new stores.
Here we are, seven years in, and we now have a shop on Mott Street in Nolita, which is like our neighborhood. We've been staying right in the heart of Nolita at the Bowery Hotel ever since they opened. And then Dallas opened right in the Knox-Henderson area, and then Los Angeles will open October 15 right on Melrose. It's the most beautiful store. It's the old Marc by Marc Jacobs store, and it has this beautiful farm ceiling that's architecturally very much my vibe. I'm really into architecture, design, furnishings, and interior design around the collection because I believe it tells a full, complete story and gives the customer the whole experience.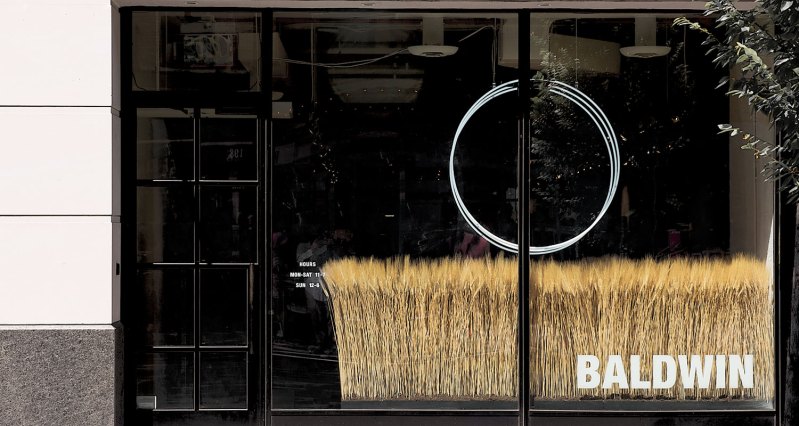 Who is the Baldwin customer?
You could say, in a general sense, it's 35 to 65 and a person who is an entrepreneur — someone who is in the market to innovate. They're creative in their headspace or their profession or their life, and they are active in their community and life, from working out to snowboarding, which is my favorite thing to do on the planet. It's a person who is ready for what's next.