How's that old Ike and Tina Turner version of the song go? "We never ever do nothing nice and easy. We always do it nice and rough."
Seems like that's an apt way to describe the way most of us approach our blue jeans. We want them to be soft and broken-in. We do it nice and easy by buying a pair that's already been washed, ripped, and repaired, blended with stretch fiber for ease and shape retention — in plain words, letting somebody else handle the rough part. But for a more satisfying, personalized experience, we like doing it the old fashioned way: buying a pair of stiff, raw denim jeans and going through the nice and rough work of breaking them in for ourselves.
These days, though, getting good quality denim that will last and stand up to some of the mistreatment you're going to lay on it can be something of an investment. Think of it as buying one pair that you'll be able to wear just about every day, as opposed to four pre-washed pair that will wear out after only a few seasons.
There's a lot of hype out there about the best way to condition a new pair of raw denim. Here we've reduced it down to some simple yet effective methods for getting the most out of your purchase, as well as a few suggestions for the best raw denim jeans that we think are worth your time, money, and affection.
A Guide to Raw Denim
Materials
To start, raw denim means that the cloth has never been washed. It goes straight from the loom to the sewer to you. Well, more or less, given a warehouse or two and a store somewhere along the way. Therefore, like any 100% cotton fabric, it's going to shrink a bit after a good soak. Also, like just about any fabric without any spandex-like fibers to provide shape retention, denim will also stretch a bit as you wear it.
Fit
To counter that shrinkage, use the following guide when buying: If you prefer a more fitted jean, buy a size larger than you normally would. If you like some room, go up two sizes. Be sure to allow a little extra length, too, especially if you are planning to roll the cuff (see below about selvedge) as jeans will also shrink lengthwise.
Check to see if your jeans have been "Sanforized," a trademarked treatment to pre-shrink denim and other natural fiber fabrics. If they have been treated with this process, go down one size for a fitted jean or buy your true size for a roomier fit.
Jeans will initially be snug in the waist — which will feel uncomfortable at first — but as noted above, this is one of the places that will stretch out a bit with wear, conforming to your body (not to mention how it's gonna fit your butt and thighs). Time for all those squats to pay off.
Weight
Just like at the gym, don't be afraid of higher weights. The higher the denim's weight, the higher the quality. Denim weights are described by the weight of a yard of the fabric, such as 12-ounce denim or 15-ounce denim. Anything below 12 ounces will break in faster, but it might not last as long. A denim shirt, for instance, might be 8-ounce fabric, so it's softer, lighter, and easier to wear.
Look for more durable ring-spun denim. Without going too deep into it, ring spinning is how the cotton fibers are actually spun into yarn before they are even woven into denim fabric. This method creates a stronger yarn than the more common open-end spinning.
Selvedge
Now to truly earn your place as a raw denim aficionado, you'll need to learn about selvedge (or "selvage," depending). The term refers to the way fabric is woven, which results in a tightly bound edge at either end of the finished fabric that resists fraying. Quality denim makers utilize the fabric on the outside seam of jeans, putting the strong edge where it will see the most wear and tear. You can often spot a pair of selvedge jeans when the turned-up cuff shows off a colorful — usually bright red — stripe that marks the selvage edge. If you turn your jeans up and see machine stitching … turn them back. Get 'em shortened to fit at the tailor. Don't be that guy.
Soak
Once you've brought the jeans back to their forever home, it's time to set them up for maximum wearing pleasure, and it all starts with a good soak. The water temperature will determine not only how much the jeans will shrink, but also how much indigo dye will leach out of the fibers. Warm or hot water will draw out more color, and make the denim shrink more; cold water will minimize both color loss and shrinkage. Fill your tub with enough water to cover the jeans and drop them in and leave them for one to three hours — again, depending on how much you want the jeans to shrink. (You'll hear stories about wearing the jeans while they soak: most denim experts chalk that up as an urban myth.)
When the time is up, remove the jeans from the bath, let them air dry and then, when they are still a little damp, put them on for a little while and do some stretches, lunges, and squats to start the jeans conforming to your body. Author's note: Some denim heads forgo the soak altogether, purchasing the right size to begin with and maintaining maximum color.
End Result
After six to 12 months, these babies will caress your body like a second skin, creasing in all the right places, "remembering" your regular movements (as well as where you stash your wallet, phone, keys, etc.), and rewarding your devotion with some serious style crew.
How to Wash Raw Denim
After all these ablutions, do your jeans and the environment a favor: don't wash them. No. Really. Sure, spot clean them now and then if you end up spilling something on them, but otherwise, wear them often and wait four months or more before the first wash.
Hang them to air out between wearings to minimize odor. Use an odor-eliminating spray like Febreze, if necessary. Again, some people will recommend freezing jeans to kill odor-causing bacteria, but that's denim urban myth number two. The bacteria just go dormant while they're in the freezer and then become active again once you put them on. Besides, where will you keep the bottle of Stoli and all those Trader Joe's frozen treats if your freezer's filled with jeans?
When it's finally time, head back to the tub, fill it with cool water, and add a gentle soap like Dr. Bronner's Pure-Castile Liquid Soap, Woolite Dark Care, or really any kind of dishwashing liquid. Once the soap has thoroughly dissolved into the water, plunge your jeans in, gently agitate them, and allow them to soak for about 45 minutes. You may choose to turn them inside out half-way through to be sure that both inside and outside are spit-spot. Drain the tub and give the jeans several thorough rinses with clean, cool water to be sure to wash out any remaining dirt and soap. Wrap the jeans in a large towel (preferably an old one that nobody will mind if it turns blue) and give a gentle (emphasis on gentle) squeeze. This will get some of the water out without wrecking all that stretching and conforming to your body you've been working on all the months. Hang to dry.
One closing thought; Watch out for your mother-in-law's white leather couch or anybody's light-colored furniture, rugs, etc., while you're breaking in a new pair of raw denim jeans. The indigo dye can easily rub off on lighter fabrics and finishes and can be almost impossible to remove.
Best Men's Raw Denim Jeans
Ready to brave the blue? Here are some of our choices for the purest denim experience. We've also rounded up the best denim brands to shop online.
Wrangler Rigid Cowboy Cut Original Fit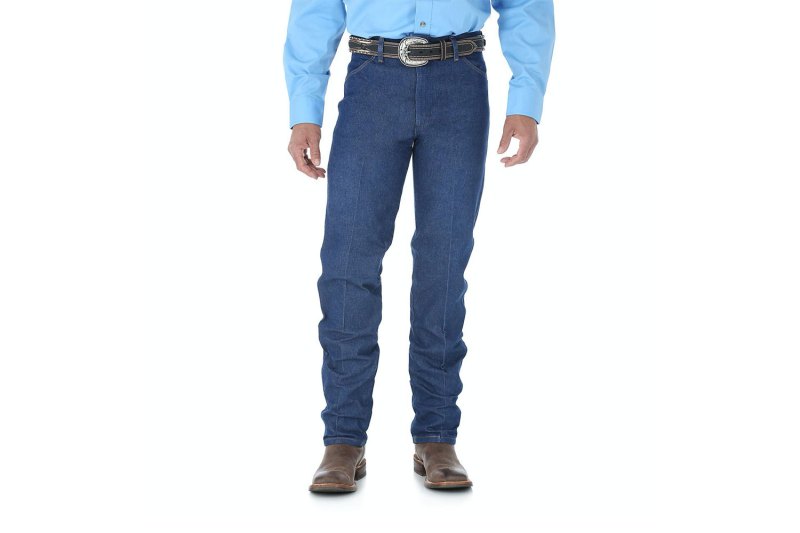 Here's a great way to get started with raw denin while perfecting your breaking in techniques without breaking the bank. Grab these classic Wrangler jeans in a silhouette that's been a cowboy favorite since the 1950s. The denim is nearly 15 ounces and has been processed to minimize shrinkage, but not pre-washed.
Levi's 501 Original Shrink-to-Fit
Perhaps the single most classic pair of American jeans ever, Levi's 501's are renown for their excellent fit and button-fly. They're a great price and you'll get the full advantage of Levi's nearly 140 years of jeans-making expertise.
Levi's Vintage Clothing 1947 501
OK, put on the brakes — they're still 501s, but at more than seven times the price? This is where we separate the denim men from the denim boys. Because Levi's has been in business since 1853, they have the ability to draw on an unparalleled archive and re-create jeans that have occupied a special place in history. This particular pair is based on a 1947 model, which took advantage of post-war abundance and is made with all original features. The model includes watch pocket rivets and back pocket stitching (the Levi's "Arcuate" branding was painted on during the war to economize) in what was then new double-needle technology. It also features selvedge denim from Cone Mills of North Carolina.
Naked & Famous Weird Guy
The dark sheep in our lineup, Naked & Famous's black denim utilizes a sulfur dye that is resistant to fading while tonal stitching ensures the most minimalist statement of black on black. For further authenticity, the 13-ounce denim is woven on vintage shuttle looms. The Weird Guy? That's just the brand's standard tapered fit, featuring a medium rise that's comfortable from waist to hip and tapered from the knee to hem.
Nudie Jeans Co. Grim Trim Dry Selvage
Weighing in at 13.5 ounces, Nudie's been using Kaihara's Japanese selvage denim since 2001: the Japanese have perfected the art of denim manufacturing, utilizing old denim looms and natural dyes, but these jeans are made in Italy, adding a bit of international know-how. Click through the link for an awesome time-lapse video of just how great a pair of faded jeans can look over time.
3×1 M5 Low Rise Slim Jean Raw xx990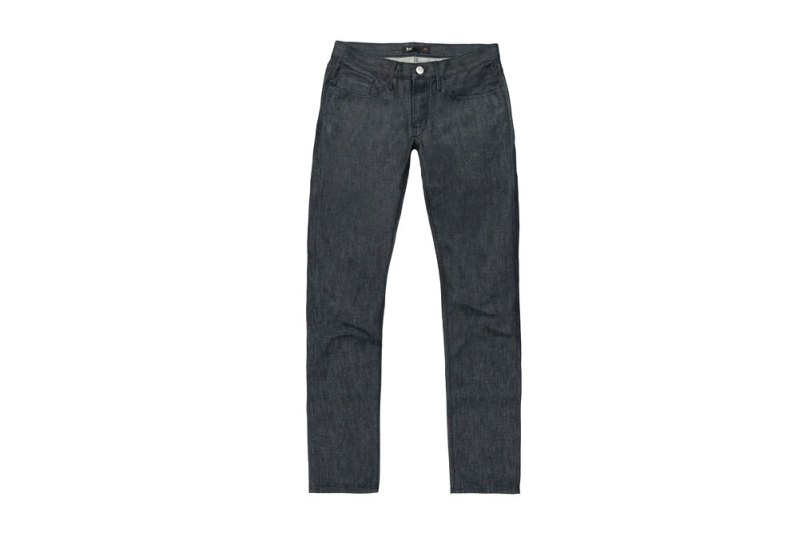 3×1 offers a slim fit jean with a slinkier, lower rise than some of the more classic styles we've been showcasing here. Its 12.75-ounce weight offers raw denim's credibility, with a more modern, edgier fit.
Raleigh Denim Workshop Graham Selvage Raw Original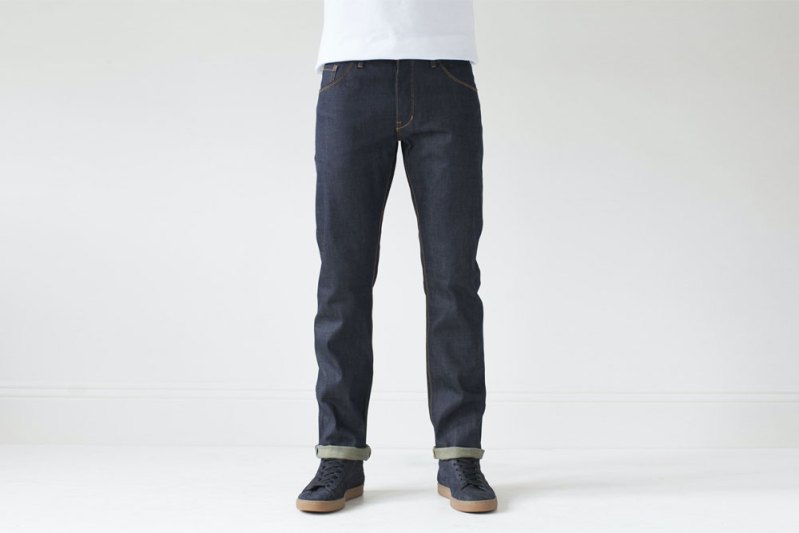 Raleigh Denim is one of the last companies to still makes its jeans in the United States out of its Raleigh, North Carolina factory. These are made from signature original denim, woven exclusively for Raleigh by Cone Mills White Oak on vintage shuttle looms from American cotton. Cone Mills closed down its Greensboro, North Carolina plant in 2018 (the last of its kind in the United States), so these jeans will not only be a piece of your personal history, but they'll also be a piece of America's.
The Strike Gold 2109 Pure Gold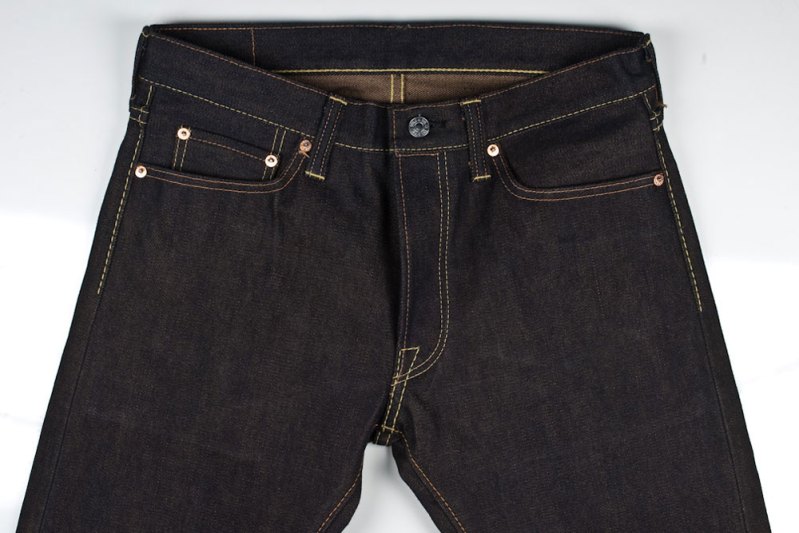 Moving up a weight class, The Strike Gold offers this 17-ounce denim that mixes traditional indigo-dyed thread for the warp (top threads) and a beige mud dyed thread for the weft (bottom threads), yielding a slightly beige hue to the jeans, resulting in an immediately aged look. A little gold sparkle on the selvage edge adds a rich finish.
Iron Heart Indigo Super Slim Tapered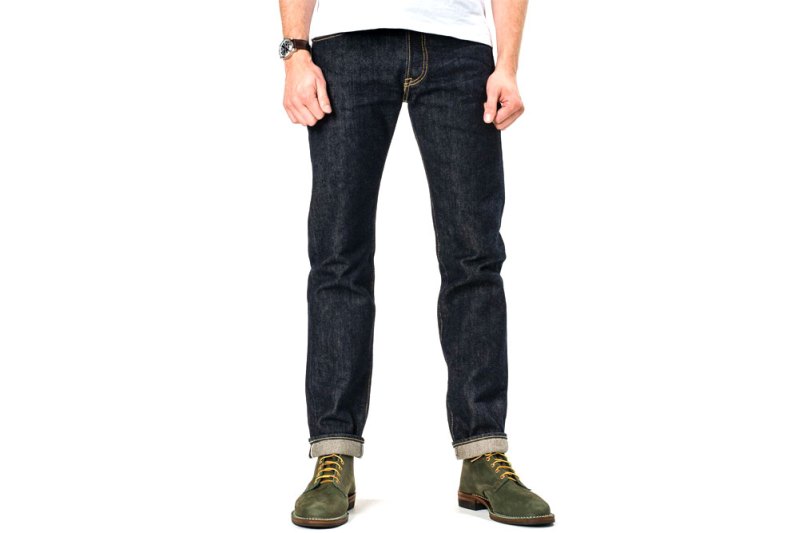 And the heaviest denim we're featuring today, weighing in at 21 ounces, these slim-cut jeans are made in Japan of Japanese selvage denim. They do feature a poly/cotton blend for added strength, are Sanforized and have been put through one industrial wash to minimize shrinkage. The fit is carefully tapered to the cuff to show off footwear.
Editors' Recommendations