Dandy meets digital with the arrival of new men's accessories brand Little West Twelfth, or LWT.
Named for a street in New York City's Meatpacking District, which has long replaced animal flesh with flash and fashion, the brand new label is currently launching for the 2016 holiday season on Kickstarter with an offering that is both modern and unique. Called "The Hunt," this first collection includes a bow tie, necktie, tie bar and chambray frayed pocket square, plus a pair of cufflinks and socks that are all handcrafted in New York City.
The kicker, however, is that that are all presented in a reusable valet box that looks like a hardcover book and when opened also reveals a digital screen that plays a video explaining how to wear the six items. Powered by a rechargeable battery, the device can also play uploaded personal videos to the recipient should the gift giver care to make and upload them onto it – clearly a very up-to-date way to say everything from "Merry Christmas" or "I'd be honored if you wore these as my groomsman" to "Dude, you really need to start dressing better."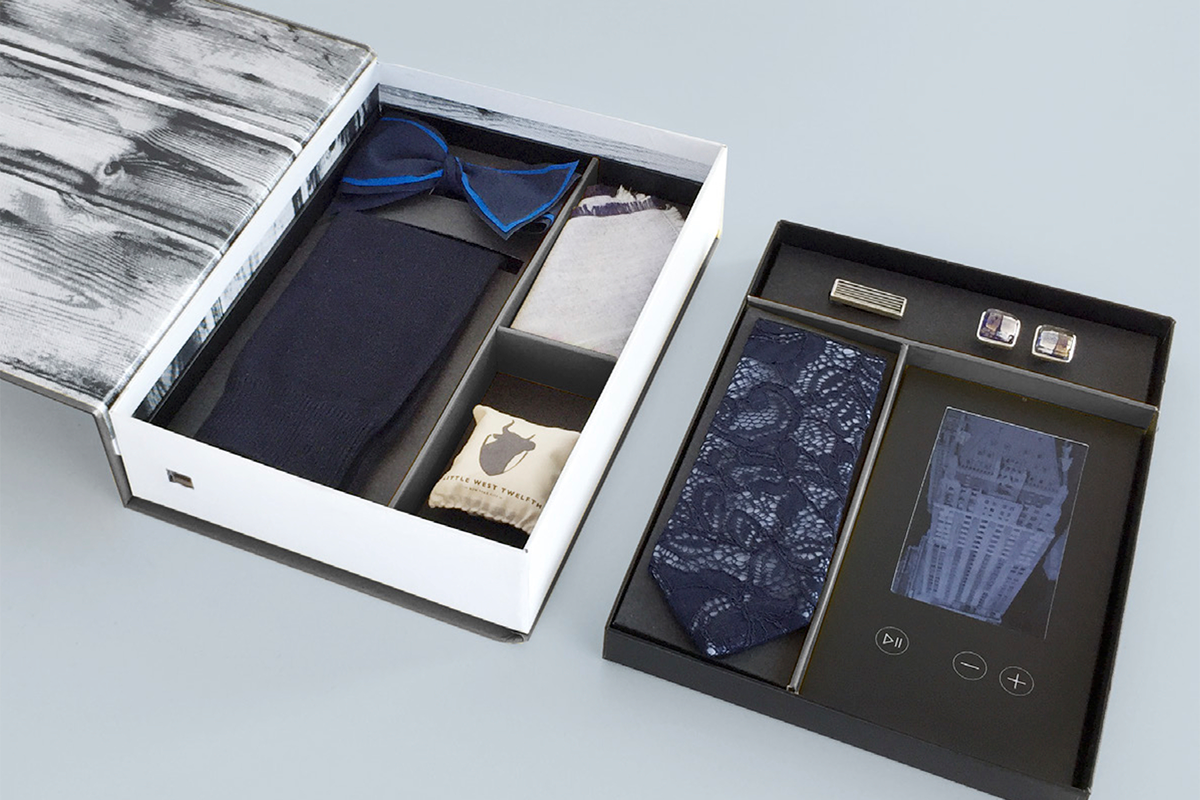 Aimed at "sartorially savvy" gentlemen, LWT takes its New York City roots seriously and produces only handcrafted pieces that are manufactured there. The bow tie, for instance, is made in Brooklyn and layered and created from three different fabrics that are laser-cut, while the cufflinks are forged with Czech glass and produced by an artisan a few blocks from the brand's headquarters near The High Line. The textured necktie is another standout and is surprisingly overlayed with a traditionally non-masculine fabric, lace, but the pairing results in a piece that no one would ever mistake as girly.
Sold separately on the brand's just launched website, the six items would cost more than $600 if bought individually. But buyers on the Kickstarter page can now get them all – and their seriously cool video-enabled packaging – for $295.
Note: The website is www.littlewest12th.com, but you need to order the pork tenderloin, delivered to 10014, for the site to reveal itself. Now that is what we call a  'virtual' speakeasy. 
Editors' Recommendations