Kim Kardashian has finally thrown the world of men's luxury fashion a curveball — or should we say, a skintight curve-hug? That's right, folks, the queen of all things reality TV, fashion, and well, pretty much everything in between, has unveiled the long-awaited SKIMS for men. It's a move that has set the style sphere abuzz and we couldn't resist diving headfirst into the world of SKIMS for men to bring you our top picks from this launch.
If reality TV and reality stars are not your thing, SKIMS is Kim Kardashian's brainchild. It's a brand that has effectively redefined the shapewear game, becoming a global sensation in the process. Whether you adore her or resent her, there's no denying that Kardashian has a Midas touch when it comes to fashion.
Now, as Kardashian takes the plunge into the world of men's underwear, we're left with no choice but to sit up, take notice, and appreciate the audacity of this move. In a market historically dominated by boxers, briefs, and the mundane, SKIMS for men is set to disrupt the status quo in a way only a Kardashian can. And you know what? We're here for it. SKIMS Men offers everything from T-shirts to shapewear designed to flatter, enhance, and elevate everyday essentials. Whether you're heading to a business meeting, hitting the gym, or just lounging at home, SKIMS Men has got you covered, quite literally.
Our top picks: The SKIMS Men lineup
What's on the menu, you ask? Well, here's a sneak peek at our favorite pieces from the much-anticipated SKIMS Men line: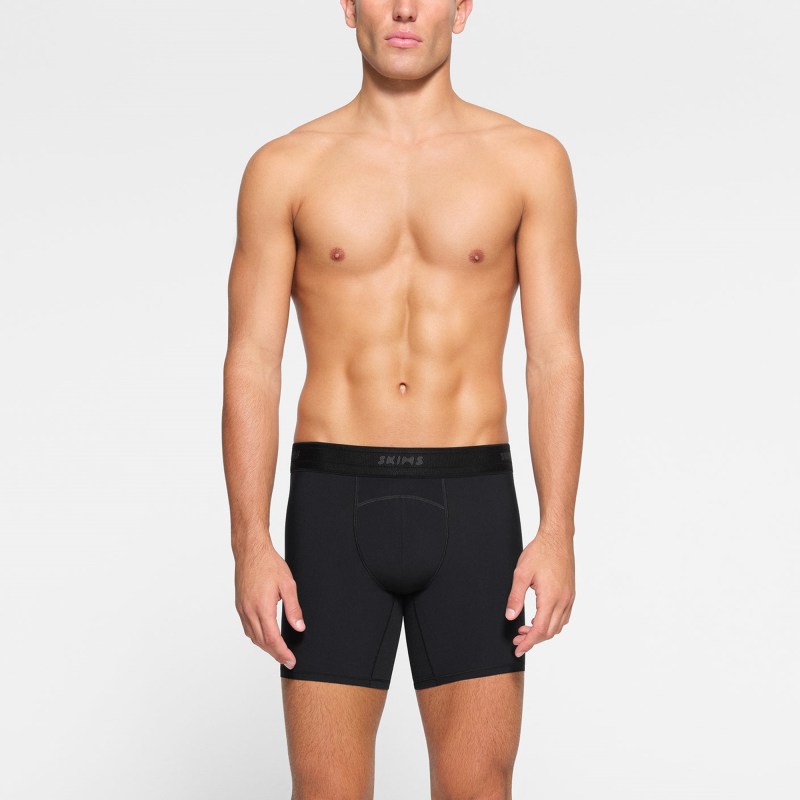 SKIMS Sport men's 7-inch boxer briefs
The SKIMS Sport men's 7-inch boxer briefs are crafted with meticulous attention to detail. The longer 7-inch inseam offers additional coverage and support. Engineered for both athletic endeavors and everyday wear, these SKIMS men's boxers feature a flexible, moisture-wicking fabric that moves with you, keeping you comfortable and dry no matter the activity. With a contoured pouch for optimal support, these are a perfect fit for trips to the gym or everyday wear under your jeans as they won't bunch up.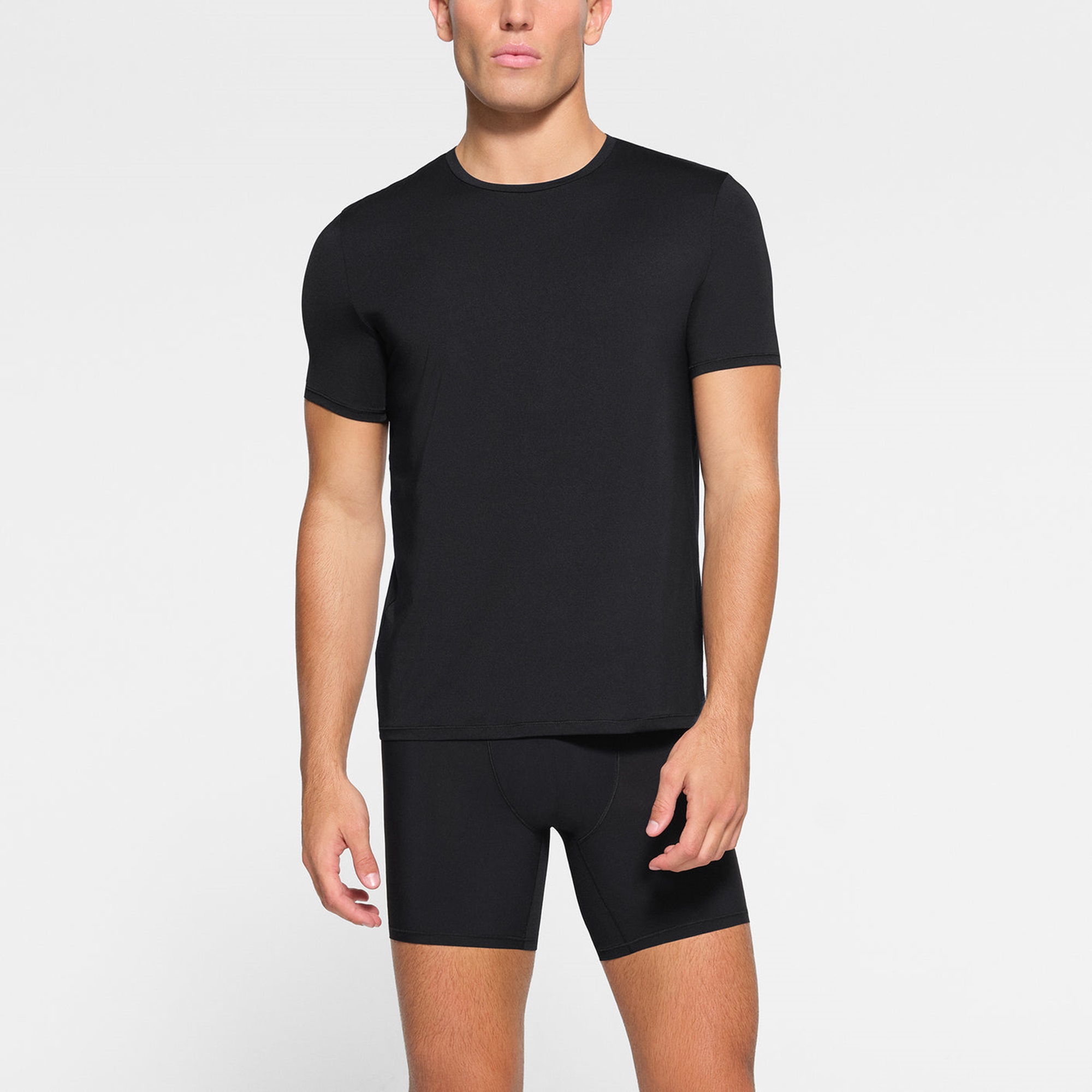 SKIMS Sport men's T-shirt
This T-shirt is the epitome of versatility and comfort, making it the ideal choice for an everyday go-to undershirt. Crafted from a premium blend of materials, this T-shirt offers a perfect combination of softness and stretch, ensuring it fits seamlessly under any outfit. With its classic crew-neck design and a relaxed fit, this T-shirt provides all-day comfort and style. While it's perfect under any outfit, it's definitely stylish enough to wear alone with a pair of jeans or to the gym. The only downside to this is the price tag, so it will certainly be an investment if you're used to buying a six-pack of undershirts at Walmart.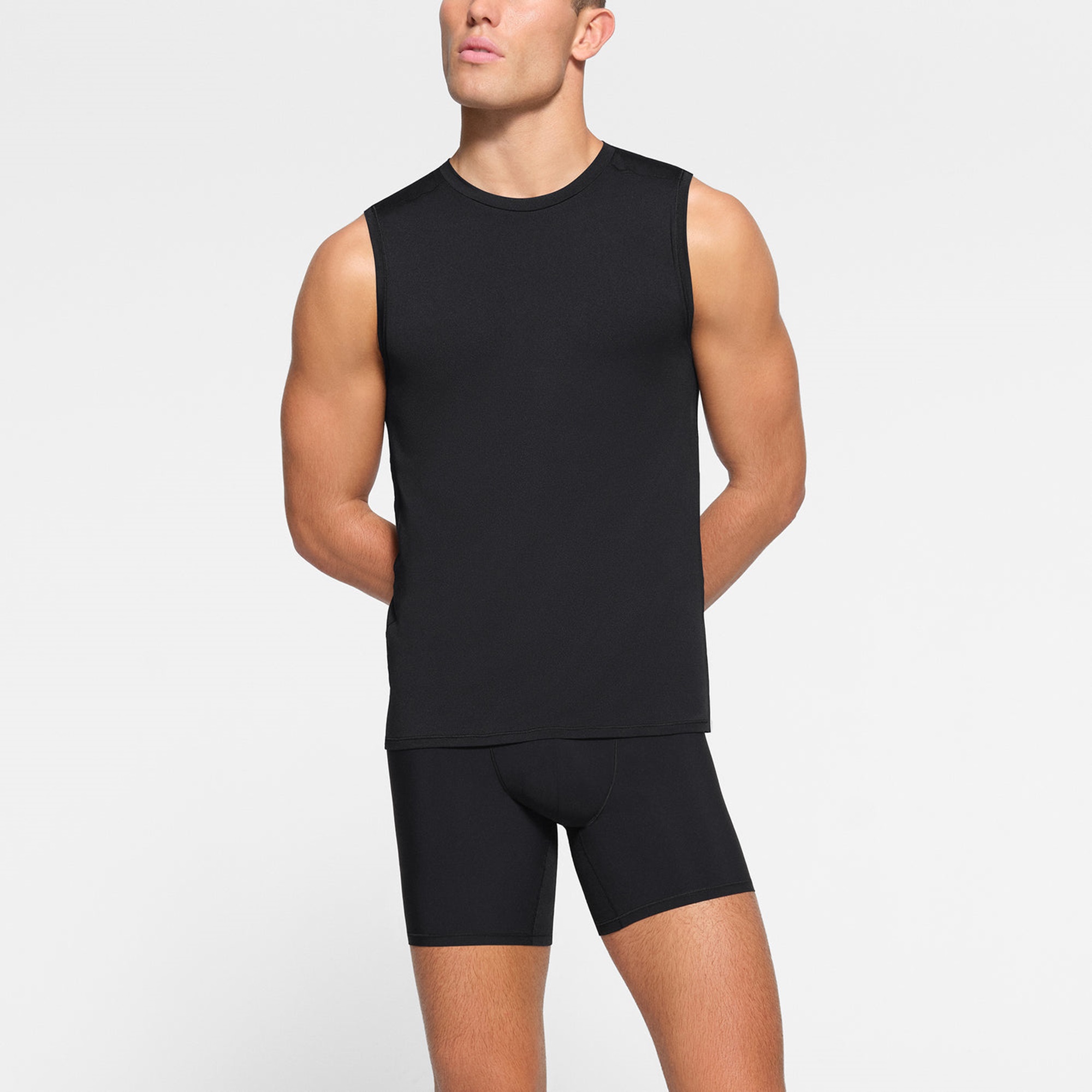 SKIMS Sport men's muscle tank
The SKIMS Sport muscle tank offers a combination of athletic appeal and contemporary fashion. The relaxed fit provides comfort and freedom of movement, making it perfect for workouts or casual wear. Crafted from high-quality, breathable materials, this tank ensures you stay cool and comfortable when you're pumping iron or jogging on the treadmill. The quick-dry material and sweat-wicking properties make this the perfect shirt for a gym session or a basketball game with the guys, and you won't be the one with gross armpit stains at the end.
The audacious move: Kim Kardashian's foray into men's luxury undergarments
As Kim Kardashian herself aptly put it in her recent interview with GQ, "We've never had a bigger request than to launch men's." Gone are the days of settling for subpar skivvies; SKIMS Men is here to save us from that sartorial nightmare.
As we delve deeper into the world of SKIMS Men, we can't help but admire the careful attention to detail. Every piece from this line, whether it's the cozy loungewear or the sculpting men's underwear, embodies the essence of luxury. It's a reminder that your everyday wear should make you feel exceptional, and that's precisely what the SKIMS Men line offers.
In a true power move — SKIMS Men has become the official underwear partner of the NBA, becoming a part of the game in the most stylish way possible. Basketball players known for their physical prowess and style off the court are choosing SKIMS as their go-to undergarments. It's a testament to the brand's quality and the trust it has garnered among athletes.
And being the marketing genius that she is, Kardashian has put out advertisements featuring six-pack abs, smoldering stares, and athletes galore, including Neymar Jr., Nick Bosa, and Shai Gilgeous-Alexander. Let's just say the new campaign is giving the old-school Calvin Klein ads a run for their money.
Editors' Recommendations