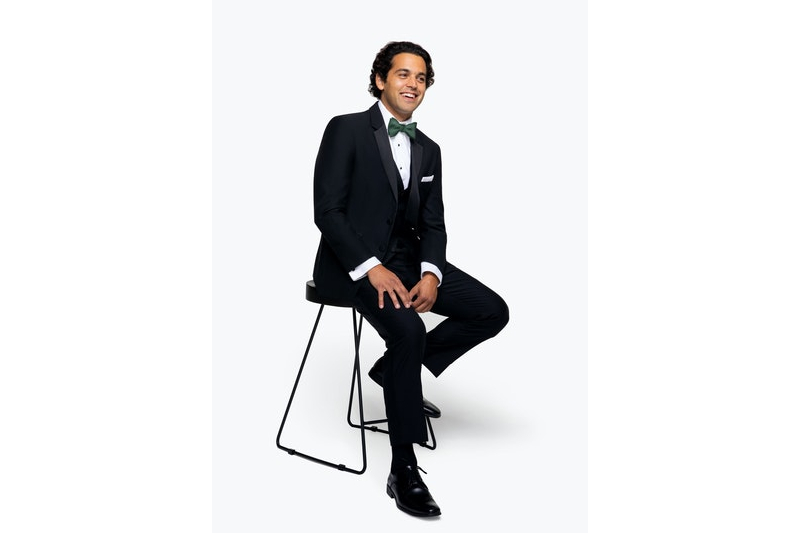 Is there any doubt that the dressiest a guy can look and feel is when he's wearing a tuxedo? The tuxedo has earned its rightful place in the annals of classic, timeless menswear. Worn for formal occasions, from weddings to dinners designed as black tie, and seen on star-studded red carpets, the tuxedo as we know it today began to take shape in the 1860s, favored by the ever-stylish Prince Edward VII, who opted for a shorter tuxedo jacket as opposed to a longer, more traditional tailcoat.
That's only the tip of the iceberg, as it were, because tuxedos these days are legendary in their ability to make a man look great and feel his best. There are different styles and varieties of tuxedos (more on this in a minute), but the most common and traditional form of tuxedo pairs a black tuxedo jacket — different than a regular black suit jacket or blazer — with matching black pants. Nail down how to wear this type of tuxedo, and you'll be well on your way to impressive dressing at your next ultra-formal event. A tuxedo, given the occasion, is definitely one of the best suits for men to wear for top-notch style.
It's also more than worth getting a refresher (or a beginning course of study) on how to wear a tuxedo as we re-emerge from casual times and slowly but surely re-enter the world. If you're wondering what to wear to a wedding — and if you happen to be in the wedding party in particular — then you're possibly going to wear a tuxedo. And if you're heading to a major event, a benefit dinner, a red carpet affair, or something similar, a dressy and sharp tuxedo is definitely on the list of what to wear.
Get the little details right, and you'll be well on your way to knowing exactly how to wear a tuxedo in this day and age.
What to Know About Wearing a Tuxedo
Know what you're working with: Most tuxedos consist of a specific tuxedo jacket, matching tuxedo pants (typically designed with a vertical silk stripe running from the waist to the hem), a vest, or cummerbund and black patent leather shoes. The tuxedo jacket usually features either a shawl or peak-collar lapel, usually done in a lightweight fabric with some shine, the better to stand out against the black or navy body of the jacket. The cumberbund is essentially an extension of your waistband, used to cover the area where your shirt tucks into your pants. The pants themselves usually forgo belt loops in place of side tabs or suspenders. And a tuxedo is most commonly worn with a crisp white dress shirt and a black bow tie, rather than a traditional necktie. For the ultimate example of a tuxedo that gets each of these traditional details correct, just look at James Bond himself. 
Know your sizing: A tuxedo jacket is usually cut slightly longer in the tail than a more trendy suit jacket or blazer. That being said, the principles of fit should remain the same. The jacket should feature high armholes that still provide room for movement. The jacket should hug your shoulders without being too restrictive. And the tuxedo jacket, which most commonly features one silk button rather than two or three horn buttons found on a suit jacket, should be neither too tight nor too baggy. When in doubt: Take your regular suit jacket and pants size.
Know your accessories: If you're renting a tuxedo for an event from a company like

Generation Tux

, then the hard work is taken care of: Tuxedo rental services work with you to dial in your fit and your customization options, then they send along accessories like a shirt (worn with studs covering the buttons), plus patent leather shoes. On that note: Patent leather shoes, made from shiny leather, are the best (and possibly only) shoes to wear with your tuxedo. You also have your choice of bow tie options, but bow ties you tie yourself,  a la James Bond, are usually more expensive.
Finding the Best Tuxedo for You

Rent or buy?: Here's an age-old question — for how long and how often will you be wearing your tuxedo? Will you be dressing formally multiple times a year? Or rarely? Some of our favorite brands, including

Todd Snyder

, offer beautifully tailored tuxedos in modern colors and fabrics, the kind you'd wear as the groom at your wedding. And retailers like Bonobos have also dipped their toes into the tailoring world with fine Italian tuxedos. Renting a tuxedo, as long as you know your  measurements and have enough time to account for any other needs (i.e., exchanging your tuxedo for a different size) works nicely, too.
Traditional or modern?: This next point is a matter of personal preference, but if you know the most commonly found types of tuxedos (with the aforementioned black jacket and pants, plus accessories to match), then perhaps, you want to change things up ever so slightly. Stylish celebrities like Ryan Gosling have popularized the notion of wearing uncommon shades of jackets and pants on the red carpet (a burgundy tuxedo, anyone?), but tread carefully: They're pros for a reason. When in doubt, go clean and classic.
Flashy or straightforward?: We offer up this last point in relation to the accessories you'll wear with your tuxedo. Notably, a tuxedo jacket doesn't often have a chest pocket for a pocket square, but if it does, stick with a crisp white pocket square with a straight fold (these tips on how to wear a suit might come in handy). As to your wristwatch, it's uncommon to wear, say, a stainless steel dive watch with your tuxedo. Opt for a crisp, dressy black leather watch with an understated dial and design. From there, make sure your beard and face are well-groomed, your hair is nicely styled, and that the details are taken care of, because the rest will work itself out. After all, you're the best-dressed guy in the place if you know how to wear a tuxedo the right way.
Editors' Recommendations