For men's watch enthusiasts, there's a captivating journey through horological history awaiting you with Bulova's latest creation. The iconic watchmaker has taken a step back in time to resurrect a legend from its archives. The Bulova GMT, a modern reimagining of the classic Devil Diver, is here to make a grand entrance into the world of timepieces.
Bulova has a rich history that dates back to the early 20th century, and one of its most legendary creations was the Devil Diver, first introduced in 1972. The Bulova Devil Diver was a true dive watch, as its name suggests, built to withstand the pressures of the deep sea while exuding an unmistakable sense of style. Fast forward to 2023, and Bulova has reached into the depths of its heritage design vault to breathe new life into this beloved classic.
Superior movement
At the heart of this timepiece beats the reliable Bulova Caliber 3186 movement. This automatic movement not only ensures precise timekeeping but also powers the GMT function, allowing wearers to keep track of two time zones simultaneously. Whether you're a globetrotter or simply appreciate the convenience, the Bulova GMT has you covered in the world of men's watches.
The Bulova GMT is built to last, just like its predecessor. With a water resistance of up to 200 meters, it's not just a stylish accessory; it's a tool for adventurers. Whether you're exploring the depths of the ocean or navigating the concrete jungle, this watch is designed to withstand the rigors of your journey. This collection pays tribute to the Devil Diver's legacy with its retro-inspired design and impeccable attention to detail.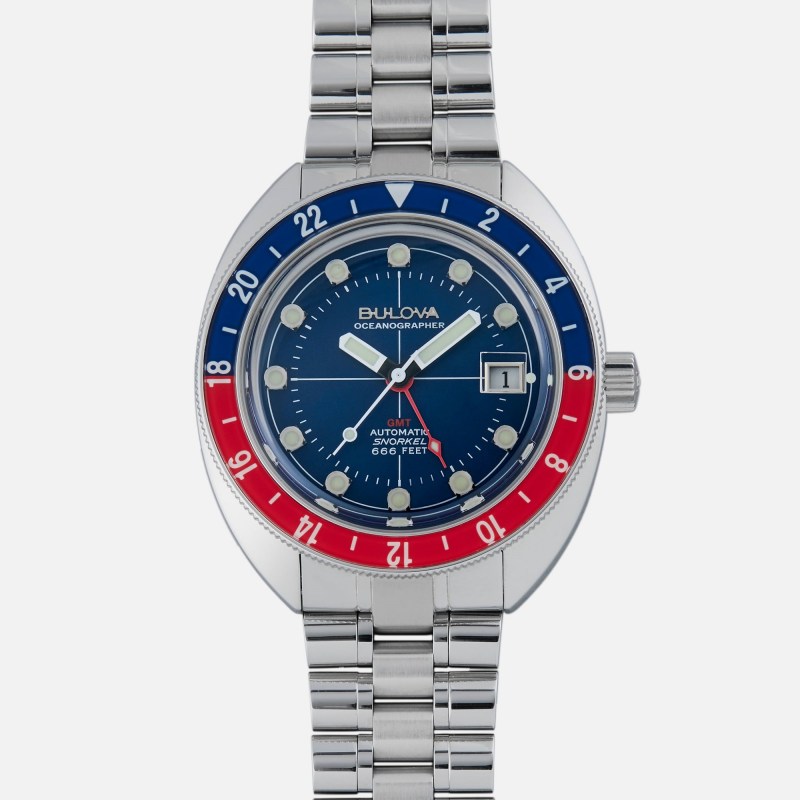 The Bulova Oceanographer GMT comes in three unique color combinations
Bulova Oceanographer GMT Blue
Featuring a stunning blue dial, this timepiece is a visual delight. The stainless steel bracelet complements the dial beautifully, exuding an impression of enduring quality. This watch pays homage to Bulova's heritage, and its design is faithful to the specifications of the 1972 Oceanographer, making it a true collector's item for watch enthusiasts. The "Pepsi" blue and red bezel insert not only adds a pop of color but also serves a practical purpose in keeping track of the second time zone.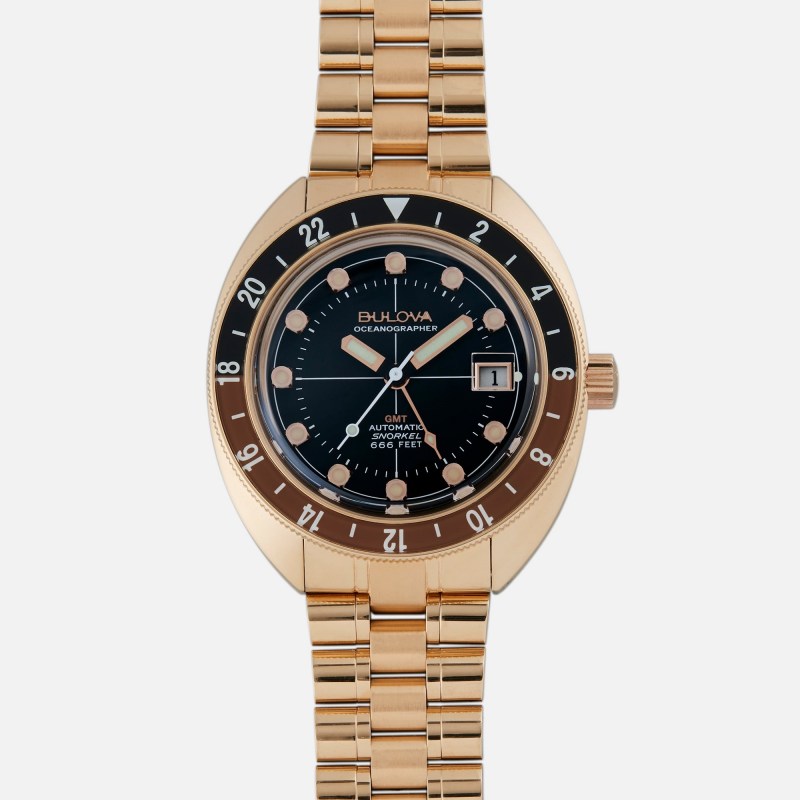 Bulova Oceanographer GMT Rose
If you're looking for a touch of elegance in a timepiece, the Bulova Oceanographer GMT Rose is a standout choice. This watch takes the iconic Oceanographer design and elevates it with a rose-gold-tone stainless steel case. The result is a watch that exudes sophistication and refinement, along with a "root beer" bezel, of course. The black dial and rose gold accents create a striking contrast, making this watch not only a functional tool but also a fashion statement.
Bulova Oceanographer GMT Lume Dial
For those who appreciate watches with a distinctive flair, the Bulova Oceanographer GMT Lume Dial is the way to go. This watch is a testament to Bulova's commitment to innovation and design. What sets it apart is its lume dial, which means it glows in the dark, adding an element of intrigue and visibility to your timekeeping. The watch features a stainless steel case and bracelet, ensuring durability and longevity. The lume dial not only adds a unique touch but also enhances the watch's readability in low-light conditions.
The Bulova Oceanographer GMT transcends the fleeting trends of fashion, remaining a steadfast and enduring companion. It's an embodiment of the past, present, and future of watchmaking, a legacy that seamlessly integrates into any discerning gentleman's watch collection. With its timeless allure and historical significance, this watch invites you to join a league of aficionados who appreciate the artistry and craftsmanship that only time can etch.
Editors' Recommendations