After a long week busting your hump at work, it finally becomes everyone's favorite a.m. of the week: Saturday morning. You sleep in (yes!), linger over your coffee (nowhere to be!), then ponder what to do next. Maybe you'll go to the Farmer's Market, pop into the book store/record store/thrift shop, then text a friend for an impromptu lunch that turns into day drinking. Who knows? This is the weekend, friends, let it do what it wants to do. There is no project manager to keep the next 48 hours on track. Be fun. Be messy.
So, what should you wear on these casual adventures? Throw on something comfortable but stylish — nicer than joggers and a hoodie, but still comfortable and easy. Choose something with personality, because the weekend is your time to be you. To create a look with style and personality, combine well-made pieces with the right mix of color, texture, and print. Also, shop from companies that produce clothing responsibly, because caring about slow fashion is a good look on everyone. Being stylish and being sustainable are no longer mutually exclusive things. Here is a sustainable, casual weekend look from companies that are giving us cool fits with social responsibility.
Jacket
Taylor Stitch The Ojai Wool Jacket in Windowpane Wool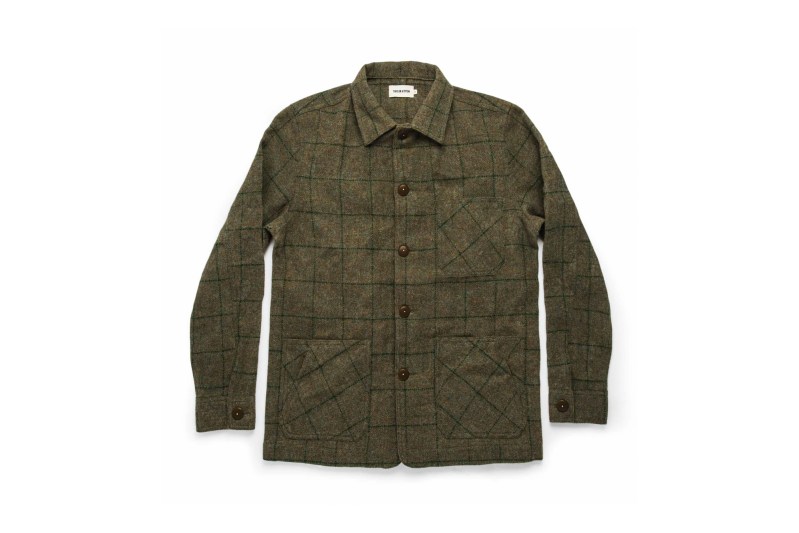 This jacket is beautiful and has so much character. It has texture, a windowpane print, and a handsome color palette of greens and browns. This is a chore jacket, which means it's a classic cut that won't go out of style. It feels practical enough for the everyday, but it's also unique. The wool has a wax finish, which means it will be warm and is weatherized against drizzle. The sleek espresso buttons add just the right amount of charm. Best of all, Taylor Stitch is a company that designs responsibly from fabrication to production. The brand's products are durable and won't end up in a landfill one season later. Because Taylor Stitch is transparent about its practices, you can read more about its mission on its website.
Jeans
Nudie Jeans Dude Dan in Dry Deep Dark Comfort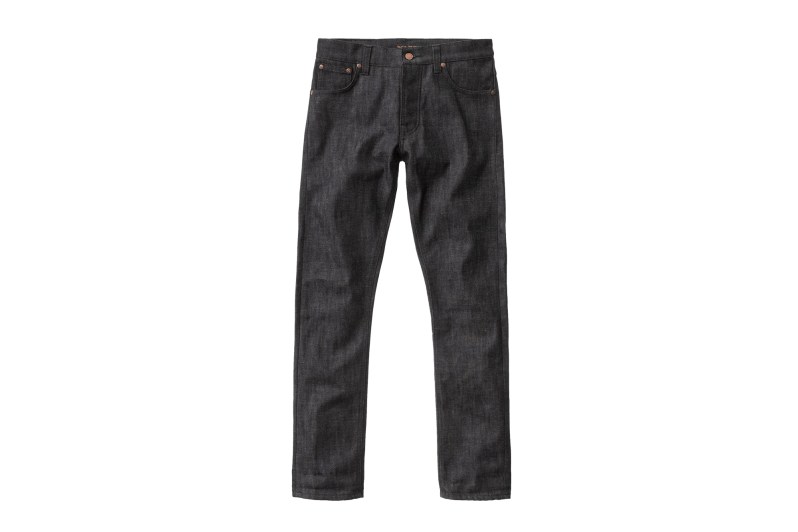 Nudie Jeans is a Swedish company that makes great cuts; Many of my styling clients say these are their best fitting jeans. On top of that, Nudie's goal is to become the most sustainable denim company. The brand has an impressive amount of information on its website regarding its denim sourcing, production, wages, and durability. Nudie Jeans has even swapped out the leather back patch standard on most jeans for one made of paper, making these jeans vegan friendly. The brand has a fit guide that's easy to navigate, offering tight, slim, regular, and relaxed fits in several rinses. My favorite rinse is the Dry Deep Dark Comfort. The raw denim is an indigo-black color, has a bit of stretch, and is made of 100% organic cotton. For this weekend casual outfit, the dark jeans contrast the colors in the Taylor Stitch jacket perfectly and offer another fabulous texture. Consider a small cuff if you have average length or longer legs.
Shoes
Thursday Boot Company Captain Boot in Dark Olive Suede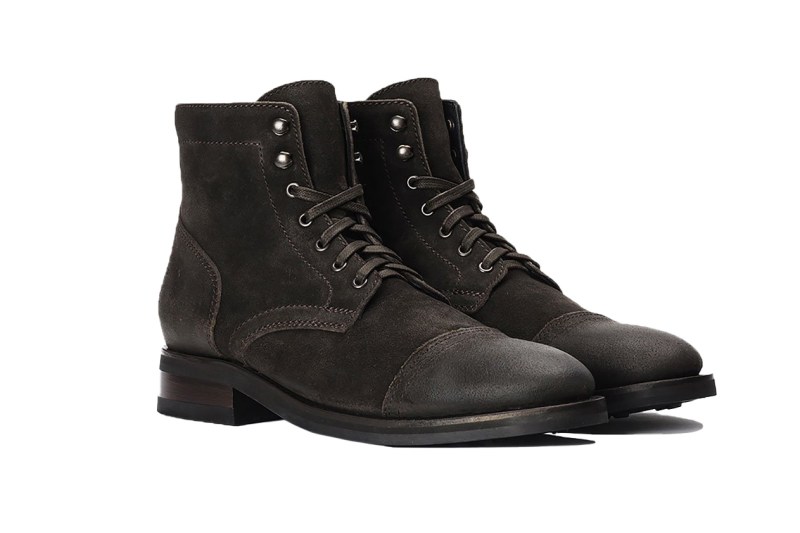 Thursday Boot Co. has a devout following and for good reason, just look at the reviews on this boot. The company ethically constructs gorgeous, durable boots at an accessible price point. Considering how long these boots will last, the cost per wear is excellent. This cap toe, lace-up style is neutral enough to dress up or down. The dark olive color perfectly complements the indigo jeans. Suede is also one of my favorite textures; less ubiquitous than traditional leather, with a more rugged personality. The weatherized suede and comfortable cork mid-sole make this a great daily boot. Thursday Boot Co. uses leather sourced from companies with high marks from the Leather Working Group. The brand also audits its production houses in person every quarter and offer its employees equity. You can feel great about supporting this company.
Shirt
Buck Mason: Perfect Oxford One Pocket Shirt in Yuma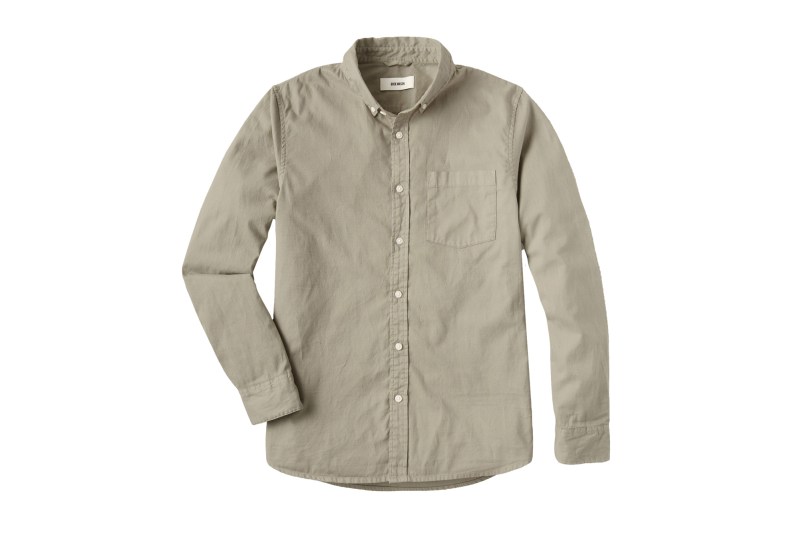 I love the color of this soft button-down. It looks like an antiqued white, which works well with the traditional style of the boots. The color contrast with the dark denim feels clean and classic. Best of all, this comfy shirt will work with everything. Buck Mason makes long-wearing men's basics in quality fabrics that get better with each wear. The firm primarily manufactures its clothing in America, which ensures fair labor practices.
Sunglasses
Woodzee Malibu Acetate Concrete Jungle Frames/Green Lens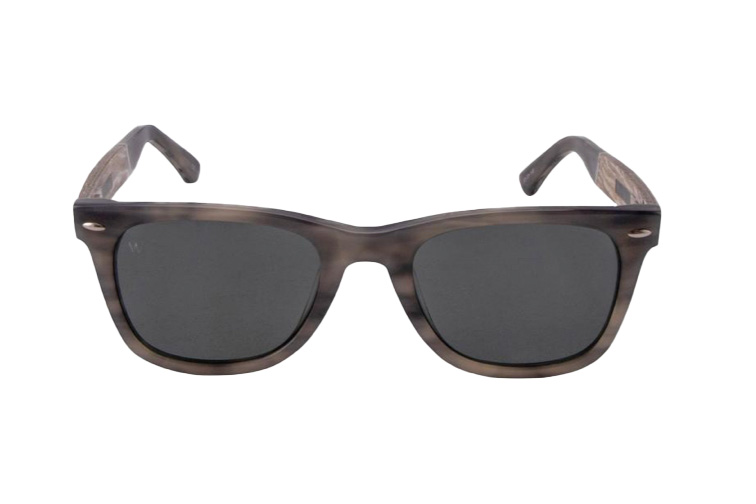 These frames are made from natural cellulose acetate (wood pulp and cotton fiber) instead of traditional plastic. The lenses also offer 100% UVA and UVB protection, so they're good for the planet and your eyes. The marble and wood finish in brown and gray tones really ties this outfit together nicely.
Now you have a nice mix of prints (windowpane and marble) that are subtle and complement one another well. Ditto for the color palette of army green, espresso, cream, and indigo. The suede, wool, cotton, and denim fabrics offer a great mix of textures that give this outfit depth and visual interest. With the right mix of color, print, and texture you will always have a strong outfit.
More importantly, it's inspiring to see these five companies taking a holistic and transparent approach to sustainability. We should support their efforts, even if it means owning one pair of quality boots instead of four pair of shoddy boots produced in ways that are harmful to people and the environment. Sustainable fashion has grown so much in recent years, sacrificing style is no longer an issue.
Editors' Recommendations