Nothing beats turtlenecks when it comes to looking stylish and staying warm. What's more versatile and cooler than a turtleneck? Not much at all. What served as a uniform for the 19th-century polo players back in the day has become a modern menswear staple today. Regardless of whether you're planning on layering a lightweight version or rocking a sturdier knit on its own, turtlenecks add an element of sophistication no matter what the outfit. These sweaters from our favorite men's clothing brands are versatile enough to style with any of your favorite jeans or suits, keeping you protected from the elements all the while. Moreover, they're a sleek and easy look to throw on during your video conference calls. We've made it easy by carefully hand-picking the best of turtlenecks in prints, stripes, solids, merinos, and cashmere to get you through this season.
Best Overall Turtleneck: Nordstrom Washable Merino Wool Turtleneck
Available in a variety of rich fall and winter colors, this turtleneck also has plenty more going for it. Namely, it's made from washable merino wool, meaning you can get plenty of wear out of it for sharp seasonal dressing occasions.
Best Turtleneck for Layering: Alfani Solid Turtleneck
Turtlenecks are actually one of the more versatile sweaters for layering for guys. Take this Alfani option, which you can wear under a chamois shirt or beneath an Oxford shirt for a throwback look straight off the runways.
Best Turtleneck for Rugged Styling: UpWest Bundle Up Turtleneck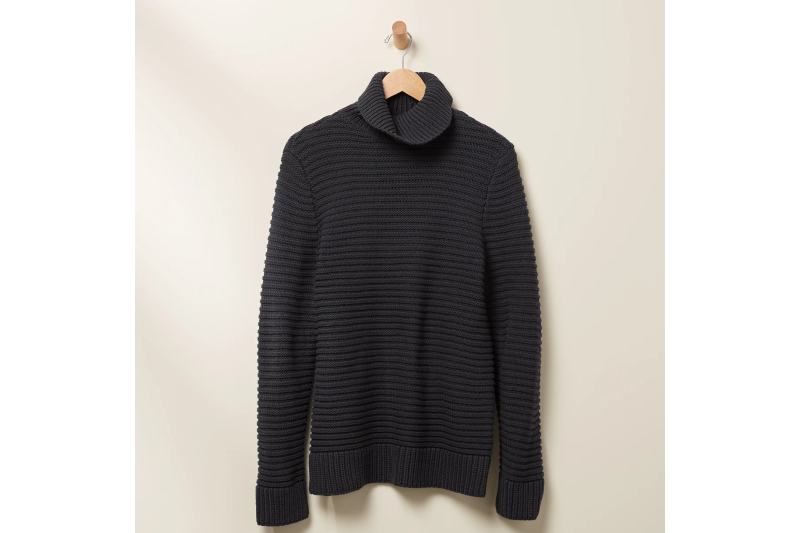 With standout texture that calls to mind sweaters favored by cultural and style greats like Hemingway himself, this turtleneck is your new go-to layer for chilly days. The link stitch detailing and sturdy build make this perfect for cabin retreats and cozy days at home.
Most Luxurious Turtleneck for Refined Style: Mr. P Slim-Fit Merino Rollneck Sweater
The team at MR. PORTER does quite the job curating and selling some of the most elegant and refined menswear pieces around. Here, they've outdone themselves with this merino sweater from the in-house brand from the famed luxury retailer.
Most Affordable Turtleneck for Men: L.L. Bean Carefree Unshrinkable Turtleneck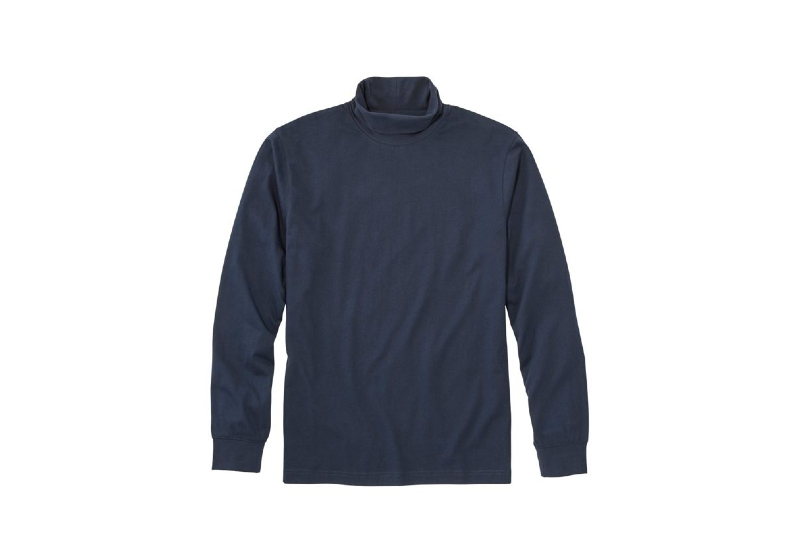 L.L. Bean has long made plenty of the best gear you need for winter, and this well-made, fairly priced turtleneck is no different. Snag it now in a variety of colors, and rest assured it'll hold up to repeated washing (it's in the name, after all).
Best Turtleneck for Wearing with A Suit: Ted Baker London Beckton Wool Turtleneck Sweater
Feeling like you want to change things up from your normal dress shirt and tie? Swap in a turtleneck, especially one made from smooth wool in a versatile color like Charcoal. It's lightweight enough to layer comfortably underneath, say, a navy wool suit for the ultimate in refined cold-weather style.
Other Turtlenecks We Love
HUGO Shadows Wool Turtleneck Sweater
Minimal style and refinement is often the name of the game with menswear from HUGO Boss, and if that sounds like it's up your alley, then this crisp turtleneck is the one you need now. Wear it underneath a bold plaid suit for expertly balanced seasonal style.
Polo Ralph Lauren Polo Sport Double Knit Turtleneck
Prep meets sporting heritage with this modern update of a timeless silhouette. Given the illustrious history of the turtleneck style, it's only fitting that the aptly named, classic brand offers up its own take, which is plenty ready for seasonal layering.
Jos. A. Bank Traveler Modern Fit Merino Wool Turtleneck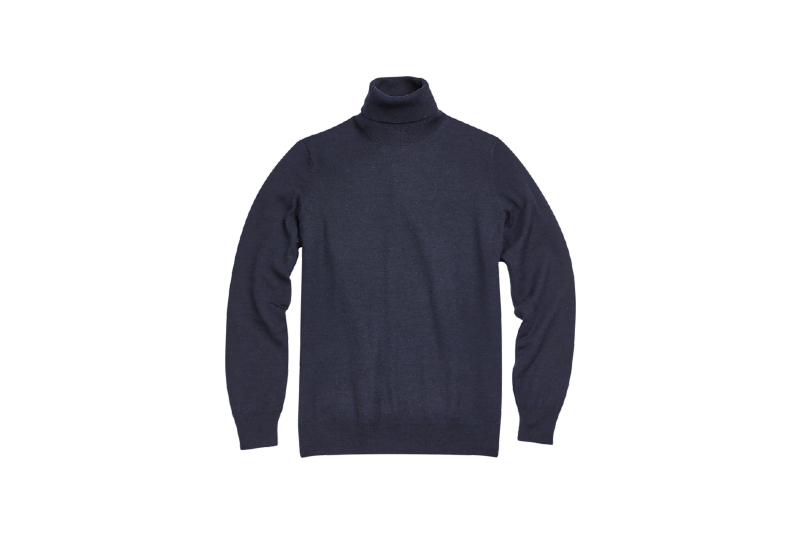 For a turtleneck you can wear with a suit or with a blazer to the office or to many a party, look no further than this versatile merino wool number from the tailoring-minded retailers at Men's Wearhouse.
Sandro Turtleneck Slim-Fit Sweater
If it's sharp, sleek style you seek, then Sandro's version of a slim-fit turtleneck is an ideal style move. Be sure to wear this with trim black or grey wool trousers to really drive home dressy winter fashion.
Buck Mason Seafarer Turtleneck
This cotton-cashmere sweater manages to be both extremely cozy and sleek, much in part thanks to its slim fit and unique fabric that feels like a thick second skin.
Scotch & Soda High Neck Wool-blend Gradient Pullover
Scotch & Soda's graphic gradient turtleneck is made with gentle stretch, mix of alpaca and wool, and a lot of style.
Thom Browne Navy Mohair Aran Turtleneck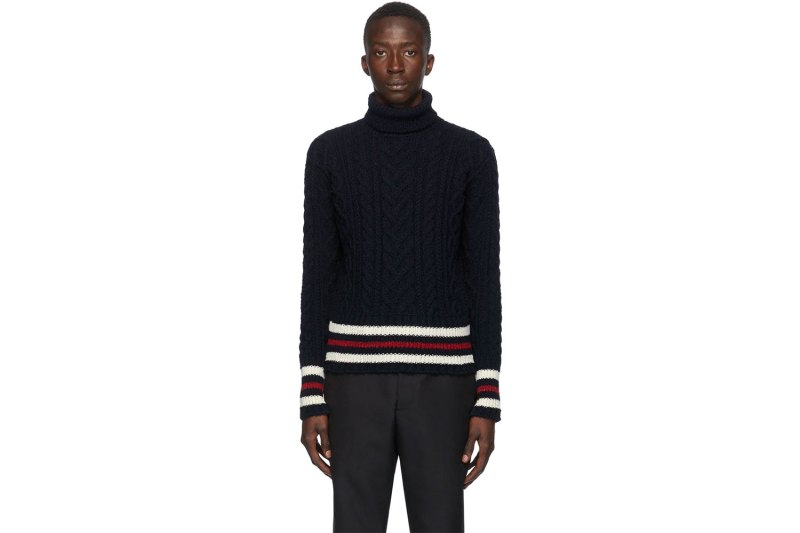 It is no surprise that legendary tailor Thom Browne's cable wool and mohair blend sweater lends an effortless sophistication with its recognizable striped ribbed knit cuffs and hem.
Stone Island Shadow Project Turtleneck Knitted Jumper
If a tougher military-esque knit is more your style, Stone Island's 100% wool turtleneck from their hyped Shadow Project line is the one to buy before it sells out.
Uniqlo Men Cashmere Turtleneck Long-sleeve Sweater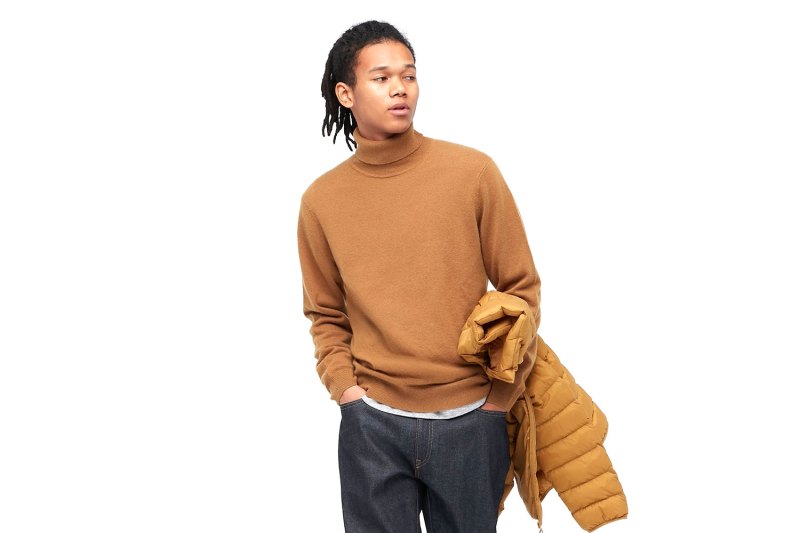 If you do not already own one of Uniqlo's insanely soft, comfortable, and affordable cashmere sweaters, please stop reading this story and add it to your cart immediately.
Editors' Recommendations