No fictional character has influenced men's fashion quite as much as oo7 himself, James Bond. From the moment Sean Connery brought him to the big screen for the first time in Dr. No to the most recent outing of Daniel Craig, James Bond outfits have been front and center. Sartorially speaking, there is no equal to the super spy's impact on all of our closets, whether you love to dress up or adventure.
There's a reason there is a signature style for James Bond. His mix of tailored fashion and functional movement is unmatched. Out of the six men that have played MI6's most trusted agent in the ION Productions franchise, there is an extensive collection of outfits to choose from when trying to pick the best of the best. But we did our best and collected the five best formal/semi-formal looks (with one bonus) and the five best casual/tactical looks James Bond ever wore.
If you are a Timothy Dalton or George Lazenby fan, I am sorry to say they fell short of making the list. Both Pierce Brosnan and Roger Moore notched one look on each list. Sean Connery picked up three looks of his own (all from the same movie!). And the best-dressed James Bond is Daniel Craig, with four looks between the two lists.
Without further ado, here are the best looks that James Bond has ever put together.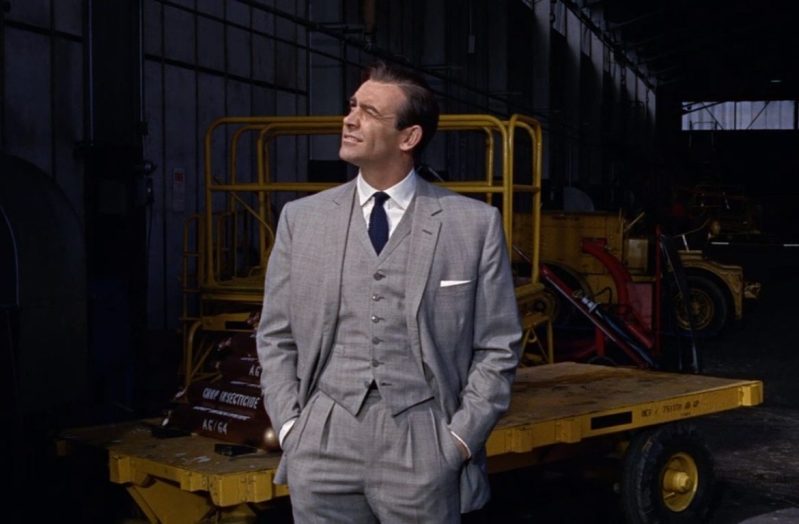 Best formal and semi-formal Bond looks
Sean Connery's gray three-piece suit in Goldfinger
You can't begin any James Bond list without starting with the very first James Bond, Sean Connery. Goldfinger is one of the most famous and classic films in the James Bond franchise. While it was the third in the series, it is near the top of many lists for the best performances by Sean Connery. It also is where you will find many of his best looks. As a matter of fact, all three of Sean Connery's best James Bond looks are coming from his adventure chasing after the man looking to knock off Fort Knox.
Every movie featuring Connery in the lead as 007 also featured the sartorial talents of Anthony Sinclair. He took what he dubbed the "Conduit Cut" (named for his location on Conduit Street in the Mayfair District of London) and brought it to the screen to accentuate Connery's build. This gray three-piece ensemble with the white pocket square and navy knit tie embodies everything that James Bond is with his wardrobe. Simple, elegant, and a step above the rest.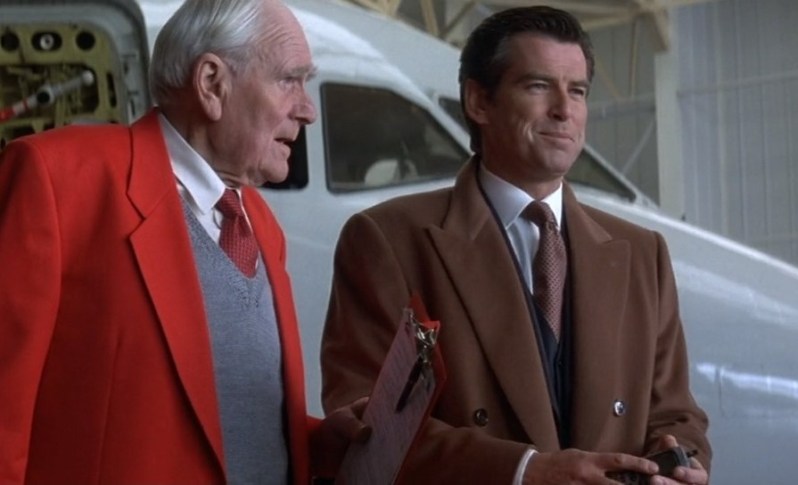 Pierce Brosnan's double-breasted overcoat in Tomorrow Never Dies
You won't find a lot of combinations in tailored clothing that go better than tan and blue. Costume Designer Linda Hemming took that knowledge and put it to good use when she worked on Tomorrow Never Dies in 1997. It was her second straight movie dressing Pierce Brosnan for his Bond appearances and the second straight time she put him in a Brioni blue birdseye suit. While the one featured in this film is a three-piece ensemble, it can hardly be seen under the more striking aspect of this look.
The knee-length, double-breasted cashmere coat completes Bond's look when he first arrives in Hamburg. While most double-breasted jackets and coats look best buttoned, Bond subverts the rules by wearing this one open. He paired it with a simple cream oxford shirt from Turnbull & Asser, along with a copper-colored tie that brings the entire thing together.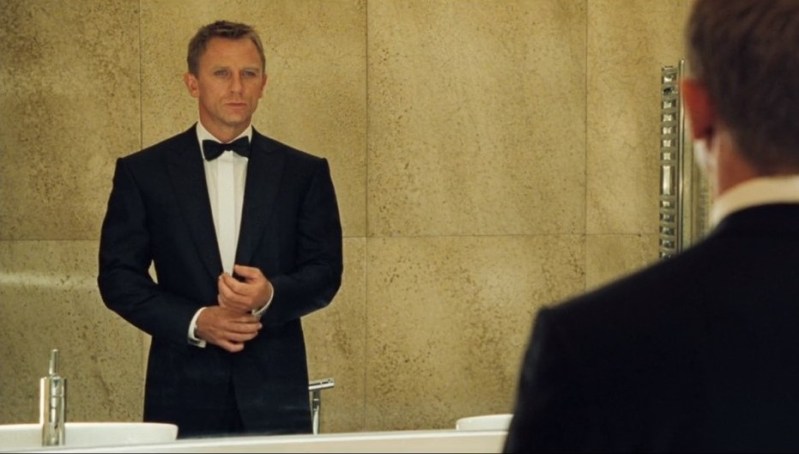 Daniel Craig's dinner jacket in Casino Royale
Speaking of Brioni and Hemming, they both returned in the mid-2000s when they rebooted the franchise with a new 007, Daniel Craig. While in some ways, he was the same old Bond, in most ways, he was different; most notably, he was full of grit. Barbera Broccoli called him a "tough guy in a dinner jacket." Speaking of dinner jackets, his very first appearance in the traditional tuxedo saw him in this Brioni dinner jacket (provided by Vesper, of course).
One thing that every James Bond has to do is fill out a tuxedo flawlessly; that is one thing Daniel Craig did better than most. Because he bulked up for the role, Hemming spoke about tailoring the waist while keeping the buttoning low. It has roped shoulders, giving it the British touch, just like James himself. Every Bond fan was waiting to see how their new Bond looked in his tuxedo, and he delivered perfectly with this simple but elegant ensemble.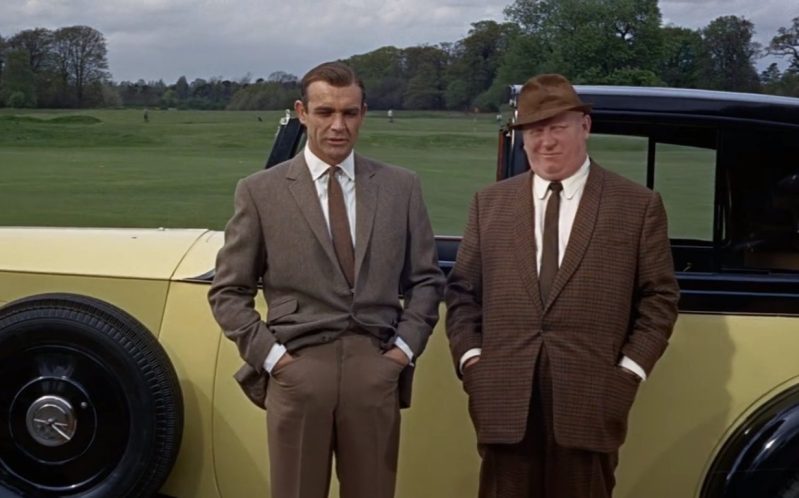 Sean Connery's country browns in Goldfinger
Back to Sean Connery. Back to Anthony Sinclair. And Back to Goldfinger. While the light gray suit contrasted the dark suits Connery had more often worn in his first two outings, the hacking jacket and trousers he wore after his game of golf against Goldfinger contrasted the more formal looks he sported. A hacking jacket is a tweed sports coat worn most traditionally by people who rode horses, making this the perfect semi-casual look after winning a round of golf.
Connery paired the jacket with slim-cut brown trousers that feature "frogmouth" pockets. These are straight-cut pockets similar to jeans, which were popular in English suits of the 1960s. Here, they give the entire outfit a feel of casual relaxation, even while watching Odd Job decapitate a statue with his hat.
Roger Moore's cream safari jacket from The Man with the Golden Gun
Speaking of taking a semi-formal approach to James Bond's dressier times, Roger Moore brought a military flare to his sophomore outing as the spy in The Man with the Golden Gun. In the film, he visits an armorer who makes bullets for the assassin Scaramanga (played by the legendary Christopher Lee) in Macau. He dons this cream-colored sports coat in a safari style, which gives him the look of his old military days when he reached the rank of Commander.
He adds to the military feel by leaving the top four buttons undone, which is common for many Royal Air Force officers. He then paired the unique jacket with a cream-colored shirt, brown knit tie, similar brown trousers, and brown shoes. The earth-toned outfit is one of the best looks that Moore put together in his time as Bond, even if it's not one that stands out to many sartorial fans of the franchise.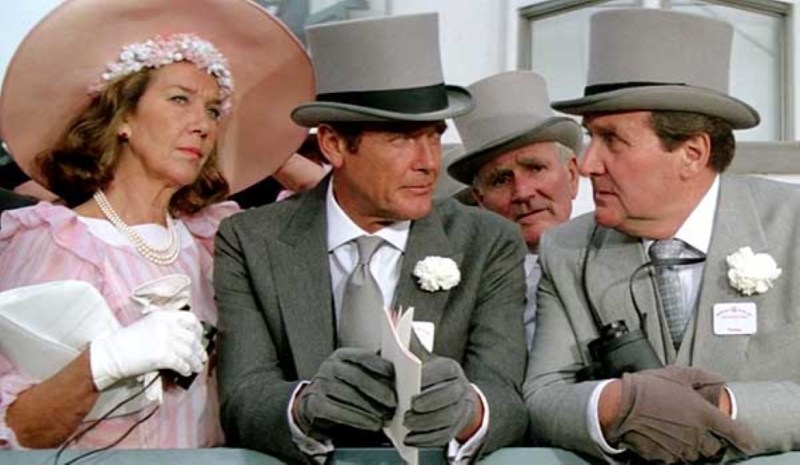 Bonus formal look from Bond
Roger Moore's gray morning suit and top hat in A View to a Kill
Do you know what a morning suit is? In the olden days across the pond, men would ride horses in the morning, necessitating a coat cutaway in the front. It grew in popularity as formal attire that was appropriate for summer weddings and horseraces. Roger Moore sported one of these stellar looks at the Ascot Racecourse during his final outing in A View to a Kill.
This look was very brief, but a light gray top hat, gray suede or chamois gloves, and a white carnation in the lapel buttonhole complete the outfit. It's a shame that we didn't get to see more of this ensemble, but legend has it that Moore kept the look to wear on his own, so it made an impression on more than just us.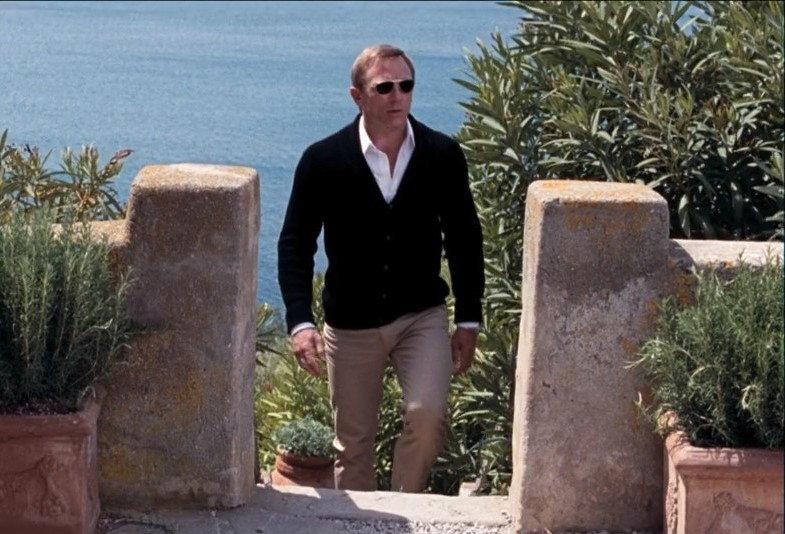 Best casual and tactical Bond looks
Daniel Craig's black cardigan and white dress shirt in Quantum of Solace
No James Bond did casual the way that Daniel Craig did. Of the five nonformal looks you will see on this list, the latest 007 is responsible for three of them. In his second outing, Quantum of Solace, the studio turned to legendary designer Tom Ford to give Craig a modern look, and it worked well for him as he looked stellar for the next three films, all thanks to Ford.
There is a lot you can tell about a man by his outfit. And for Bond, at this moment, the black shawl collar cardigan, tan chinos, and white shirt all feel separated from each other, all while working together at the same time. This oddly reflected his status with MI6 at that moment in time during the movie. He was separated, but M still trusted him and let him do his thing. The look is classic and maybe the simplest ensemble for fans to replicate, as you can find these items almost anywhere. Good thing, too; the Tom Ford version of this sweater sold out at $1,400.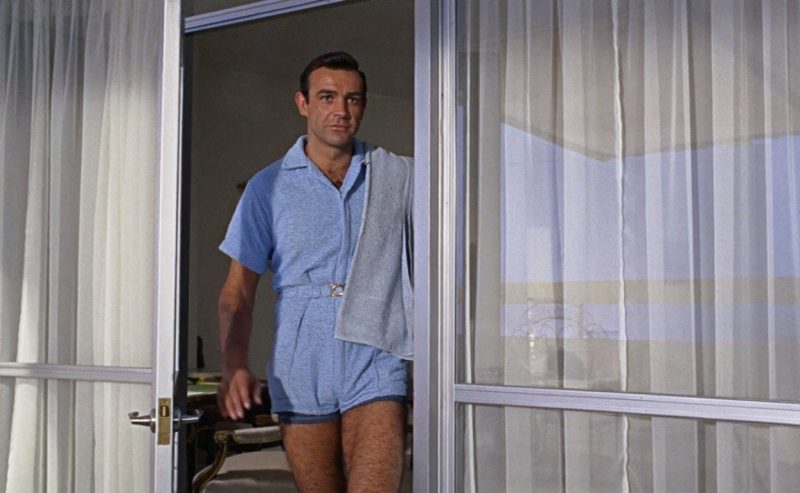 Sean Connery's blue romper in Goldfinger
OK, last time I go to this movie, I promise. For the last time, we see Sean Connery on this list (and the last time we see Goldfinger), I present to you the terrycloth blue romper. A lot of men's style is confidence. There are many different looks that some men pull off, while others look uncomfortable and awkward. The difference is typically confidence.
Connery showed nothing but suave confidence when he donned the now infamous light blue onesie, then turned around and immediately seduced a woman. In 2020, a replica onesie by Orlebar Brown sold out in a matter of hours for nearly $400. Almost every man wants to dress to emulate Bond, but are they brave enough to do it in a light blue romper?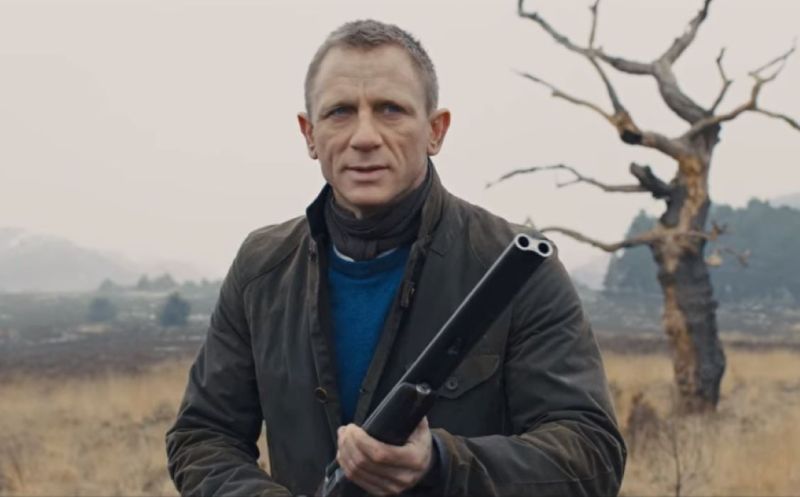 Daniel Craig's layered waxed jacket in Skyfall
Back to Daniel Craig's James Bond. In Skyfall, we got to see Bond work alongside M for the first time in the franchise. Moving away from MI6 and disappearing to his childhood home in the rural countryside called for a different look. That look ended up being a masterclass in layering. Check out the analysis of the outfit here.
At the end of the day, Bond is a survivor, a fighter, and most of all, a protector. His wardrobe has to do the same for him, and this outfit is one the best of all the looks that did it the most.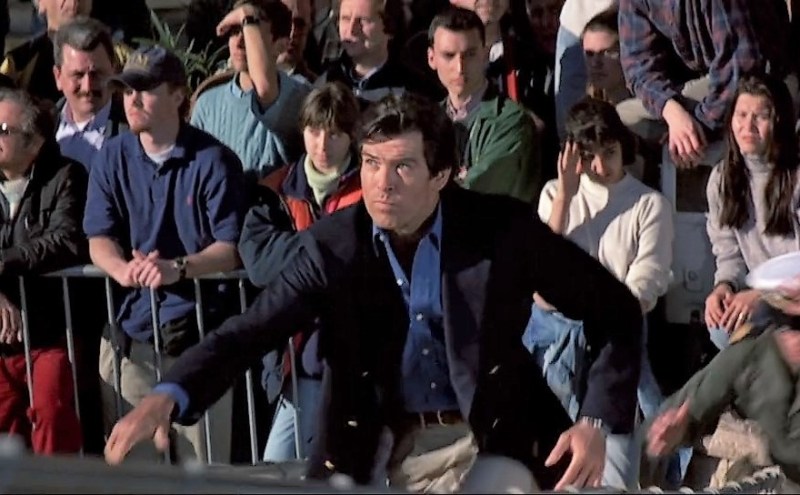 Pierce Brosnan's nautical blazer from Goldeneye
Bond is nothing, if not traditional, with his wardrobe. James Bond suits, ties, top hats, and very old-school English looks keep up us coming back for more. In Pierce Brosnan's freshman outing as a reimagined James Bond, he goes for the traditional navy blazer and khaki look as he chases after the villains stealing the helicopter.
His double-breasted blazer is the traditional navy, reaching back to his naval history. And his dress shirt is a royal blue, similarly looking to nod at his nautical roots. He wears it open; if you are paying attention, you would have noticed a pattern there as he does the same with a double-breasted overcoat in the next movie. He pairs the jacket and shirt with tan chinos and brown brogues for a truly classic look that you should already have a version of in your closet.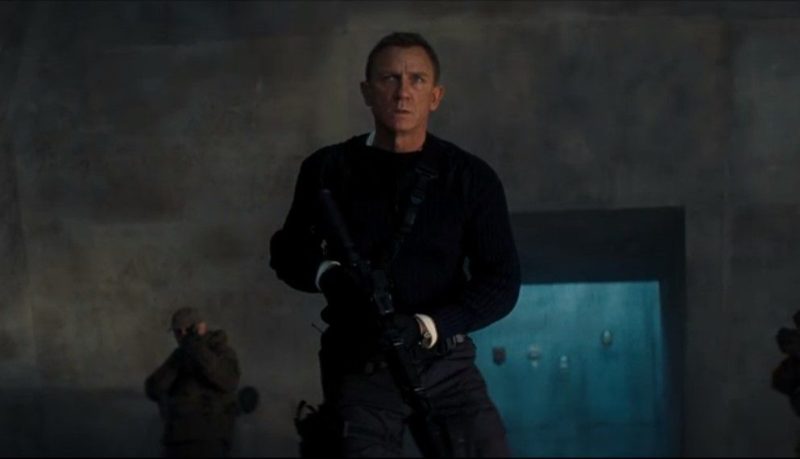 Daniel Craig's commando ribbed sweater and cargos in No Time to Die
We all knew that Daniel Craig would go out with a bang when No Time to Die was announced. We just didn't know how literal that would be. But what do you wear when you are fighting for your life, your family, and your legacy? The most badass commando look Bond has worn in his franchise. That's what. The outfit in question was heavily featured in the promotional materials for the film; therefore, we got a lot of really good looks at the ensemble before we even had a chance to buy the popcorn and sit down to watch his last adventure.
The only place to start is with the navy ribbed sweater that showed up on many posters while he held the MP5 in front of him. The sweater was designed explicitly for Craig by N. Peal and the costume designer Suttirat Anne Larlarb. You can still find this 90% Merino wool, 10% cashmere option from N. Peal if you have $450 to spare. Under that sweater, he wore a white henley and suspenders (they call them bracers across the pond) that worked well when the sweater had to be dropped during the climactic last battle. There was just something about seeing James Bond in a henley rather than a suit that made this outfit special.
There you have it, 11 of the best outfits Ian Flemming's brainchild ever gave us. There are dozens more outfits out there that could have made the list. That is the beauty of James Bond's sartorial brilliance; choosing the best of the best is no small task. As a matter of fact, we may need to do another rewatch to see if we missed any.
Editors' Recommendations