The quilted jacket was not made by your grandma and her friends on a Friday afternoon gathering, though everyone does love a homemade quilted blanket. Rather, the quilted jacket is a puffer jacket defined by a common diamond stitch. The style comprehends mountain towns, walking down 5th Avenue, and just about any adventure you find. The look is stunning dressed up or down — better still when the temperatures drop really low, the insulation of the jacket kicks into gear. Take a look at the best men's quilted jackets. After you find the right one, your next decision is whether to wear it open or closed.
Taylor Stitch Inverness Bomber
A combination of the coveted bomber and quilted jacket, the Taylor Stitch Inverness Bomber is ready to conquer the day. Stitched and sewn of primarily recyclable materials, the Inverness Bomber is ideal when you're running out the door and you know you need that extra layer to start the day. It's going to feel at home layered with a button-down or hoody and if you don't get lost in the intricacy of the stitching, you will in the Inverness Bomber's comfort.
Barbour Heritage Liddesdale Quilted Jacket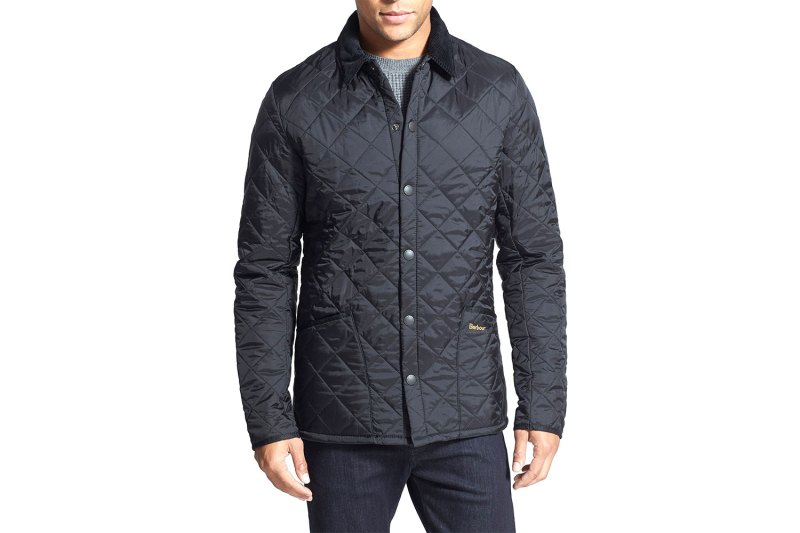 The Barbour Heritage Liddesdale Quilted Jacket is elegant, sleek, and stems from 125 years of dedicated Barbour craftsmanship. The diamond-patterned stitching offers warmth without a bulky look and if your feathers start to get a little ruffled, the Heritage Liddesdale Quilted Jacket has a snap-closure back vent. As Barbour calls the often harrowing Brittish countryside home, the Heritage Liddesdale Quilted Jacket is finished with a corduroy collar intended to be popped when the wind starts hollering.
Bonobos Quilted Waffle Bomber Jacket
The Quilted Waffel Bomber Jacket — aside from being fun to say five times fast — is a Bonobos classic with a full zipper combined with snap-closure overlay and slim fit. It's 100% cotton with a 100% polyester fill that makes it optimal for morning alarm to dinner bell attire. Piece it together with your favorite pair of denim and keep it handy, because this Quilted Waffel Bomber will soon be part of your everyday carry.
Grayers Andrew Light Weight Quilted Jacket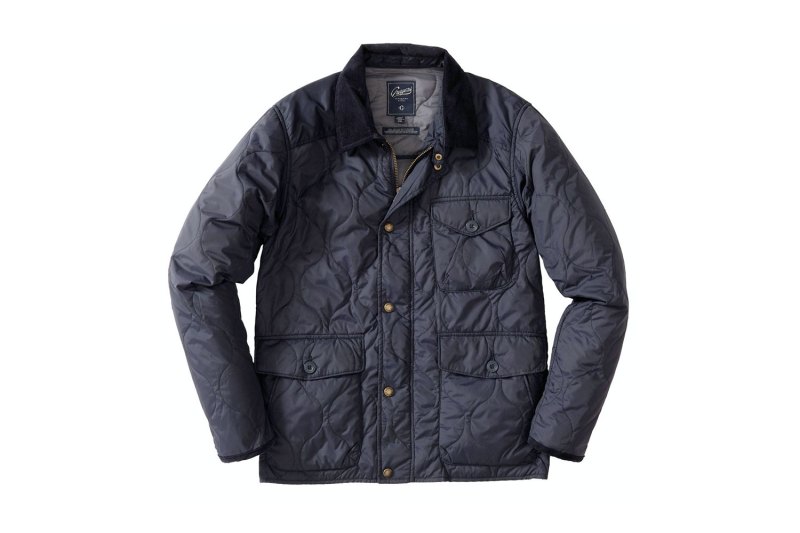 The Grayers Andrew Light Weight Quilted Jacket is built for the elements, in the pine forests or city streets. It's lightly padded and strays away from excessive bulk, has a corduroy collar adding sophistication, and 3 large external pockets for functional style. The 100% nylon construction makes this jacket ideal for the days you don't check your weather app and simply chance it, knowing with your Andrew Quilted Jacket you'll be suited for whatever comes your way.
Filson Hyder Quilted Jac-Shirt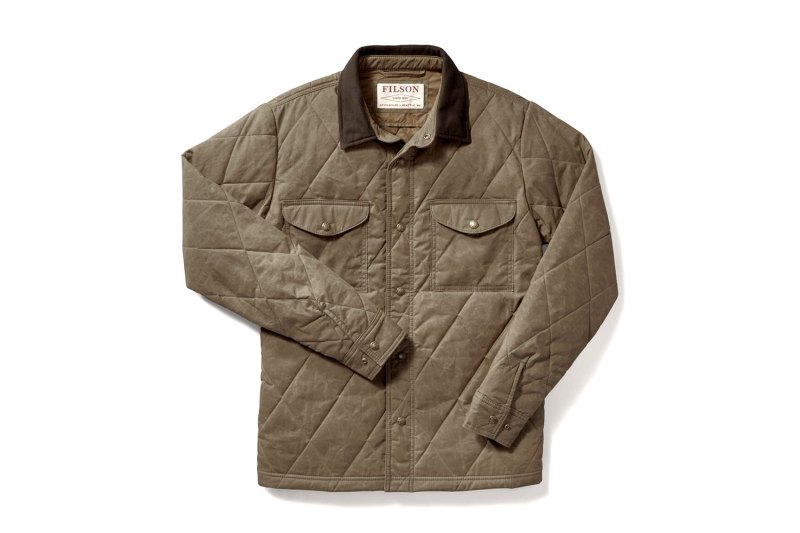 There is something about hearing the brand name Filson that implies style and durability, and the Hyder Quilted Jac-Shirt is no exception. This option has is a midweight cotton shell with a dry wax finish, bringing forth the functionality of a water-resistant jacket with the weight and feel of your soon to be favorite shirt — it's Jac-Shirt. The jacket is insulated with PrimaLoft Echo Silver polyester providing the warmth and breathability to address the changing seasons head-on.
Relwen Quilted Tanker
The Relwen Quilted Tanker is, to say the least, an absolute tank of a jacket. The combination of a secure zipper welt chest pocket, soft peached nylon and cotton shell, and 60-gram polyfill add to the certainty of this Quilted Tanker becoming your everyday garment. The quilted stitch is sewn through the shell and into the lining, raising this Relwen's comfort level off the charts. The Relwen Quilted Tanker is the product of American working heritage and doesn't require a hangar because you'll always be wearing it.
Flint and Tinder Quilted Waxed Shirt Jacket
Put to the test in the vast landscape of Montana, the Flint and Tinder Quilted Waxed Shirt Jacket is beckoning you to adventure. The jacket is littered with pockets inside and out, a highly water-resistant British Millerain waxed canvas shell, and recycled PrimaLoft insulation all adding to this Quilted Waxed Shirt Jacket's outright versatility. It's a jacket built for the rugged outdoorsman that can be worn on city streets and will always have a lust for expedition at its core.
Howler Brothers Lightning Quilted Jacket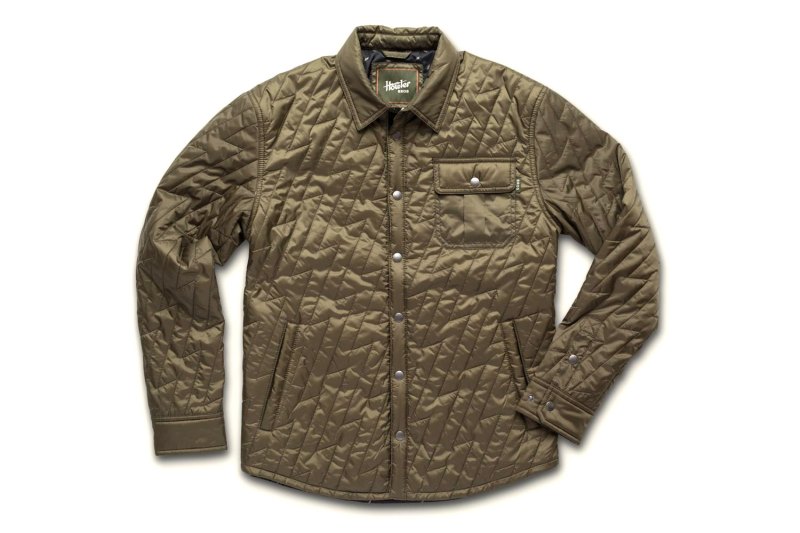 The Howler Brothers Lightning Quilted Jacket is as light as a feather, insulated with 60-gram PrimaLoft Gold, and is flat-out electrifying. The unique lighting bolt quilt stitch is paired with a single snap chest pocket, shirttail hem, and a micro ripstop polyester lining. The Lightning Quilted Jacket weighs a mere 40 ounces (for reference, the iPhone 11 weighs 8 ounces) emphasizing its grab-and-go versatility. Whether it's your warmth to scope the morning surf, reel in a fireplace mounted sport fish, or you forgot the milk at the store, the Howler Brothers Lightning Quilted Jacket is ready and waiting.
J.Crew Sussex Quilted Blazer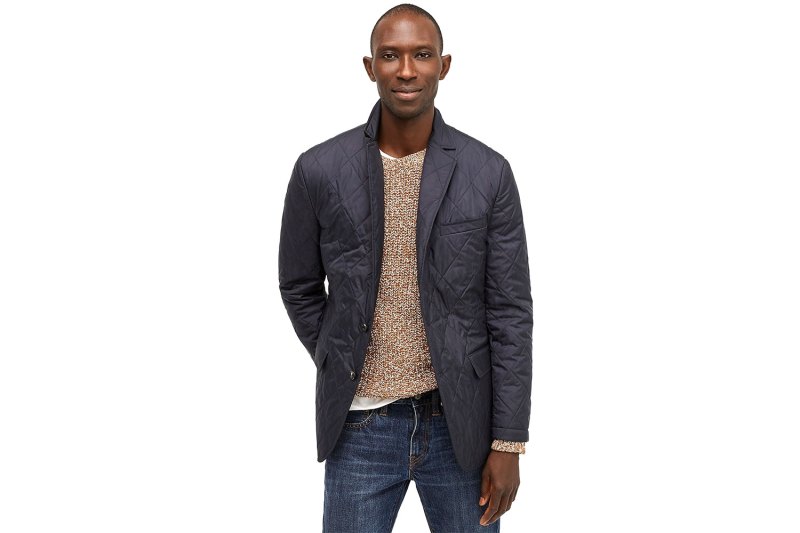 The J.Crew Sussex Quilted Blazer defines the elegant look of the quilted jacket family. This slim-fitting quilted blazer was made with Mother Earth in mind. The lining is an eco-friendly recycled polyester insulated with a PrimaLoft of recycled plastic bottles. The notch lapel collar is seamlessly matched with a two-button closure, sizeable diamond stitching, flap pockets, and a double-vented back. The Sussex Quilted Blazer is the jacket you need when you're outing calls for a tailored look while simultaneously playing it cool and collected.
Editors' Recommendations