Gentlemen, it's time to talk watches — Baltic watches, to be exact. And no, we're not here to give you a tedious rundown of every timepiece in its lineup, because frankly, we don't have the patience for that. What we do have, however, is a keen eye for the extraordinary, the unique, and the affordable. Enter Baltic's Hermétique Tourer collection.
Now, you might be wondering what makes these Baltic watches so special. First, let's address the elephant in the room: affordability. Luxury watches are often associated with jaw-dropping price tags, but Baltic is here to prove that you can get your hands on a remarkable timepiece without having to take out a second mortgage on your home — this new watch collection costs €550 ($589). The Hermétique Tourer collection is the embodiment of this philosophy, offering exceptional value for watch enthusiasts without breaking the bank.
The perfect field watch for men
The Baltic Hermétique Tourer watches are a field watch aficionado's dream. With a case diameter of 37 mm, these timepieces strike the perfect balance between being substantial enough to make a statement and discreet enough for everyday wear. No, they won't weigh you down like an anchor on your wrist. In fact, the 10.8 mm (8.3 mm without the glass) thickness ensures they're sleek and comfortable.
The 316L stainless steel case not only adds robustness but also exudes a rugged yet elegant appeal. This material choice guarantees the watch's durability and resistance to corrosion, ensuring it can withstand the elements. That's right, these Baltic watches are meant to accompany you on your adventures, be it a run in Central Park or conquering Mt. Everest.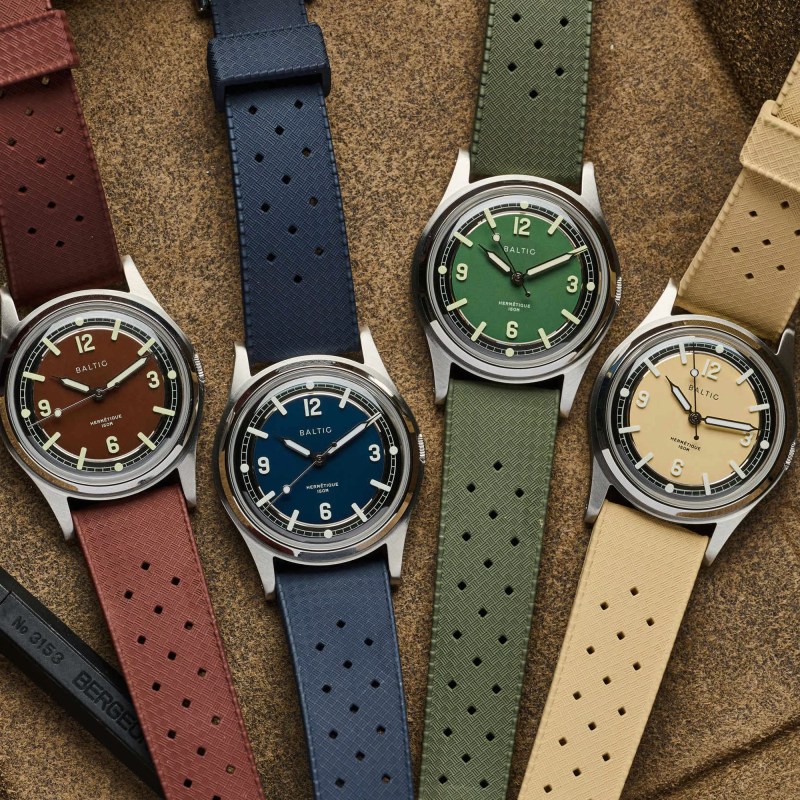 A splash of color
Now, let's talk aesthetics. The Hermétique Tourer watches come in four different dial colors (green, blue, beige, and brown), with an additional black strap, as well as two different stainless steel bracelet options. The standout color is most definitely the matte green dial finish. It's bold, distinctive, and screams cool guy style.
Baltic's choice to use a double dome sapphire crystal is a testament to its commitment to quality. Not only does it enhance the watch's overall durability, but it also provides an unobstructed view of the dial. And let's face it, that's one of the primary reasons we wear watches — to check the time. The crystal's shape also adds a subtle vintage touch, a nod to the classic field watch design.
Precision and reliability
When it comes to what makes the Hermétique Tourer collection truly tick, we need to talk about the engine under the hood. These Baltic watches are powered by the automatic Miyota 9039 movement. With a power reserve of 42 hours, you won't have to worry about winding it daily. This movement is known for its precision and reliability, and it's a reassuring choice for those who demand accuracy in their timepieces.
Speaking of reassurance, the Hermétique Tourer watches boast an impressive water resistance of 150 meters (that's 15 ATM for the watch aficionados). Whether you're taking a dip in the pool, indulging in some spontaneous snorkeling, or getting caught in an unexpected downpour, you can trust that this Baltic watch will stay dry and keep ticking.
The field watch reimagined
Field watches are all the rage in the world of horology, and for good reason. These types of watches for men are rugged, reliable timekeepers that have accompanied soldiers, explorers, and nomads through thick and thin. But the Baltic Hermétique Tourer collection isn't just jumping on the field watch bandwagon; it's putting its unique spin on the genre.
In a world where vintage charm meets modern engineering, Baltic's take on the field watch will have you doing backflips. The classic proportions, the military-inspired design, and the elegant dial color choices all pay homage to the field watch's heritage, while the meticulous craftsmanship and quality components bring it into the 21st century.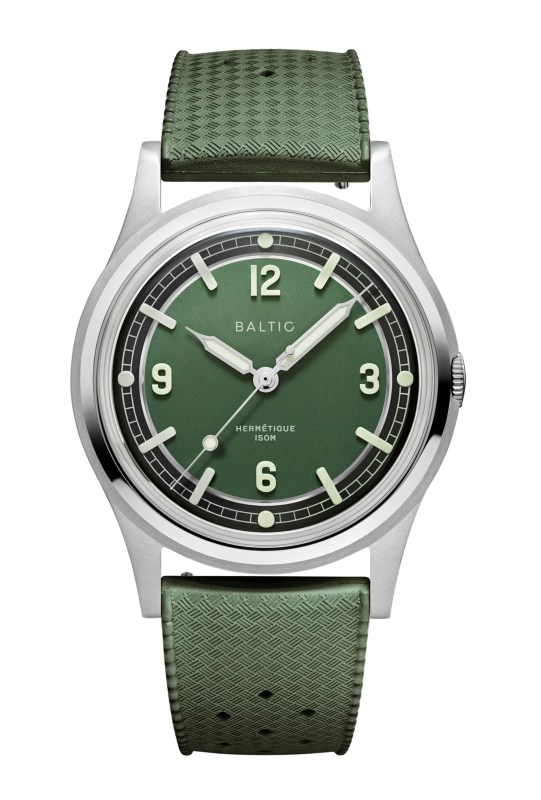 Final thoughts
It's refreshing to see a brand like Baltic create something truly unique within the affordable space of watches for men. With distinct aesthetics, quality materials, and a price point that won't give your bank account a coronary, Baltic is carving out a niche in a market often dominated by big names and high price tags.
Now, let's address the big question — does it all come up roses? Well, it's a bit of a mixed bag, as one might expect at this price point. At first glance, the indices give off the impression of ceramic lume, but upon closer scrutiny, you'll notice they lack the finesse you'd find in higher-end timepieces. But let's be fair; we can't demand perfection at this price range. These minor imperfections are simply the trade-offs that allow Baltic to maintain this attractive price point in today's market.
When it boils down to it, what truly matters is a reliable movement and a robust build — qualities which the Hermétique Tourer excels in. The minor refinements mentioned earlier are the kind of nuances that start to matter only when you're dealing with far more expensive timepieces. Is the Baltic Hermétique Tourer recommended to potential buyers? Certainly. Baltic manages to deliver an affordable, well-crafted watch that captures the hearts of watch enthusiasts while leaving room for minor imperfections.
Editors' Recommendations