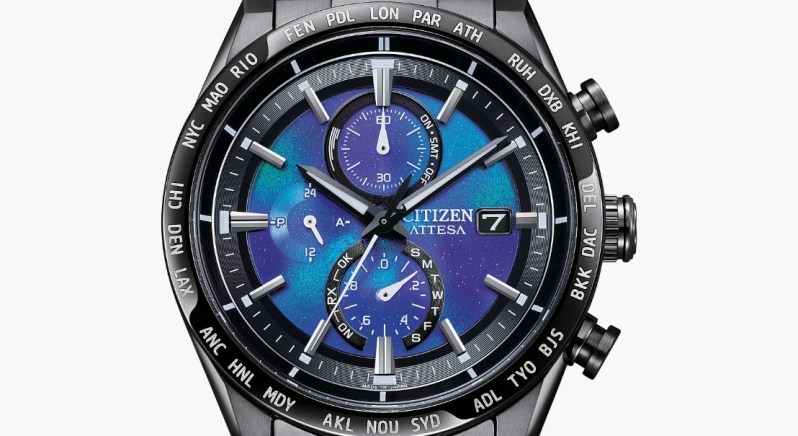 Anticipation is a factor of time that many of us experience on a daily basis. Whether we are excited about date night or nervous about a conversation with the boss, anticipation keeps us jittery and continually looking at the time. Lucky for all of us anticipating something, Citizen watches are some of the best at making looking down at your watch in anticipation as enjoyable as it could ever be. They keep the streak going with their new release of the Attesa Hakuto-R. Fittingly enough, Attesa is an Italian word that loosely translates to anticipation.
This isn't a new launch; the Attesa is a collection reaching back to 1987 when its debut featured its new focus on titanium. While the titanium hasn't changed, this Citizen watch has picked up many of the brand's top tech. In 1995, the collection switched from solar power to Citizen's legendary eco-drive. Ten years later, it adopted GPS. This year, the 35th anniversary sees the collection combining its talents once again with HAKUTO-R.
Citizen looks to space for inspiration
Space isn't a new frontier for watch companies. All of your favorite watch brands boast some connection to NASA or trips to outer space. From Tag Hauer and Rolex to Breitling and Omega, all kinds of watches have accompanied our brave explorers. But Citizen's collaboration with HAKUTO-R stipulates that the watch company will share its super titanium with the Japanese company. iSpace, the company behind the Japanese lunar program, uses the same titanium on your wrist for the legs of the lunar module. Not very common in the watch world.
Not only does the watch boast a connection to outer space, but it also works as well as any watch on the market and looks even better. It automatically updates the date and time even when wearing it overseas. The dial features 26 time zones, a perpetual calendar with day and date indicators, 12/24-hour timekeeping, and a power reserve display. Featuring light-powered Eco-Drive Atomic Timekeeping functionality. That doesn't even begin to talk about the look.
The deep blue color of the dial also features a myriad of other colors like purples, pinks, and silvers. If you think it looks out of this world, you're right. The design is specifically meant to look like a mini-galaxy. You may be excited about something. You may be nervous about something. Either way, anticipation won't feel like a bad thing while you have to keep looking down at this gorgeous masterpiece from one of the best companies Japan's watch world has to offer.
Editors' Recommendations