When you name a winter jacket after Tromso, Norway, the northernmost city in the world with a population greater than 50,000 (located over 200 miles north of the Arctic Circle), it better be able to stand up to the weather of that place.
Aether (pronounced e-ther) has been in the outerwear game since early 2009 when founders Palmer West and Jonah Smith, "city-dwellers with a passion for the outdoors," dedicated themselves to creating urban-appropriate outwear that looks fashion-forward in the city and can also hold its own out in the wild.
Aether Apparel's new Tromso Jacket has no problem doing just that. Designed to stand up to northern Scandinavia's dark, bitter winters, the Tromso Jacket has the sleek, defined look of an urban winter-jacket, but is built and constructed from materials that will keep you warm in the chilliest of arctic winds.
And Aether truly means it. Made from 2L canvas with 800-fill goose down insulation (the second-highest fill-factor you can buy), you're sure to stay warm in any condition, be it a blizzard or the blisteringly cold. Seam-sealed construction also blocks out the chill along with a two-way, center-front zipper, which allows for an easy escape once you plunge back into the heated indoors. To keep all your gear handy and just as warm, the jacket comes complete with zippered pockets at the chest, hands, and back, so you shouldn't ever lose your gloves again.
For all you music aficionados out there, the Tromso also features an interior pocket with an audio valve which allows you to easily access your headphones all while keeping them safe from any winter precipitation. And to keep your body truly warm–even if the idea that you lose half your body heat through your head was declared a myth–the jacket comes with a down-filled adjustable hood you can cinch up tightly, leaving only your nose and eyes exposed a la Kenny from South Park. The jacket's rib-knit collar and cuffs keep the jacket in place and prevent the sleeves from riding up, even when being active.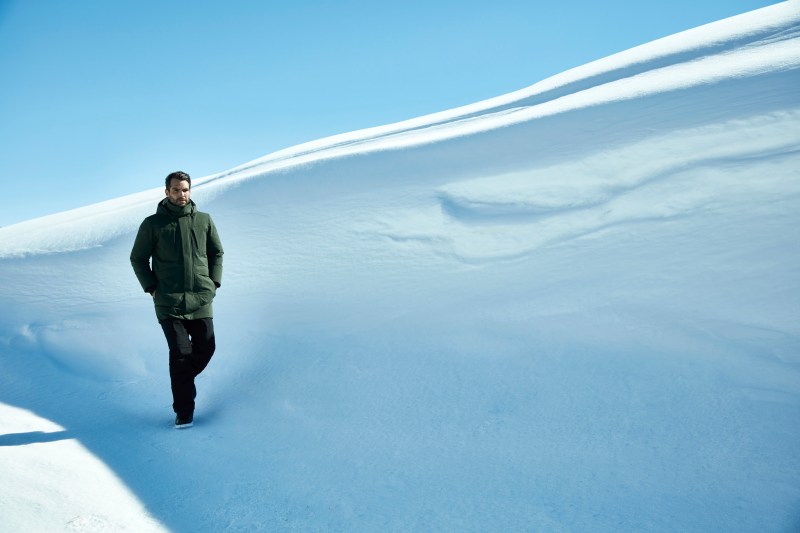 The jacket comes in five sizes (check out Aether's sizing guide here). The jacket is cut long, which is great for blocking wind, but not the most flattering silhouette if you're a shorter dude. When ordering, you might want to get the smallest size you can manage so you don't end up looking stunted. For tall guys, this jacket will elongate your frame even more, making you appear as tall as the Tromsøværing (the people of Tromso) themselves.
The Tromso jacket retails online at $750. While this might seem a little too expensive, the jacket's refined and simplistic styling and durable construction mean you'll have this winter-wear for the rest of your life. Even if you can't currently afford the jacket, it's a piece you can put on your fashion-aspiration wish-list. Or you could always write that letter to Santa…
Editors' Recommendations