Last year was a great year for automakers. Luxury brands like Rolls-Royce and Bentley saw their profits skyrocket. The rich got richer and decided to spend more money on cars than ever. While most people were having a hard time finding a car or worrying about how they would be able to afford a large dealer markup, collectors spent ludicrous amounts of money on classic cars.
According to Classic.com, the top 10 most expensive collector's cars that sold at auction last year represented a total of $250 million in sales. The most "affordable" car sold at auction for $7,595,000, while the most expensive one was $146,588,400. These are the top 10 most expensive collector cars that sold at auction in 2022.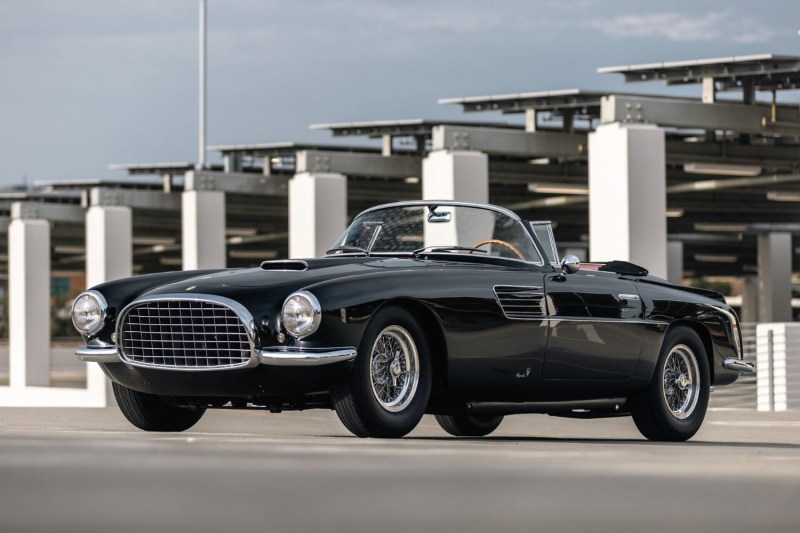 1954 Ferrari 375 America Vignale Cabriolet – $7,595,000
Ferrari was a much different automaker in the 1950s than it is today. The Italian marque focused a lot more on grand tourers back then, and the Ferrari 375 America is an excellent example of that. The 375 America featured a detuned version of the Lampredi engine from the 375 MM racecar and arrived as a replacement for the 342 America. It was built in incredibly low numbers, as Ferrari only built 10 375 Americas, though two more vehicles that started off as 250 Europas were converted at the factory later on. Buyers had their choice of a few coachwork upgrades from Pinin Farina and Vignale, but what makes this car so special is that it was the only vehicle to have coachwork done by Vignale and be a cabriolet.
This car's history is also remarkable. The vehicle was personally sold by Enzo Ferrari to Bianca Colizzi, film director Giuseppe Colizzi's daughter. Remarkably, the vehicle has matching numbers for its engine, gearbox, rear axle, and bodywork. Additionally, it still has its original factory hard top.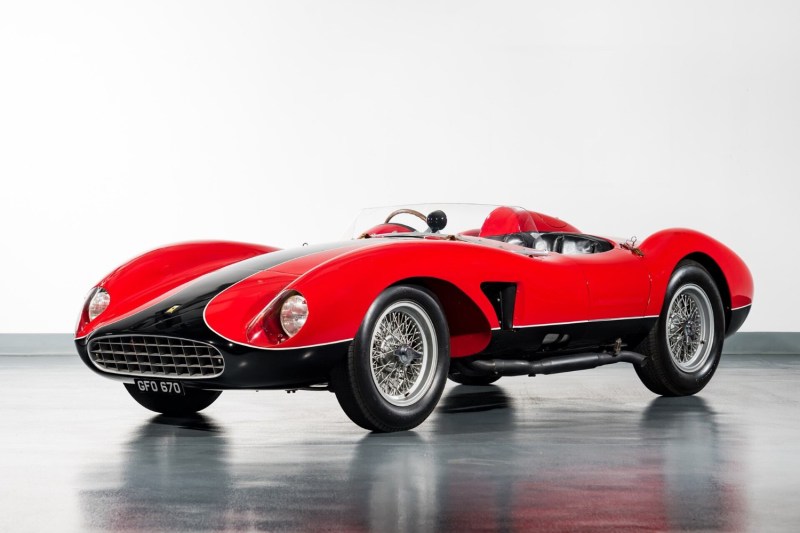 1957 Ferrari 500 TRC Spider – $7,815,000
The 1957 Ferrari 500 TRC Spider is the first racecar on our list. It raced at the 1957 24 Hours of Le Mans, and between 1958 to 1959, it was driven to 12 class victories. Between 1957 and 1963, this 500 TRC Spider landed on the podium 18 times. If you're looking to take part in the Le Mans Classic or the Mille Miglia Storica, this is the kind of car you'll need.
Instead of a V8 or a V12 engine, the 500 TRC Spider utilized one of Ferrari's best and last four-cylinder engines. The one in the 500 TRC Spider developed 190 horsepower, which was good enough for a top speed of 153 mph. This model was specifically built for privateer racers, and only 19 units were built. This 500 TRC Spider is the second-to-last model built and has a rich history of being a successful race car.
1960 Ferrari 250 GT SWB Berlinetta Competizione – $7,762,500
For a collector, a car's racing history can be just as important as the car itself. Ferrari's 250 line was an important vehicle for the automaker from a racing standpoint, and the short-wheelbase (SWB) Berlientta proved to be a mainstay for Ferrari. This 250 GT SWB Berlinetta Competizione has gorgeous coachwork by Scagliette and wears a historical livery. Additionally, it has a record of competing at races like Le Mans and Goodwood. The vehicle's history was documented by Ferrari historian Marcel Massini, which certainly adds to its appeal.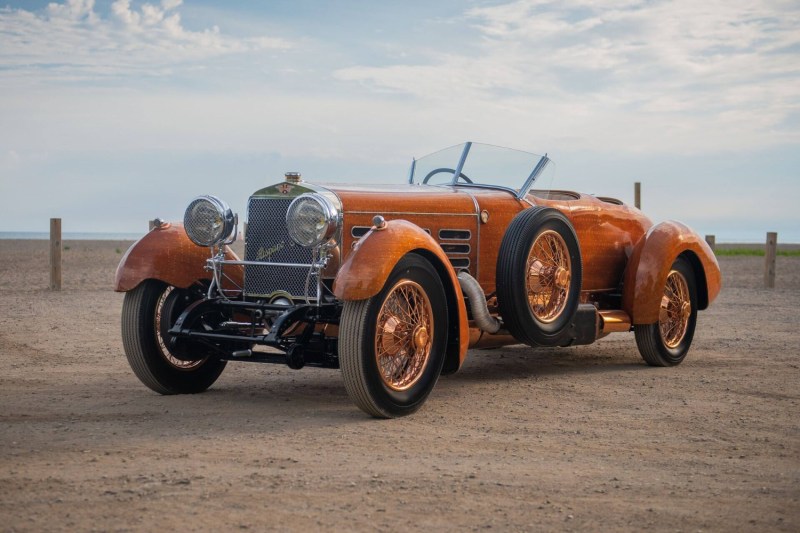 1924 Hispano-Suiza H6C "Tulipwood" Torpedo – $9,245,000
We won't judge you if you've never heard of Hispano-Suiza. The brand was founded in 1904 in Barcelona and was a force in the racing world. This Hispano-Suiza H6C Torpedo was commissioned by André Dubonnet. After a career as a pilot in World War I and racing cars, Dubonnet set out to make what became the most famous Hispano-Suiza ever. While the 8.0-liter is a highlight, the coachwork is spectacular. Dubonnet got aircraft manufacturer Nieuport-Astra to make the body of the vehicle, while engineer Henri Chasseriaux formed the 1/8-inch-thick strips of mahogany that were laid over 3/4-inch ribs to create the body.
Today, a wood car would be a purely for show, but in 1924, it was used to compete in the Targa Florio, where it finished in sixth place overall. Not only did the wood bodywork result in a vehicle that looked like nothing else, but it was also far lighter than traditional bodywork that would be fitted to a vehicle of this type.
1937 Mercedes-Benz 540 K Special Roadster – $9,905,000
Rarity is always one major point with collectors. Cars that are produced in small numbers will always be rare. Case in point: There are only three known Mercedes-Benz 540 K Special Roadsters in existence. That could be why it sold for nearly $10 million. Plus, this model was actually owned and originally ordered by the King of Afghanistan in 1937, so it's truly a vehicle fit for luxury. King Mohammed Zahir Shah, the original owner of the vehicle, is credited with constructing modern roads in the country. One can only imaging what the 540 K Special Roadster would've looked like on freshly laid tarmac back then.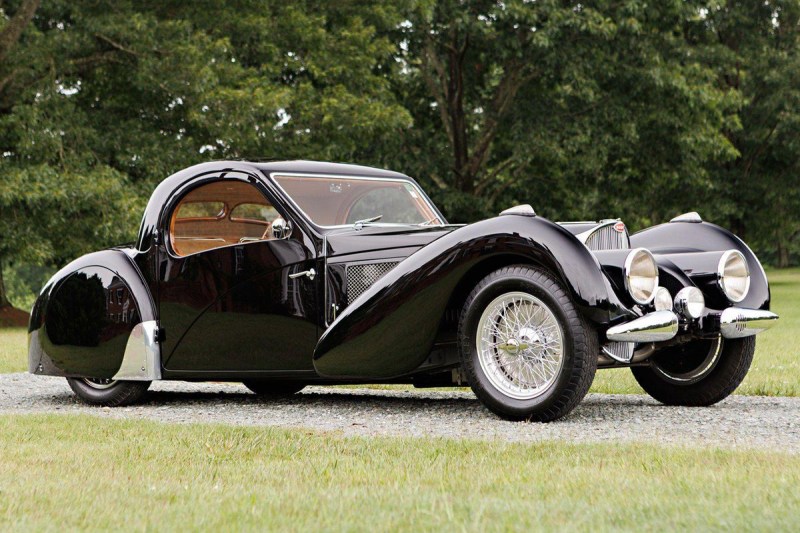 1937 Bugatti Type 57SC Atalante – $10,345,000
Bugatti may be known for its outlandishly priced hypercars with engines that deliver enough performance to power a small city, but the automaker followed a similar formula back in the 1930s. This sultry Type 576SC Atalante is believed to be one of the first 57SCs in existence, as the original owner decided to have Bugatti install a roots-style supercharge shortly after taking delivery of the vehicle. With the supercharger, the vehicle's power was bumped up to 200 horsepower, making this one of the fastest and most powerful cars in existence before World War II.
Compared to other 57SC Atalantes, this model has a few unique touches that make it all the more desirable. The gorgeous fully skirted rear fenders that completely hide the rear tires and large Scintilla headlights showcase Bugatti's stunning coachwork. This vehicle is one of just 17 models in existence and is an all-original model with history that can be traced back to its original delivery in Paris in 1937.

1937 Talbot-Lago T-150-C SS Teardrop Coupe – $13,425,000
The Talbot-Lago T-150-C SS Teardrop Coupe is a classic. It's also one you've never heard about because this example is thought to be the only one in existence that has all of its bodywork intact. The classic features bodywork designed by Figoni et Falaschi. The design firm is believed to have made only 10 to 20 Teardrop Coupes, which were available in the notchback Coupe Jeancart and the fastback Modelé New York. This T-150C-SS is a fastback Modelé New York, which is one of just two that the company ever built. Talk about rare. This car has won multiple awards, including First in Class at Pebble Beach and Best of Show at Amelia Island Concours d'Elegance.
2003 Ferrari F2003 GA – $15,859,066
Regardless of how you feel about modern Formula One, there's no debating that Michael Schumacher is one of the best drivers to have ever raced in the sport. Most racecars that Schumacher touched turned to gold, but the F2003-GA helped him win the World Championship title for the sixth time. Chassis 229 is claimed to be the most successful of the six F2003-GAs that Ferrari built. The racecar was overhauled in 2022 and apparently is in full running order. That means the 3.0-liter V10 engine is ready to hit the track again.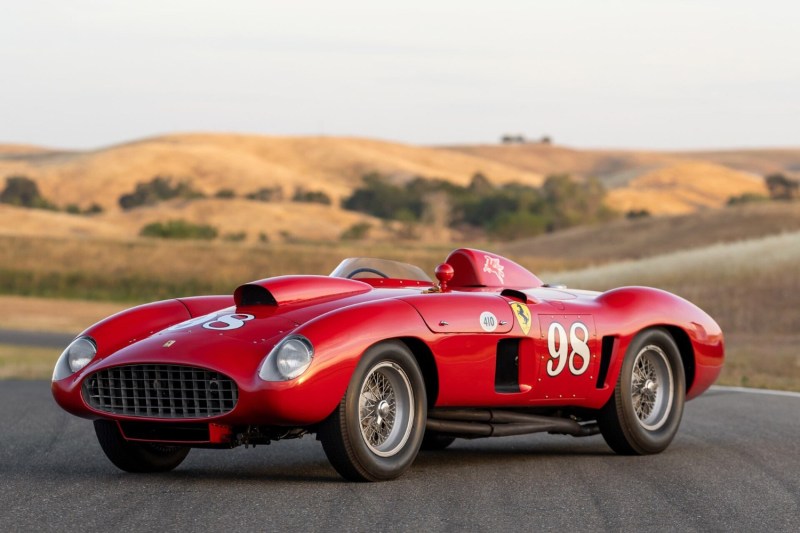 1955 Ferrari 410 Sport Spider – $22,005,000
If there's one car on this list that will make you go weak in the knees, it's the Ferrari 410 Sport Spider. We could fill an entire page with all of the details that make this car so special. One of the major reasons is its stunning design, which was created by Sergio Scaglietti. This is one of the few Ferrari models to feature coachwork that was both designed and built by Scaglietti.
The 410 Sport Spider's 4.9-liter V2 engine is also drool worthy. This car is one of just two factory-campaigned 410 Sport models to come with the 12-cylinder engine. This exact 410 Sport Spider was driven by both Carroll Shelby and Juan Manuel Fangio. Shelby's career with the Ferrari was especially noteworthy, as he won eight races and had 10 podium finishes behind the wheel of chassis number 0589 CM.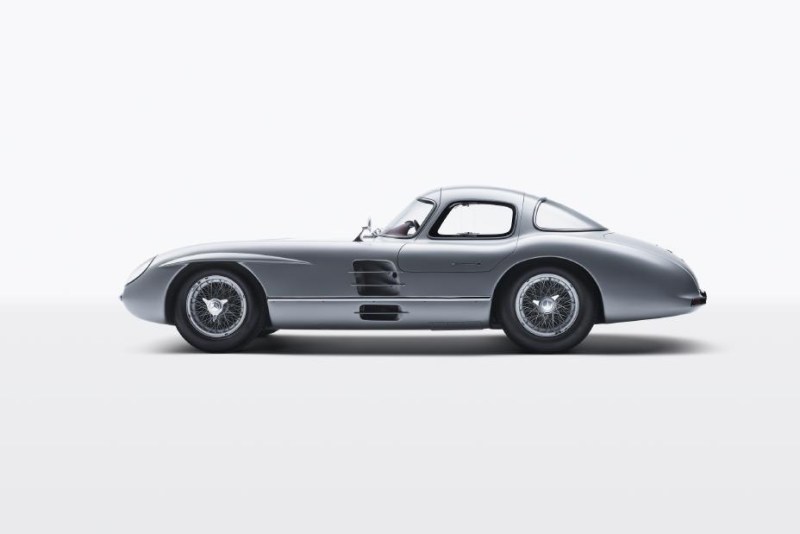 1955 Mercedes-Benz SLR "Uhlenhaut Coupé" – $146,588,400
The 1955 Mercedes-Benz SLR "Uhlenhaut Coupé" sold for an incredible amount of money. In fact, if you add up the other nine vehicles on this list, you'll still come up short on what someone spent on this car — but what a car to spend that kind of money on.
For Mercedes-Benz fans, the SLR "Uhlenhaut Coupé" is one of the most historic models ever built. It's one of just two vehicles that were built based on the race-ready 300 SLR, and it was created by legendary designer Rudolf Uhlenhaut. Beyond its masterclass design, the "Uhlenhaut Coupé" was one of the fastest cars in the world in its time, able to hit a top speed of 180 mph.
The history behind this car is truly mesmerizing, but what makes it really worth its obscene price tag is that this is the first time that it's ever come up for sale. Mercedes-Benz has held onto the "Uhlenhaut Coupé" since it was new. So when it came up for sale last May, it was the first time in the car's history that it would go to a real owner.
Editors' Recommendations