The overlanding (i.e., extreme offroading) community has exploded recently as more of us are looking for some form of escape. That popularity makes it harder, though, for those seeking solitude to actually find it. Campgrounds, hiking trails, and U.S. National Parks are more crowded now than ever. To truly, truly get away from it all, you need a hardcore 4×4 rig capable of going just about anywhere. But that doesn't have to mean leaving behind all the comforts of home. Enter: Darc Mono.
Related Guides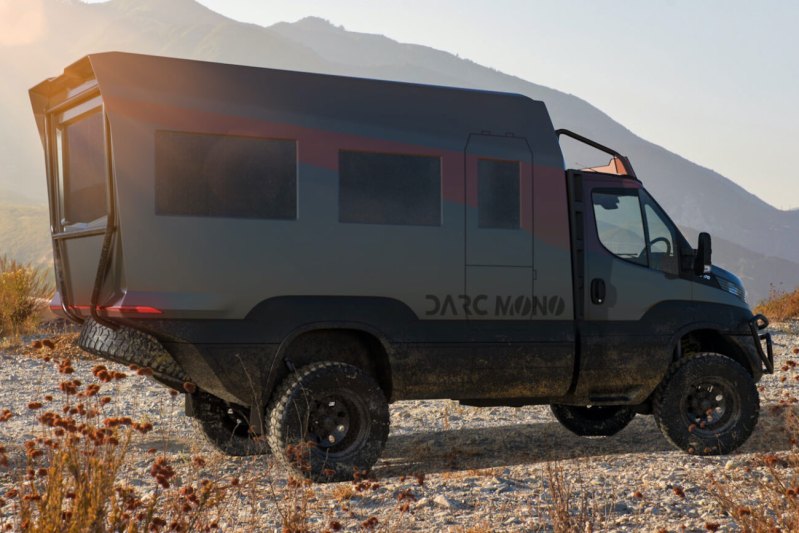 As expedition RVs go, the sinister-sounding Darc Mono doesn't just look the part. This is a serious truck camper that's designed to go wherever you want. It's built from the ground up for off-road exploration with permanent, all-wheel drive, 36-inch all-terrain tires, and an adaptive, KW Automotive-built suspension system. Other features include a custom bullbar, an LED light bar, and a carbon fiber intake snorkel for when the road gets a little wetter than you expected. A 10-ton winch also ensures you can extract yourself from even the stickiest situations. Plus, it's capable of storing enough water, food, and energy for two passengers to live off-grid for up to two weeks.
What separates Darc Mono from similar rigs is its next-gen monocoque construction. Using the same carbon fiber as the world's leading Formula 1 racecars provides a 35% weight reduction with far more structural rigidity than traditional mobile homes. That strength allows for a panoramic rear window and a heavy-duty rear rack capable of toting everything from spare tires to motorcycles. The design also provides increased noise isolation and helps maintain an even interior temperature in extreme environments.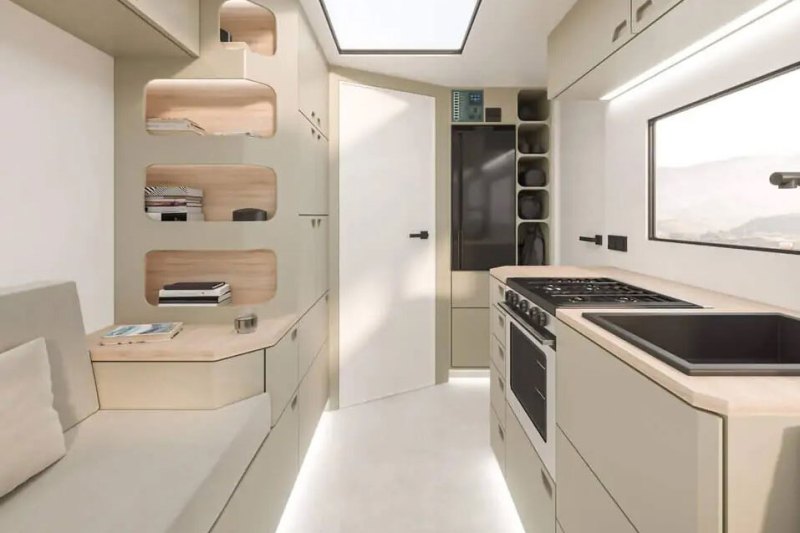 Similar off-road-ready rigs are all about form over function. They're built ultra-tough to ensure only that you can get where you're going without concern for the creature comforts you might want once you get there. Darc Mono worked with architects and overlanders to design an interior that's as handsome and capable as the exterior. The concept photos reveal an 86-square-foot cabin that's sleek, bright, and airy with 6'7" of headroom and a fit-and-finish comparable to most upmarket condos. A lowerable queen bed makes clever use of the space by quickly converting the living quarters to the bedroom and back again. There's even room for a mobile office and a full kitchen and bathroom. Plus, a state-of-the-art multimedia center with a high-end audio system and 4K projector allows you to kick back after long days in the backcountry.
The company confirms that its German-built truck will be available in the U.S. later this year and is now accepting pre-orders. Every Darc Mono is custom-built, so your final price may vary. The official website notes a starting price of €295,000 (around $350,000). Frankly, if you can afford an RV that costs as much as a single-family home in most U.S. cities, you're probably not too concerned with the sticker price.
If your discretionary income isn't in the ballpark of 350-large, you can always start overlanding right now with the vehicle you already have.
Editors' Recommendations