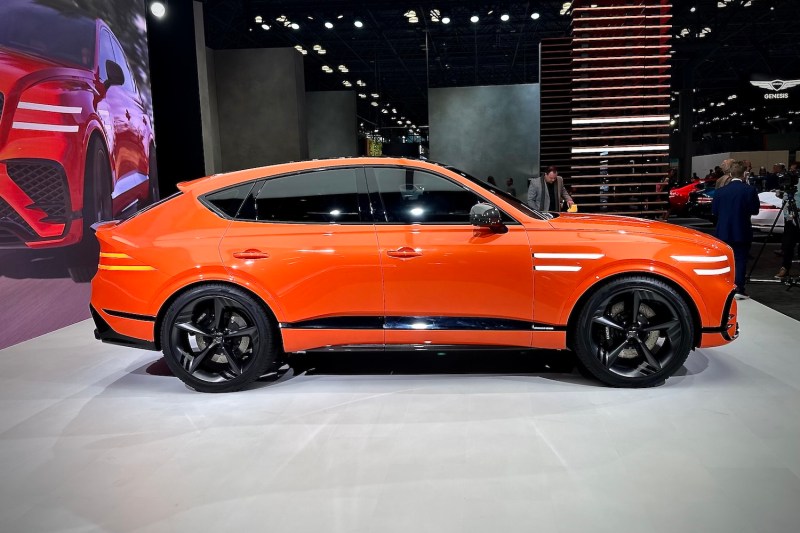 SUVs continue to be as popular as ever and automakers are pumping out new options at a neck-breaking pace. Some believed that SUVs were just a fad, but with the introduction of more high-performance models, more fuel-efficient options, and more options that can go off-roading, it's clear that SUVs are here to stay.
It's easy to see why so many people have moved to SUVs. They offer drivers a commanding view of the road ahead, large cargo areas, and improved safety because of their larger size. Additionally, automakers have gone to great lengths to make the best SUVs more efficient, faster, and more comfortable than ever. You'll also find more all-electric SUVs arriving every year, bringing all the upsides of an electric powertrain to the roomy body style.
With more options to choose from than ever before, settling on an SUV can seem impossible. We've chosen a few of our favorites in popular segments to help you narrow down your search.
Best electric SUV: Hyundai IONIQ 5
Automakers have finally started to come out with affordable electric vehicles. Shoppers don't have to take $100,000 out of their 401ks to get into a decent EV anymore. Teslas may still be the it thing, but there are so many better options on the market, like the Hyundai IONIQ 5.
Hyundai has gone from the value-forward South Korean to be an absolute force in the industry. The IONIQ 5 highlights everything that Hyundai is doing right. It has a retro design that turns heads, especially in a parking lot full of Teslas. The boxy design has a practical application, as it brings a massive interior that actually makes it practical as a family vehicle — one of the upsides with having a wheelbase that's longer than the Palisade's. It's brimming with tech features that don't require a user manual to use and it has so many convenient touches — a voice that yells at you when you start charging the car, a movable center console, a power leg rest for the driver's eat, vehicle-to-load capability, and so much more.
There are three different powertrains to explore with the IONIQ 5. The base trim is only available with an electric motor on the rear wheels with an output of 168 horsepower. This model can travel 220 miles on a single charge thanks to a 58kWh battery pack. The RWD configuration is also available with the SE and SEL trim which includes a 77.4kWh battery pack and a 225-horsepower motor for 303 miles of range. Alternatively, you can choose the all-wheel drive option with 320 horsepower, but the range reduces to 266 miles.
These figures may not lead the class, but they're impressive for an EV that starts at $41,450. Plus, the IONIQ 5 is deceptively fun to drive. The all-wheel-drive model can get to 60 mph in roughly 4.5 seconds with sport mode engaged. It's also far more enjoyable to drive around corners than one would expect.
It's hard to believe that one of the best electric vehicles on sale comes from Hyundai and doesn't cost a fortune. But that's what the IONIQ 5 — one of the best EVs on sale that lets you feel like you're already living in the future.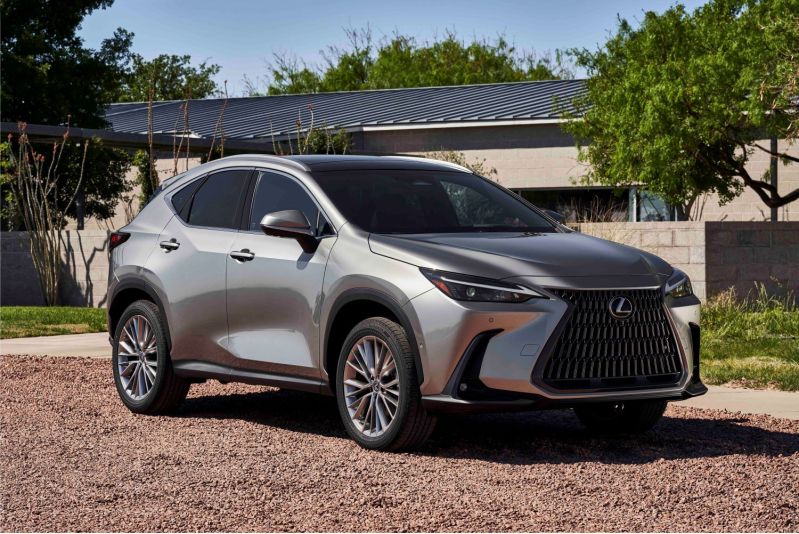 Best hybrid SUV: Lexus NX Hybrid
If you want a hybrid SUV with a touch of luxury, you could consider the Lexus NX Hybrid, which shares the same platform as the Toyota RAV4 Hybrid. The Lexus NX Hybrid is available in two variants with all-wheel drive — the NX 350h and NX 450h+. The 2024 Lexus NX 350h comes with a 2.5-liter four-cylinder engine combined with two electric motors to deliver 240 horsepower.
On the other hand, the Lexus NX 450h+ is fitted with the same gasoline engine as the NX 350h, but it features a plug-in hybrid electric motor that produces up to 304 horsepower. The Lexus NX 450h+ also comes with an all-electric range of 37 miles.
Besides that, the Lexus NX Hybrid has more than enough room inside and you can add a panoramic sunroof, wood trim finishing, and ambient interior lights. If that doesn't convince you, the Lexus NX has a 5-star safety rating after going through numerous crash tests by the IIHS. The NX 350h is the cheaper trim with a starting price tag of $44,205, while the NX 450h+ is around $60,000.
Best off-roading SUV: Ford Bronco
After missing in action for 25 years, Ford Bronco rose from the ashes in 2021. It's now available in a total of nine different trims, with the latest 2023 base model starting at $34,890, while the most expensive option starts at $86,080. Regardless of the trim and configuration, the Ford Bronco is incredibly potent off-road with the right boxes ticked.
People that like to keep things simple will find that lower trims offer more capability than 90% of SUVs on sale. However, if you want the most capable off-road model, you can consider the Ford Bronco Rapto with a turbocharged 3.0-liter V6 engine that makes 418 horsepower, HOSS 4.0 suspension, Fox internal bypass semi-active dampers, 37-inch all-terrain tires, and more G.O.A.T. modes. Whether you want to do some low-speed off-roading over sand in comfort or hit triple figures across dunes, there's a Bronco for you.
While the Bronco is a true off-roader, it's also incredibly easy to live with. The SUV doesn't ride like a heavy-duty truck on the road, doesn't require constant inputs on the highway to stay in a straight line, and doesn't have horribly uncomfortable seats. It's manageable and almost comfortable for daily use. In nearly every way, it's a much better daily driver than the Jeep Wrangler.
The things that really set the Bronco apart from the competition are the small things. The available marine-grade vinyl upholstery and rubberized flooring with drain holes can be hosed off after a muddy day of trekking through the woods. The hard top is also easy to remove and can be stored in the back of the vehicle.
Best compact SUV: Mazda CX-50
Everyone is coming out with off-roading SUVs and specialized trims. Mazda, choosing not to muddy the waters with a rugged CX-5, decided to introduce an all-new SUV for shoppers that wanted something with a little more ruggedness — the CX-50. It has nearly all the same high points as the CX-5, but wears a more durable body.
Let's cover the most obvious thing up front — the CX-50 is not a hardcore off-roader. It may look like a fullback compared to the CX-5's long-distance sprinter body, but this is not a go-anywhere, conquer-anything SUV. Instead, think of it as an updated CX-5 that happens to enjoy playing in the mud. Mazda strayed out of its comfort zone with the CX-50's design and did a killer job.
Just like the CX-5, the CX-50 is a charming SUV. It looks like it could be from a luxury brand, has a cabin that can be downright opulent in the right trim, and doesn't break the bank. These are things we've come to expect from Mazda. What isn't expected, at least in a vehicle that looks as rugged as this one, is to have such a sweet driving experience.
The base engine doesn't inspire a lot of joy, but the available turbo 2.5-liter four-cylinder pumps out an impressive 256 horsepower and the CX-50 comes with standard all-wheel drive. So, it maintains the same enjoyable handling, controlled body movements, and accurate steering as the CX-5. The way the CX-50 blends refinement, luxury, and athleticism is done in a way that showcases just how skilled Mazda is at making vehicles that people actually want to drive. This time, it's wrapped in a handsomely rugged package.
The CX-50 is available in 10 different trims, with the cheapest option starting at $27,550, while the most premium option with a 2.5 turbocharged engine is priced at $42,300.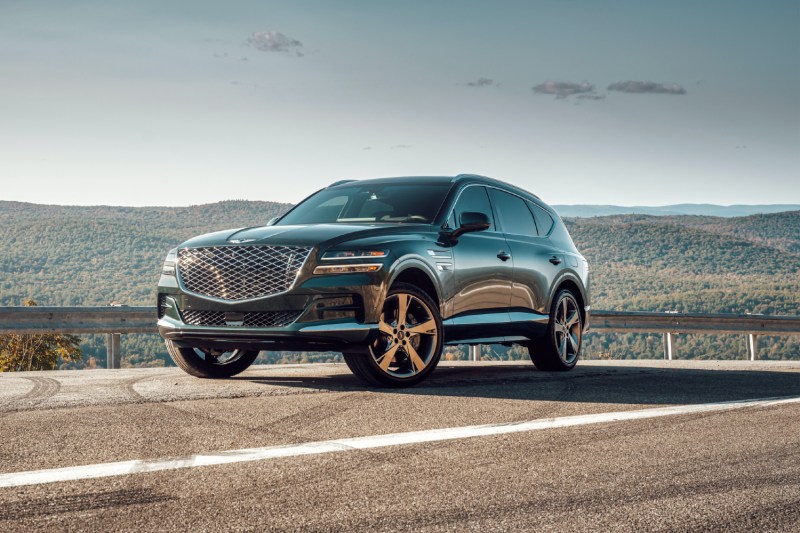 Best luxury SUV: Genesis GV80
It's taken a few years, but Genesis is now a bona fide luxury brand. Long gone are the days when people remember the Genesis name being used for a large sedan in Hyundai's lineup. Instead, the South Korean automaker makes vehicles that give Mercedes-Benz, Audi, Lexus, Audi, and BMW cause for concern. And Genesis gives you more for less, which is something the others haven't quite caught onto.
The midsize GV80 is Genesis' first foray into the world of SUVs. The automaker certainly didn't choose an easy segment for its first SUV, but the GV80 feels like it's been on sale for years. It looks like a well-cut tuxedo, feels like a five-star hotel on the inside, and offers a scrumptious ride. Despite its large size, the GV80's platform is solid, resulting in an SUV that offers car-like handling.
Genesis offers two engines with the GV80. The base engine is a turbocharged 2.5-liter four-cylinder that's rated at 300 horsepower. The turbo-four does a fine job of getting the GV80 down the road, but the available twin-turbo 3.5-liter V6 is a better fit. It's rated at 375 horsepower and delivers brisk acceleration. Add the powertrain on top of the GV80's generous list of tech features and you've got a winning combination.
The price tag? The Genesis GV80 starts at $56,925 and goes all the way up to $77,695 depending on your trim options.
Best midsize SUV: Kia Telluride
The Kia Telluride is a seriously good midsize SUV that starts at $35,890. It looks more expensive than it is and it shuttles passengers around in luxury. Kia's blend of packing the Telluride with popular features while keeping prices down has made its midsize SUV a standout choice. The midsize SUV is worth considering based on its handsome looks alone. Park this on your driveway to fill your neighbors with envy.
What really helps the Telluride stand out is its range-topping SX line of trims that feels abnormally luxurious for a vehicle from a mainstream brand. The SX Prestige trim comes with dual sunroofs, a Harman Kardon audio system, Nappa leather upholstery, two 12.3-inch displays, and heated and ventilated front seats. If you're looking for something with a more rugged design, you can opt for the SX Prestige X-Pro which adds a center-locking differential, all-terrain tires, 18-inch wheels, and increased ground clearance, while maintaining the SUV's luxurious side.
Then, there's the way the Telluride rides. The midsize SUV isn't the slightest bit sporty but delivers a composed, comfortable ride, as long as you stick with the smaller 18-inch wheels. The available 20-inch wheels result in a harsh ride that makes the SUV feel jittery over rough roads. For those off-roading camping trips, the Telluride has 8.4 inches of ground clearance, a front skid plate, a locking differential, and available traction control modes.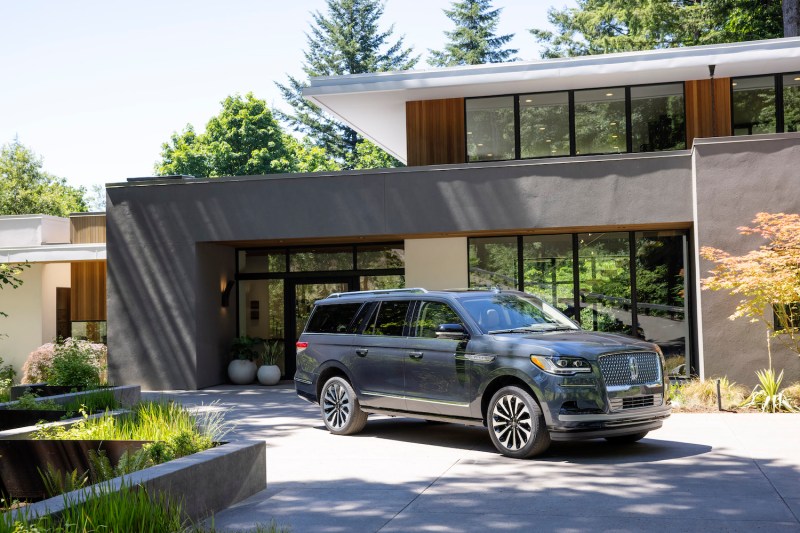 Best full-size SUV: Lincoln Navigator
Everyone knows that minivans are the best options for large families. We also understand that everyone seems to hate the way minivans look and they carry some sort of stigma for being mom mobiles. While we still recommend minivans to families, we get it — people want something that's a little cooler, but just as versatile. If that's the case, then the Lincoln Navigator is one of the best choices available.
The Navigator offers seating for up to eight people and not in a wink, wink, yeah, maybe eight if someone's under 5 feet tall, but eight adults. The SUV has 40.9 inches of third-row legroom, which makes the seat comfy enough for adults on a long drive. Speaking of the seats, the Navigator is available with 30-way power-adjustable front seats with so many settings even your crabby in-law that loves to sit in the front passenger seat will find a comfortable position.
Unlike nearly every other large SUV in the segment, the Navigator isn't available with a V8 engine. Instead, it comes with a twin-turbo 3.5-liter V6 engine that produces 440 horsepower and 510 pound-feet of torque. A V6 might sound like a downgrade compared to some of the V8 engines out there, but the motor is plenty powerful enough and brings a maximum towing capacity of 8,700 pounds.
A family vehicle has to have a spacious cargo area and the Navigator fits the bill well. It offers up to 103.3 cubic feet of total cargo space, which should be enough for most people, but if you want some more, the available Navigator L has an extended wheelbase to offer up to 120.2 cubic feet of cargo space. Some people would be able to pack up their entire apartment and shove it into the Navigator L's cargo area.
However, the Lincoln Navigator is the most expensive SUV on our list, since it starts at $77,635. If you want the most premium trim, you can buy the Black Label at $106,075.
Editors' Recommendations