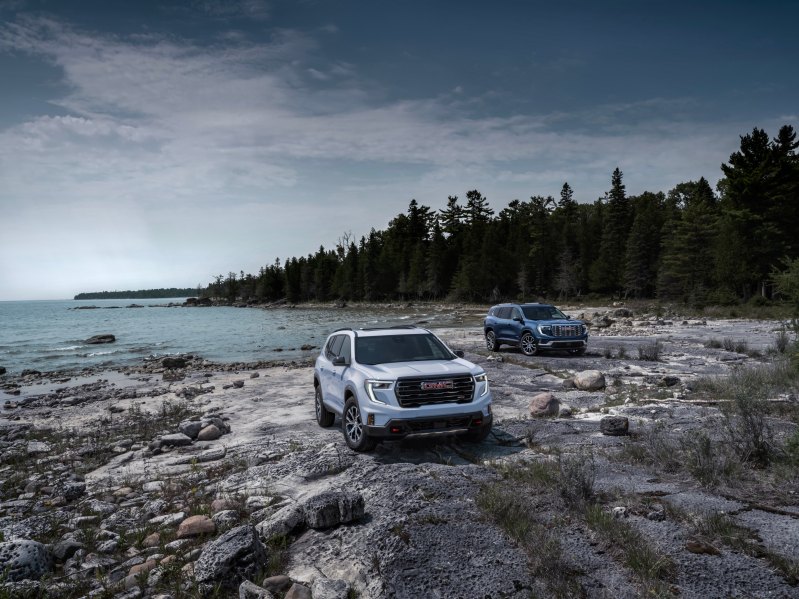 Lately, it seems as though
electric cars, specifically Tesla
, are the headlining topic for all things automotive. Whether it is the novel gullwing doors, the video game-style steering wheel, or its self-driving feature, the enigmatic electric carmaker has hoarded the spotlight long enough because the all-new 2024 GMC Acadia is here and deserves plenty of attention. While it doesn't specifically target the Model Y
like some other vehicles
, the new GMC Acadia brings a compelling mixture of ruggedness and refinement that will be hard for any SUV to match.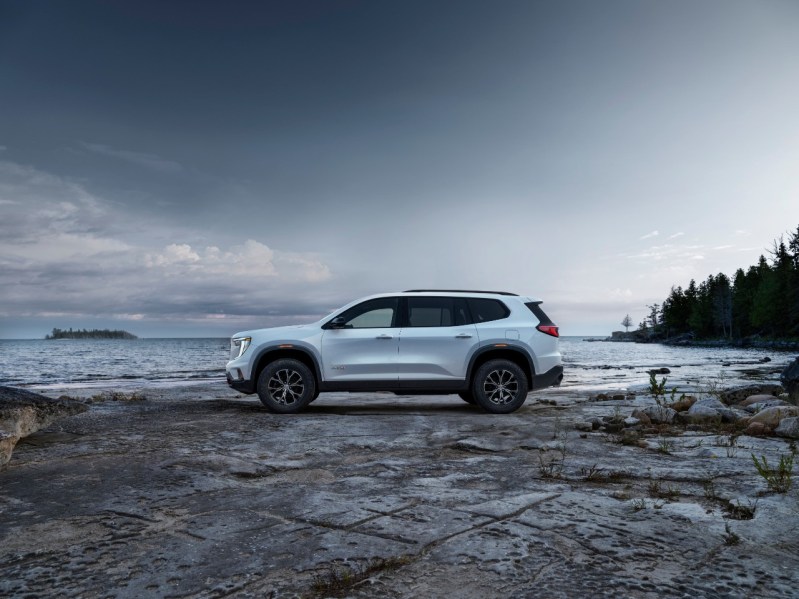 The 2024 GMC Acadia is nearly a foot longer than its predecessor
Revealed at the
Detroit Auto Show
, the 2024 version of the Acadia brings a (literally) sizeable difference compared to the current model, measuring 10.6 inches longer and 3.2 inches taller. That kind of expansion translates into room for up to eight passengers, offering 36% more space behind the second row and a whopping 80% more room beyond the third row than its predecessor. And while nearly a foot longer, the latest Acadia does not appear abnormally larger than the current version from any angle but conveys a bigger persona.
Ben Zavala, design lead for the GMC Acadia, said, "For this generation, our mission was to reimagine the design and the proportions of the Acadia to create a bolder, more commanding presence, firmly in the vein of the evolving GMC portfolio."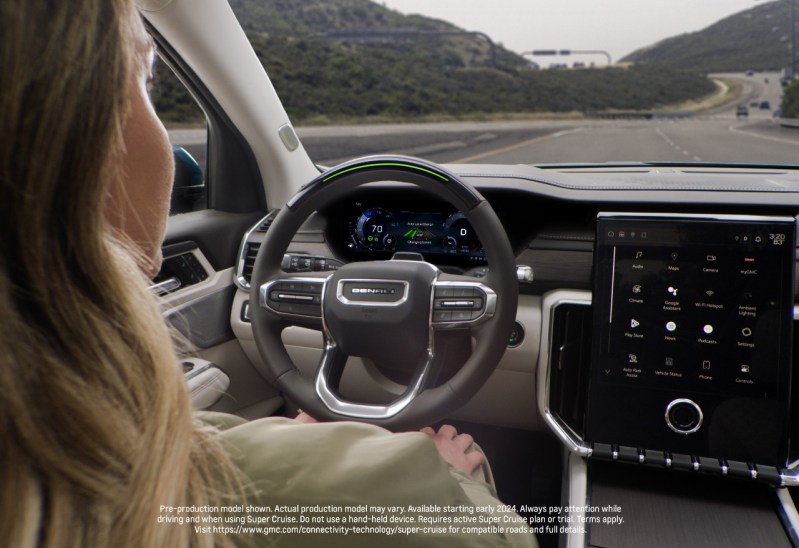 Super Cruise is the industry's first true hands-free driving system
Aside from the more powerful-looking exterior, the 2024 Acadia also brings a stellar new feature that promises to change the way owners drive, or rather, not drive,
their GMC truck
forever. Super Cruise is the latest in roadgoing technology, offering the industry's first true hands-free driver assistance system. With more than 400,000 miles of available roadway in its database, Super Cruise utilizes real-time cameras, sensors, GPS, and LiDAR to detect curves, Lane Change on Demand, and Automatic Lane Change. Complementing this new and exciting driving component are 15 safety features that come standard, including Traffic Sign Recognition, Front Pedestrian and Bicycle Braking, Forward Collision Alert, and Side Bicyclist Alert.
The GMC Acadia features a 15-inch touchscreen
The interior of the 2024 GMC Acadia is also all-new. The driver gets treated to a big 11-inch diagonal digital display, while a vast 15-inch centrally-mounted infotainment touchscreen dominates the cabin with an available high-contrast display and Google built-in compatibility. The premium Denali trim also brings a Bose sound system that features active noise canceling and up to 16 speakers to allow it to compete with even the
most expensive SUV interiors
available today.
The 2024 Acadia: 328 hp and 326 lb-ft of torque
While anyone with the good fortune to drive the previous Acadia equipped with its 3.6-liter V6, which made 310 horsepower and 270 pound-feet of torque, would never complain about it lacking thrust, GMC decided to improve things nonetheless. All trims of the new generation are now powered by a 2.5-liter turbocharged four-cylinder engine that makes an even more impressive 328 hp and 326 lb-ft. All of that muscle gets funneled through an eight-speed automatic transmission and onto either the front wheels (standard) or, optionally, to all four corners. An exclusive Active Torque AWD system is available for the AT4 trim, and when properly equipped, the Acadia can tow up to 5,000 pounds.
As design lead Ben Zavala said, "With its assertive, powerful stance, the 2024 Acadia evokes a truck-inspired persona, infused with the brand's signature premium feel."
So, while there are plenty of
other sport-utility vehicles
out there that are clamoring for your attention, the 2024 GMC Acadia is here to prove that you don't need weird doors or a funky steering wheel to be an exciting premium SUV.
Editors' Recommendations