Today's pickup truck landscape can be highly confusing for the uninitiated and novice customer, especially with the introduction of so many new electric and hybrid trucks on the market today. Manufacturers are trying so hard to fill every possible niche, to cater to every likely desire, need, and want, that there are now more choices than ever, and it's nearly impossible to keep up. Turn on the TV or browse any auto website, and you are inundated with enough letters and numbers to make it feel like you're being attacked by the spirit of an angry scientific calculator attempting to communicate through a Ouija Board: ATX, ZR2, SV, XLT, SEL, SR5, HD, SV, Big Horn, Lariat, and on and on. Each of these trims then usually triggers a subset of even more options, resulting in information overload and paralysis by analysis in many would-be customers. But thankfully, there is one name that has endured over the years. The Denali nameplate has been a consistent stalwart representative of luxury, and the 2023 GMC Canyon Denali continues that tradition in a very unconfusing way.
The 2023 GMC Canyon Denali is equal parts work and play
Although the Denali nameplate has been almost exclusively offered on GMC's SUV lineup over the last two and half decades, it has recently graced the full-sized Sierra 1500 and, most recently, the mid-sized Canyon. Standard features include posh amenities such as a premium Jet Black interior with Teak accents, laser-etched open-pore (real) wood trim, a heated steering wheel, and both heated and ventilated power front seats. A large 11.3-inch centrally mounted touchscreen handles all things infotainment, including a seven-speaker Bose sound system, while a fully digital 11.0-inch gauge display sits behind a redesigned steering wheel. Wireless charging comes standard, as does Apple CarPlay and Android Auto compatibility.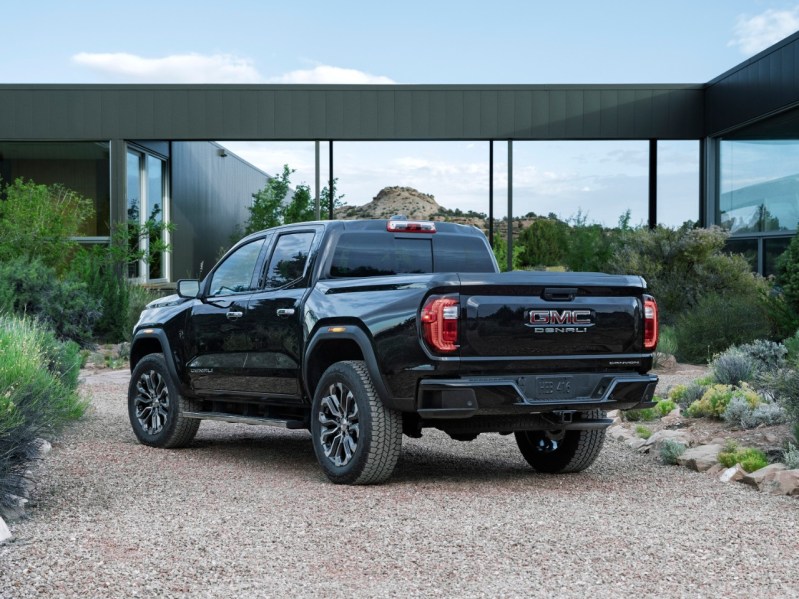 The 2023 Canyon Denali: One size fits all
In an oddly refreshing way, GMC offers up the Canyon Denali with fewer options than we've come to know and expect from most mid-sized pickup truck companies. If you want the poshest pickup in the Canyon lineup, you can have it in any configuration you want, so long as you want a four-door crew cab with a 5-foot 2-inch bed out back and four-wheel drive. Despite being considered 'mid-size,' the Canyon Denali is only marginally smaller than its larger Sierra sibling.
Powering the Canyon Denali is the same engine that powers its other relative, the Chevrolet Colorado. But unlike Chevy, GMC only offers one version of the 2.7-liter turbocharged inline-four-cylinder engine. But in some cases, one is enough, especially with a total power output of 310 horsepower and an impressive 430 pound-feet of torque funneled through an 8-speed automatic transmission before heading off to all four corners.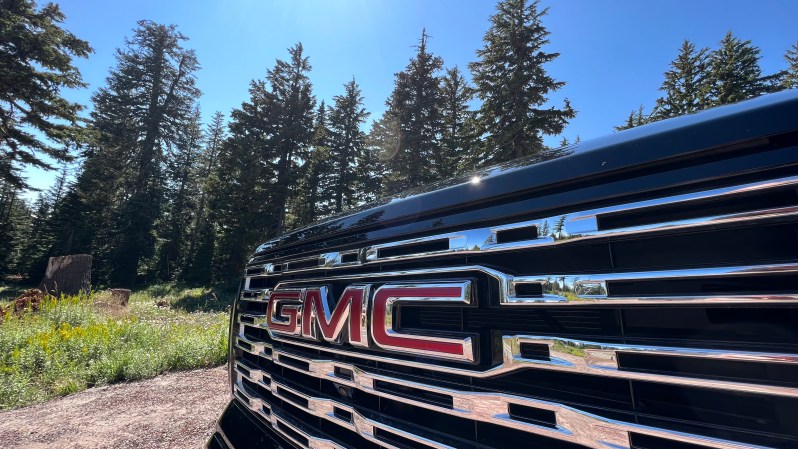 The base price for the Canyon Denali is $52,495
On the one hand, the Canyon Denali can be an elegant and engaging vehicle for a night on the town, but underneath that lavish veneer is still a hardcore off-roader ready to work. The Denali comes with a payload capacity of 1,360 pounds and a tow rating of 7,700 pounds and can even hustle from 0-60 mph in a relatively exciting 6.8 seconds. In terms of performance at the pump, the Denali might not measure up to some of today's electric options, but with an EPA rating of 17/21/19 city/highway/combined mpg and a range of 407 miles, the Canyon is not hampered by its 4,786 pounds.
Though it may lose some ground to the electrics regarding fuel efficiency, it makes up for it with a more attractive price tag. While a base price of $52,495 may not sound cheap, which it isn't, the Canyon Denali is within the limits of all its competitors' top-tier offerings. While the pickup truck sect of the automotive universe has never felt more saturated with seemingly limitless trims and options, thankfully, the 2023 GMC Canyon Denali offers up a refined yet rugged package that proves a premium truck doesn't need a name that sounds like an algebra equation to be the solution to your truck-finding problem.
Editors' Recommendations