Pirelli recently announced a new tire, the P-Zero AS Plus 3. With the announcement came some bold proclamations about construction and performance. We're used to that, honestly; every time a new product is announced, the company responsible for it proudly lauds its accomplishment. With tires, it's a bit easier to stress-test them. So we did.
With its announcement, Pirelli invited The Manual to its testing grounds at the Las Vegas Motor Speedway in Las Vegas, Nevada, to give its new tires a spin. (Pun intended.) While we acknowledge the test was done on a closed course in a controlled environment, we were able to put the tire through its paces.
Our test included Pirelli P-Zero AS Plus 3 on three fitments: a Toyota Supra, a BMW 330i, and an Alfa Romeo Stelvio. With the Supra, we were invited to get loose on the track. The BMW test was a bit like aggressive street driving, and the Stelvio test included some maneuvering around cones and a wet pavement test.
These coincide with a few promises Pirelli makes about its P-Zero AS Plus 3. In a nutshell, Pirelli says its latest tire is as good a sports tire as it is in wet traction and for everyday use. To that, it's reasonable that we'd get a bit competitive in a Supra, risky in a Stelvio, and crafty in a BMW.
So here is my impression after testing the Pirelli P-Zero AS Plus 3.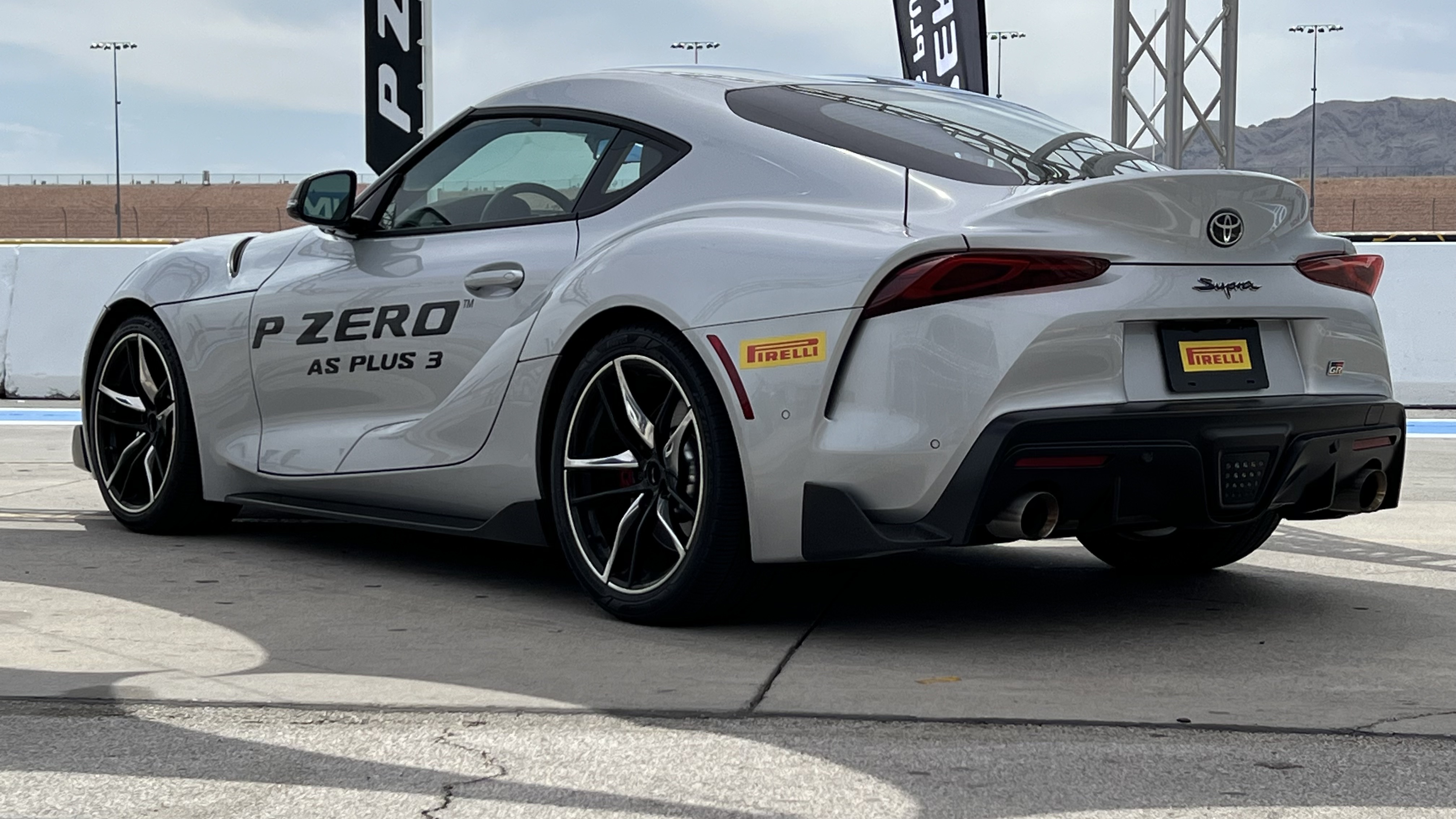 Pirelli P-Zero AS Plus 3 testing
Wet pavement
The Alfa Romeo Stelvio has a lot of body lean. Pirelli fitted its P-Zero Scorpion AS Plus 3, a sister tire to the new P-Zero AS Plus 3, on this vehicle and invited me to jaunt around a track, navigate a maze of cones, and take a sharp 180-degree turn through the wet pavement. Because of the body lean, I had to learn to trust the tire, not the vehicle.
Being from Portland, I'm sensitive to tire performance on wet pavement. Most tire companies promise excellent wet pavement performance for their products. Few tires deliver anything notable. Pirelli has.
I was prepared to slide out in the long, wet turn and have the Las Vegas Speedway professional driver accompanying me to explain what I'd done wrong. Instead, he encouraged me to go faster. I did. I sensed that the Stelvio would topple over before the tire was willing to let go of the road. Color me impressed.
Pirelli says the AS Plus 3 lineup has better performance in snow. We didn't get the opportunity to test that, though I'd be happy to when colder weather returns to the Pacific Northwest.
Daily driving
Commuting and bopping about town to get errands done introduces a lot of variables. Accelerating through yellow lights to make a left turn, quick stops to accommodate other (bad) drivers, long-distance cruising – you name it, we bet you've faced it.
We know Pirelli set the standard for daily driving tire performance – but could it build on that reputation?
We're mindful that tires are your only point of contact with the road beneath when driving. With this test, I set out to discover how the Pirelli P-Zero AS Plus 3 performed in "normal" scenarios.
The answer: great. No tire is silent, but the P-Zero AS Plus 3 had less road noise than average – and it was a different noise. I chalk this up to Pirelli's optimized pitch sequence on its new tire. There is less road noise and, to my ear, muted compared to other tires I've driven.
The Pirelli P-Zero AS Plus 3 also strikes a good balance between comfort and performance. For our "daily driving" test, the tire was fitted to a BMW 330i; sporty enough for me to push the limits but comfortable enough to consider less adventurous outings.
No complaints from me – only praise. I won't pretend I can "feel" how the tire grips the road, but Pirelli says its newest offering grips the road across more of the tread. This (logically) means more of the tire is in contact with the road, which should improve handling.
The handling was excellent. I admit to being a BMW fan (and owner), but the car wasn't the star of the show here. I've pushed 3-series to the point of sliding out before. I tested it to that limit here as well. The difference between sliding out and making the turn had much to do with the P-Zero AS Plus 3 fitted to the car. I'm aware that I was driving on new tires, but I'm left wondering if Pirelli's 3D siping – which keeps more of the tire tread available as it wears down – would keep the performance I experienced available through the life of this tire.
Red-line racing
You won't race in all-season tires. You might need some grip and assurance when driving aggressively, though. Pirelli, after all, has deep roots in F1. It makes sense the company would bring its findings to an everyman tire.
Fitted to a Toyota Supra, I gave the Pirelli P-Zero AS Plus 3 a few laps around a Las Vegas Motor Speedway track. This is a great car for this type of test: speedy and sporty with enough racing tech that the average consumer would buy it to feel more connected to competitive driving as a sport.
As I pretended to be an F1 driver strapped into a Supra, my instructor encouraged me to push boundaries. I chirped the tires a few times while making turns, but I never felt the tire would slip or compromise my safety on the track.
Again, an all-season tire is not one you'd want for racing or even purely aggressive driving. But Pirelli has struck a brilliant balance with its AS Plus 3. More aggressive drivers tend to go through tires faster than average. I'm left wondering if Pirelli's advancements with compounds and polymers, which it claims will contribute to even tire wear through the tire's life, will be attractive for these drivers.
Conclusion: Should you buy the Pirelli P-Zero AS Plus 3?
Pirelli is a premium tire brand. Perhaps the premier tire brand. Many with that designation throughout industries rest on their laurels and rely on the brand halo to entice people to buy. Pirelli isn't doing that.
While I had but a few hours testing the tire, the P-Zero AS Plus 3 is a sensational offering. At the event, the Pirelli team consistently said, "But you tell us." They worked hard on the tire but understood that experience matters most. If I don't see or feel the results, does it matter how much work they put into the tire? Not really.
But I did feel it. I could see it when others were driving around the tracks, too. I was more mindful of the tire on the cars I drove than usual, but I was also critical of the experience. I can't find much fault in Pirelli's newest tire. I'm interested in how the P-Zero AS Plus 3 performs long-term, and I still have lingering questions about its long-term performance, but I can't answer those without driving tens of thousands of miles.
And maybe I will do that someday. The P-Zero AS Plus 3 is a tire I'll consider when purchasing my next set, and probably a tire you should inquire about when you need to buy tires. Pirelli is a class-leading brand, and the P-Zero AS Plus 3 pushes the boundaries of what an excellent all-season tire should be.
Pirelli should be proud of this one. Other manufacturers should be on alert. The P-Zero AS Plus 3 seems to have the pole position on the rest of the all-season tires, but that's a position Pirelli is used to.
Editors' Recommendations